MLB.com Columnist
Bill Ladson
Inbox: Biggest surprise so far for Nats?
Beat reporter Bill Ladson answers questions from fans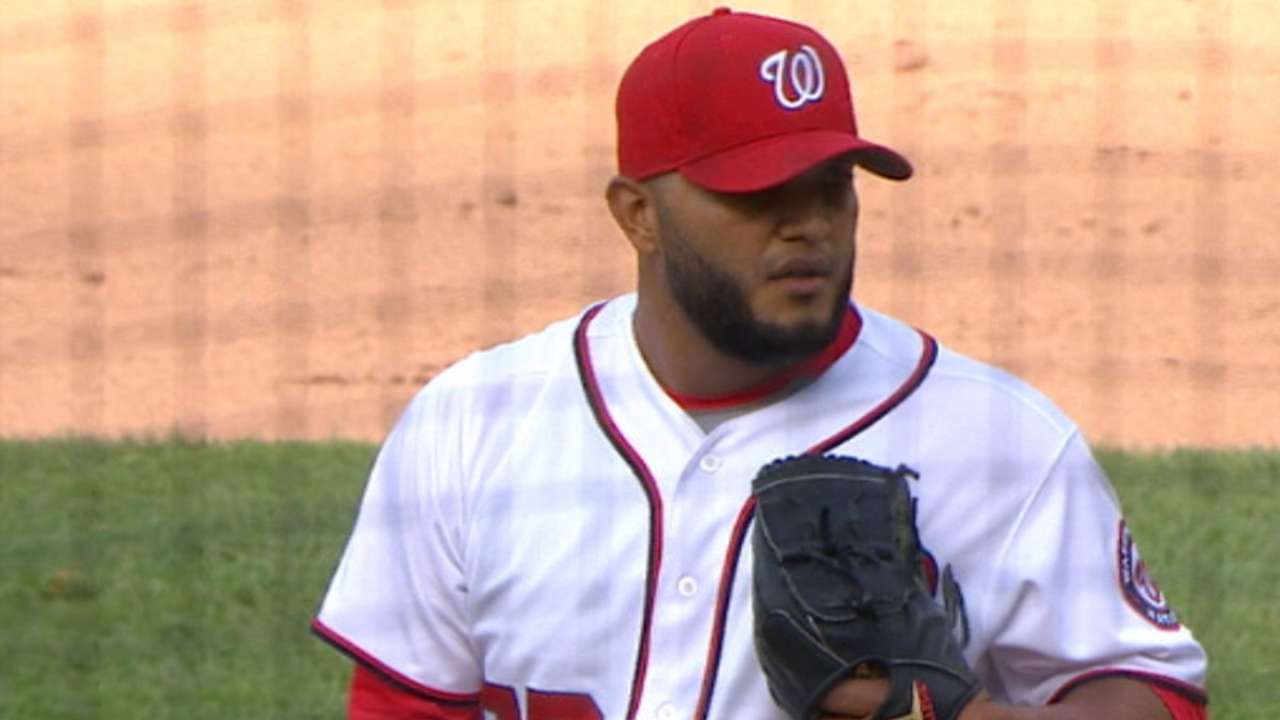 As April comes to an end, what has been the most pleasant surprise for the Nationals?
-- Kevin A., Washington
I have to say the bullpen, which has a 1.96 ERA entering Tuesday's action against the Phillies. It appears they found a good one in Yusmeiro Petit, who should have received the game ball for the work he did against the Twins on Sunday. Shawn Kelley has yet to be scored upon. Matt Belisle and Oliver Perez have been consistent. Overhauling the bullpen has proven to be the best move the Nationals made in the offseason.
In your recent Inbox, you said No. 3 prospect Victor Robles will be Bryce Harper's teammate in a couple of years. Do you think Harper will still be a member of the Nats? I watched Harper all spring, but my guess is I'll be driving cross state to Tampa to see him with the Yankees.
-- Rip C., Coco Beach, Fla.
It's too early to tell where Harper is going to be in the future. He is not a free agent until 2019. If Harper continues to be a monster in the batter's box, I'm sure the Nationals are going to find a way to pay him. Obviously, the way he is playing, Harper would look to be the highest paid player in baseball.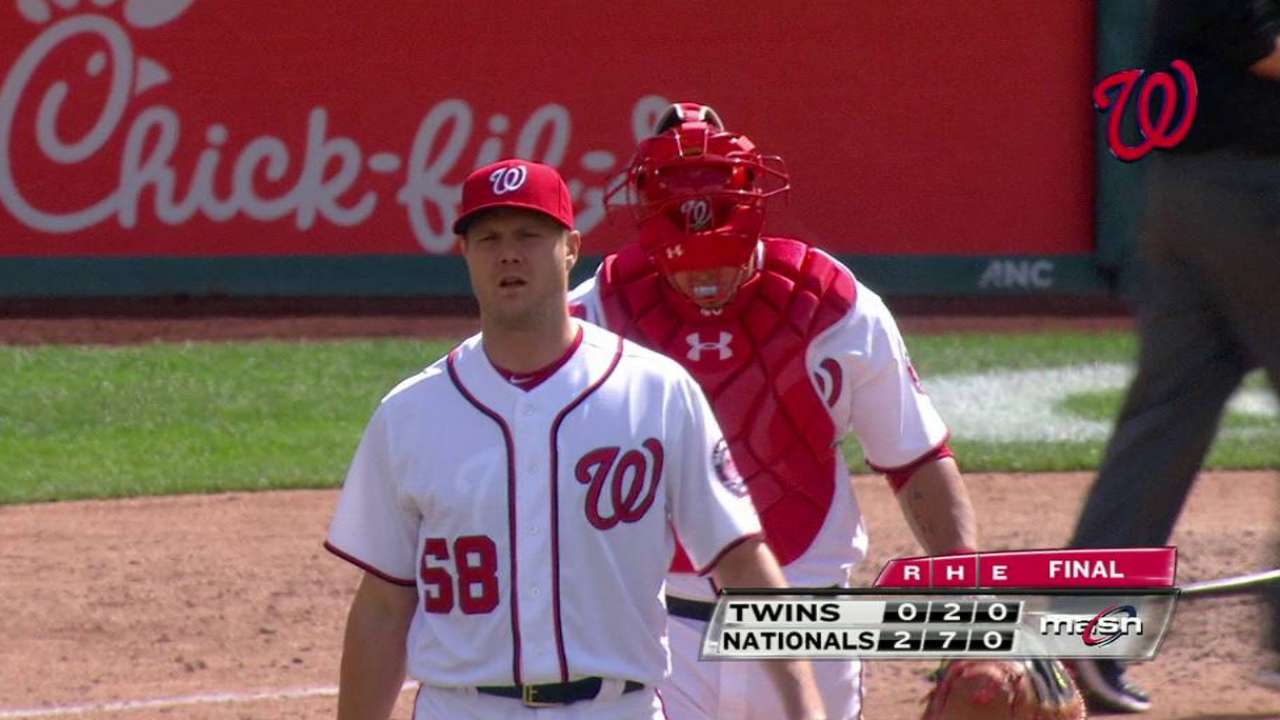 What is Plan B for the ninth inning if Jonathan Papelbon gets hurt or doesn't perform? Seems like there isn't a replacement.
-- Brian, Swan Point, Md.
Let's hope there isn't a Plan B necessary, as Papelbon is doing a great job. But if Papelbon wasn't available or producing, I would say Felipe Rivero and Blake Treinen would get the chance to close. Rivero had some experience pitching in the ninth inning last September after Papelbon was suspended. Treinen is currently an eighth-inning guy, so it would be natural for him to be given a shot at closing some games.
Why doesn't Matt den Dekker get more starting opportunities? He has speed, power and is great defensively.
-- Nelson H., Conyers, Ga.
den Dekker has done a great job since he joined the Nats last year. I expect him to see more playing time if Michael Taylor continues to slump. It would not surprise me to see those two guys platoon in center field as long as Ben Revere is out of the lineup.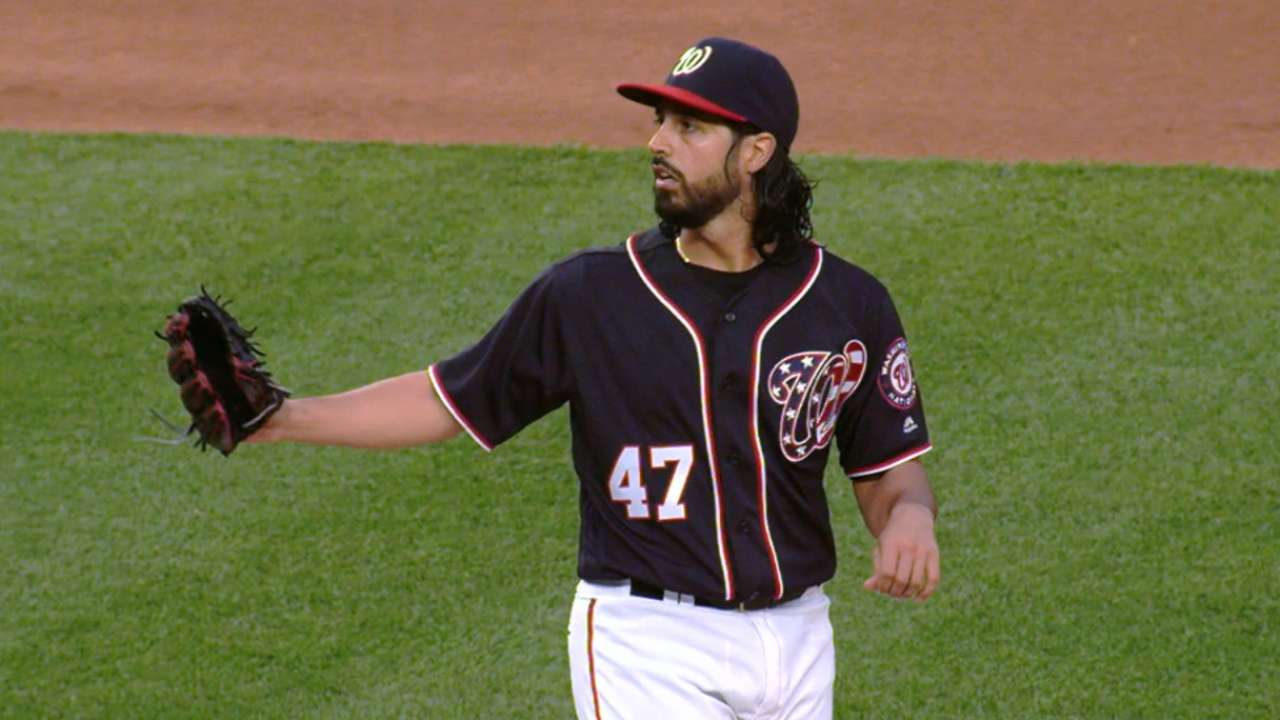 Why wasn't Gio Gonzalez pitching in this first home series? He's a veteran pitcher who seems to have been squeezed out of the starting rotation during the first two weeks.
-- Linda L., Bethesda, Md.
Gonzalez got off to a slow start this spring. He was walking a lot of hitters. It wasn't until Gonzalez's final start of the spring that he was able to get his act together. Maybe it was a good thing he was made the fifth starter, because you can't complain about the results. Gonzalez has allowed three earned runs in 19 innings, struck out 20 batters and walked four. Not bad. All he had to do was slow the game down, because he was rushing during Spring Training.
With Trea Turner of to a nice start, when do we expect to see him in the big leagues?
-- Joe M., Washington
I have been getting this question a lot lately. As long as the Nationals continue to win, I don't think there is a rush to bring Turner to the big leagues. The way I look at it, as long as Danny Espinosa is doing well defensively and is not hurting the team offensively -- and he's not -- it will be a while before we see Turner in the big leagues.
Bill Ladson has covered the Nationals/Expos for MLB.com since 2002.and writes an MLBlog, All Nats All the Time. He also can be found on Twitter @WashingNats. This story was not subject to the approval of Major League Baseball or its clubs.