Mariners place Benoit on DL, recall Guaipe
SEATTLE -- The Mariners are going to have to make do without Joaquin Benoit for a little while longer.
The team placed the veteran setup man on the 15-day disabled list on Monday because of inflammation in his right shoulder. Benoit, who was acquired in a trade with San Diego over the winter, will be out for a minimum of two or three weeks, said Seattle manager Scott Servais.
The good news, if there is any for a player who was counted on to lock down the eighth inning all year in a bounceback season, is that the bullpen has been succeeding so far in 2016 even without much of a contribution from Benoit, who has only appeared in five of the team's first 18 games.
"We sat down and decided that we probably need to take a step back, regroup, and instead of trying to chase it every day, let's give it some time and get it right," Servais said. "We've got a lot of games ahead of us. … So let's just slow it down."
Benoit, 38, has been dealing with soreness in the shoulder most of the spring and was unavailable for several games last week. He is 1-0 with two holds and a 3.60 ERA with four strikeouts. The DL move is retroactive to Friday, so Benoit would be eligible to return on May 6.
"The strength is there, the velocity was there the whole time, but it's uncomfortable when you have pain and you're trying to modify your mechanics," Benoit said. "It's not comfortable when you do that, and you can damage something else trying to be a hero."
The Mariners recalled right-handed reliever Mayckol Guaipe from Triple-A Tacoma to take Benoit's place in the bullpen. Guaipe has been pitching well at Tacoma, with three saves, a 2.16 ERA and six strikeouts in 8 1/3 innings over six appearances. He made his Major League debut with Seattle last season, going 0-3 with a 5.40 ERA in 21 games over four different stints.
"I've been really working hard on keeping the ball down in the zone," Guaipe said of his work this season in the Minors. "That's really helped me so far."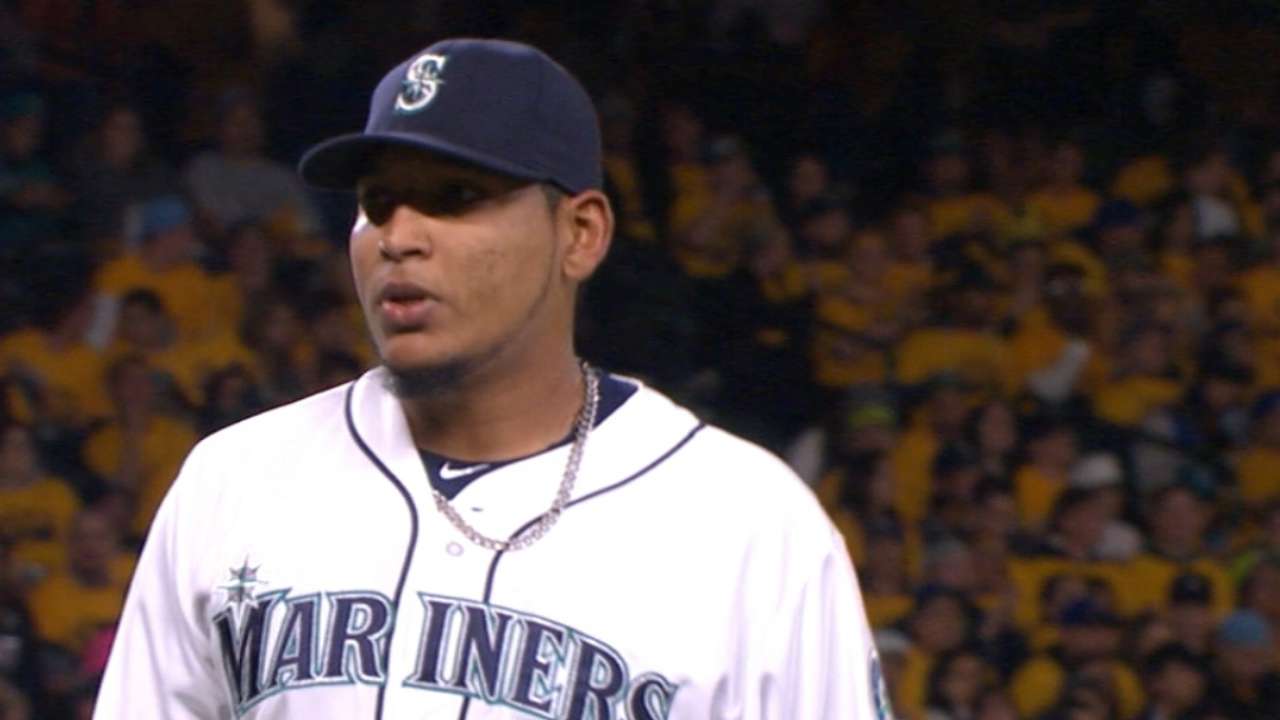 Otherwise, the Mariners bullpen won't change much. Servais said Guaipe can provide multiple innings, if need be, which could push left-hander Mike Montgomery and righty Tony Zych into more prominent late-inning roles. Seattle's relief corps currently leads the Majors with the lowest batting average against at .162.
"It certainly helps that the guys in our pen have all thrown the ball well," Servais said. "You feel better about [losing Benoit], if you can. You hate to lose your eighth-inning guy at any point in the season, but the guys that we've thrown out there have thrown the ball well. I'm hoping they will continue to do so. I don't see why they won't. And it gives other guys an opportunity to step up."
Servais said it's likely that veteran righty Joel Peralta will get the ball in the eighth inning in typical setup-man situations.
Benoit said he felt good about taking the time to fix his shoulder and get it where it needed to be for the summer.
"Guaipe will do great and I believe our bullpen will be fine," Benoit said. "I will just try to get healthy and come back strong."
Marte the 'swag' guy
Servais had to smile when he saw shortstop Ketel Marte take advantage of a situation in Anaheim that paid off for the team.

Marte was on second base when Angels third baseman Yunel Escobar made a fielding error in the top of the fourth inning of Seattle's 9-4 victory over the Angels. Marte quickly bolted to third base and made it safely. That allowed him to score on Seth Smith's double-play ball.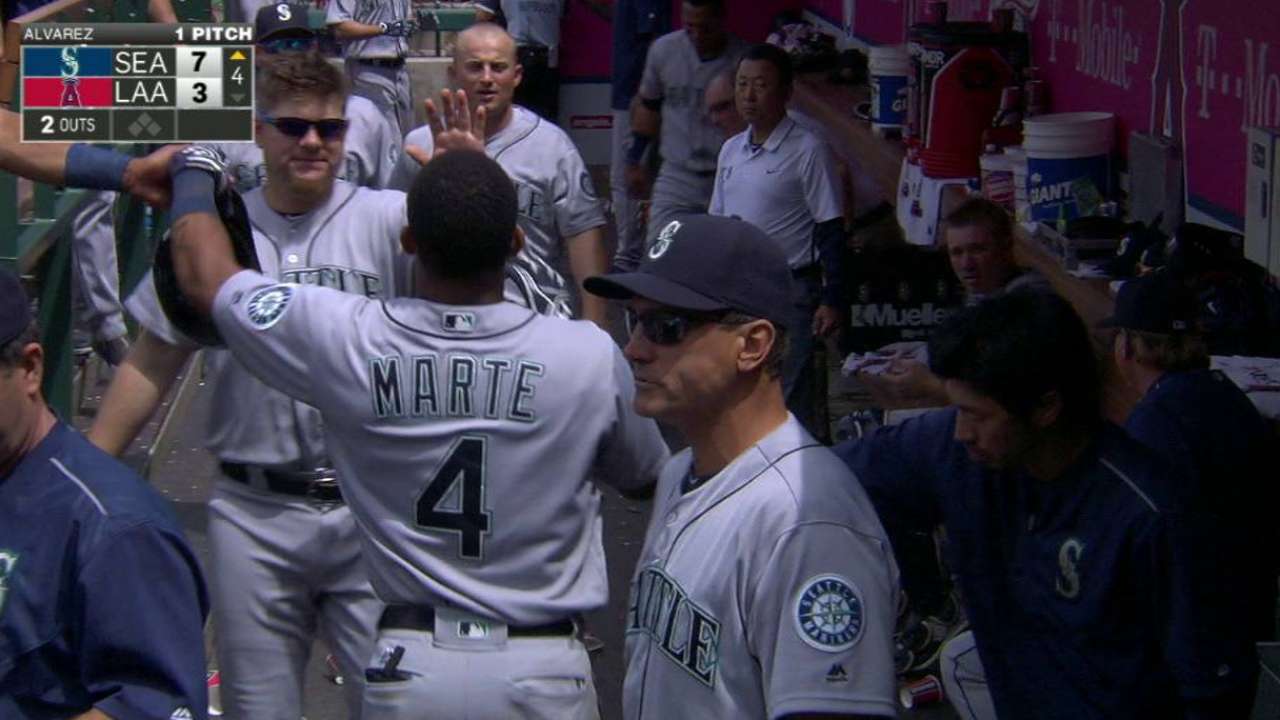 For Servais, it was part of a plan coming together.

"Obviously he does have speed, and we've talked to him often, early in Spring Training and early in the season that when you're on base, I expect him to take a few chances and make things happen, trying to push the envelope," Servais said.

"And I joke with him [that] he's kind of our 'swag' guy on the bases. He's the guy they should be taking notice of when he's out there."
Doug Miller is a reporter for MLB.com. Follow him on Twitter @DougMillerMLB. This story was not subject to the approval of Major League Baseball or its clubs.