Cespedes has knee drained, day to day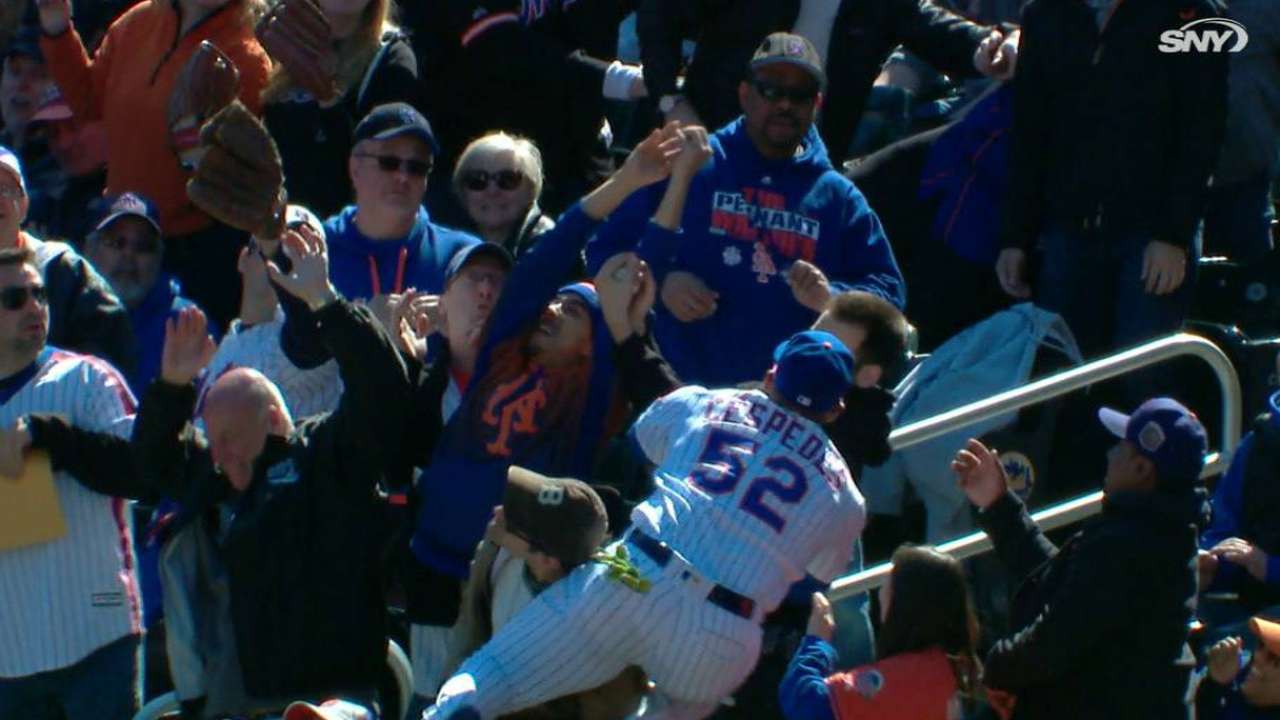 NEW YORK -- Mets outfielder Yoenis Cespedes had fluid drained from his right knee on Monday and will remain sidelined for the immediate future. The Mets are calling Cespedes' situation "day to day," with hopes that he can return by the middle of this week.
"At the moment, we're looking at it on a day-by-day basis," general manager Sandy Alderson said. "Fortunately, we have the depth that we anticipated we would need, and so we've been able to survive his absence over the last several days. And I'm sure we'll do our best to survive over the next two or three."
With Cespedes sidelined on Monday against the Reds, Alejandro De Aza started in center field. Juan Lagares had started each of the Mets' previous two games at the position.
• Cast your Esurance All-Star ballot for Cespedes and other #ASGWorthy players
Cespedes' injury dates back to an April 13 game against the Marlins in which he leapt into the Citi Field stands in pursuit of a foul ball. Colliding with both a fan and a seat, Cespedes sustained multiple bruises, which did not initially cost him any playing time. But a bruise in the area of his right knee lingered, developing the fluid that he had drained on Monday.
Cespedes has not undergone an MRI exam or received any injections in his knee. The Mets are confident a simple fluid drain should be enough to nurse him back to playing condition, perhaps as soon as Tuesday or Wednesday against the Reds. But the Mets will be mindful of using Cespedes even in a pinch-hitting role until they are certain he is not a disabled-list candidate.
"There are bruises you get where there's a buildup of fluid," manager Terry Collins said. "That can be very painful in that part of the leg, near the joint. That's why he was doing all the limping. So with that fluid coming out of there … after tonight it will be up to how he feels. But if you would have seen the swelling, you would understand why he had no chance at playing."
Since Cespedes sustained the bruises, however, his production has only increased; he has an active seven-game extra-base-hit streak, batting .345 with four home runs over that span. Cespedes' run is the longest active extra-base-hit streak in the Majors and the second longest in franchise history behind Ty Wigginton (eight straight in 2004).
In 15 games overall since inking a three-year, $75 million contract with the Mets this winter, Cespedes is batting .288 with five home runs, 14 RBIs and a .991 OPS.
Anthony DiComo has covered the Mets for MLB.com since 2008. Follow him on Twitter @AnthonyDiComo and Facebook, and listen to his podcast. This story was not subject to the approval of Major League Baseball or its clubs.