Nats reap rewards as Harper, Stras reach potential
Reigning NL MVP, possible Cy Young Award candidate hit stride at same time
WASHINGTON -- Bryce Harper's two career grand slams, both of which have come this season, have an unusual fact in common. Each time, the runner on third base has been right-hander Stephen Strasburg.
"I guess it's all on me," Strasburg said with a laugh last week in Miami. "I have to somehow get to third."
• Cast your Esurance All-Star ballot for Harper and other #ASGWorthy players
Ever since Strasburg and Harper were selected No. 1 overall in the 2009 and '10 Drafts, respectively, they were labeled as the future faces of the Nationals franchise. But a combination of inconsistency and injuries had prevented them from maintaining a high level of performance on the field at the same time.
They are both playing to their full potential now, and they are two major reasons the Nats have the best record in the Major Leagues at 14-4.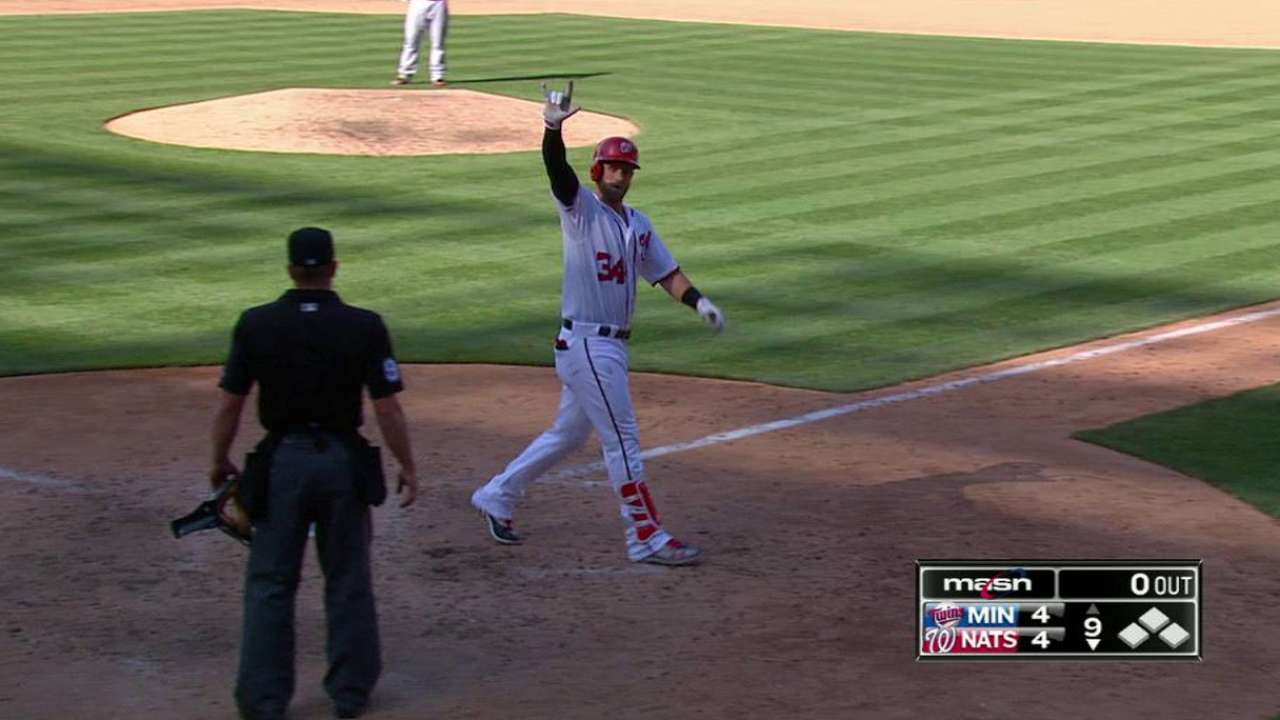 While Harper has grabbed headlines as perhaps the best player in baseball, Strasburg has recently taken his place among the Majors' best pitchers. Dating back to Aug. 1 of last season -- when he fully recovered from neck and upper back injuries that plagued him at the beginning of the year -- Strasburg owns a 1.98 ERA, the third best in the Majors behind Jake Arrieta (0.53) and Clayton Kershaw (1.54).
"He's coming into his own," Harper said. "It's incredible. You see what he did in college, he had so much pressure going through the Minors, coming up and everything, got hurt, trying to get back into it with his ankle and things like that. Then the second half last year was absolutely ridiculous. Now he's putting up video game numbers again."
Here are those video game numbers during Strasburg's past 14 starts: 9-2, 1.98 ERA, 2.10 FIP, 123 strikeouts, 15 walks and a 0.81 WHIP while holding opponents to a .183 batting average. Harper's numbers from the start of last season are also video-game-esque: .329/.455/.671 with 51 home runs in 171 games.
Strasburg and Harper had both enjoyed very solid Major League careers with flashes of brilliance up until the start of 2015. After the lavish expectations, publicity and ballyhoo surrounding their debuts, however, very good was never going to be good enough for some people. So they sometimes called overrated or over-hyped.
Harper silenced his critics with a historic 2015, in which he captured the National League Most Valuable Player Award unanimously. He has picked up where he left off, and even improved in some aspects to start this season with nine homers in his first 18 games and a Major League best 1.260 OPS.
If Strasburg is able to keep pace with his start to this season, it could set him up for the kind of performance Harper had in 2015. Strasburg has posted a 2.17 ERA with a 31-to-7 strikeout to walk ratio and has thrown back-to-back double-digit strikeout games through his first four starts. His best career finish in NL Cy Young Award voting is ninth, when he led the league with 242 strikeouts in '14, but with a full healthy season, Strasburg could be poised to challenge for that award for the first time in his career.
This combination of health, maturity and a new pitch added to his arsenal could have Strasburg, 27, poised to enter his prime.
"He's always had stuff. Now he's no longer a kid," said Nationals manager Dusty Baker, who predicted a big year from Strasburg back in Spring Training. "Experience-wise, he's a lot older, but he's still very young. Just from my experience, I think this is about the time when guys really get it together, when they come together emotionally and physiologically and spiritually. They kind of figure it out about this time."
The unfortunate part for the Nationals is that Strasburg is entering the final year of his contract. It is possible that this season will be the only time Washington can truly enjoy Strasburg and Harper playing to their full potential together on the field.
But for now, this is what the Nats envisioned when they drafted both players in consecutive years. As evidenced by the team's fast start this season, they seem primed to make the most of it while they can.
Jamal Collier covers the Nationals for MLB.com. Follow him on Twitter at @jamalcollier. This story was not subject to the approval of Major League Baseball or its clubs.