Phils quietly exceeding expectations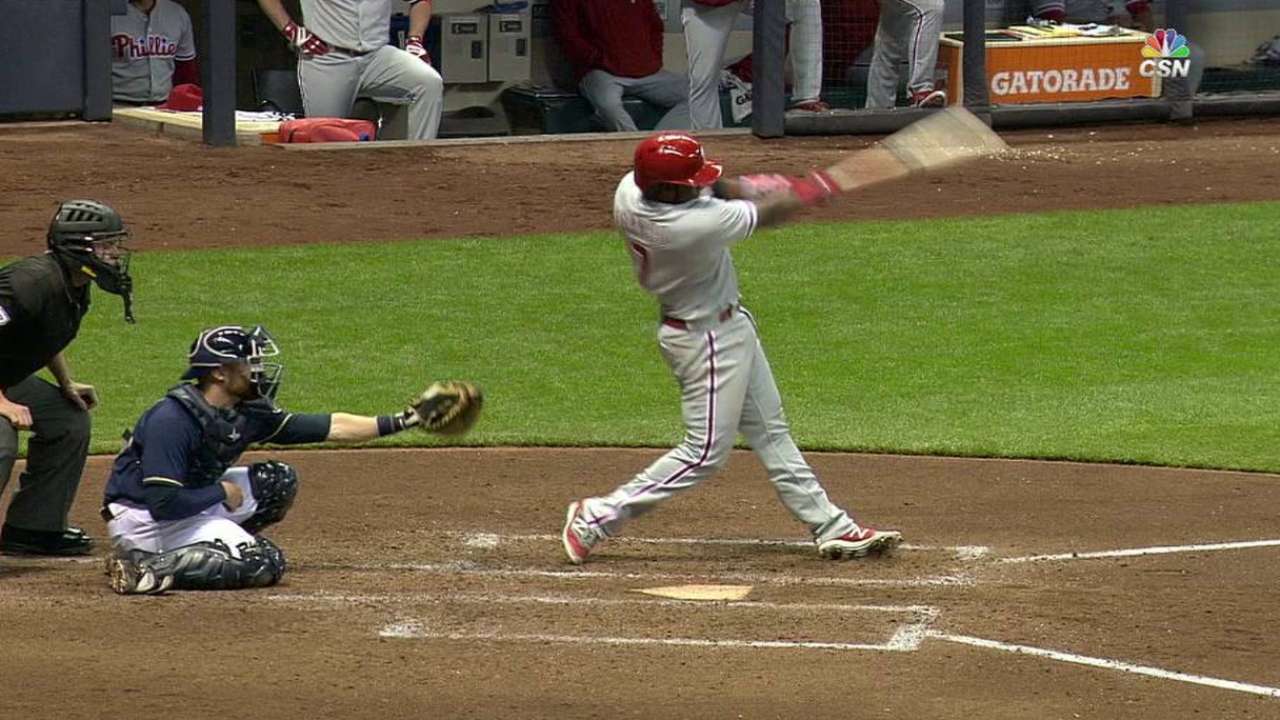 MILWAUKEE -- The Phillies had a chance Sunday to sweep their first road series since August, but they fell short to the Brewers in an 8-5 loss at Miller Park.
The Phillies are 9-10. That pace will not get them into the postseason, but it is a better start than most expected. It also has temporarily quieted the folks who mentioned the Phils and the t-word -- tanking -- a word that riles up folks in their front office.
"Our starters, by and large, have done a really good job of keeping us in the game," general manager Matt Klentak said Sunday. "Outside of those first three games, our bullpen has really been a strength. We're starting to see our offense come around. All the while, Pete [Mackanin] has had them playing hard and playing with energy. Again, 9-9 [entering Sunday] is .500. Nobody is going to be satisfied with .500, but all things considered, after starting 0-4, we're pleased with the way things have gone."
The Phillies' rotation had been spectacular through the season's first 10 games, posting a 2.14 ERA. It has a 6.28 ERA in its past nine, which includes six games against the Nationals and Mets. The Phils open a three-game series Tuesday night against the Nats at Nationals Park.
The Phillies are 3-3 against the Mets and 1-2 against the Nationals.
"We have a lot of young players on our team," Klentak said. "There will be different developmental curves for these players. Bryce Harper wasn't Bryce Harper the first day he reached the big leagues. And the same with some of the Mets' young starting pitchers. It's an evolving process. We understand that. But we feel, particularly in six games against the Mets so far, we've played .500 against them and battled them pretty well. We hope that will continue."
The Phillies have shown some life offensively recently. They have scored 25 runs in their past four games (6.3 per game) after scoring 37 in their first 15 (2.5 per game). But the Nats will test the offense's sustainability. The Phils scored just five runs in three games against them earlier this month.
A big reason for the offensive struggles is the team's lack of production from its corner outfielders. Phillies left fielders have a .401 OPS, and their right fielders have a .547 OPS. Both marks rank last in baseball.
"We are aware of the offensive production we have gotten from our outfielders," Klentak said. "But right now, we are pleased with the defensive production we have gotten from those players. That is something, as some of our young starting pitchers are cutting their teeth at the big league level. Giving them the defensive foundation to help them, that is something important to us. I certainly understand the focus on the offensive production. We have to make sure we look at both."
Todd Zolecki has covered the Phillies since 2003, and for MLB.com since 2009. Read his Phillies blog The Zo Zone, follow him on Twitter and listen to his podcast. This story was not subject to the approval of Major League Baseball or its clubs.