Rasmus extends Player of the Week streak
Outfielder 3rd straight Houston player to earn honor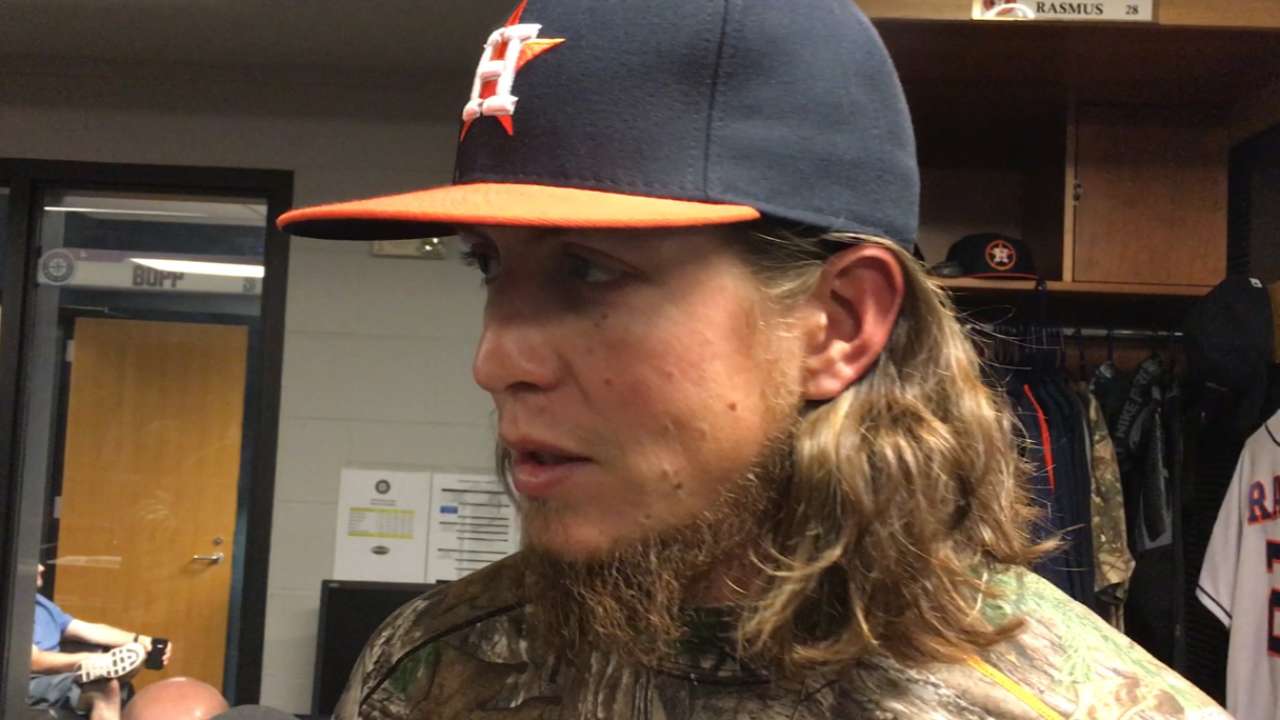 SEATTLE -- The Astros are off to a slow start, having won just six times in their first 19 games, but that hasn't stopped them from becoming the first team to have three consecutive American League Players of the Week to start the season. Outfielder Colby Rasmus was the latest to win the award Monday.
Rasmus last week hit .316 with five runs scored, four home runs and 10 RBIs. He had five RBIs, including a grand slam, in Saturday's win over Boston, and he hit a two-out, two-run homer in the ninth inning Sunday off Craig Kimbrel to tie a game the Astros eventually lost in extra innings.
"It feels good putting the work in and trying to continue to stay up on what these pitchers are trying to do, and trying to help my team win ballgames and do good things," said Rasmus, who won the National League Player of the Week with the Cardinals in June 2010. "I feel blessed."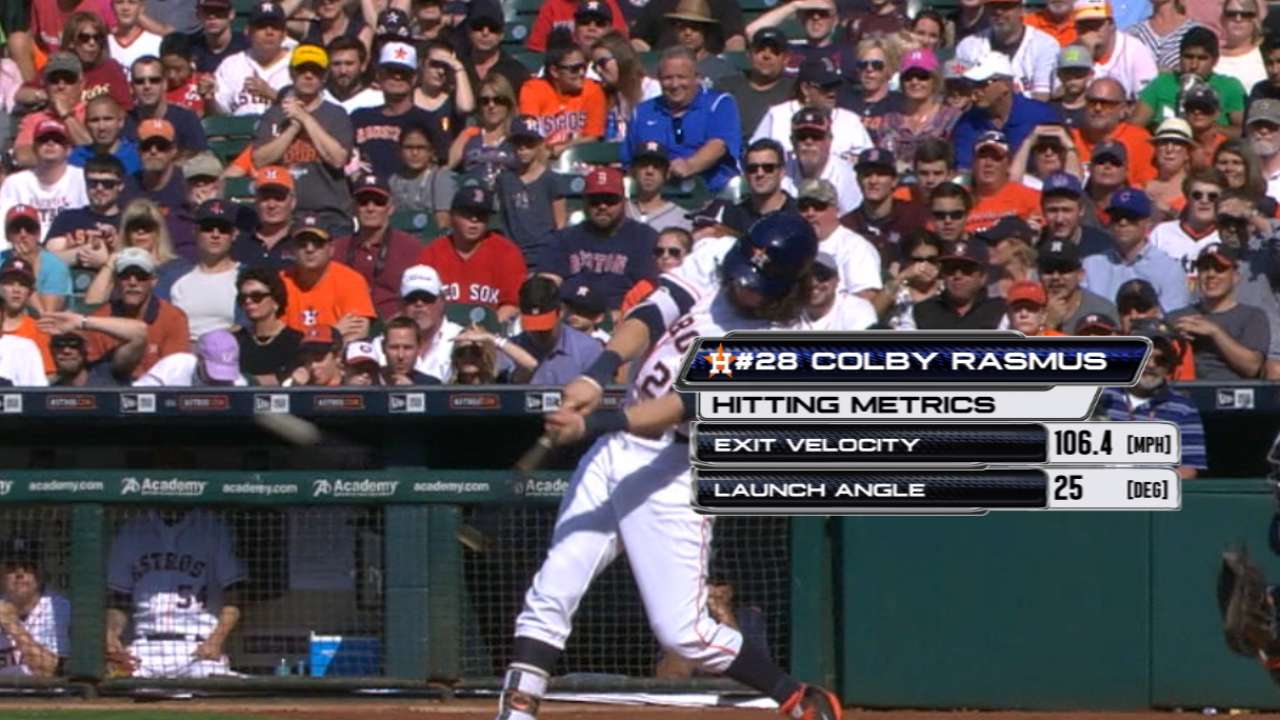 Astros rookie first baseman Tyler White won the award for the season's opening week, and second baseman Jose Altuve shared the award last week, making the Astros the first team to have three consecutive Player of the Week awards to start a season since the award's inception in 1974.
"Strange the way the year's worked out," Astros manager A.J. Hinch said. "We've gotten three players of week award and not much to show as a team. Proud of those guys. They're all putting up spectacular weeks and I like [that] it's been somebody different every week, and once we put it all together it could be a fun week as a team."
Entering play on Monday, Rasmus was tied for the AL lead in home runs (with seven), ranked second in RBIs (18) and second in walks (16). Rasmus' .440 on-base percentage, .707 slugging percentage and 1.147 OPS were all good for second best in the AL.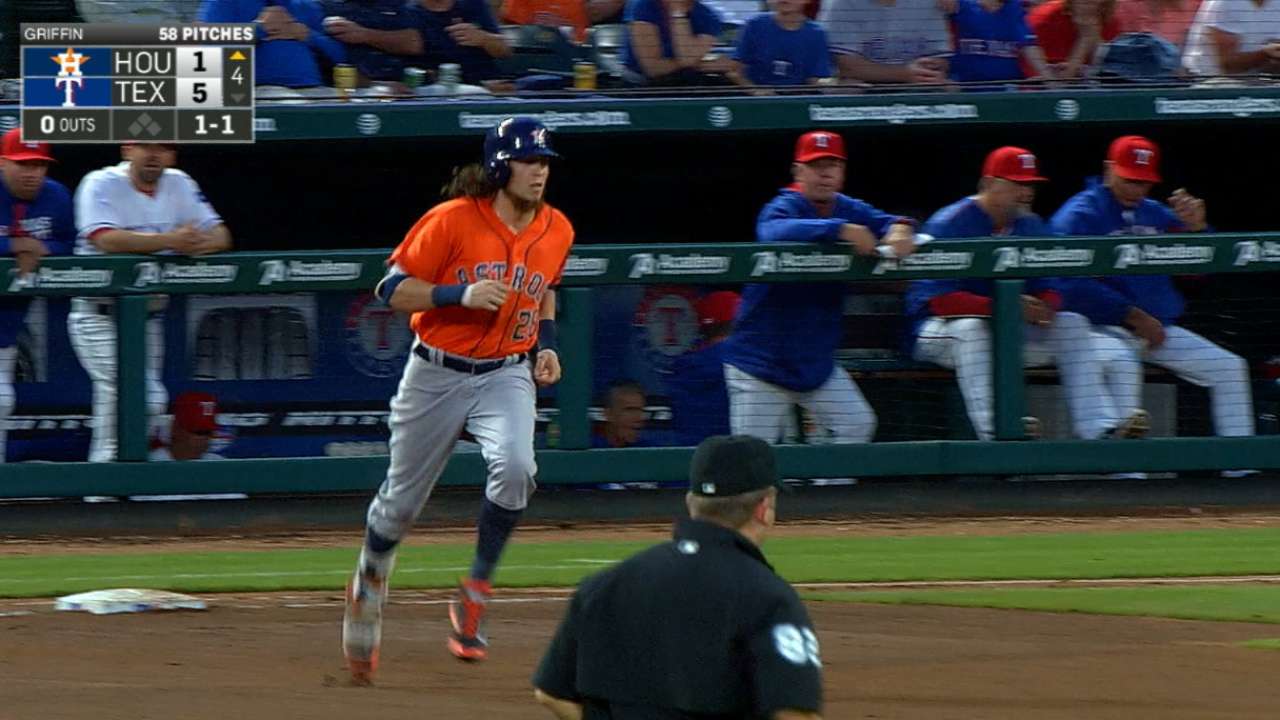 "He's a big presence on our team and specifically in the middle of our order, and he's one of the most consistent personalities in there," Hinch said. "He brings the same approach every day. His performance has been remarkable in its consistency, but also in the big moments. I love how he's put it together on both sides of the ball and in the clubhouse. He's really matured into a real presence for us. People look at him for a lot of things. He's a big influence."
When asked what was working so well for him, Rasmus said it was a lot of things, including learning how to beat the shift based on the way he's being pitched.
"It's just kind of going that way for me right now," he said. "I'm just trying to stay on my swing and do what I'm trying to do and keep a good rhythm and working with [hitting coach Dave Hudgens] on hand position and all kinds of stuff and trying to stay on top of what they're going to pitch me."
Brian McTaggart has covered the Astros since 2004, and for MLB.com since 2009. Follow @brianmctaggart on Twitter and listen to his podcast. This story was not subject to the approval of Major League Baseball or its clubs.