Freeze frame: 'Pen stays put for Arrieta's no-no
Superstitious relief corps repeats routines every inning to avoid jinx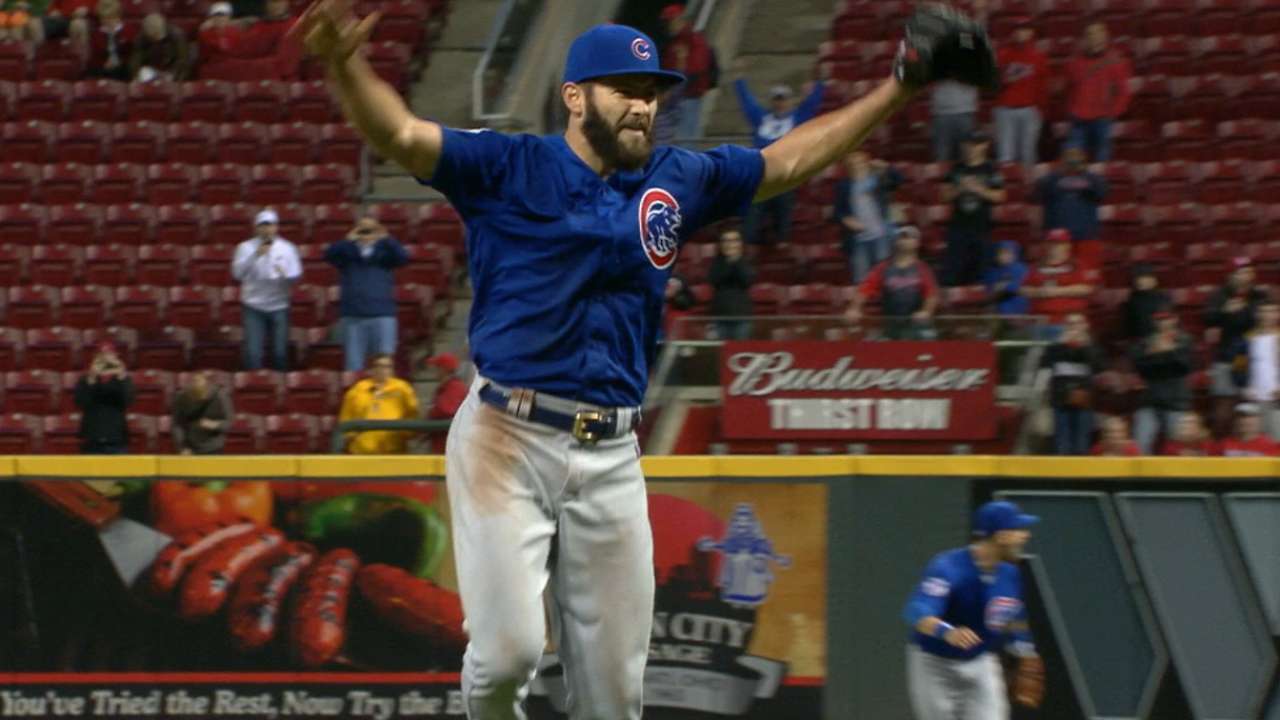 CINCINNATI -- Adam Warren sat down in the visitors' bullpen at Great American Ball Park on Thursday and did not move. For nine innings, the Cubs reliever stayed in the same seat. He didn't get up to stretch or get a glass of water or take a bathroom break.
"After four, five innings, I was like, 'I'm not moving until he gives up a hit,'" Warren said. "And he didn't, so I stayed there the whole time."
Last Thursday, Jake Arrieta threw his second career no-hitter in the Cubs' 16-0 win over the Reds, and the relievers did their part to help the reigning National League Cy Young Award winner, even if none of them threw a pitch.
Jake Arrieta's second no-hitter
•
Pair-rieta: Jake's 2nd no-no a drubbing
•
Did you know? Facts from Arrieta's 2nd no-no
•
There's no-no doubting Arrieta's greatness
•
Rogers: Arrieta simply the best
•
Ross 'on cloud nine' after Arrieta's no-hitter
•
Arrieta 3rd Cub with multiple no-nos
•
Help yourself: Arrieta tallies two hits in no-no
•
No no-no is complete without defensive gems
•
Reds get no-hit at home for 1st time since '71
•
All-time no-hitters by club
•
Full game coverage
•
Flashback: Arrieta no-hits LA in August 2015
Sights & sounds
Arrieta's second career no-no
All 27 outs
Arrieta finishes no-hitter
#THIS: Arrieta no-hits Reds
Must C: Arrieta's 2nd no-no
Arrieta discusses no-no
Maddon on Arrieta
Ross on catching Arrieta
Game gallery
"You don't want to do anything to jinx it," Warren said. "I'm usually not that superstitious, but I'd never seen anything like that. You don't want to do anything that could possibly mess it up."
Fans who get upset when broadcasters talk about the possibility of a no-hitter on air during a game will be happy to know that none of the Cubs' relievers will mention it.
"You do not say anything at all about it," Justin Grimm said. "That's the oldest rule in the book. When [the Reds' Brandon] Finnegan had the no-hitter, it was different. It's like, 'Hey, guys, this guy has a perfect game.' Then, he walks a guy, and it's like, 'Hey, this guy as a no-hitter.'"
It's up to the Cubs' relievers to pay attention and react accordingly. Grimm was totally unaware Arrieta had a no-no on Aug. 30 at Dodger Stadium. Part of the problem there is that relievers can't see the scoreboard from the visitors' bullpen.
"[When the game ended] I was thinking, 'What the hell? He threw a complete game,'" Grimm said, not sure why everyone was so excited. "When I was running onto the field, I figured it out."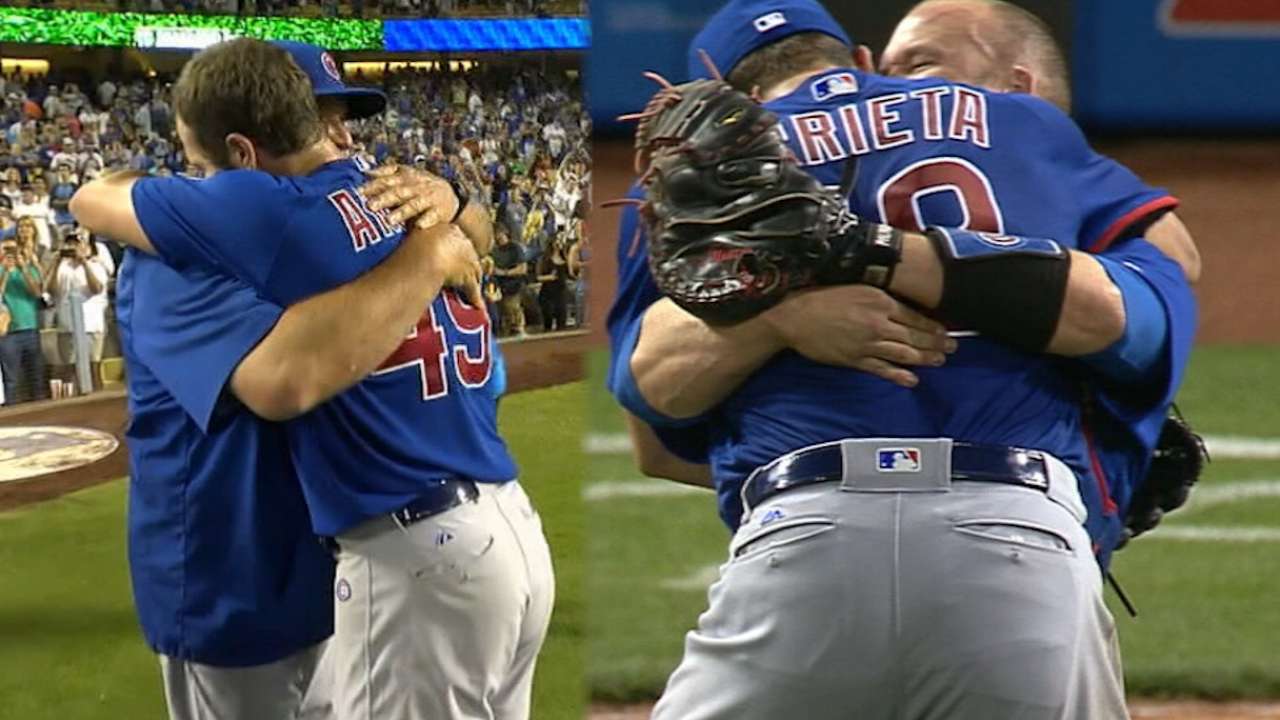 Last Thursday, Grimm was aware, but bullpen coach Lester Strode was so focused on his own duties that he nearly lost his paycheck.
"They kept telling me, 'You're in today no matter what,'" Grimm said of the pregame message. "They needed me to get some work. And in the sixth inning, I bet Lester, I said, 'I'm not getting in this game.' He said, 'I bet my paycheck you are.' I didn't make that bet -- I wish I did."
It wasn't until the eighth inning that Grimm said he started getting a little nervous.
"Then I started biting my nails," he said.
Cubs manager Joe Maddon likes to say he's not superstitious, just "a little 'stitious." So are the relievers.
"If you're sitting down there, that's where you sit for the rest of the game," Travis Wood said of the unwritten protocol regarding no-no's. "If you got up between innings, you do the same thing and then sit back down. You stick to the routine. It's hard to explain because it's not something you intended to do, but it's a routine you develop throughout the game. It's like, 'OK, last inning, I did this. And since I did it last inning, I have to go do it again.' Even if it's getting a cup of water every inning. You did it for six innings, you have to go get it for the seventh and the eighth."
Do the pitchers keep an eye on each other?
"It depends on where everybody is at," Wood said. "Let's say I was getting treatment for the first five innings. [If a pitcher has a no-hitter], I'm not coming out. I'll stay right there. It's where you're at at that time."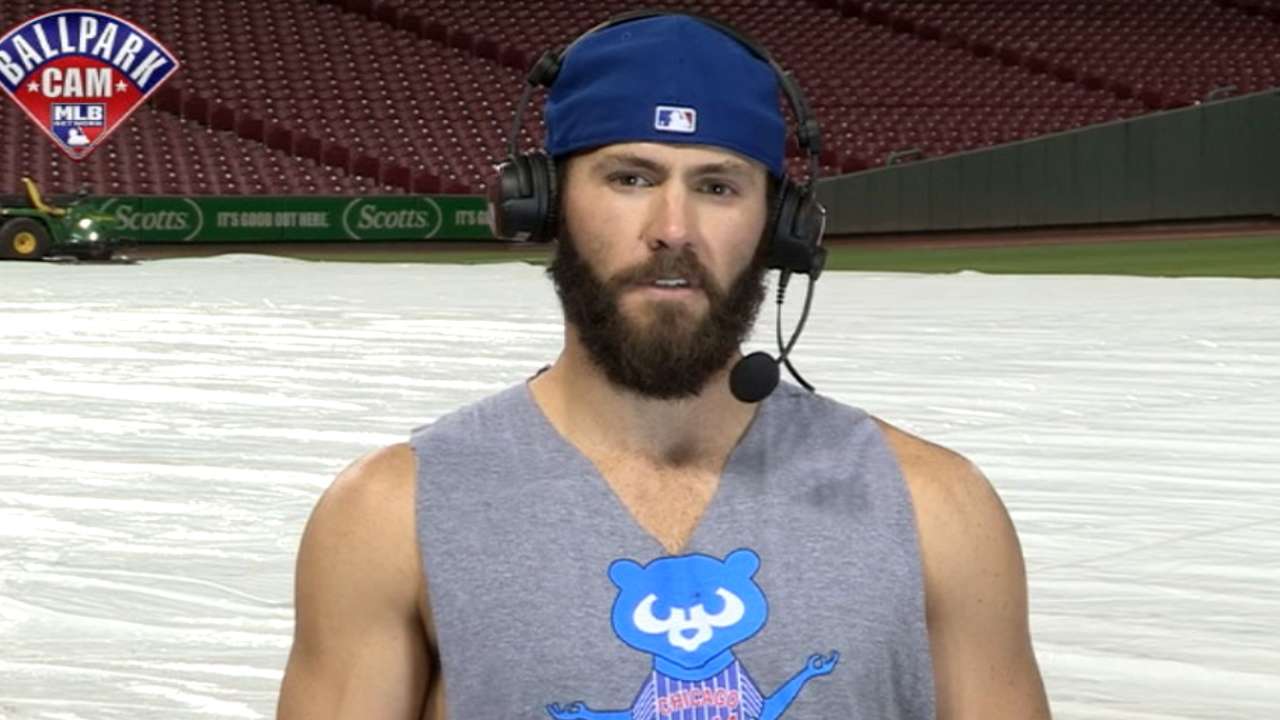 During Arrieta's no-hitter in Los Angeles, Wood pulled a Warren and did not move. On Thursday, Neil Ramirez was leaning against the metal fence in the visitors' bullpen when Arrieta was pitching, so he stayed there for the entire game.
"I'm sure he's pretty tired from that," Grimm said.
Since no one needed to warm up, Strode kept the pitchers loose by having them take turns throwing to right fielder Jason Heyward between innings. Arrieta had thrown 85 pitches through six innings, and there was some concern about whether he could finish the game.
"You just stay in the same place, breathe in, and try to put that thing out of your mind," reliever Pedro Strop said. "Don't think about it."
How "'stitious" are they? None of the Cubs' relievers would even say "no-hitter."
"It's just the baseball way, the superstitious aspect of how we tick as baseball players," said Arrieta, who discovered what everyone was doing during a postgame pizza party at the team hotel. "Everybody thinks they have some involvement in the outcome, and that's great and that's part of it. It's neat. People will say they won't leave their chair after I start the game. Everybody buys into it, and everybody is connected to the moment. That's something special."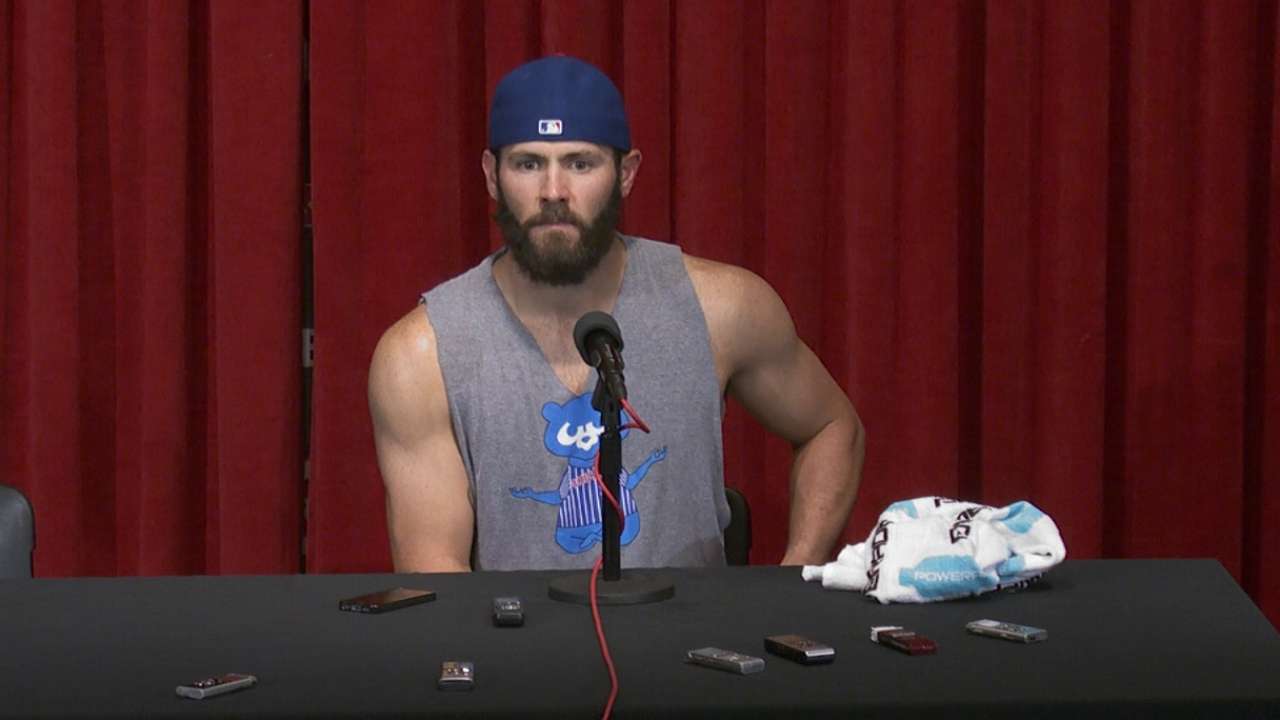 Strop, who came to the Cubs with Arrieta in the July 2013 trade with the Orioles, isn't surprised to see the right-hander's success.
"He was always tough," Strop said. "Then, his stuff was even better, because he was throwing 97, 98 [mph], and had a nasty curveball. He had it then, but he didn't use it like now. His stuff always told me he could be that type of pitcher."
Cubs pitching coach Chris Bosio predicted the staff will throw three no-no's this year.
"He's going to get more, let me tell you that," Strop said of Arrieta, whose next start is Wednesday at Wrigley Field. "He's going to get a perfect game, too. He's going to get one. I don't know when, but he will."
Just don't move after Arrieta throws that first pitch.
Carrie Muskat has covered the Cubs since 1987, and for MLB.com since 2001. She writes a blog, Muskat Ramblings. You can follow her on Twitter @CarrieMuskat and listen to her podcast. This story was not subject to the approval of Major League Baseball or its clubs.