MLB.com Columnist
Jonathan Mayo
Rodgers, Bell, Happ lead Prospect Team of the Week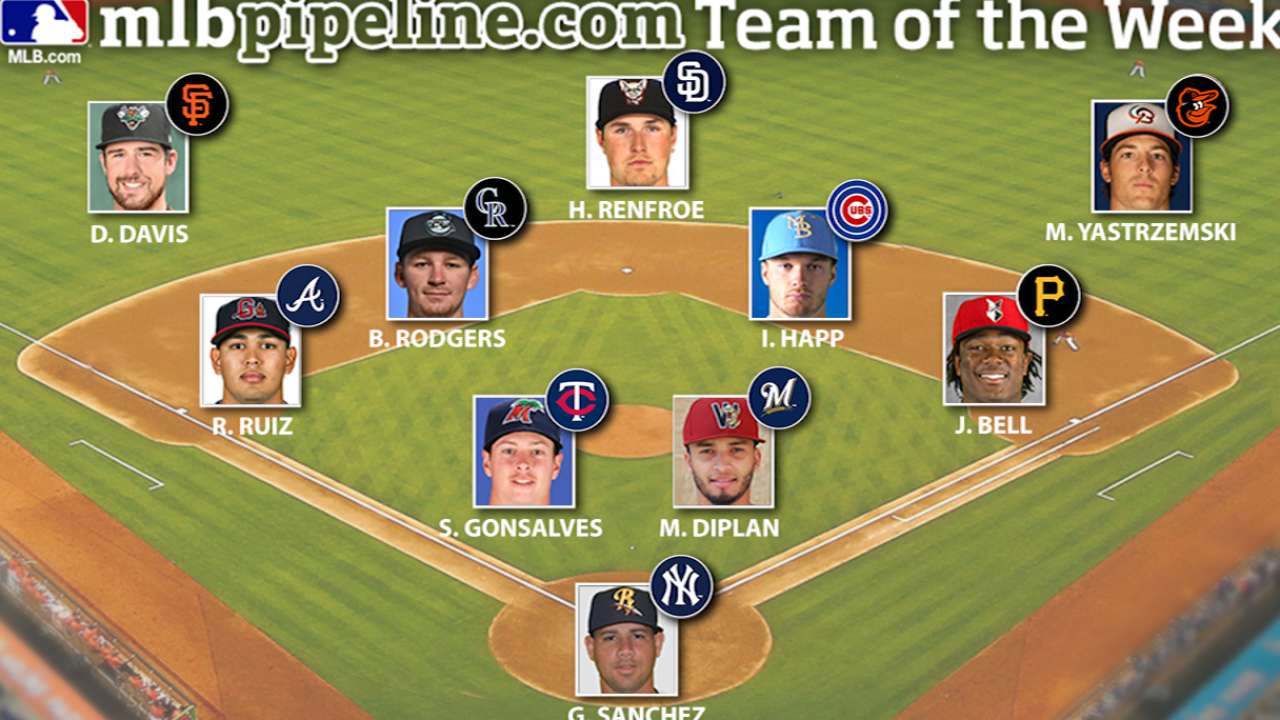 MLBPipeline.com's Prospect Team of the Week honors the best performances from the previous seven days. Any player currently on an organization Top 30 Prospects list on our Prospect Watch is eligible, including big leaguers.
A player's first full season in pro ball after being drafted can often be a trying one, as the transition to playing every day at a much higher level can be tough. For two members of this edition of Prospect Team of the Week (April 18-24), it has proven to not be so difficult.
Brendan Rodgers, the No. 3 overall pick in last June's Draft, and Ian Happ, taken No. 9, are both off to very good starts in the South Atlantic League and the Carolina League, respectively. Both had a two-homer game this past week to put them in line for PTOW honors.
This week's squad spreads the wealth, with 10 organizations represented. Here's our complete Prospect Team of the Week, based on games from April.
C: Gary Sanchez, Yankees (No. 3 prospect)
6 G, .320/.370/.640, 3 R, 3 2B, 1 3B, 1 HR, 4 RBIs, 2 BB, 2 SO, 1 SB
The Yankees' top catching prospect began the Triple-A season slowly, and he was hitting .156 after he began last week 0-for-5. But Sanchez went 8-for-17 over his next four games, finishing the week with a .250 average for the season to date. He hit his second home run of the year Thursday, then banged out four hits, including two doubles, the following day.
1B: Josh Bell, Pirates (No. 3 prospect)
7 G, .400/.438/.767, 6 R, 3 2B, 1 3B, 2 HR, 9 RBIs, 2 BB, 3 SO, 1 SB
Don't look now, but the power is starting to come. Bell hit for the cycle Friday, driving in five. He also homered on Wednesday and now has an eight-game hitting streak going. His .589 slugging percentage for the season is second in the International League.
2B: Ian Happ, Cubs (No. 3 prospect)
7 G, .429/.600/.905, 7 R, 1 2B, 3 HR, 9 RBIs, 9 BB, 4 SO, 1 SB
While continuing to adjust to life back in the infield -- he played second base during his freshman year at the University of Cincinnati -- Happ has flat-out raked. A four-hit, two-homer, four-RBI performance began his week on April 18, and he added another homer on Saturday. Happ drew nine walks and struck out four times, another sign he's pretty dialed in.
3B: Rio Ruiz, Braves (No. 16 prospect)
7 G, .480/.519/.680, 2 R, 2 2B, 1 HR, 5 RBI, 2 BB, 4 SO
Ruiz's first season with the Braves in 2014 was a bit of a disappointment. He's making up for that now. Ruiz hit in all seven games last week, four of them of the multihit variety. He raised his batting average 65 points in the process and is now third in the IL with his .381 average and fifth with a 1.006 OPS.
SS: Brendan Rodgers, Rockies (No. 1 prospect)
6 G, .360/.407/.800, 6 R, 2 2B, 3 HR, 10 RBI, 1 BB, 3 SO, 2 SB
In addition to his two-homer, four-RBI game on Tuesday, Rodgers drove in five with two doubles and another home run on Friday. And lest you think this is solely a product of the bandbox in Asheville he calls home, Rodgers went 6-for-13 in a three-game series in Rome, Ga., facing three starters all in the Braves' Top 30.
OF: Hunter Renfroe, Padres (No. 3 prospect)
6 G, .429/.500/1.048, 7 R, 1 2B, 4 HR, 6 RBIs, 3 BB, 5 SO, 1 SB
Renfroe homered in four straight games to end the week, his first four long balls of the season. He drove in all six of his runs for the week in those four contests as well. As a result, he's now third in the Pacific Coast League in SLG (.661) and fifth in OPS (1.042).
OF: Mike Yastrzemski, Orioles (No. 22 prospect)
7 G, .438/.455/.813, 7 R, 3 2B, 3 HR, 9 RBIs, 1 BB, 5 SO, 1 SB
After struggling a bit in the Eastern League in 2015, Yastrzemski is back there this year, but if he keeps hitting like this, it won't be for long. The younger Yaz had six multihit games last week, raising his average nearly 160 points in the process. He also homered twice on Thursday and again on Saturday, his first three home runs of the season.
OF: Dylan Davis, Giants (No. 30 prospect)
7 G, .435/.536/.913, 8 R, 2 2B, 3 HR, 6 RBIs, 5 BB, 7 SO
The Giants' third-round pick out of Oregon State in 2014, Davis wasn't ready for the Class A Advanced California League in 2015, so he went down to the South Atlantic League. He's back there again, but it looks like he's pushing for another crack at San Jose. Davis's best game came on Wednesday, when he homered twice and drove in four. He's now fourth in the SAL in SLG (.639).
LHP: Stephen Gonsalves, Twins (No. 6 prospect)
0-0, 1.29 ERA, 1 GS, 7 IP, 2 H, 1 R, 1 ER, 1 BB, 8 SO, 0.43 WHIP
The southpaw continues to show he just flat-out knows how to pitch and has gone at least six innings in each of his first three starts. Gonsalves has walked just four in 19 innings, holding Florida State League hitters to a .156 batting average. He earned a promotion up to Fort Myers last year. If he keeps this up, a bump to Double-A Chattanooga should be in order.
RHP: Marcos Diplan, Brewers (No. 20 prospect)
1-0, 0.00 ERA, 2 G, 1 GS, 9 IP, 2 H, 1 R, 0 ER, 0 BB, 10 SO, 0.22 WHIP
Pitching in a piggyback system with Freddy Peralta, Diplan started on April 18 and went four innings, allowing just the one unearned run. He followed that up with five one-hit innings in relief on Saturday. Perhaps most impressive is that Diplan walked no one and allowed one hit in each of the two outings.
Jonathan Mayo is a reporter for MLBPipeline.com. Follow him on Twitter @JonathanMayo and Facebook, and listen to him on the weekly Pipeline Podcast. This story was not subject to the approval of Major League Baseball or its clubs.