MLB.com Columnist
Tracy Ringolsby
'Ugly' win looks great to Dodgers
Club heads home satisfied after roller-coaster game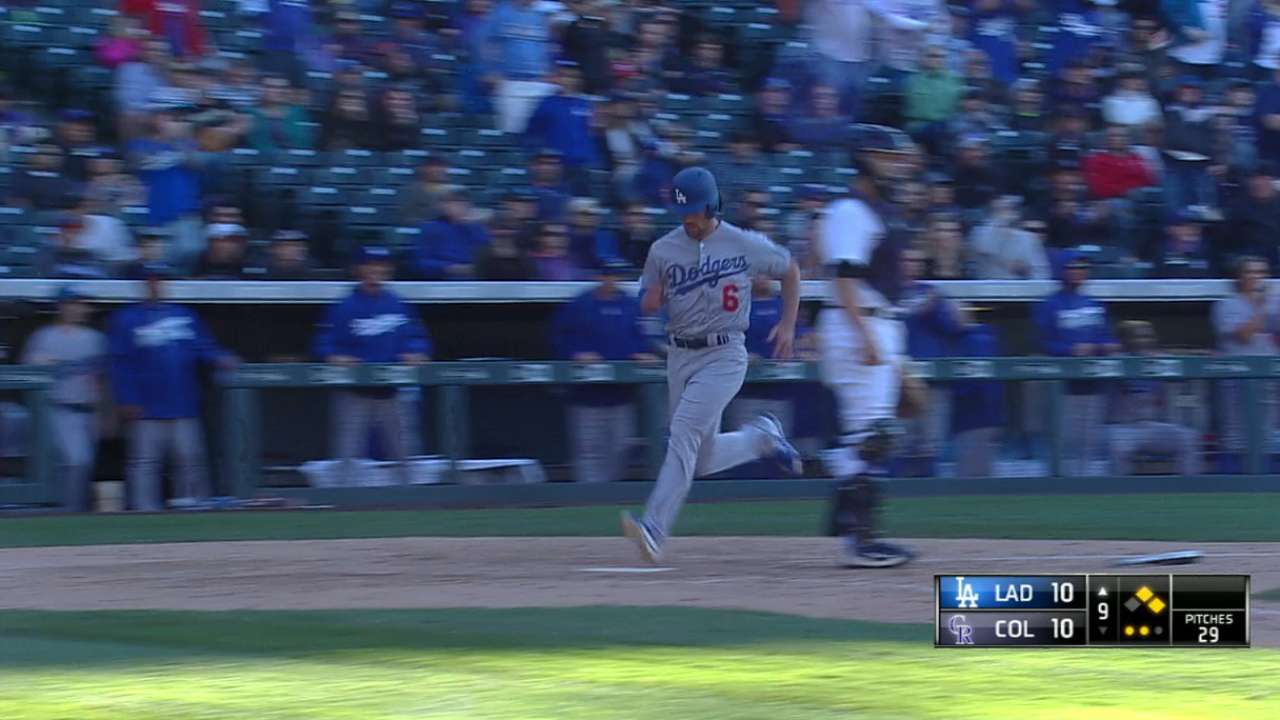 DENVER -- It was in the summer of 1983. The Chicago White Sox were on their way to winning the American League West title. Then-Texas manager Doug Rader moaned that the White Sox "are winning ugly."
White Sox manager Tony La Russa smiled when the messaged was relayed.
"We're winning," said La Russa. "There's nothing ugly about that."
Bingo.
It's baseball, not figure skating. There are no style points. Team with the most runs wins, and it doesn't matter how it scores those runs.
So as the Los Angeles Dodgers packed their bags and headed for Denver International Airport on Sunday evening, they were thankful to get out of Coors Field with a 12-10 victory, which allowed them to claim two of three from the Rockies and take a 2 1/2-game lead over the D-backs in the National League West. The Dodgers open a weeklong homestand against the Marlins on Monday.
A work of art? Let's just say if it was a painting, it would have been signed by Pablo Picasso.
But it was a win, and it counts just as much in the standings as a perfect game, even a victory like the one on Sunday, when Los Angeles blew a 7-1 lead and then rallied from a 10-7 deficit in the top of the ninth against Colorado closer Jake McGee.
"It was one of those games that is so emotional that when you get [on the bus] for that 35-minute ride to the airport, you zonk out,'' said Dodgers manager Dave Roberts. "It was a game of emotions."
It also was a game of the last team standing, which was Los Angeles.
It was a game in which Rockies starter Jordan Lyles retired eight batters and gave up seven runs, and that was after he escaped a first-inning mess, when he walked the bases loaded with two out, but got Howie Kendrick to ground out.
It was a game in which Colorado started its comeback with a three-run rally that was capped off by left-handed reliever Chris Rusin driving in the final run with a two-out push bunt down the third-base line. And after the Rockies came up with a run in the fifth on a walk, wild pitch, infield single and reliever Pedro Baez bungling a bunt, they built a five-run eighth inning to take that 10-7 lead.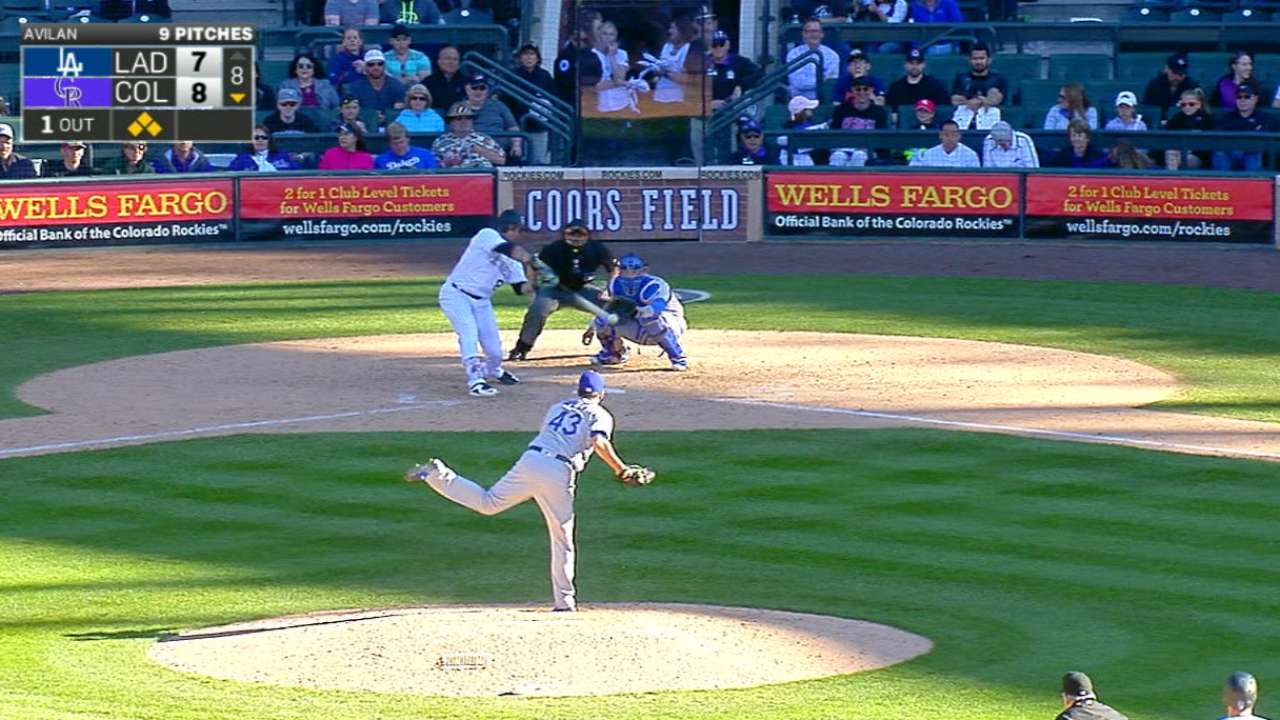 It was a game in which Yasiel Puig, whose off-target throw from right field in the seventh inning Friday night set up Colorado's 7-5 come-from-behind victory in the opener, over-ran Carlos Gonzalez's ground-ball single to set up the final runs in the eighth that gave the Rockies their three-run edge.
And it was a game in which the Dodgers rallied for those five runs in the ninth, in no small part because after Adrian Gonzalez led off the inning with a single, Trevor Story was unable to complete the back half of a double play that would have left Los Angeles with two outs and nobody on base.
Not that the Dodgers were complaining. Once Kenley Jansen struck out Story to end the bottom of the ninth, Los Angeles had reason to celebrate. The Dodgers had survived Coors Field, taking two out of three, and heading home having won eight of their past 11 games, climbing from second place, two games out in the NL West to the top of the division.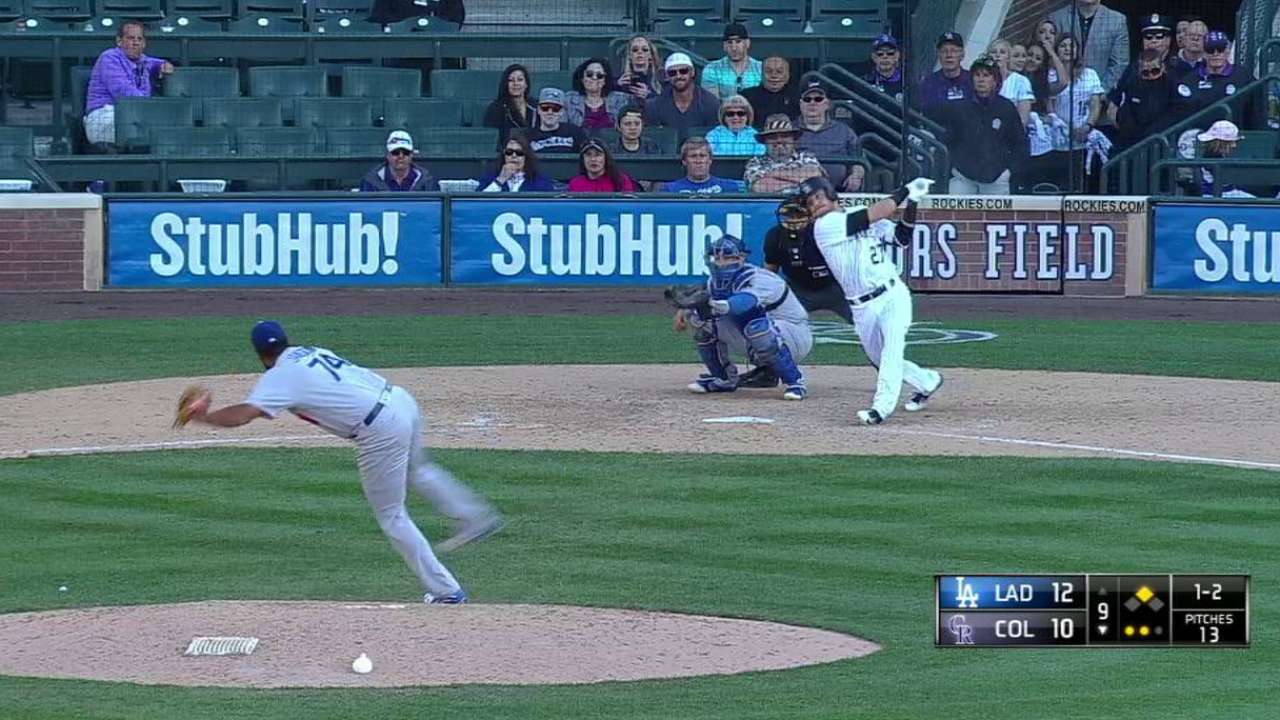 That is a pretty picture. That can overshadow an afternoon in which most things would be better off forgotten -- other than the victory, of course. This is a team that arrived at Coors Field on Friday with a bullpen falling into place, having allowed only one earned run in 26 1/3 innings, in winning six of eight games.
Then came nine earned runs in 9 1/3 innings of the three-game visit to Coors Field.
"You blow a six-run lead …" said Roberts. "It is a game of emotions. It's more a feeling of relief that you can get out of here and not come back until August."
And by then, all that anyone will remember is that the Dodgers won two out of three in their April visit.
How they won them won't matter.
It may be ugly at the moment, but in the long run, it is the beauty of another game in the win column.
Tracy Ringolsby is a columnist for MLB.com. This story was not subject to the approval of Major League Baseball or its clubs.