Nats' 16-inning win an emotional 'roller-coaster'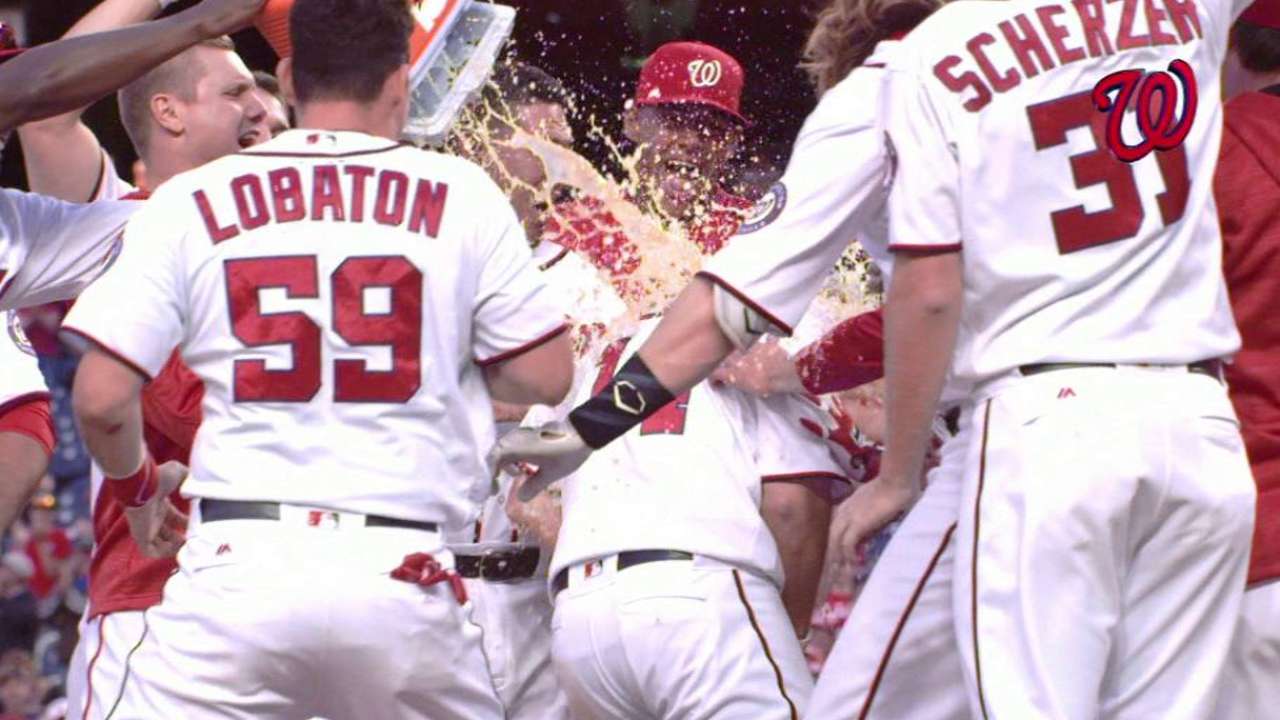 WASHINGTON -- The longest regular-season game in Nationals history needed 38 total players, 516 pitches, 16 innings, 5 hours and 56 minutes. It took a pinch-hit home run from the reigning National League MVP in the ninth, a drag bunt by a relief pitcher to drive in the go-ahead run in the 15th and the first career walk-off homer from the last man off the bench to lead the Nationals to a 6-5 victory over the Twins in a wild Sunday afternoon at Nationals Park.
Nationals manager Dusty Baker, who has been around his fair share of games throughout his five-decade baseball career, along with his bench coach Chris Speier and first base coach Davey Lopes called Sunday's game the craziest one they have ever been a part of.
"I feel like I just came out of the twilight zone," Baker said. "Man, that was some game. That was a roller-coaster game of emotions."
It began with the Nationals down a run in the ninth inning. Baker called upon Bryce Harper to pinch-hit to start the inning against Twins closer Kevin Jepsen. He had given Harper his first day off of the year, but told him to be ready to pinch-hit. Harper got seven consecutive fastballs from Jepsen, the last of which ended up 411 feet into center field for a home run to tie the game.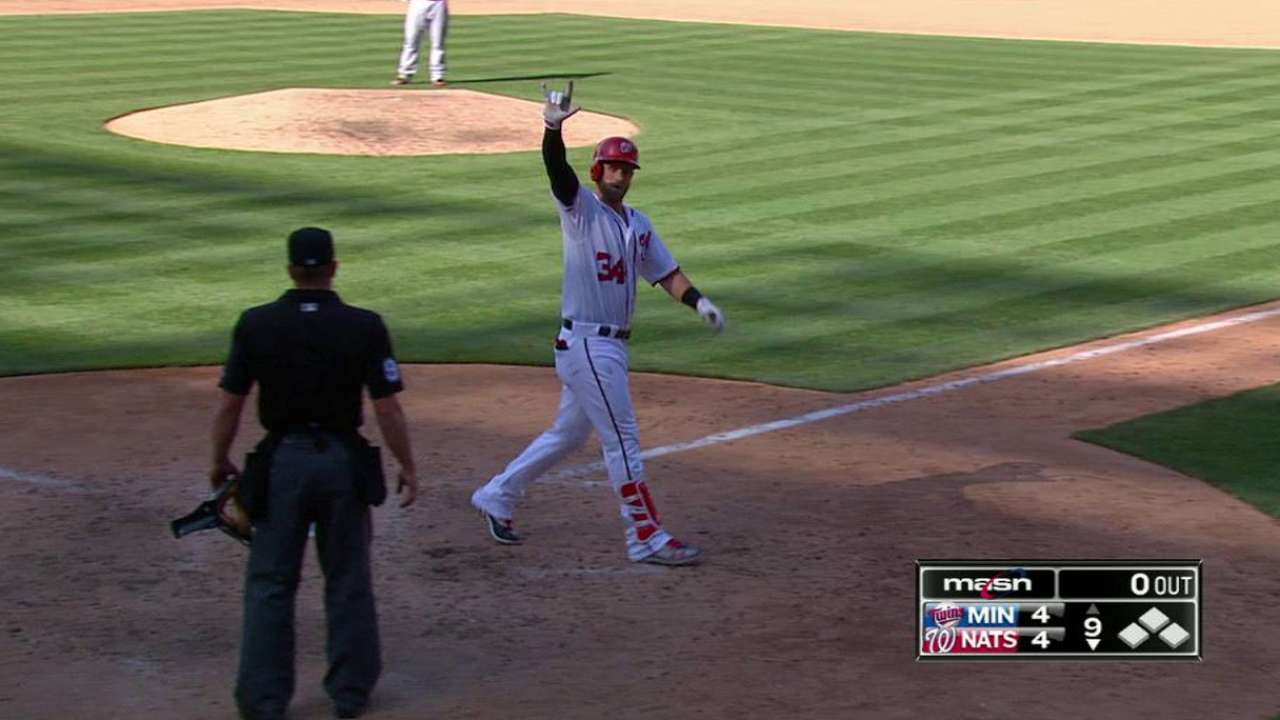 "I mean it was just absolutely amazing," Harper said about Sunday's game. "This team is very special, and it's a lot of fun to be a part of it and watch and just help a little bit."
Yusmeiro Petit entered the game in the 11th and delivered what is starting to become a vintage performance. With the Nationals bullpen short-handed and down to one final reliever, Petit spun 4 2/3 innings of one-run ball, giving up two hits and three walks while striking out six. However, the Twins scored a run in the 15th after Eduardo Nunez stole a base and scored on a single from Miguel Sano to give Minnesota a one-run lead.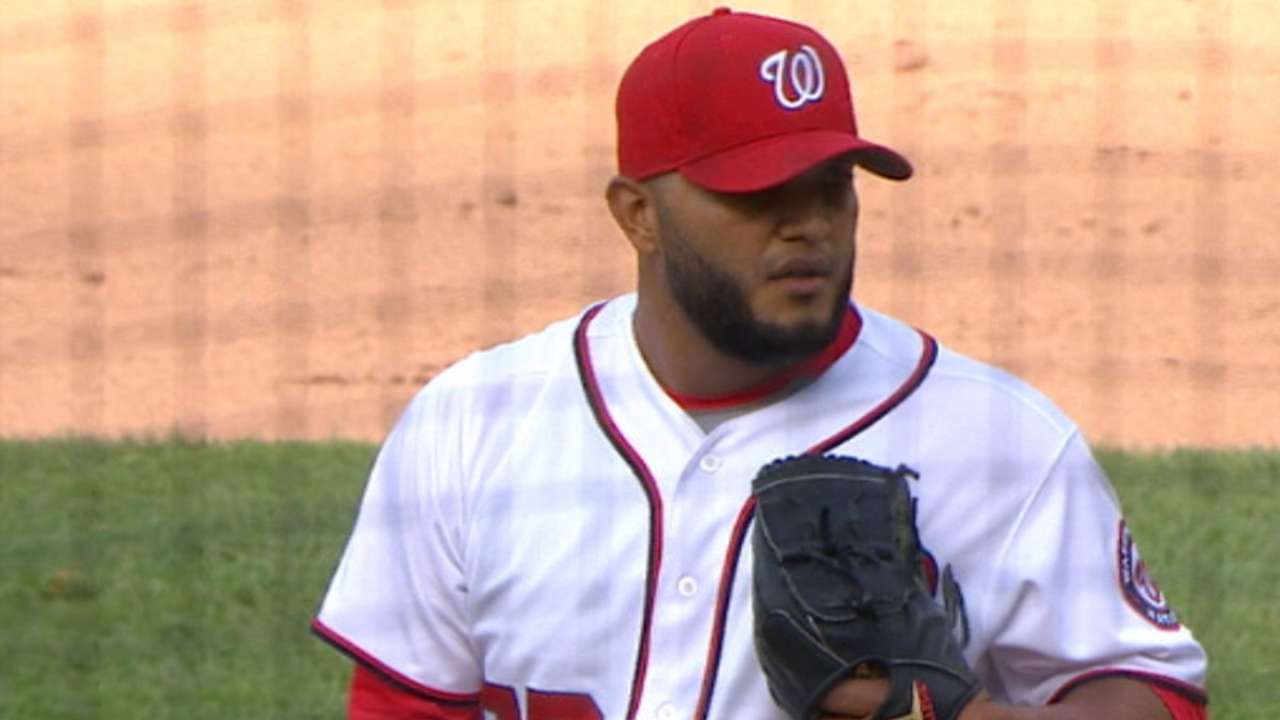 But again, they could not hold the lead. Danny Espinosa walked with one out in the bottom of the 15th ahead of left-hander Oliver Perez, who had not had an at-bat since May 9, 2010, when he was still a starting pitcher with the Mets. Before Perez could bat, the Twins actually switched pitchers and brought in a right-hander, Michael Tonkin, to face him.
Espinosa stole second base, and Perez noticed the third baseman playing back on him. "Figured why not take a chance there," said Perez. He placed a bunt down the third-base line that appeared as if it were about to roll foul before catcher John Ryan Murphy picked it up and fired it past the first baseman Joe Mauer. Espinosa scored from second base and the Nationals tied the game.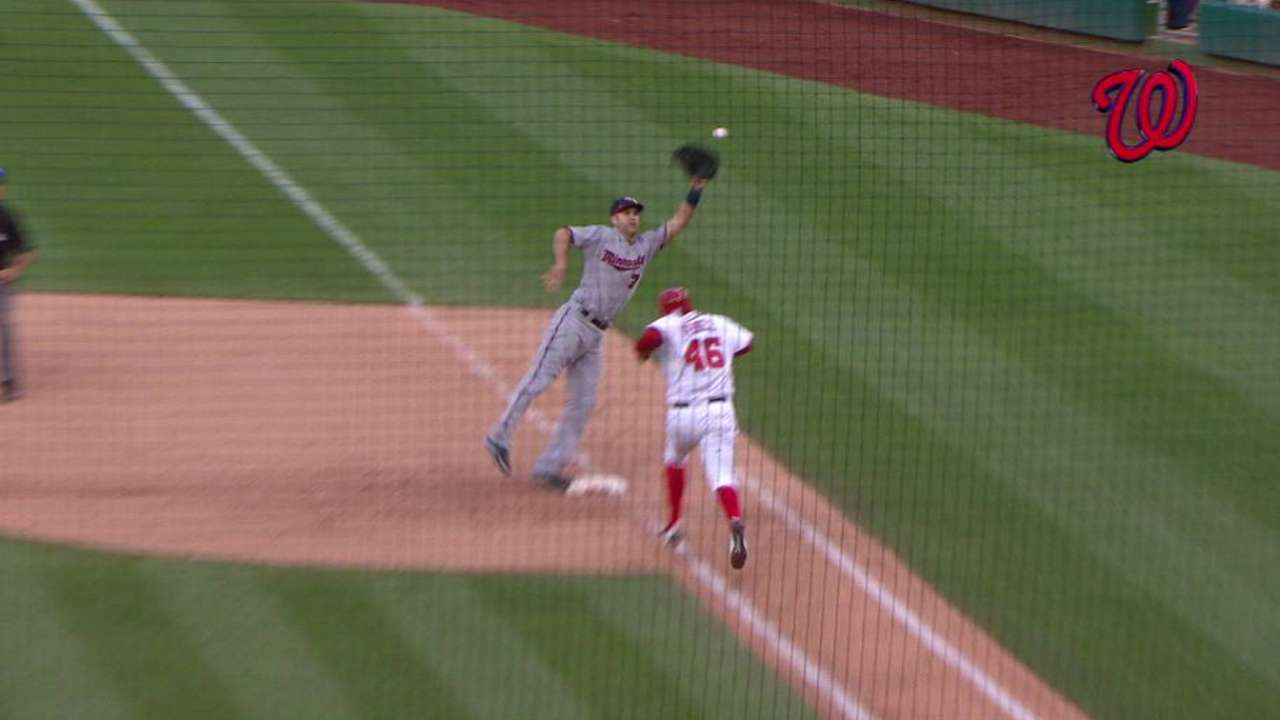 "Shocked them, shocked me, shocked everybody," Baker said.
That set the stage for Chris Heisey in the 16th, as the game neared six hours old, to launch a solo homer over the bullpen left-center field to end it. It was his first walk-off home run of his seven-year Major League career.
"Just an all-around awesome game to be a part of, and I'm glad we ended up with the W," Heisey said. "Those are the ones that really sting when you come out of it with a loss after that long period of time."
By the end, it was the longest game in Nationals history, in terms of time. It tied for the longest, innings-wise, with the matchup on June 24, 2014 at Milwaukee.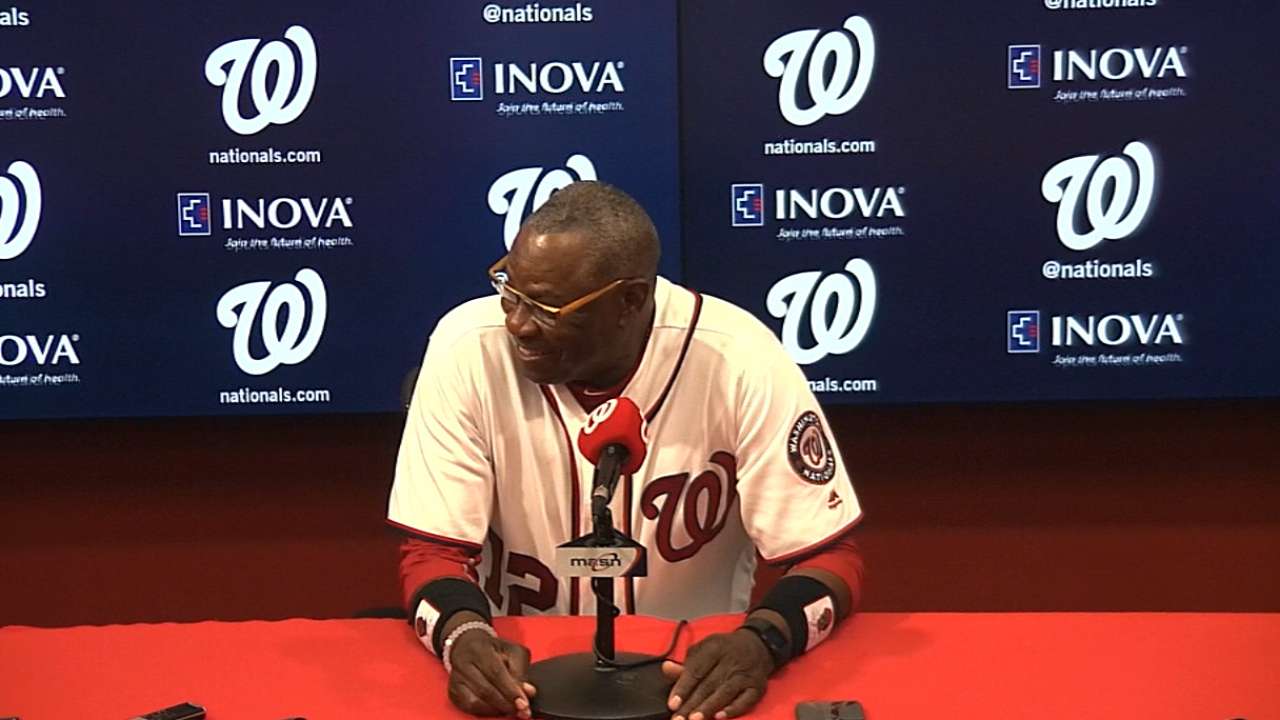 "And we always say, 'Go to the ballpark, you always see something you've never seen before,'" Baker said. "Well, I certainly hadn't seen anything like this. This was crazy."
Jamal Collier covers the Nationals for MLB.com. Follow him on Twitter at @jamalcollier. This story was not subject to the approval of Major League Baseball or its clubs.