Jansen, Utley show veteran chops in slugfest
Closer, second baseman help Dodgers lock down win in zany game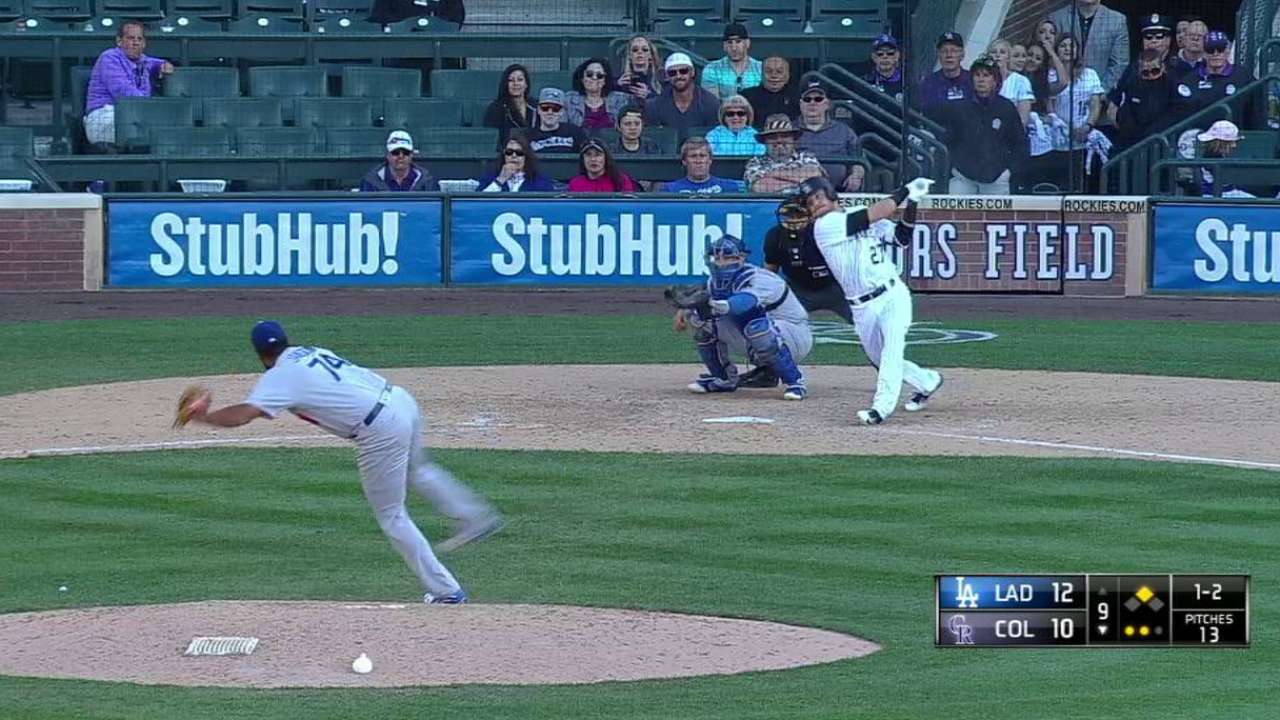 DENVER -- Marking the kickoff of All-Star voting, the Dodgers on Sunday won a zany Coors Field slugfest in spite of themselves, with Chase Utley and Kenley Jansen stepping up in the ninth inning the way All-Stars should.
After blowing a six-run lead through three innings to fall behind by three runs through eight innings, Utley capped a five-run Dodgers ninth inning off Colorado closer Jake McGee with the go-ahead RBI double and Jansen locked it down with his ninth save in an exhausting but exhilarating 12-10 win.
Fans can vote for Utley, at 37 suddenly the starting second baseman and leadoff hitter for the Dodgers, who completed a 4-2 trip and open the homestand Monday night against the Miami Marlins and former manager Don Mattingly.
• Cast your Esurance All-Star ballot for Utley and other #ASGWorthy players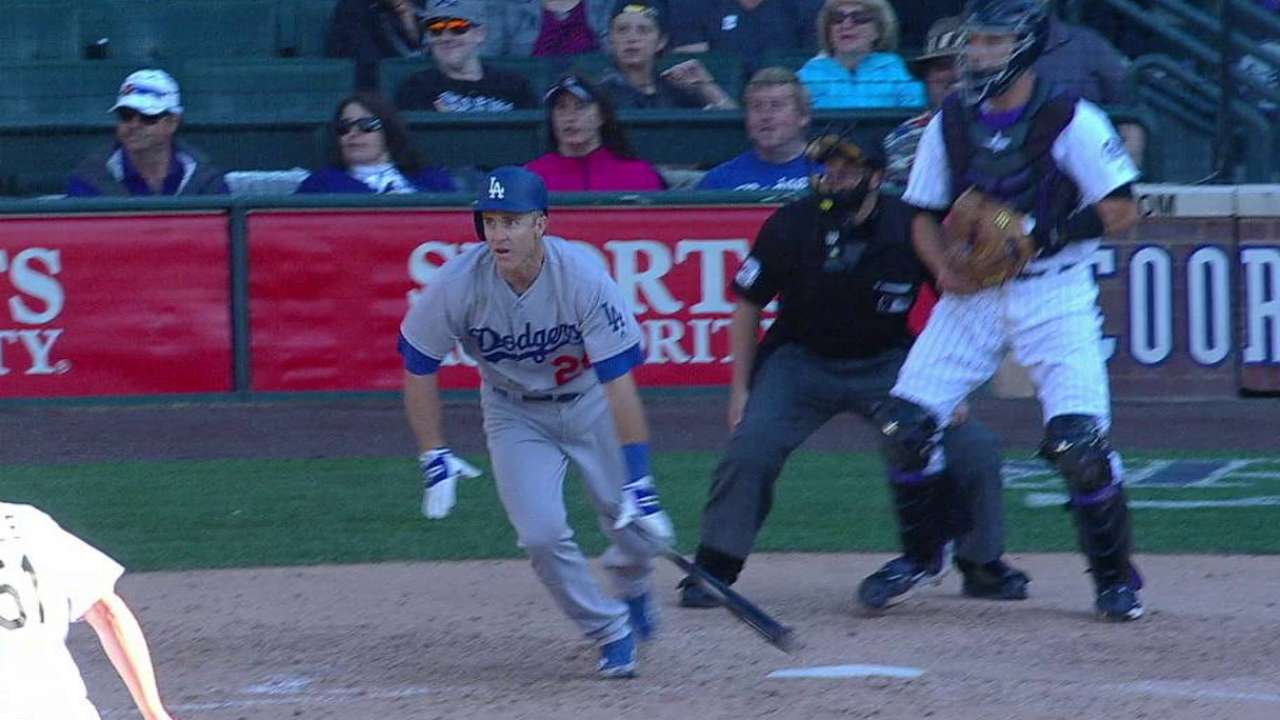 "We swung the bats well early, hit a lull in the middle (hitless for 5 1/3 innings), and beat a good closer by stringing a lot of at-bats with hits and walks and putting the ball in play," said Utley. "You see it every night in the scores from here. Give credit to our guys, we battled in the ninth inning."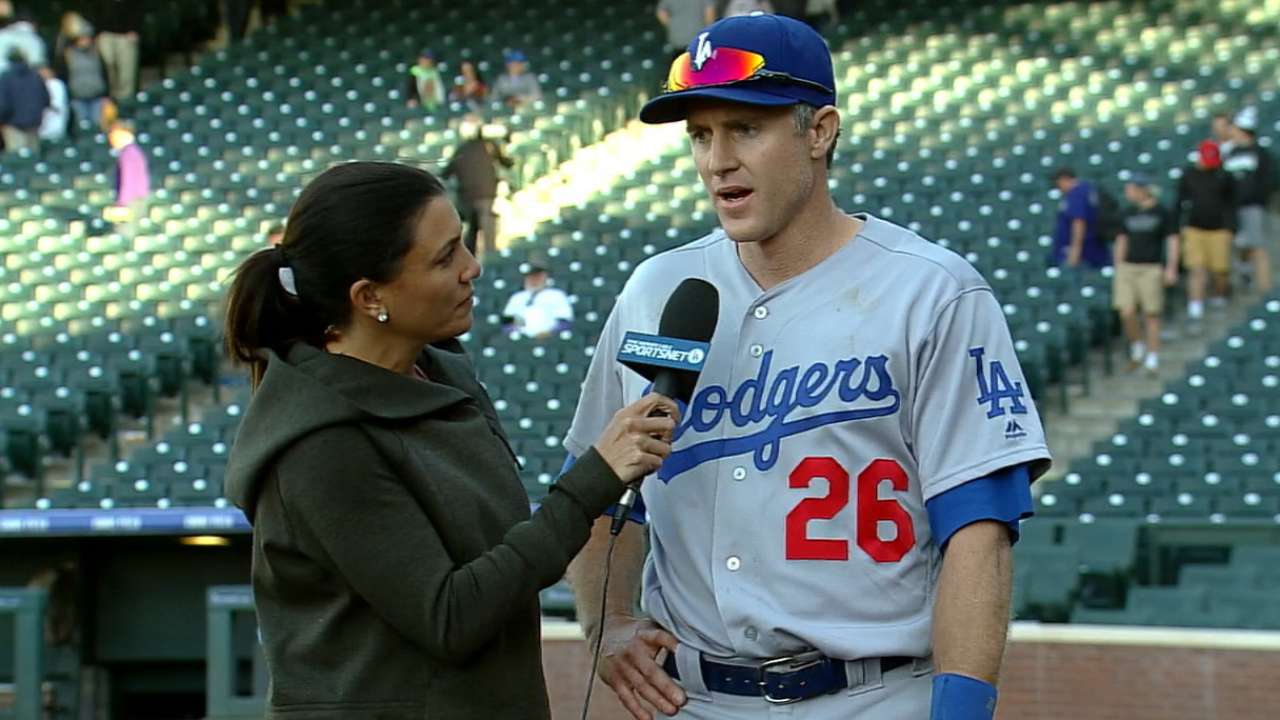 And it was a battle. Yasiel Puig won a battle with the right-field fence, slamming into it but hanging on to a Brandon Barnes line drive to save two runs. Puig also was charged with an error for letting a Carlos Gonzalez single roll under his glove.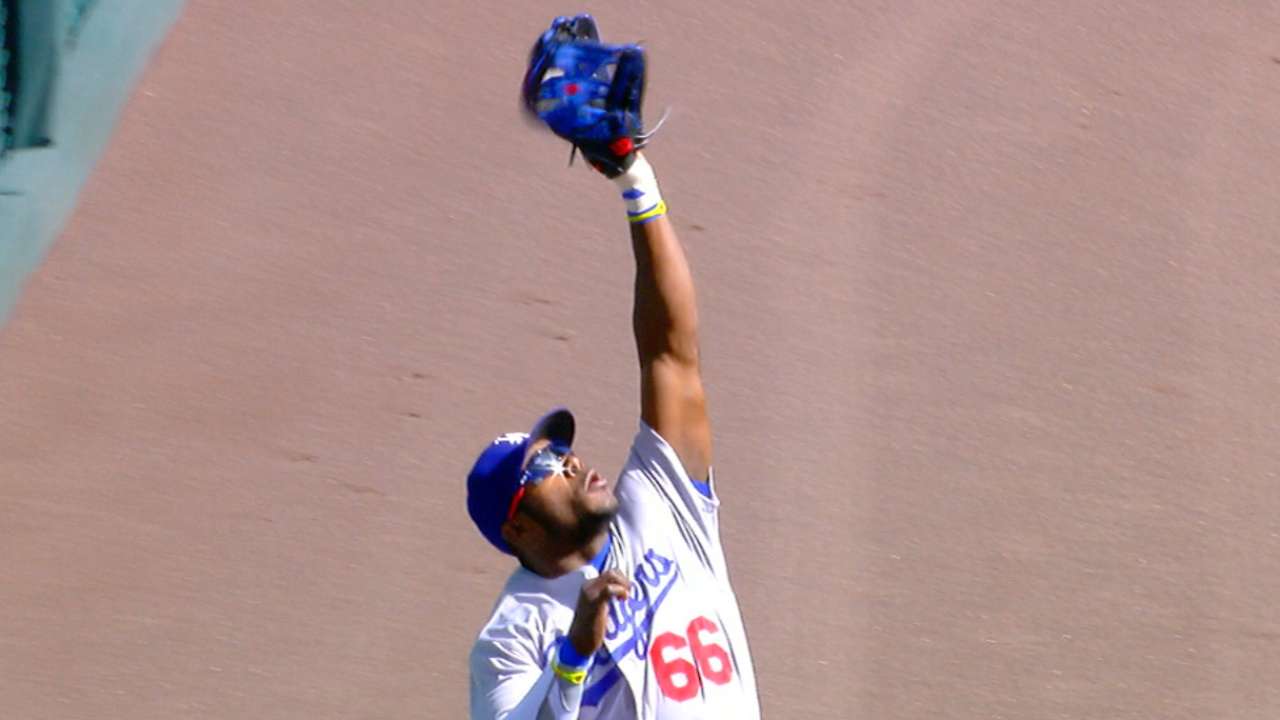 Trayce Thompson made a diving catch on Gerardo Parra's sinking liner with two on in the seventh (Parra had hits in all four of his other at-bats). But Thompson also got lost on a wind-blown fly ball that fell for a double in the three-run fourth.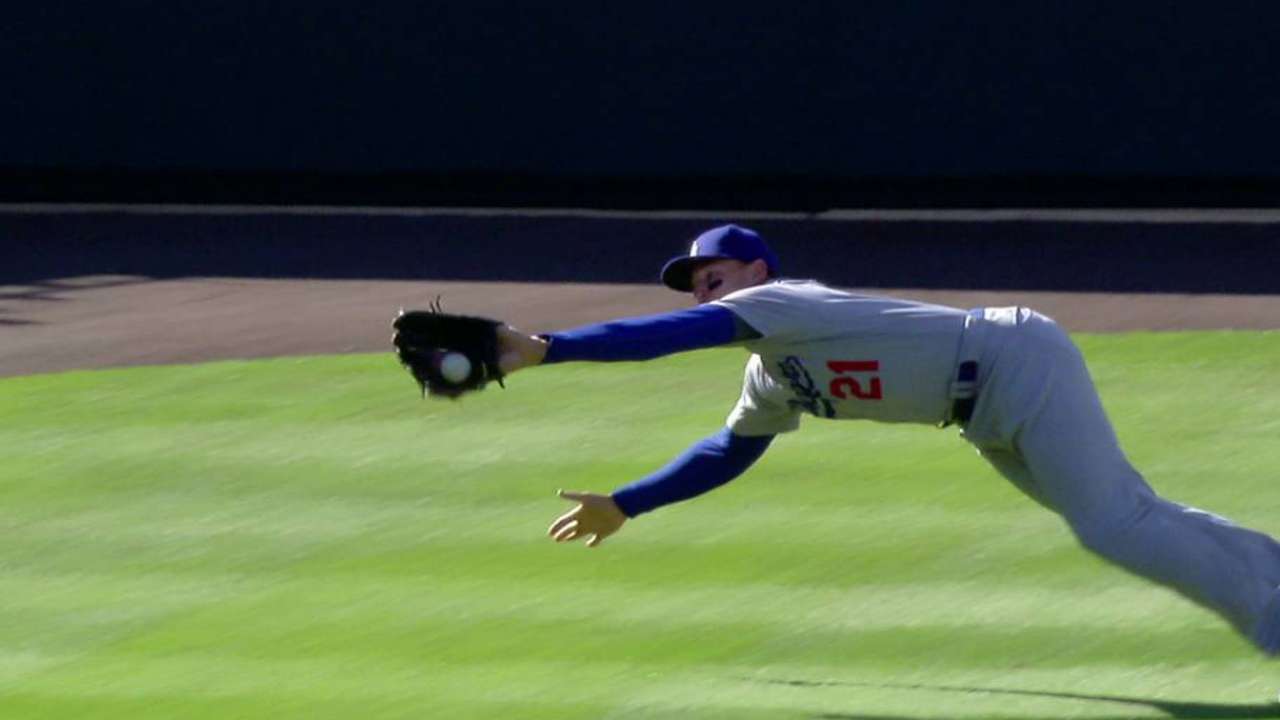 And the bullpen, which has been streaky good and bad this month, was both in this game. After starter Alex Wood had a 7-1 lead cut to 7-5 through five innings, Pedro Baez and Adam Liberatore pitched scoreless innings before Chris Hatcher and Luis Avilan combined to allow five runs while retiring only one batter in the eighth.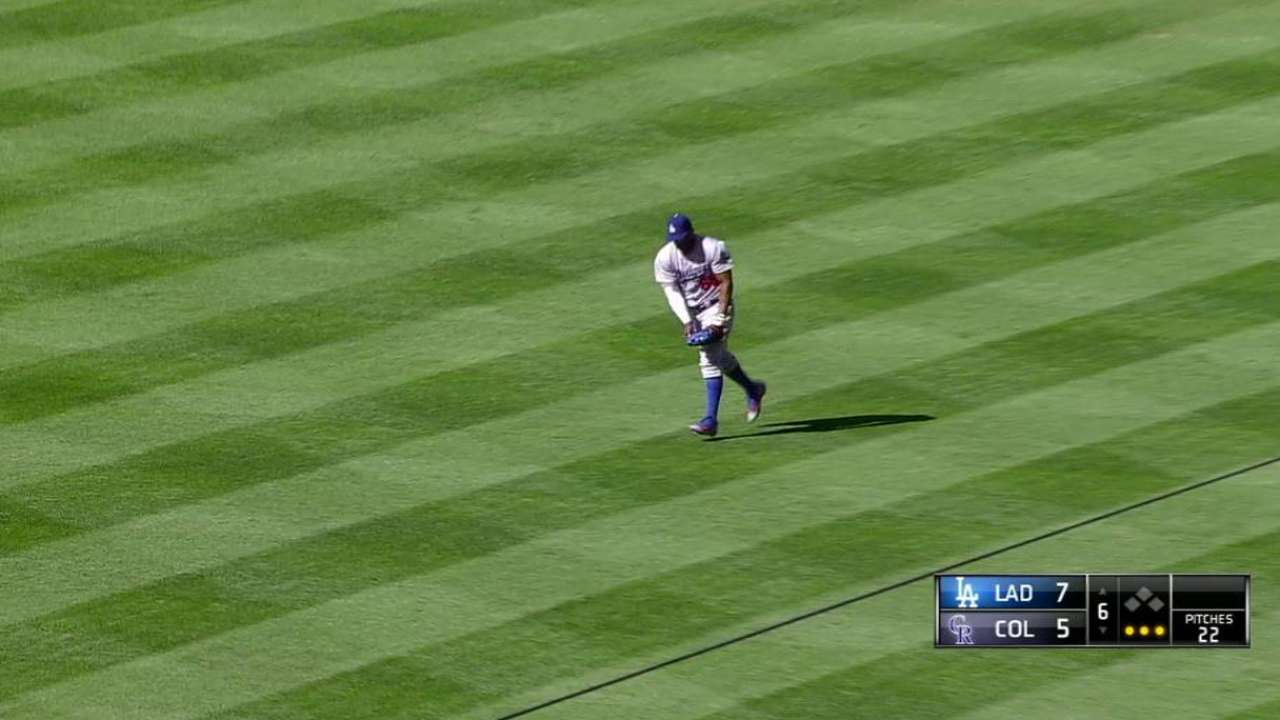 "Hatcher is getting lefties out and not getting righties out, and it's fastball command," said manager Dave Roberts.
Joe Blanton finally put down the rally by getting an inning-ending double-play from DJ LeMahieu, which put Blanton in position for a one-pitch victory once the offense rallied in the ninth.
Of course, then it was up to Jansen, who moved to within 10 saves of Eric Gagne's franchise record of 161, yet is still looking for his first All-Star berth. After issuing a four-pitch walk to Dustin Garneau leading off the bottom of the ninth, he struck out two of the next three Rockies to end the four-hour, two-minute game.
Back-to-back, night game/day game saves were a huge score for the team and a psychological hurdle to clear for Jansen, who admits to a creepy uneasiness coming to Denver ever since he experienced an irregular heartbeat here in 2012. That led to offseason heart surgery and a special personal routine every time the Dodgers come to town. Jansen explained that he must drink incessantly to avoid dehydration, and he practices breathing exercises during the club's stay to stabilize blood and oxygen flow, even using an app on his cell phone that coaches him through the exercises.
"I feel like in this ballpark, every four-run lead you've got to treat like a two-run lead, because crazy stuff can happen here and it just did," said Jansen.
Roberts said reliever J.P. Howell was healthy and wasn't used because of matchups.
Ken Gurnick has covered the Dodgers for MLB.com since 2001. This story was not subject to the approval of Major League Baseball or its clubs.