Stanton slugs his way out of hitting slump
Marlins outfielder launches homer, notches two singles in win vs. Giants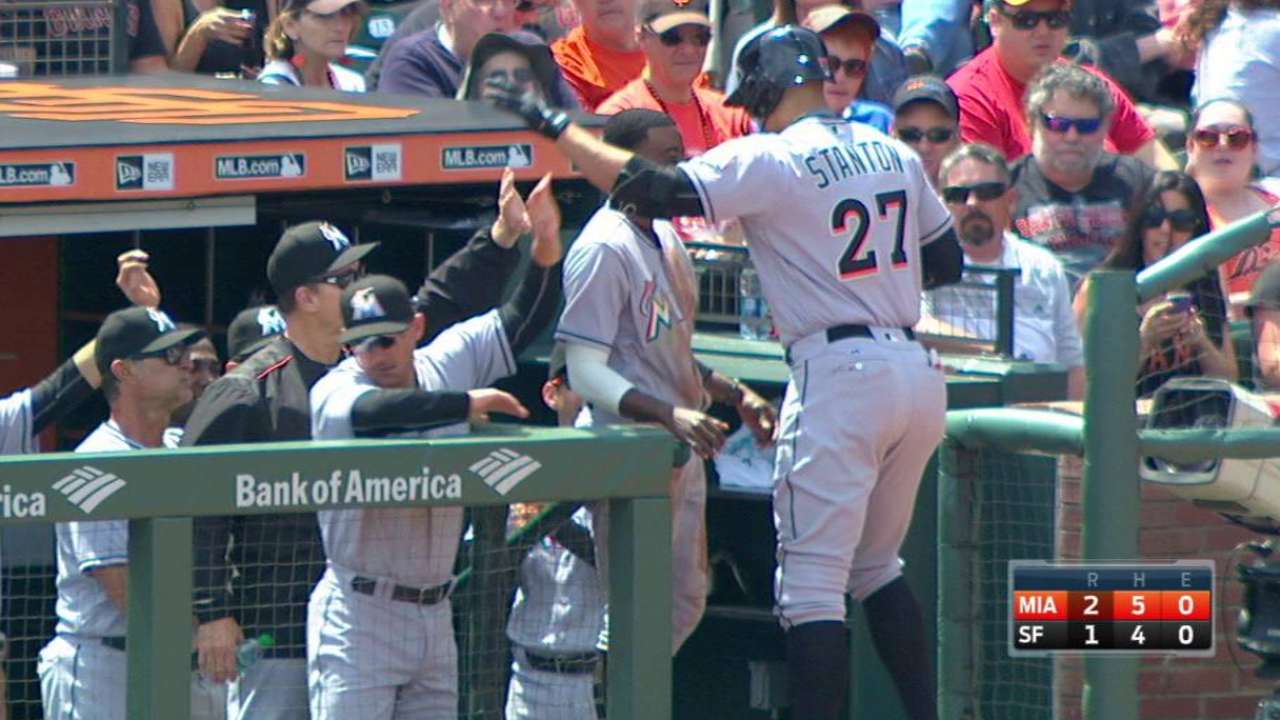 SAN FRANCISCO -- Batting practice turned out to be a sign of things to come Sunday for Giancarlo Stanton in the Marlins' 5-4 win over the Giants at AT&T Park.
In warmups, Stanton launched several drives in the direction of the large glove fixture, stationed well beyond the wall in left-center. One practice shot didn't find the glove, but it actually bounced into the parking lot, giving the attendant an improbable souvenir.
In the game, Stanton made his at-bats count for real, as he blistered a home run off Matt Cain and collected three hits along with a walk. The breakout performance was a relief for the Marlins, because the three-time All-Star had been hitless in eight at-bats with four strikeouts in the series.
"We talked about it [Saturday], how we thought his BP was really good," Marlins manager Don Mattingly said after Sunday's victory. "The ball was coming off his bat square. It didn't work last night, but we saw it again today. Hopefully, this is the start of him getting it going."
• Cast your Esurance All-Star ballot for Stanton and other #ASGWorthy players
Not one to put too much stock in practice swings, Stanton still admitted he felt better the past few days.
"I did have better batting practice, but I couldn't attribute it to that," Stanton said. "I don't really like taking BP on the field, necessarily."
Getting into the groove of the season is taking some time for Stanton, who raised his batting average from .193 to .230 in one afternoon. One reason is he hasn't had much actual game experience, because he appeared in just 74 games in 2015 due to a broken left hamate bone.
The Marlins haven't been able to sustain any consistent winning, and Stanton acknowledges he hasn't done his part.
"When you get zero production from your fourth hitter, you're not going to win many games, which is kind of what we've seen," he said. "Not necessarily RBIs or hits ... anything productive. Just keeps the line moving, that's what helped out today, for sure."
Stanton's home run to left opened the fourth inning and gave the Marlins a 2-1 lead.
According to Statcast™, the drive traveled 406 feet from home plate, with an exit velocity of 108 mph. It was the slugger's fourth home run of the season and fourth in 22 career at-bats against Cain.
Stanton added a walk and a pair of singles.
Throughout his career, Stanton has been streaky, and the Marlins are hopeful he is about to go on one of his hot stretches.
Before the 26-year-old feels he is back to his old self, he first must string together several quality games.
"There's no relief," Stanton said. "You've got to put together a week and keep a steady control of it. Anyone can have a day. I'm talking in terms of me. We played great team ball today. You've got to put it together a few times in a row if you want to talk about a relief just yet. I'm not pressing. I'm just not satisfied."
Joe Frisaro has covered the Marlins for MLB.com since 2002. He writes a blog, called The Fish Pond. Follow him on Twitter @JoeFrisaro and listen to his podcast. This story was not subject to the approval of Major League Baseball or its clubs.