Twins lament 'big highs, lows' of extras loss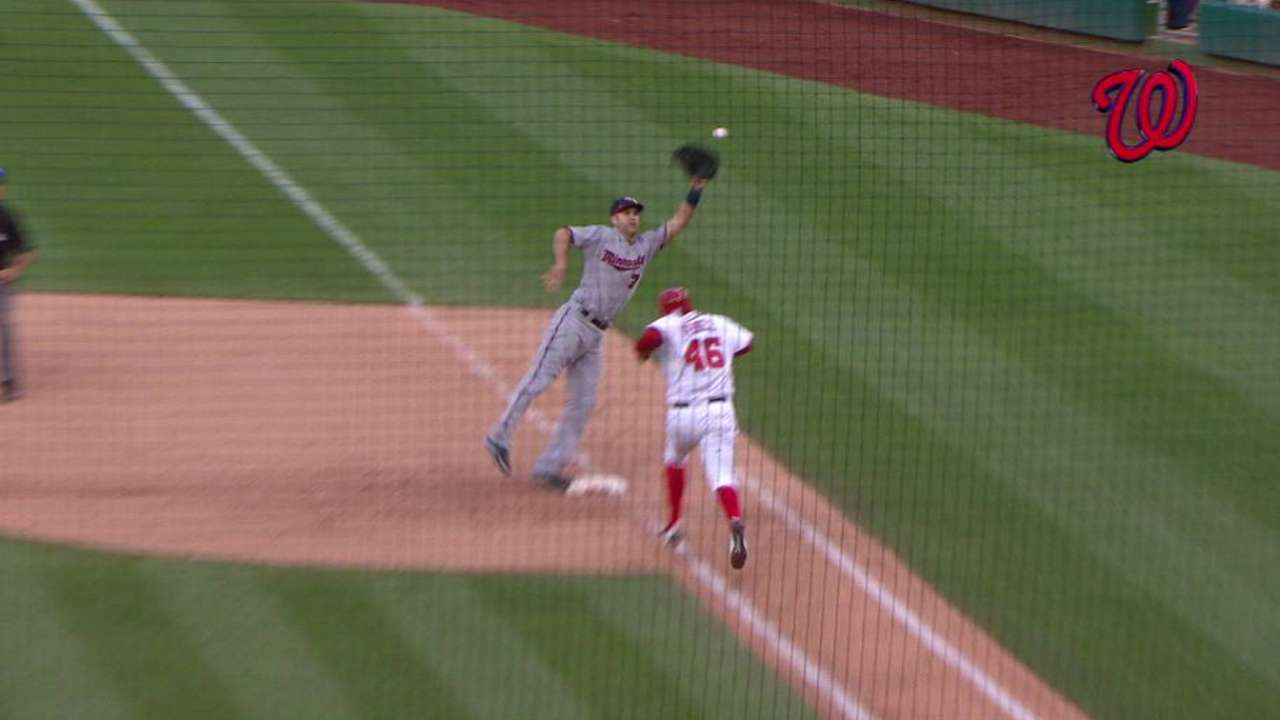 WASHINGTON -- At various points in Sunday's game, the Twins held leads of 4-1, 4-3 and 5-4. But again and again, the Nationals erased Minnesota's advantages, and when the 16th inning ended, the Twins found themselves on the wrong end of a 6-5 classic.
While Washington manager Dusty Baker called Sunday the craziest game he's been a part of, Minnesota's Paul Molitor wasn't interested in ranking it.
"To try to imagine or compare that is not really an avenue I've gone down," Molitor said. "The only thing I've thought about now is mostly what I could have done to give us a better chance."
One of the day's most improbable moments came in the 15th inning, with the Twins leading 5-4. With a runner on second and two outs, Nationals pitcher Oliver Perez -- batting for the first time since 2010 -- dropped a bunt on the third-base side of the pitcher's mound. Catcher John Ryan Murphy jumped out from behind the plate, grabbed the ball as it rolled toward foul territory and fired a throw past first baseman Joe Mauer and into right field, allowing the tying run to score.
Murphy said afterward he wasn't sure if the ball was rolling foul, and Molitor refused to blame his catcher.
"I don't fault a catcher who can end the game on making a play. If he makes a play, the game is over," Molitor said. "It looked like he never really got a really good grip on it."
The game lasted five hours and 56 minutes and felt even longer, given the wild pendulum swings from the eighth inning onward. The Twins took a three-run lead on a Brian Dozier home run, gave the runs back as Bryce Harper blasted a pinch-hit homer, then took the lead again in the 15th only to lose it once more.
If anyone felt the strain of the marathon contest, it was Murphy. The catcher started the game and lasted all 16 innings behind the plate, receiving all 273 pitches thrown by Twins hurlers.
"I'm tired, but so is everybody else on the field," Murphy said. "It's part of the job, I guess."
Minnesota pitcher Tyler Duffey, who started on the mound long before any of the late-inning fireworks, said he was disappointed by the loss, but he acknowledged the game as one of the craziest he has been a part of.
"Big highs and lows at that point in the game. You're on the edge of your seat," Duffey said. "That's baseball for you. It could happen again tomorrow. You never know."
Alex Putterman is a reporter for MLB.com based in Washington. This story was not subject to the approval of Major League Baseball or its clubs.