Thor, Zimm bring sub-1.00 ERAs into today's games
Bumgarner, Greinke, Archer and Stroman also slated to take the hill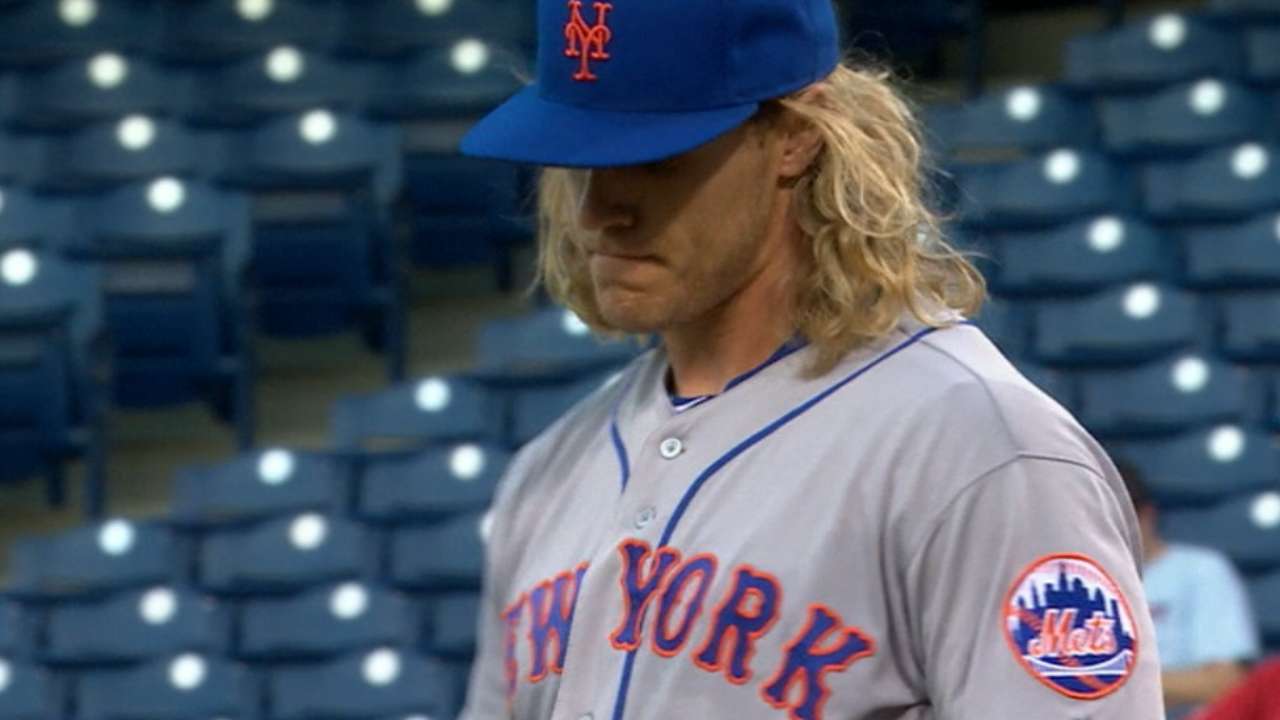 Noah Syndergaard and Jordan Zimmermann have been among the toughest assignments for hitters this season -- each has posted a sub-1.00 ERA through three starts. In Zimmermann's case, he's yet to surrender a single run, beginning the year with 19 1/3 scoreless frames.
Syndergaard and Zimmermann are just two of many top pitchers scheduled to toe the rubber as part of today's 13-game slate. They'll be joined by Madison Bumgarner, Zack Greinke, Chris Archer and Marcus Stroman. Fans can catch all the action streaming live on MLB.TV.
MLB.TV Premium returns with the same features as last year, but at $109.99, it is a full 20 bucks cheaper than the 2015 cost. This package has the best value and provides access to more than 400 devices and a free subscription to the MLB.com At Bat Premium app (a $19.99 value). It offers the best picture quality ever -- a new 60 frames per second -- for supported devices. Monthly signups for MLB.TV Premium are now underway as well for $24.99.
The new MLB.TV Single Team package is also now available as an $84.99 yearly subscription. You can watch a single team's live out-of-market games in full HD.
Here's what to watch for throughout the day (all times in ET):
Thor tries to stay perfect: CIN@NYM, 7:10 p.m.
The Mets' Syndergaard has picked up right where he left off in his impressive rookie season; he's surrendered just two earned runs through three starts, striking out 29 batters in 20 innings. His last time out, a win vs. Philadelphia, his fastball touched triple digits 18 times.
"He's made such huge strides with command, with his thought process, his learning how to pitch," Mets manager Terry Collins said. "He's gotten so good so fast, it's remarkable."
The Reds will be the latest club to search for production against the second-year hurler when they travel to New York for a three-game set. Syndergaard will have to contend with Cincinnati's Brandon Phillips, who has been at his best when visiting Queens. Phillips has hit safely in each of his 32 career road games vs. the Mets, including all 22 games he's played at Citi Field, which is the longest hitting streak by any player at that ballpark. He's batting .338 lifetime against the Mets in New York.
Stat that matters: Syndergaard last pitched a week ago, meaning he'll be starting on six days' rest today. He has a 2.62 ERA when pitching on six days' rest (65 1/3 innings) compared with an ERA of 3.18 (104 2/3) on five days' rest or fewer.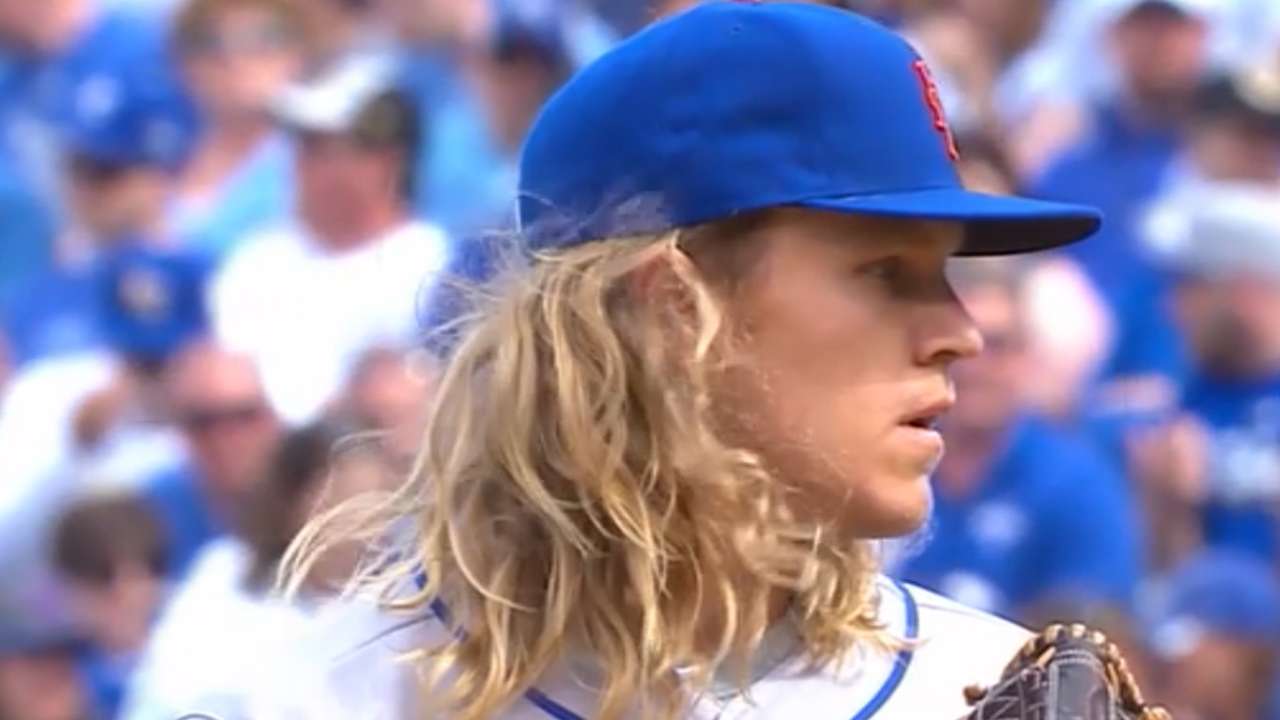 Zimmermann brings spotless ERA to series vs. A's: OAK@DET, 7:10 p.m.
Zimmermann remains the only regular starter in baseball who's yet to allow a run in 2016, becoming the first Tigers pitcher in history to not surrender a run in his first three starts. He'll try to keep that streak going today as his Tigers host Kendall Graveman and the A's at Comerica Park. Zimmermann, who signed with Detroit this winter, allowed just seven hits and one walk, while striking out eight, in a 3-2 win over the Royals his last time out.
"It's just a number," he said. "I just try to go out there and put up zeros and keep the game close. I try to go with a bend-but-don't-break mentality, and I've been able to do that the last few games."
Stat that matters: In his last start, Zimmermann threw first-pitch strikes to 19 of the 26 batters he faced, including 13 in a row from the second to sixth innings. He put 11 batters in 0-2 counts.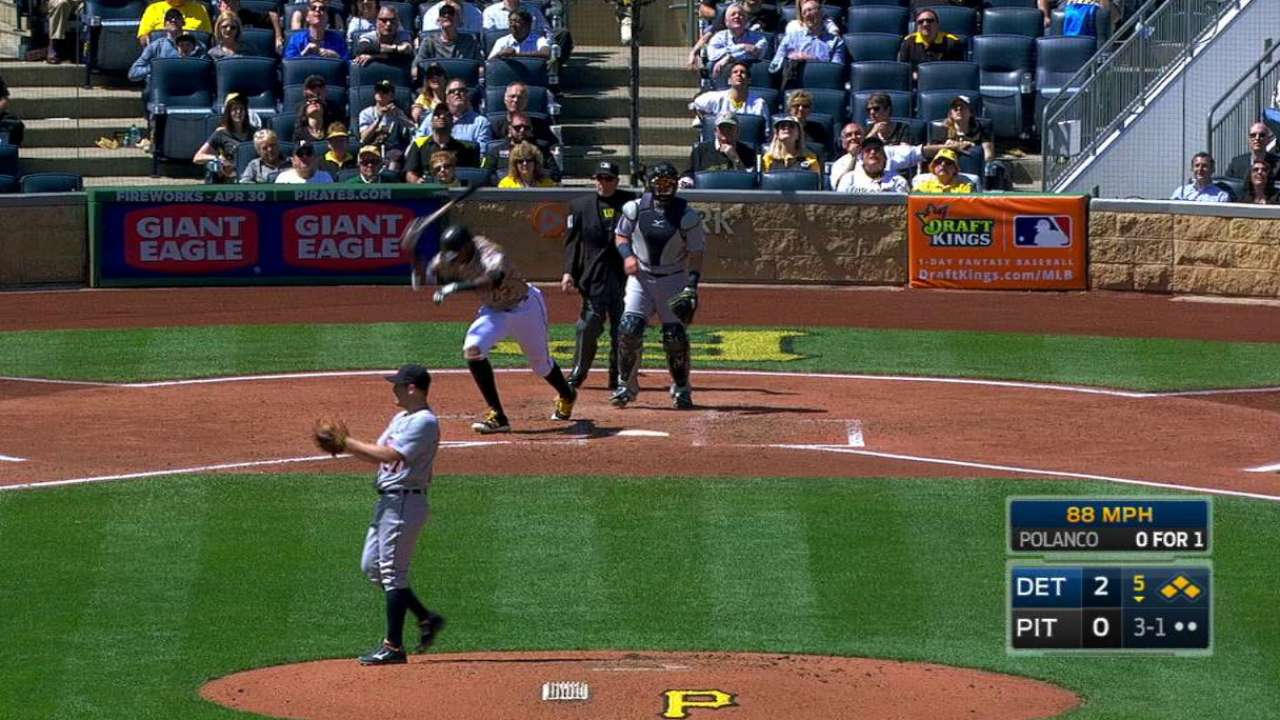 Bumgarner stars in NL West clash: SD@SF, 10:15 p.m.
National League West foes, the Giants and Padres, will meet for the first time in 2016, beginning a three-game series at AT&T Park. The Giants will have their ace on the mound as Bumgarner makes his fifth start of the year. He's coming off a solid outing vs. the D-backs in which he allowed just two earned runs and struck out eight in seven innings of work, but still took the loss as the San Francisco bats were slowed by Arizona's Greinke. Bumgarner has traditionally done well against the Padres, going 8-5 with a 3.29 ERA in 23 career games (22 starts).
San Diego will hand the ball to left-hander Drew Pomeranz, who turned in one of the best performances of his career when he struck out a personal-best 10 batters vs. Pittsburgh last week. Pomeranz is limiting opposing hitters to just a .180 average through two starts this season.
Stat that matters: Bumgarner has been most effective the first time through the lineup this season, limiting opponents to just a .161 average (5-for-31). That number increases to .344 (11-for-32) the second time through.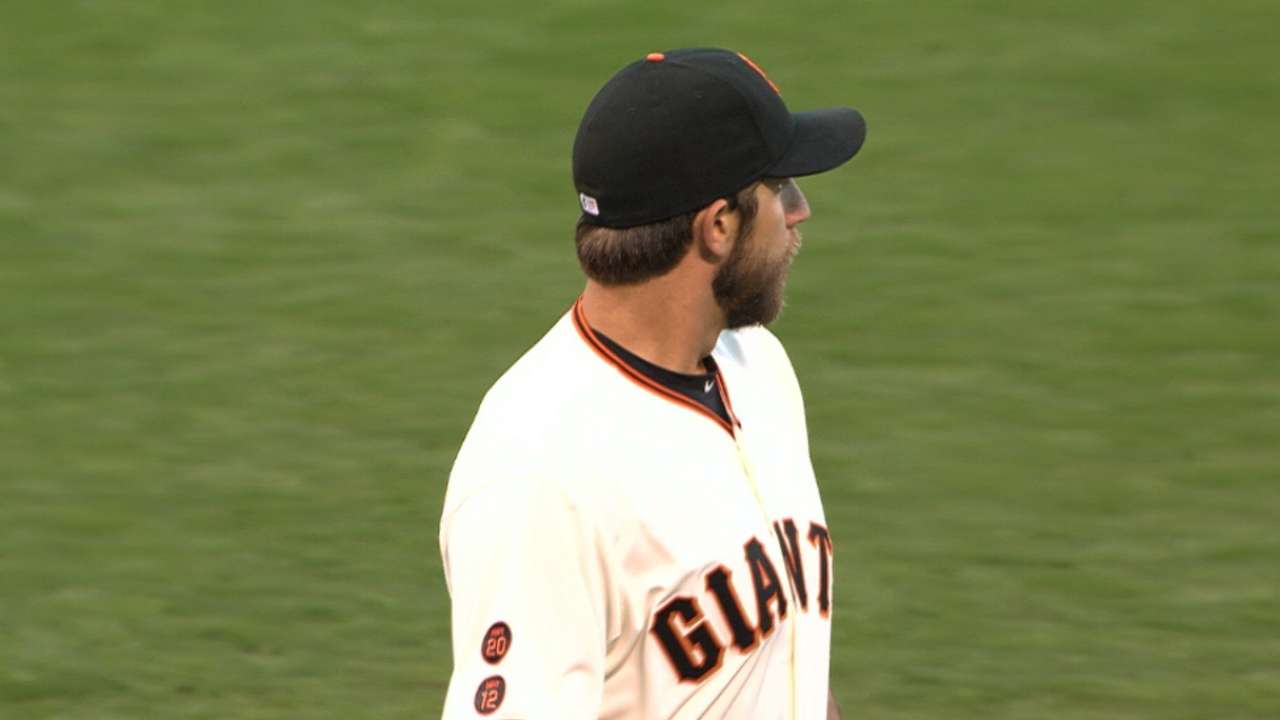 Archer looks to contain Baltimore bats: BAL@TB, 7:10 p.m.
Archer has uncharacteristically struggled this year, suffering four losses and an inflated 7.32 ERA. It won't get any easier for the Rays' righty, who will take on a potent Orioles lineup. Archer has already served up six home runs this year, which could spell trouble against a Baltimore team that leads the American League with 27. When Archer faced the Orioles earlier this month in Baltimore, they tagged him for six runs on 10 hits (four homers) in five innings.
"I'm not happy by any means," Archer said after his last start, a loss to the Red Sox, "but nobody said this game was going to be easy. I'm going to continue to work hard, get better every single day, and I really trust and believe that I'll get past this."
For the O's, Kevin Gausman will get the start, making his first appearance of the young season. He made three rehab starts in the Minors while recovering from tendinitis in his right shoulder. The right-hander went 4-7 with a 4.25 ERA in 25 appearances (17 starts) last year.
Stat that matters: Manny Machado has had Archer's number over the years. The O's third baseman is batting .409 (9-for-22) with a home run, three RBIs, three walks and two strikeouts lifetime vs. the Rays' ace. Archer has had much better results facing Baltimore outfielder Adam Jones, who has just two hits -- both singles -- in 22 career at-bats against him, including seven strikeouts.
Stroman goes for 4-0: CWS@TOR, 7:07 p.m.
The last time Stroman was charged with a loss was Sept. 15, 2014, vs. the Orioles, back in his rookie season. Coming off an ACL tear, the 24-year-old right-hander won each of his four starts last season and remains unbeaten (3-0) this year, despite posting a 4.13 ERA through four games. Stroman will try for 4-0 against the White Sox, a team he's struggled against in two previous career starts (0-1 with an 8.59 ERA). For Chicago, Miguel Gonzalez will toe the rubber, making his White Sox debut. The right-hander agreed to a Minor League deal with the club earlier this season. The former Oriole is 3-2 with a 2.82 ERA lifetime at Rogers Centre.
Stat that matters: Entering Sunday, White Sox batters were hitting just .087 (10-for-115) with two strikes over the previous seven days, which was the lowest average in baseball. Opposing batters are 9-for-42 (.214) with two strikes vs. Stroman this season.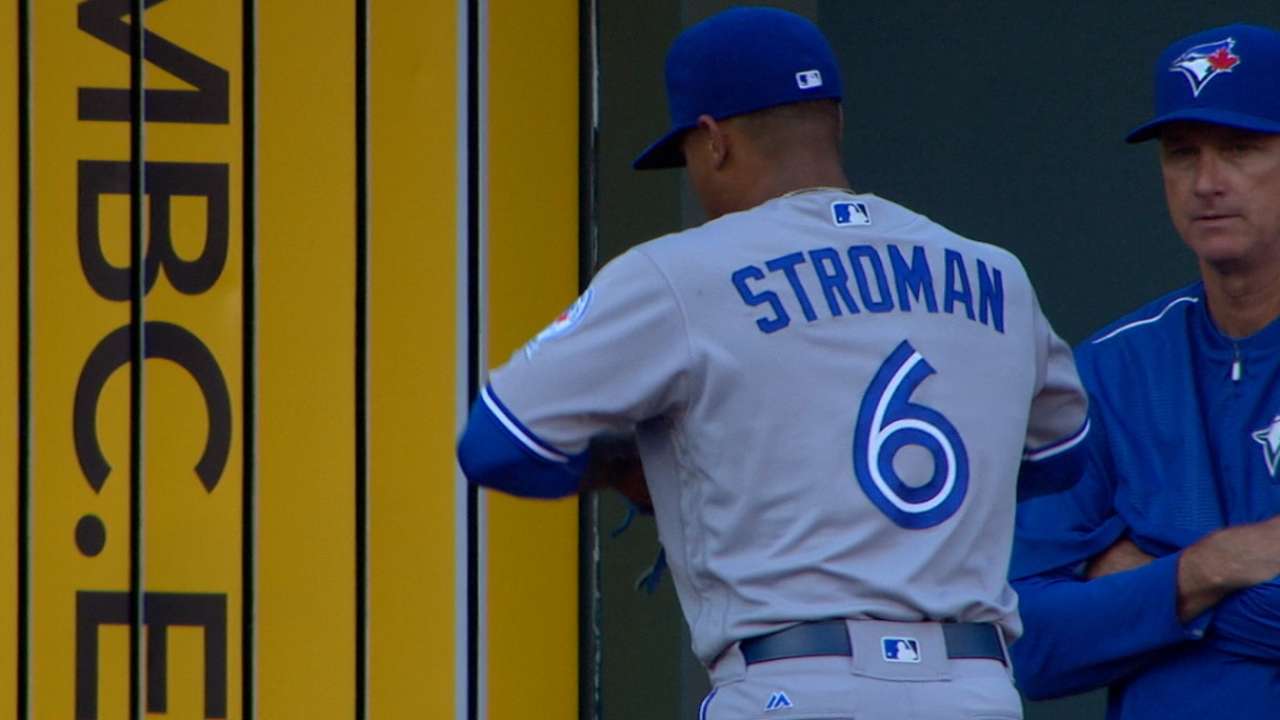 Cards visit Greinke, D-backs: STL@ARI, 9:40 p.m.
Greinke's first few starts with the Diamondbacks didn't quite go as planned, but the right-hander settled in for his best outing with Arizona last week. He struck out seven and limited the Giants to one run on six hits and a walk in 6 2/3 innings, earning his first victory in a D-backs' uniform. He'll look to build upon that outing when the D-backs host the Cardinals. St. Louis will counter with southpaw Jaime Garcia, who gave up two runs on four hits and four walks in his last start Tuesday vs. the Cubs, his first loss of the season.
Stat that matters: With runners in scoring position vs. Greinke, opponents are whiffing on 43.8 percent (14-of-32) of the pitches they swing at over the last two weeks. That's the highest rate among qualified starting pitchers in that span.
MLB.TV Premium subscribers get the Mosaic View -- split screen or quad, available on PC or Mac only. That always comes in handy, especially when scoreboard-watching looms. MLB.TV Premium and MLB.TV Single Team subscribers both enjoy HD and both will get real-time highlights and player stats automatically loaded moments after they occur (only for the game you are watching with MLB.TV Single Team, and for all games with MLB.TV Premium).
Chad Thornburg is a reporter for MLB.com. This story was not subject to the approval of Major League Baseball or its clubs.