Navarro's value goes deeper than numbers
White Sox catcher homers, drives in 2, but impresses with game calling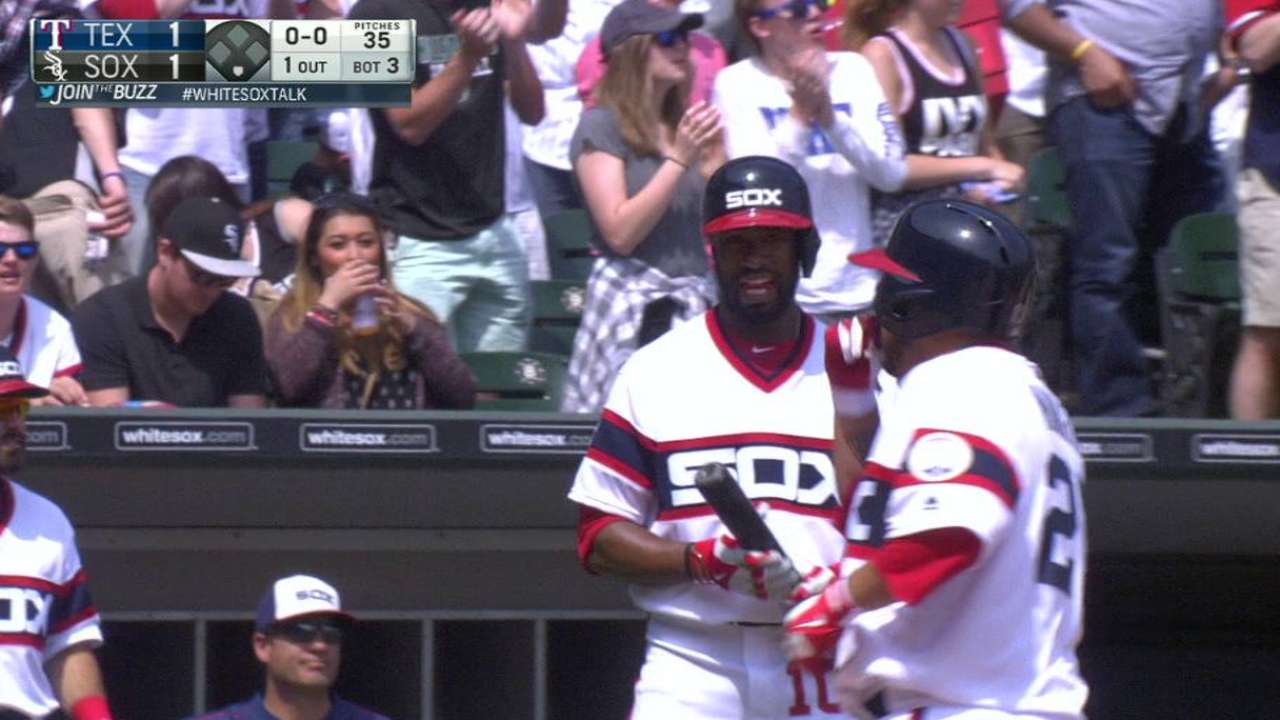 CHICAGO -- There's little concern from Mat Latos with regards to Dioner Navarro's batting average, which sits at .129 following a 4-1 White Sox victory Sunday to complete a three-game sweep of the Rangers.
The switch-hitting catcher is going to produce -- he didn't run into a .253 career ledger with smoke and mirrors. But in the mind of the 4-0 hurler, Navarro is of value to the White Sox no matter what he does with the bat.
"I would much rather have him behind the plate defensively and have him in there calling the game more than him hitting. We've got other guys in the lineup that can take care of that as well," said Latos, who has a 0.74 ERA this season while throwing all 24 1/3 innings to Navarro. "Even if he's struggling, he's still helping the team out behind the plate.
"That's a guy who calls a game consistently and he knows hitters. He knows what he's doing. So if he's slumping, he's slumping, but he's still helping out either way with him calling a great game. We are throwing up zeros, giving the team a chance to win."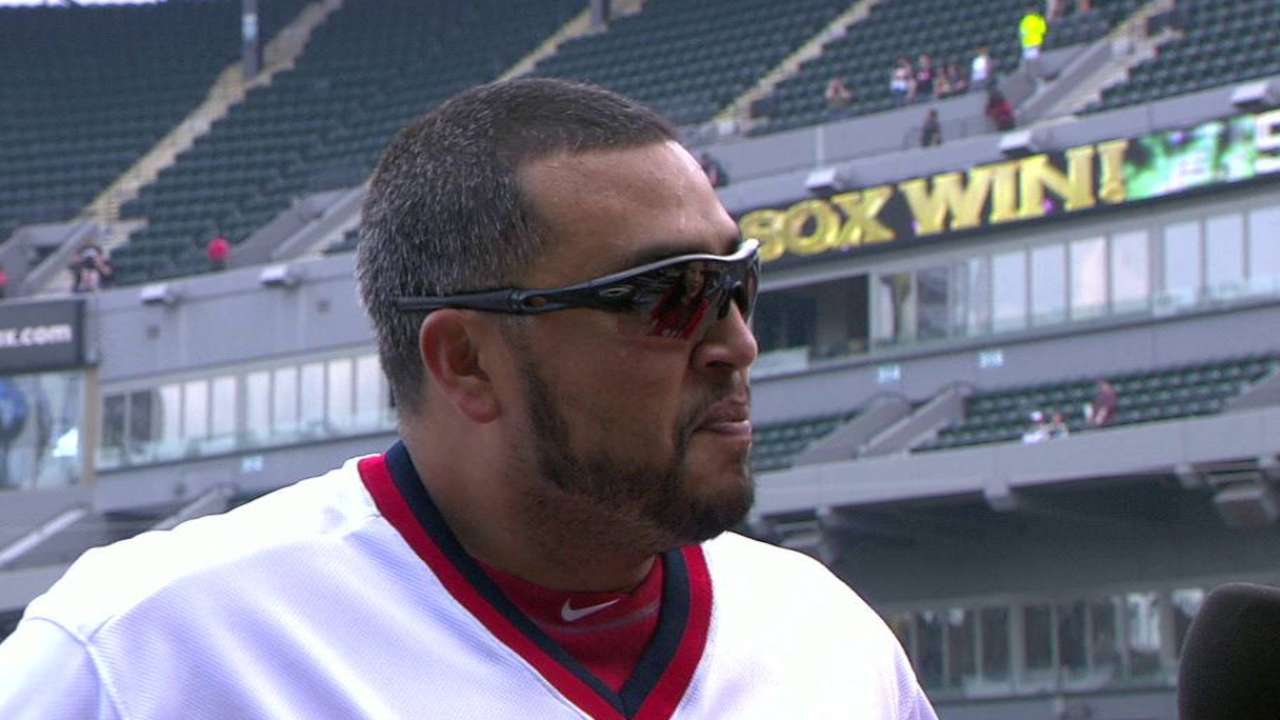 Navarro met his offense-oriented and game-calling targets in a win that completed a 5-2 homestand for the South Siders. He launched a solo homer to left off Derek Holland with one out in the third, marking his first hit as a right-hander this season while tying the game at 1.
In the fifth, Navarro delivered a sacrifice fly that put the White Sox up by two runs. He'll get a chance for more consistent at-bats with Alex Avila moving to the disabled list due to a sore right hamstring.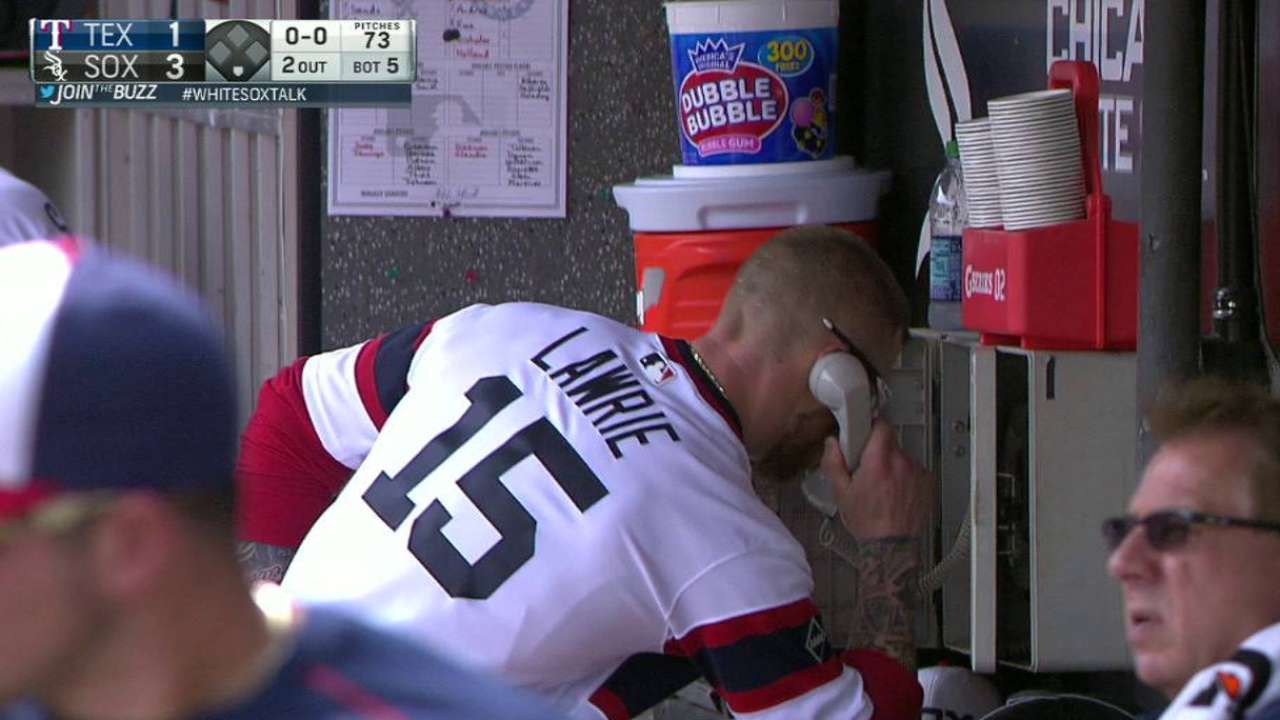 "What you see is what you get. I'm always going to be the same guy whether I'm in the lineup or not," Navarro said. "Try to motivate the guys if I'm not. Try to help the team to win if I'm in the lineup.
"My hitting, no worries. I know I can hit. It was just a matter of time. I'm going to have a little more playing time, so go out there and do my job. That's it. That's the bottom line."
Navarro gave most of the credit for Sunday's Texas shutdown to Latos. The veteran hurler, who has allowed 14 earned runs over 73 career innings throwing to Navarro (1.73 ERA), throws the plaudits back to Navarro for helping him navigate the six innings of seven-hit baseball against a good lineup.
"He gives me confidence, that's what it is. He puts confidence in pitchers the way he calls games," Latos said. "There are times where I've been on the mound and I'm looking at him going, 'Why are we throwing this pitch right here?'
"But I'm still throwing it and still getting outs. I don't want to say questioning him, but it's more maybe I would have gone with something different, but it's still getting outs. That, to me, shows a guy who really knows how to call the game."
Scott Merkin has covered the White Sox for MLB.com since 2003. Read his blog, Merk's Works, follow him on Twitter @scottmerkin, on Facebook and listen to his podcast. This story was not subject to the approval of Major League Baseball or its clubs.