Smyly continues stretch of strong starts
Rays lefty allows one run vs. Yankees to notch first win of season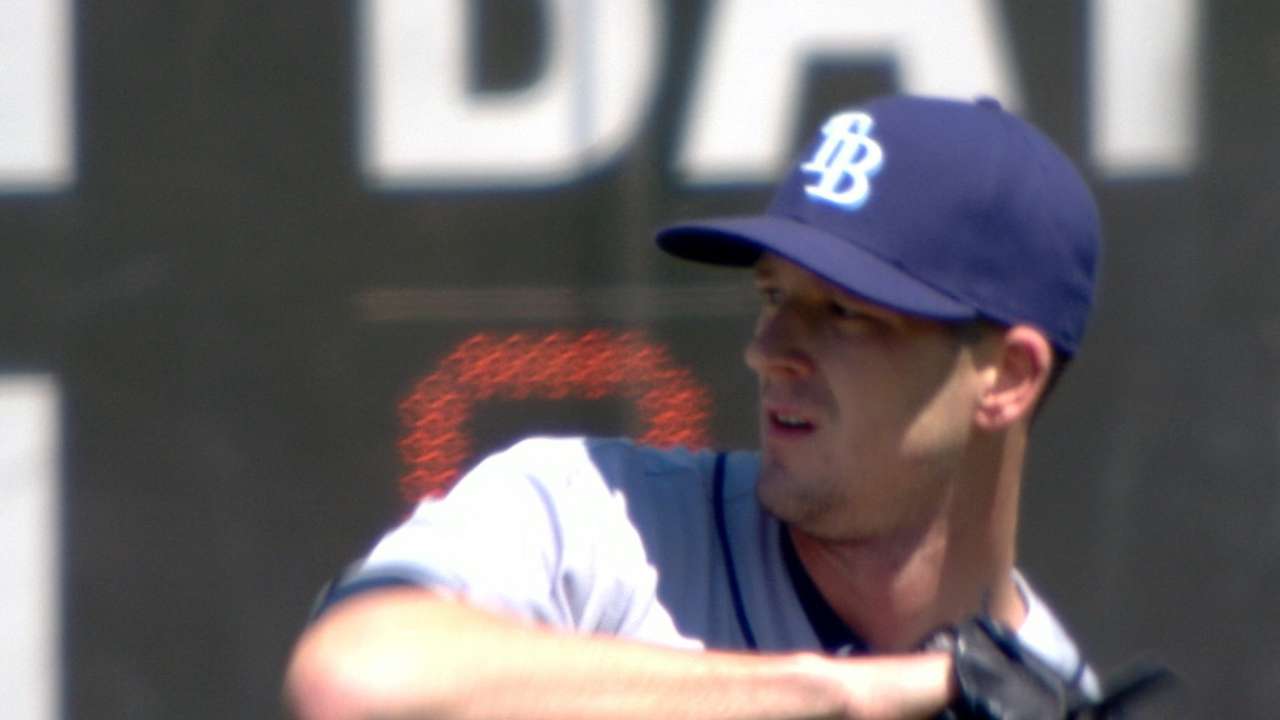 NEW YORK -- There really wasn't much Drew Smyly needed to improve.
Coming off an eight-inning, one-hit, 11-strikeout performance against the Red Sox on Tuesday, Smyly was sharp yet again in Sunday's 8-1 Rays win against the Yankees, tossing seven innings of one-run ball, striking out six and allowing six hits.
"Drew Smyly kind of picked up exactly where he left off against Boston his last start," Rays manager Kevin Cash said. "He just commanded the strike zone. He got a lot of chase, a lot of swing and miss."
Over his last three starts, Smyly has allowed just four runs (three earned) and 10 hits in 22 innings. In that span, he has struck out 28 of the 80 batters he's faced.
In a lot of ways, Smyly was just as effective Sunday as he had been his last two outings. He was still averaging about 13 pitches per inning and kept his season mark for WHIP well below 1.00 at .73. But Smyly admitted he wasn't the same kind of dominant Sunday that he had been his past couple of outings.
"I felt my stuff today really wasn't as good as Boston," Smyly said. "The ball was really slippery today. I found it hard to get a good grip. But it's just baseball. I had to fight it and I did my best to find the strike zone."
And fight back into the strike zone is what Smyly did, relying on his fastball location to beat hitters without a dominant breaking pitch in his arsenal. Without confidence in his offspeed to get batters to whiff, Smyly instead shifted his attention to allowing feeble contact. It worked well, especially in the later innings, as Smyly recorded eight outs via ground ball, two of which came on a seventh-inning double play.
Even the hits Smyly did surrender weren't all that hard. With the exception of an RBI double by Alex Rodriguez in the fourth inning, the Yankees didn't record an extra-base hit on the day, and most of the team's singles were squeakers that barely got out of the infield.
"For the most part I felt pretty much every hit was weak contact," Smyly said. "[Starlin] Castro got two singles, and I thought I pretty much made a good pitch, he just put it through the six hole. [Mark] Teixeira, I made a good pitch and he just jammed it for another single."
For as well as Smyly had been pitching coming into the day, something he had been lacking was out of his control: run support. Prior to Sunday, not only had Smyly not won on the season, he had barely pitched with a lead. The series finale against the Yanks was different, however, as he was up five runs before he even stepped on the mound.
Smyly was all grins about that fact.
"It's good to get them in bulk, then," he joked.
Nick Suss is a reporter for MLB.com based in New York. This story was not subject to the approval of Major League Baseball or its clubs.