MLB.com Columnist
Barry M. Bloom
Yankees hitting road at right time
New York will look to overcome injuries, offensive struggles on nine-game trip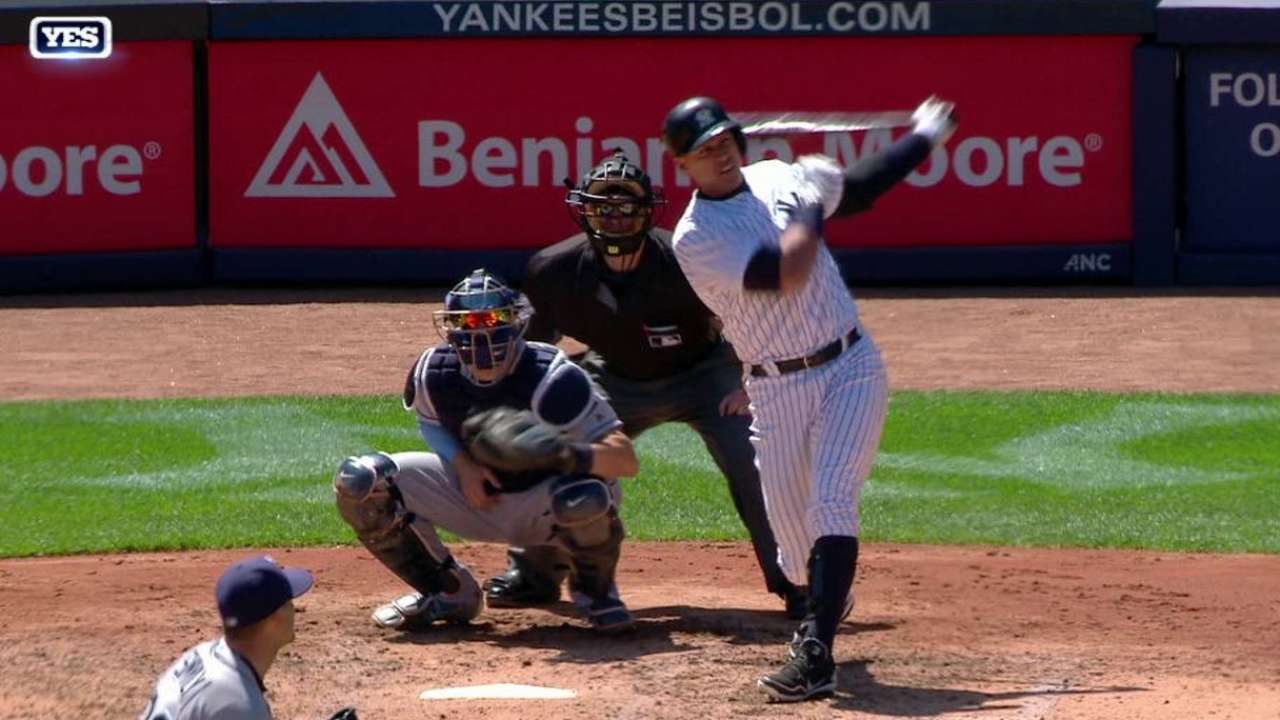 NEW YORK -- It's still only the end of April, but the Yankees may already be facing a moment of truth. They're heading out on the road for a tough nine-game trip through Texas, Boston and Baltimore, short on offense and suddenly even shorter on players.
Manager Joe Girardi already knew he wouldn't have backup outfielder Aaron Hicks for the three-game series against the Rangers that opens Monday night at 8 p.m. ET, but now designated hitter Alex Rodriguez may be out with a sore left oblique.
Girardi said before Sunday's homestand finale, an 8-1 loss to the Rays, that his club could weather not having Hicks for four or five days. But now the pinstripes will have to make a move if A-Rod is down for the count for any appreciable period of time.
An MRI on A-Rod's oblique was negative after the game and he traveled to Texas with the team. Right now, no move is being made, pending A-Rod's availability.
"[Going to Texas with 23 guys] would be pretty hard to do," Girardi said. "We're going to have to make an evaluation from what we see in that MRI and then make a decision. But playing two short would be really difficult."
Hicks went down on Friday night, jamming his left shoulder while diving to make a catch in center field. A-Rod felt pain in the oblique on Sunday as he warmed up to hit in the sixth inning. Girardi replaced the designated hitter with Dustin Ackley, who singled for his first hit of the season after seven fruitless at bats.
The injuries reveal the depth of the Yankees situation. Hicks right now is an .091 hitter with no homers and two RBIs. A-Rod is struggling at .145 with two homers and six RBIs.
As a team, the Yanks are ranked 21st out of 30 Major League teams with a .238 team batting average -- 28th at .194 with runners in scoring position -- and tied for 20th with 66 runs scored. They've allowed 78 runs, so there's no margin for error.
The quickest fix would be calling up Nick Swisher, the former Yankees switch-hitter, who was re-signed as a free agent on April 14 and has been working his way back into shape at Triple-A Scranton/Wilkes-Barre.
Swisher continued his hot hitting on Sunday. He's batting .382 with two homers and five RBIs in nine games after a 3-for-4 performance in a 4-1 win at Syracuse.
The 7-10 Yankees just finished a nine-game homestand and were 3-6 against the Mariners, A's and Rays, taking two out of three this weekend before Sunday's lopsided loss. This is not what you want, Girardi is fond of saying, and though it's still early, the Yanks have to rally against the Rangers and the American League East rival Red Sox and Orioles, if they expect to be contenders this season.
"I think we have to focus on the positive right now," said Carlos Beltran, who at .277 with four homers and nine RBIs, has been one of the few productive veterans during the first 17 games of the young season.
"We took two out of three from the Rays and that's positive. Right now, we've got a long road trip so we've got to focus on winning series. We're going to face some teams down the road that are going to be tough. We have to understand that."
After being swept in a three-game series this week by the A's, the Yanks squeezed out one-run victories on Friday night and Saturday over the Rays, winning Saturday's game on Brett Gardner's walk-off homer.
The bullpen tandem of Andrew Miller and Dellin Betances has been their most potent weapon. The pair has combined to strike out 37 batters in 17 innings with Miller having yet to allow a run in eight appearances while recording four saves.
If the Yanks simply get to the eighth inning with at least a one-run lead, chances are they will win the game. And the backend of the bullpen stands to get even better when hard-throwing left-hander Aroldis Chapman returns from his suspension on May 9.
While the offense has struggled, there have been bright spots. Aside from Beltran, Gardner is hitting .294 and Brian McCann .280, despite whiffing four times swinging on Sunday.
McCann isn't worried.
"I love our team from top to bottom," he said. "We're not swinging the bats like we're capable of, but we'll get this thing turned around. We'll get going."
No time better than on the road, right now.
Barry M. Bloom is a national reporter for MLB.com and writes an MLBlog, Boomskie on Baseball. Follow @boomskie on Twitter. This story was not subject to the approval of Major League Baseball or its clubs.