Ring envy? Shaw's wedding band checked out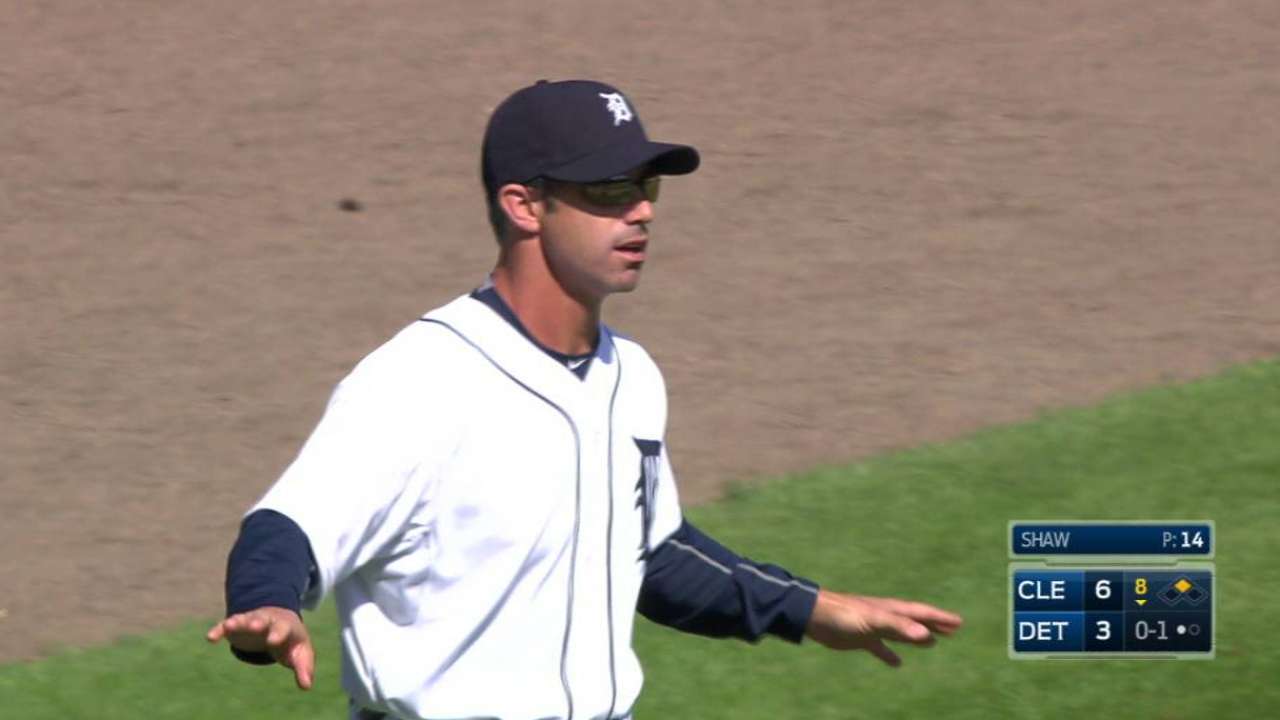 DETROIT -- Indians manager Terry Francona was not sure why the umpires were calling him to the field in the eighth inning on Sunday. All Francona could decipher, while watching all four umps discussing something near the mound, was that there was a complaint about reliever Bryan Shaw.
"That's not a good feeling," Francona said after the Indians' 6-3 win over the Tigers. "When there's four umpires calling you to the principal's office, I'm thinking, 'What'd I do?'"
The reason for the unexpected meeting was Detroit manager Brad Ausmus had asked the umpiring crew to look at a wedding band on Shaw's left hand. The right-handed setup man wears a white rubber ring under his glove during his outings, and Ausmus was concerned that he was using it to scuff the baseball between pitches.
Shaw said he has worn the ring for several seasons now.
"It's a rubber ring," Shaw said. "If you can find a way to scuff the ball with a rubber ring, more power to you. I haven't, yet. I've had it on for the last two and a half years, and nobody's said a word about it from any team. I've pitched against [Detroit] with it on for the past two and a half years.
"They seem to be struggling a little bit, so I think he's just trying to find something to nitpick about to try to throw us off."
After Ausmus' initial complaint and a quick examination of the ring, Shaw slipped his glove back on and continued to face J.D. Martinez in the eighth inning. Ausmus then made a second trip to the field, considering the reliever removes his gloves between pitches to rub the baseball.
"He had his wedding band on, which is great -- I'm glad he's happily married," Ausmus said. "And I personally don't think he was trying to do anything to doctor the ball. But when he got the ball from the umpire, a new ball, he would rub it up with that hand, with the ring on it. I just wanted it off, just in case, to just kind of protect our players too."
After the second visit from Aumus, Shaw stuffed the ring in his back pocket and flashed his hand at the Detroit's manager to show it was removed.
"I told him to go back to the dugout," Shaw said. "I'll take it off, we'll finish the game and I'll wear it the next time I pitch, just like I always have for the past couple years. I'm not going to change anything. Obviously, nobody else has said anything. It hasn't affected anything."
As for Francona, he felt Ausmus' antics went a step too far with the second trip to the field.
"After they OK'd it, I thought it was a bit much coming out, delaying the game," Francona said. "I didn't think that was completely fair."
Jordan Bastian has covered the Indians for MLB.com since 2011, and previously covered the Blue Jays from 2006-10. Read his blog, Major League Bastian, follow him on Twitter @MLBastian and listen to his podcast. This story was not subject to the approval of Major League Baseball or its clubs.