Harper launches pinch-hit, game-tying homer
Nationals right fielder hits league-leading ninth blast on planned day off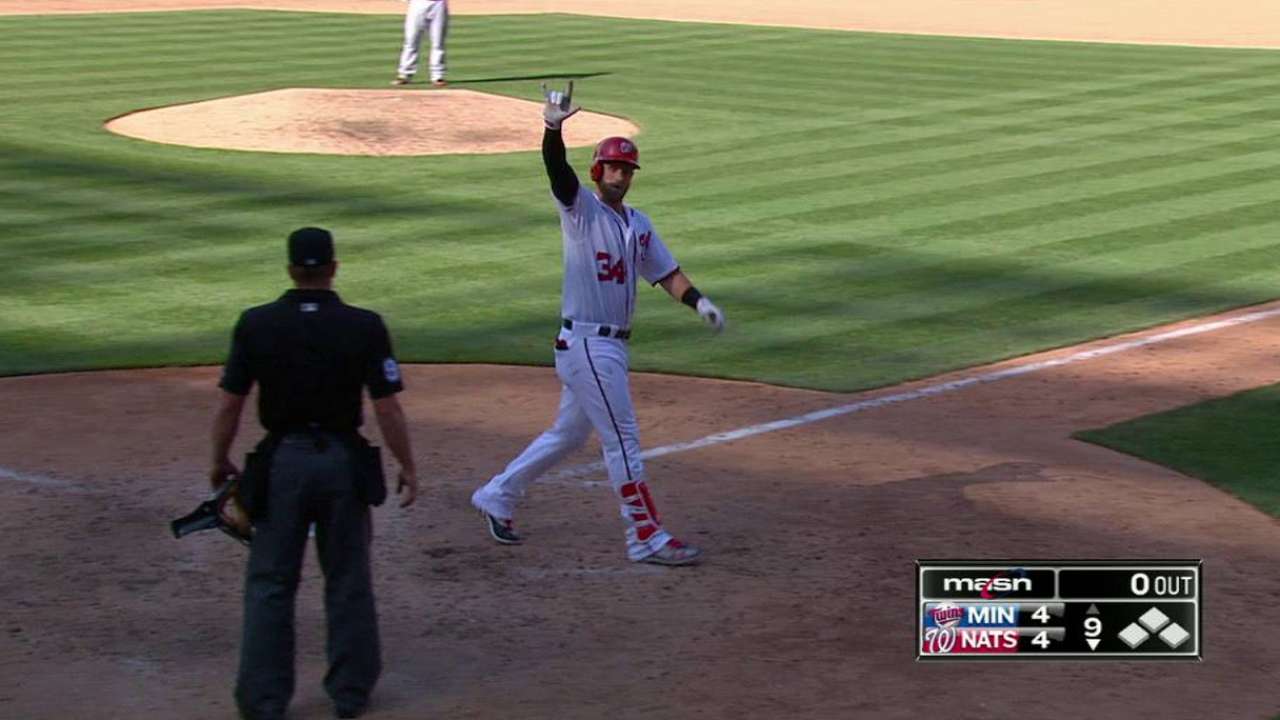 WASHINGTON -- From the moment Bryce Harper appeared from the dugout ready to pinch-hit with the Nationals down a run in the ninth, the crowd of 35,397 at Nationals Park erupted in applause. Harper was in the midst of his first day off after playing in every game this season, but he had been told by manager Dusty Baker to be ready to pinch-hit.
Harper sat and waited to see if he would get his opportunity before Baker tabbed him to face Twins closer Kevin Jepsen to start the the ninth. And Harper crushed a game-tying, pinch-hit solo home run to ignite a wild 16-inning affair that the Nationals won, 6-5.
• Cast your Esurance All-Star ballot for Harper and other #ASGWorthy players
Jepsen threw Harper seven straight fastballs, the last of which was deposited 411 feet into center field. It was the ninth home run of the season for Harper, the most in the Majors.
"They told me the inning before, I was just sitting down there in the tunnel with my [batting gloves] on and my bat in my hand and just wondering if I was going to get an opportunity," Harper said. "The next thing, he told me right after that third out, you're up. So got an opportunity to get up there and go have a good at-bat against Jepsen and get a pitch that I can do some damage with and hit a homer."
Harper did not stay in the game after pinch-hitting for center fielder Michael Taylor. Chris Heisey, who would eventually hit the game-winning homer in the 16th, came on to play right field and Matt den Dekker moved from right to center.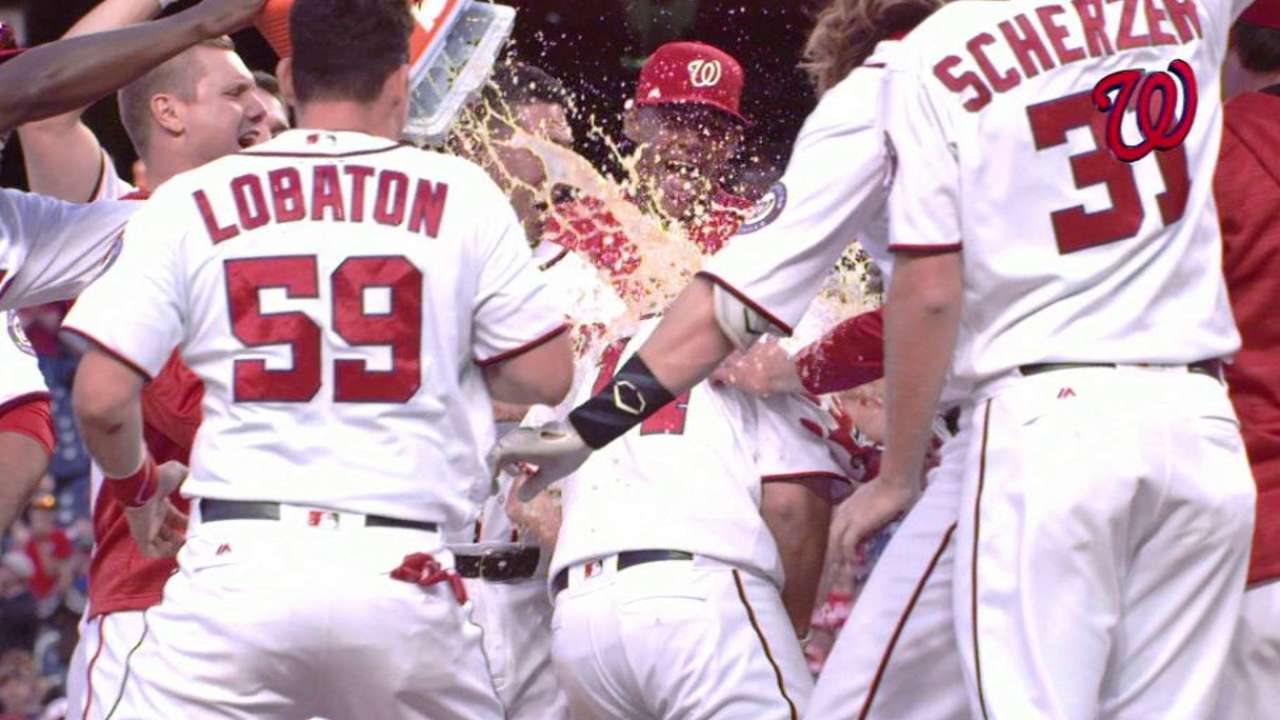 Baker said he plans to give Harper about two days off per month, a strategy he learned from Willie Mays that helped keep him fresh. Even if Baker had to use Harper as a pinch-hitter, he warned Harper that he would not use him to play the field, remembering a planned off-day he tried to give Barry Bonds once before double-switching him into a game that ended up lasting 18 innings.
"I told [Harper] I didn't want that to happen to him," Baker said. "We almost went 18 innings. He came up to me and he goes, 'I'd been six innings deep on this day off in the 15th.'"
Harper now has nine homers in the Nationals' first 18 games. The only other player 23 years old or younger to do so in the past 100 years was George Scott in 1966. Harper is also the only player with a game-tying or go-ahead home run in the ninth inning or later in each of the past five seasons, according to ESPN Stats & Info.
"We come to expect that he's going to do something special," Heisey said. "You can't not expect it when he's been doing it as consistently as he's been doing it. I find myself putting really unfair expectations on him. If he gets jammed or pops out, it's like, 'What the heck, Harp?'"
Jamal Collier covers the Nationals for MLB.com. Follow him on Twitter at @jamalcollier. This story was not subject to the approval of Major League Baseball or its clubs.