Don't call it a comeback: Carter hitting to all fields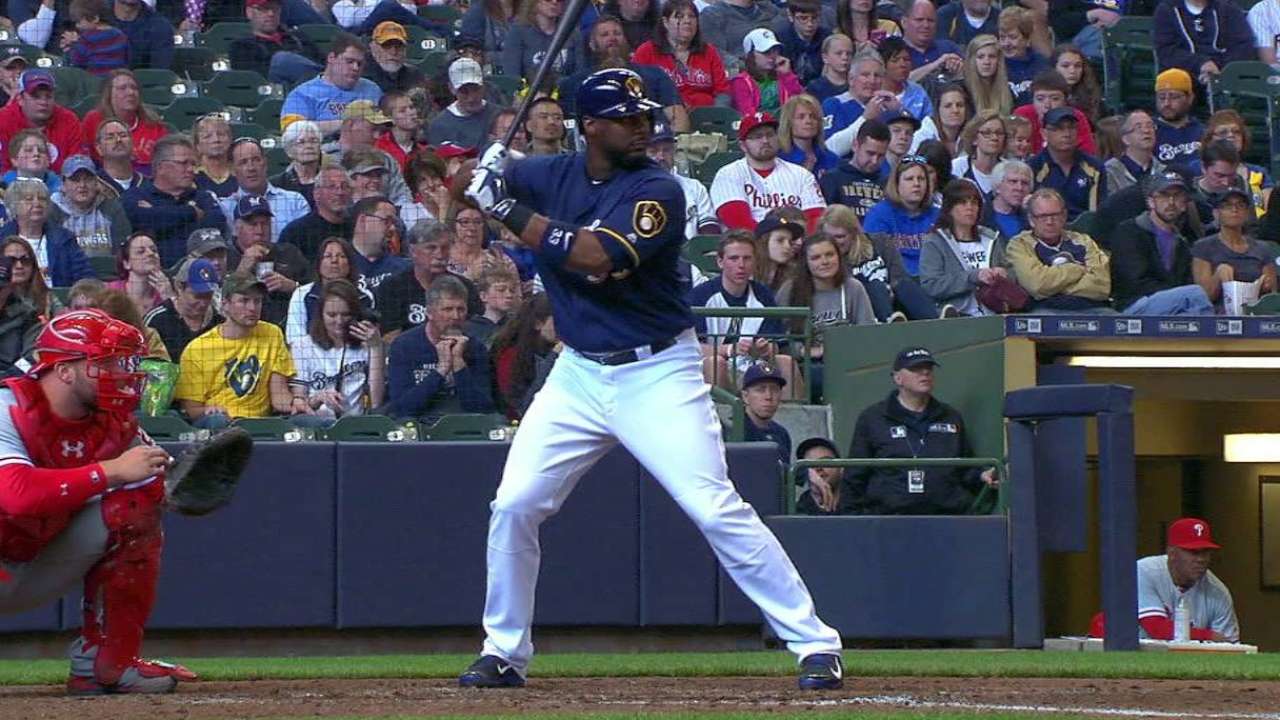 MILWAUKEE -- The Brewers' sixth-run sixth inning on Sunday was their biggest outburst all season, but Chris Carter's contribution was nothing new. He hit the second of his two doubles amid Milwaukee's decisive rally in an 8-5 win over the Phillies, continuing Carter's impressive early-season slugging.
Of Carter's 18 hits, 14 have gone for extra bases, including five home runs and a team-high nine doubles. As of the last out of Sunday's game at Miller Park, Carter was tied with the Cubs' Dexter Fowler and the Braves' Nick Markakis for the Major League lead in doubles.
If you want to have some small sample size fun, Carter is on pace for 43 home runs and a Major League-record 76 doubles.
Key to Chris Carter's hot start: Using the whole field. Add two opposite-field doubles to this spray chart of hits. pic.twitter.com/B8N1iH1qU4

— Adam McCalvy (@AdamMcCalvy) April 24, 2016
"He's taking advantage of the whole field, which he's done throughout his whole career, but perhaps even to a greater extent this year because he's not concerned about the pull home run," said Brewers general manager David Stearns, who imported Carter from Houston as Milwaukee's only Major League free agent. "He's recognizing that he can hit the ball a long way the opposite way, and when the opportunity presents itself, he can certainly turn on a ball.
"That's daunting for a pitcher when you have a hitter who is covering the entire plate and has power to all fields."
Manager Craig Counsell caught himself Sunday morning by almost calling Carter's hot start a "surprise," opting instead to say, "it's a really simple approach right now, and it doesn't surprise me that he's able to have success in that approach."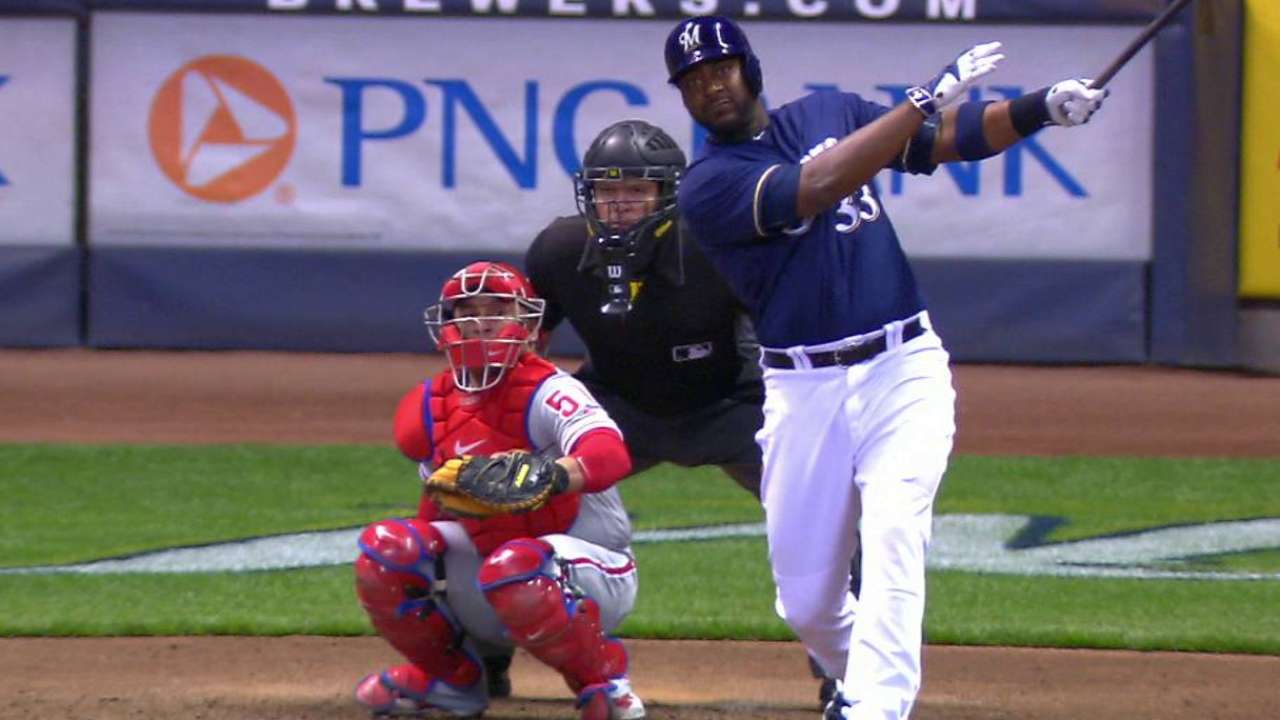 But Carter's .295 batting average after 18 games must qualify as a mild surprise at least, since this is the same player who batted .199 in 129 games with the Astros last season and was non-tendered in November. The Brewers signed Carter for $2.5 million, with another $500,000 available in incentives for plate appearances.
If he continues to produce, Carter could remain a Brewer for some time. He has two years of arbitration eligibility remaining after this season.
"I try to keep it simple," the soft-spoken Carter said. "I've just worked on hitting balls where they're pitched, instead of being so pull-heavy on pitches away. I've worked on hitting them hard the other way instead of rolling them over into the shift. I'm more aware of the way they're trying to pitch me."
Carter has impressed his new teammates.
"He just has such a simple swing. It's repeatable," Ryan Braun said. "I said the same thing in Spring Training -- I said he's got the ability to be significantly better than he's been in the past. That's what he's shown over the course of the three weeks we've played. As long as he stays with that approach, I can't imagine him coming close to a batting average like [.199] again. Too strong, good plate coverage on all pitches. He's been really impressive in the early going."
Adam McCalvy has covered the Brewers for MLB.com since 2001. Follow him on Twitter @AdamMcCalvy, like him on Facebook and listen to his podcast. This story was not subject to the approval of Major League Baseball or its clubs.