Fateful seventh inning sends O's to defeat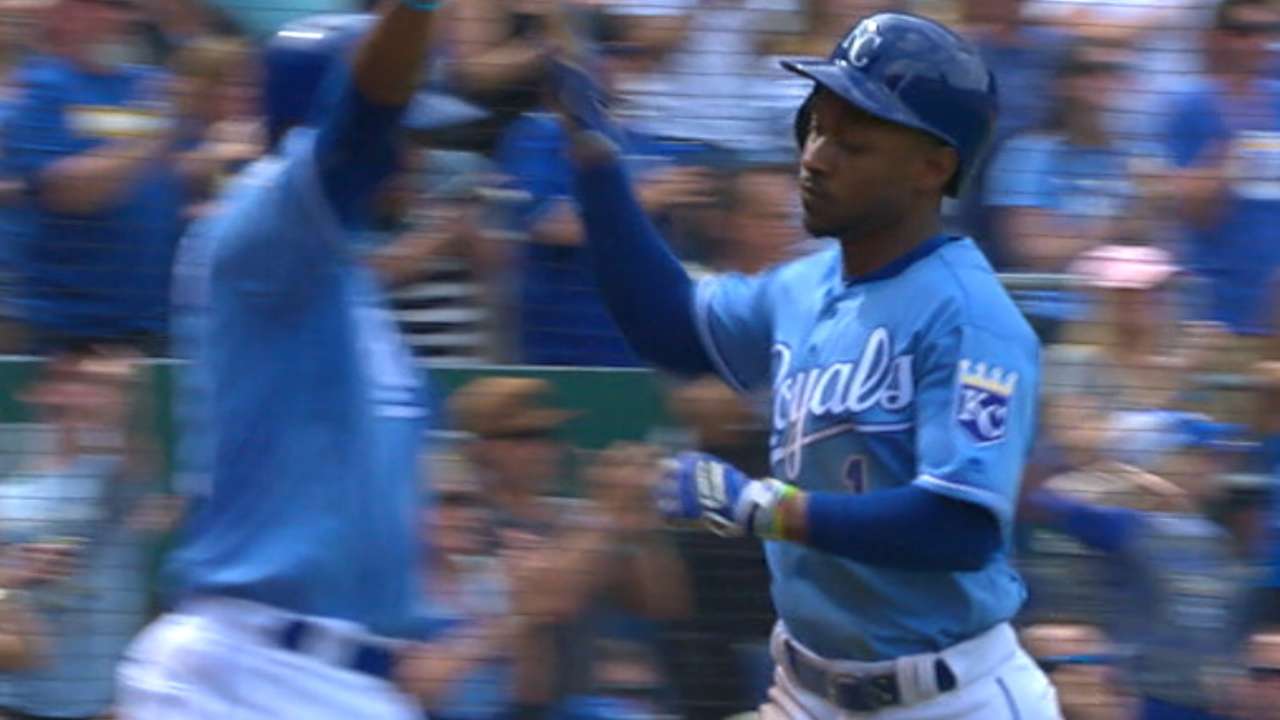 KANSAS CITY -- The seventh inning on Sunday got away from the Orioles, who watched a one-run deficit morph into five as the Royals batted around the order on Mike Wright and Dylan Bundy.
Wright, who had held Kansas City to two solo homers over six innings, took the bulk of the damage in the 6-1 loss to the Royals. After allowing two solo homers over the first six innings, Wright took the mound at 87 pitches and the Orioles trailing, 2-1.
Alex Gordon, who went deep in the fourth, got things started with an infield single and Christian Colon doubled to put the Royals up by two. First baseman Chris Davis then cut down the lead runner at third base, nabbing Colon on a play that held up under review, but Wright couldn't take advantage of the momentum. Instead, Drew Butera doubled in another run, ending Wright's afternoon at 6 1/3 innings.
"I was strong, I made good pitches," said Wright, who didn't think the seventh inning got away from him at all. "[Gordon's hit] was a ground ball that could have been called foul. Chris didn't handle it extremely well. I still got there. He out ran it. The double that Butera hit, that's a good pitch. I don't want to take that back. It crept a little over the plate, but you can't be perfect. I still felt strong."
Bundy, who got a quick second out, struggled to completely put out the fire and gave up a pair of RBI singles and a walk. One of those runs was charged to Wright, who gave up five runs total in the loss.
"I thought he pitched well the whole time," Orioles manager Buck Showalter said. "That's a quality start for us. We had four guys we weren't going to use in the bullpen today. We needed that from Mike. We just didn't do much offensively."
Wright -- coming off a quality start on Tuesday in which he threw a career-high 105-pitches -- felt like he built on that success in Sunday's outing, mixing in a healthy dose of offspeed pitches and trying to attack an aggressive Royals lineup.
"The pitch to Gordon [that he homered on] was exactly what I wanted to throw. Me and Caleb [Joseph] were really on the same page," Wright said. "The one to [Eric] Hosmer we threw a little bit of a slower slider. If you look at it, it wasn't a bad pitch. I felt pretty good about it. Was it my best pitch? No, it was my fourth-best pitch and he got it. That's the one pitch, probably to Hosmer, I wish I could take back. But the rest of the game? Perfect."
Brittany Ghiroli is a reporter for MLB.com. Read her blog, Britt's Bird Watch, and follow her on Facebook and Twitter @britt_ghiroli. This story was not subject to the approval of Major League Baseball or its clubs.