Wall-banger: Puig's catch robs Rox of runs
Dodgers right fielder steals extra bases with another amazing play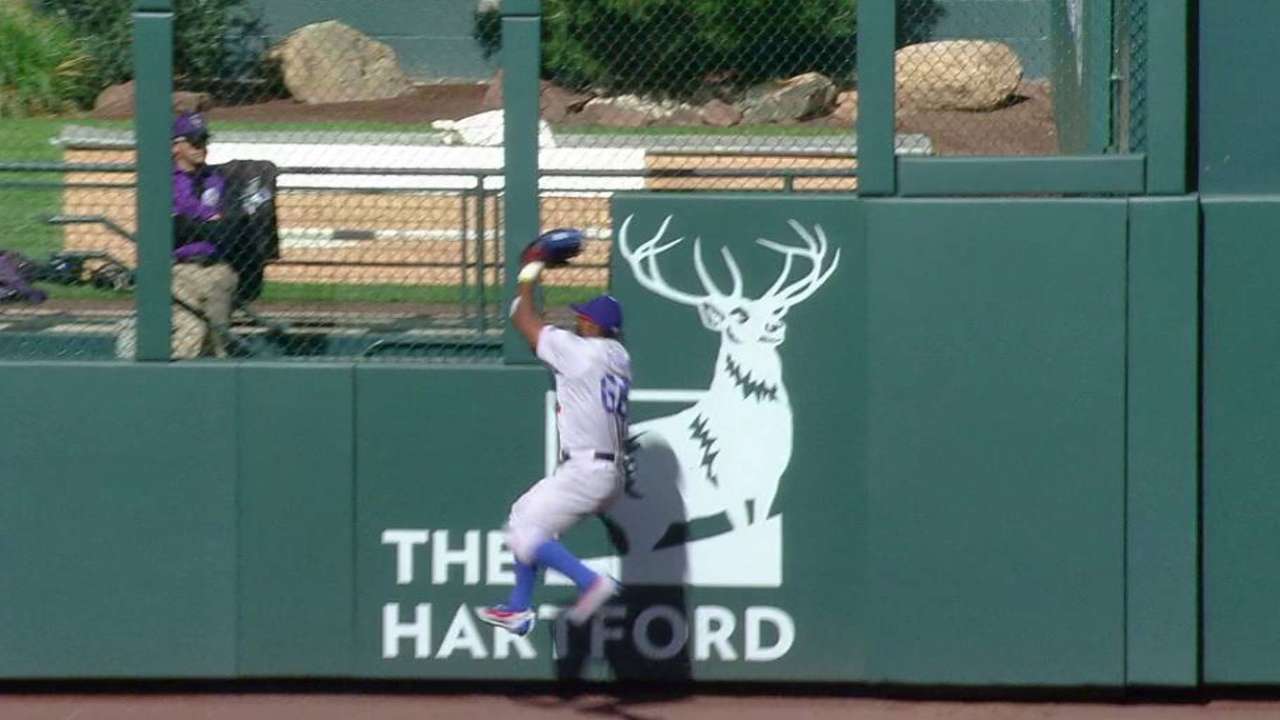 DENVER -- Dodgers outfielder Yasiel Puig showed off several of his amazing tools in Sunday's 12-10 win over the Rockies, robbing Brandon Barnes of extra bases by sprinting to grab his line drive, then holding on while slamming his body into the right-field fence at Coors Field.
Preserving the Dodgers' 7-4 lead over Colorado in the bottom of the fourth inning, Puig raced back to flag down the long drive one stride before crashing into the padded fence, crumbling to the warning track, but holding up his glove to prove he made the catch that ended the inning.
"I watched the replay to see how I hit, but I still couldn't tell," said Puig, who momentarily lost his breath but was otherwise uninjured. "I think I hit it with everything."
• Cast your Esurance All-Star ballot for Puig and other #ASGWorthy players
The play came with runners on first and second and three runs in for the Rockies.
It was the second time in the series that Puig had erased a Rockies threat. On Friday night, Trevor Story doubled high off the fence in front of the Rockies bullpen, but Puig threw him out with a spectacular 310-foot throw as Story tried to stretch it into a triple.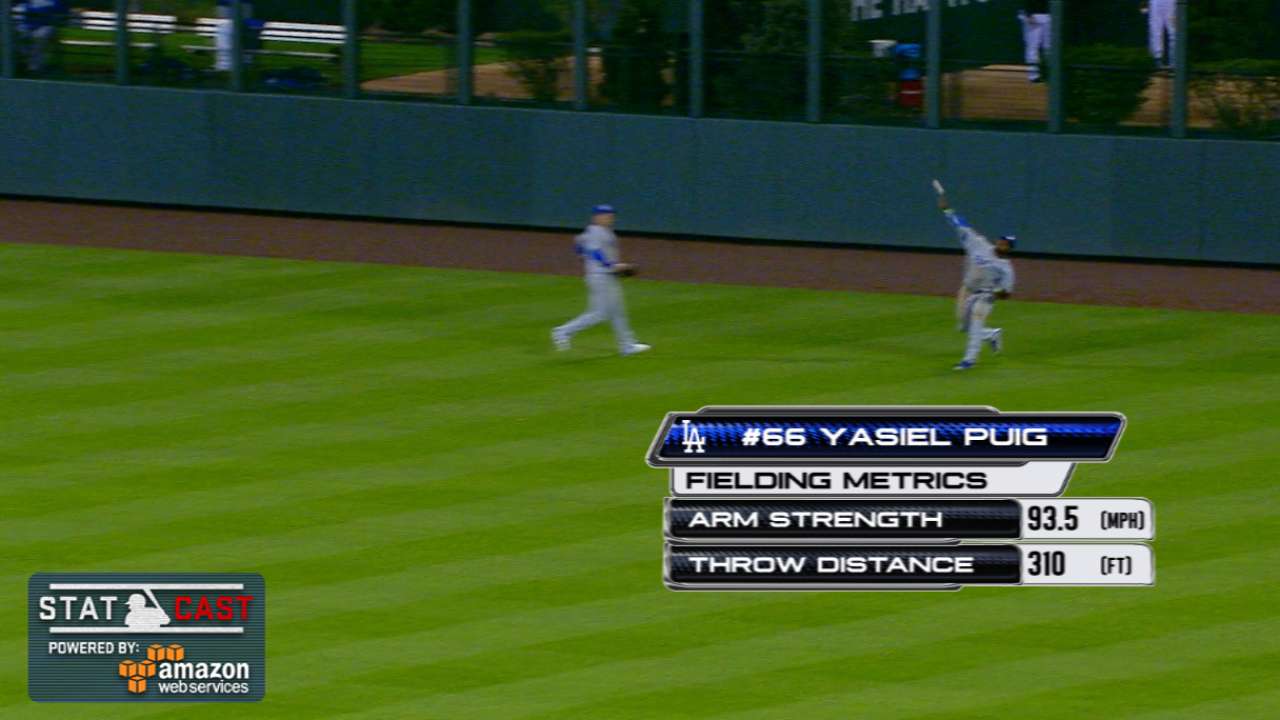 In keeping with the crazy nature of this game, Puig almost made a costly misplay in Colorado's four-run eighth inning comeback, letting Carlos Gonzalez's RBI single bounce under his glove. Manager Dave Roberts said the ball "snaked" on Puig over the uneven outfield grass, but Puig didn't sound so sure of that.
"After the great play, I made an error, but this manager always saves me," Puig said.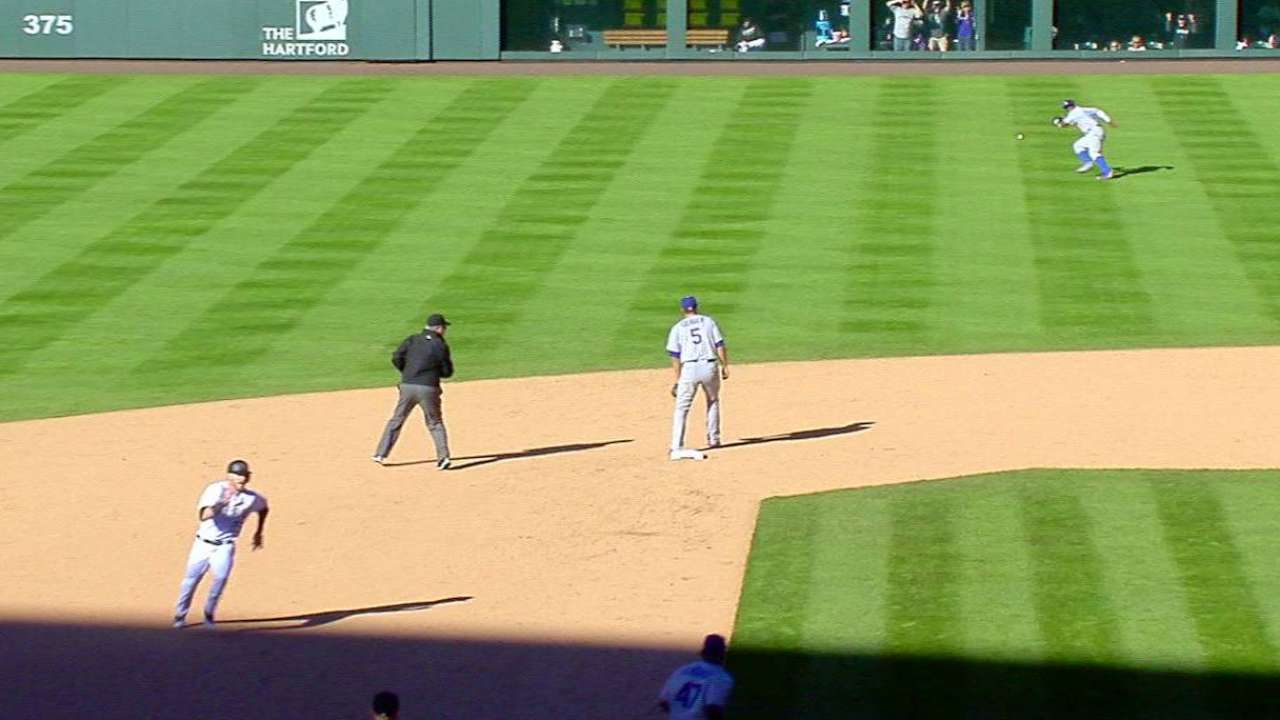 Ken Gurnick has covered the Dodgers for MLB.com since 2001. This story was not subject to the approval of Major League Baseball or its clubs.