Hanigan leaves it all on the table
Red Sox catcher draws crucial walk after 13-pitch at-bat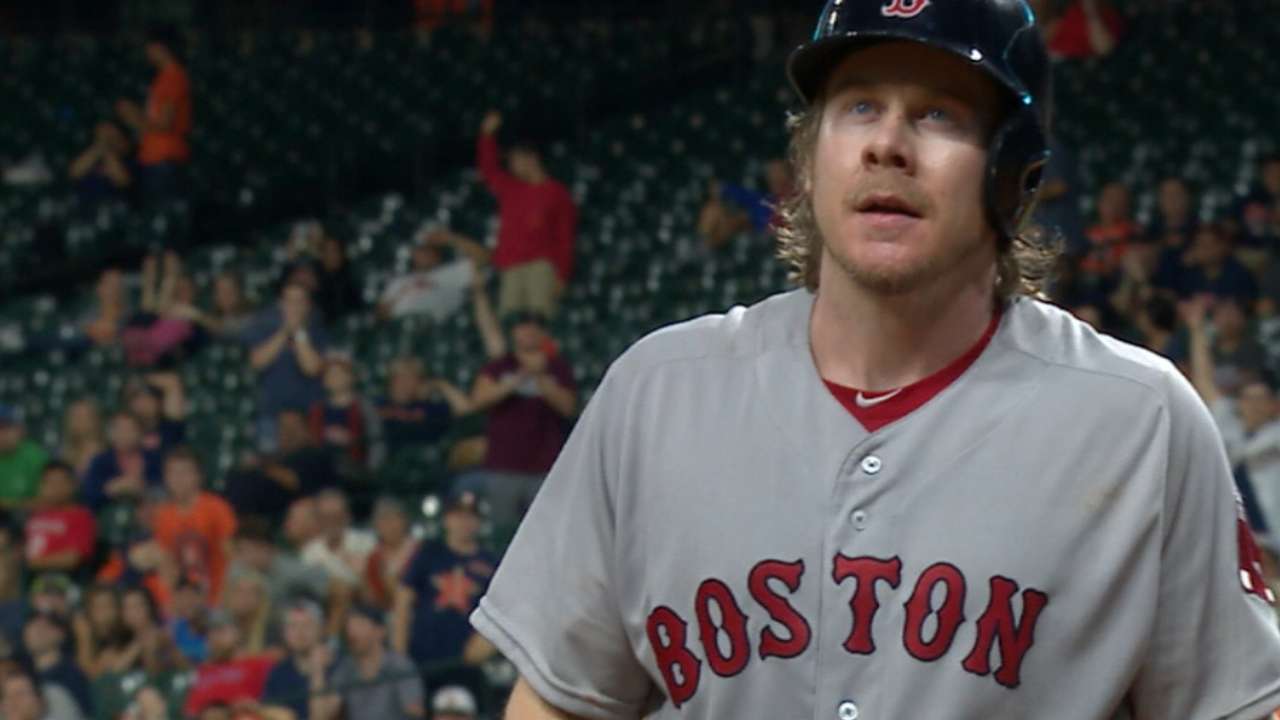 HOUSTON -- Jackie Bradley Jr. earned the game-winning hit in Boston's 7-5 win in 12 innings Sunday night against the Astros. Star closer Craig Kimbrel blew a save. Henry Owens made his first start of the season.
In some way, shape or form, Boston catcher Ryan Hanigan had his hand in all of it, including perhaps the biggest walk for the Red Sox in 2016.
After catching 11 grueling innings -- 219 pitches by game's end -- Hanigan left his mark with a thrilling, painstaking 13-pitch at-bat that saw him foul off eight straight pitches from flamethrowing reliever Ken Giles with two on and one out in the 12th.
• Cast your Esurance All-Star ballot for #ASGWorthy players
"He's the real MVP," Bradley said of Hanigan. "He wore [Giles] down a little bit and really took the focus off of me. He was able to battle, grind and set me up."
"Just a gritty at-bat," manager John Farrell added. "He's got the ability to understand the situation. He tried a couple times to put the ball in the air for a potential sacrifice fly. Spoiled a number of good pitches and gave us a shot."
Battling Giles was no easy task. The righty can feature a devastating slider, which Hanigan admits he struggles with.
Still the sequence included nine fastballs in the upper 90s and sliders pushing 90 mph. With the Minute Maid Park crowd amped toward the end of a five-hour affair and the go-ahead run 90 feet away, Hanigan sprayed foul balls every which way.
He ripped one into the netting behind home plate. He deposited a couple near the broadcast booths. A few landed above the Red Sox's dugout. Another barely grazed his bat, and Astros catcher Erik Kratz.
Finally, an end to it all and the fulcrum moment in the Red Sox's decisive half of the 12th, as Giles slammed a slider into the dirt for ball four.
"I wasn't thinking, seeing the ball as early as I could," Hanigan said. "Get my foot down, keep loose and get a pitch I could get to the outfield. He throws hard, and you have to respect the slider and the velocity.
"Got it to the lefty [Bradley], and he had a better angle on it. I was just fighting."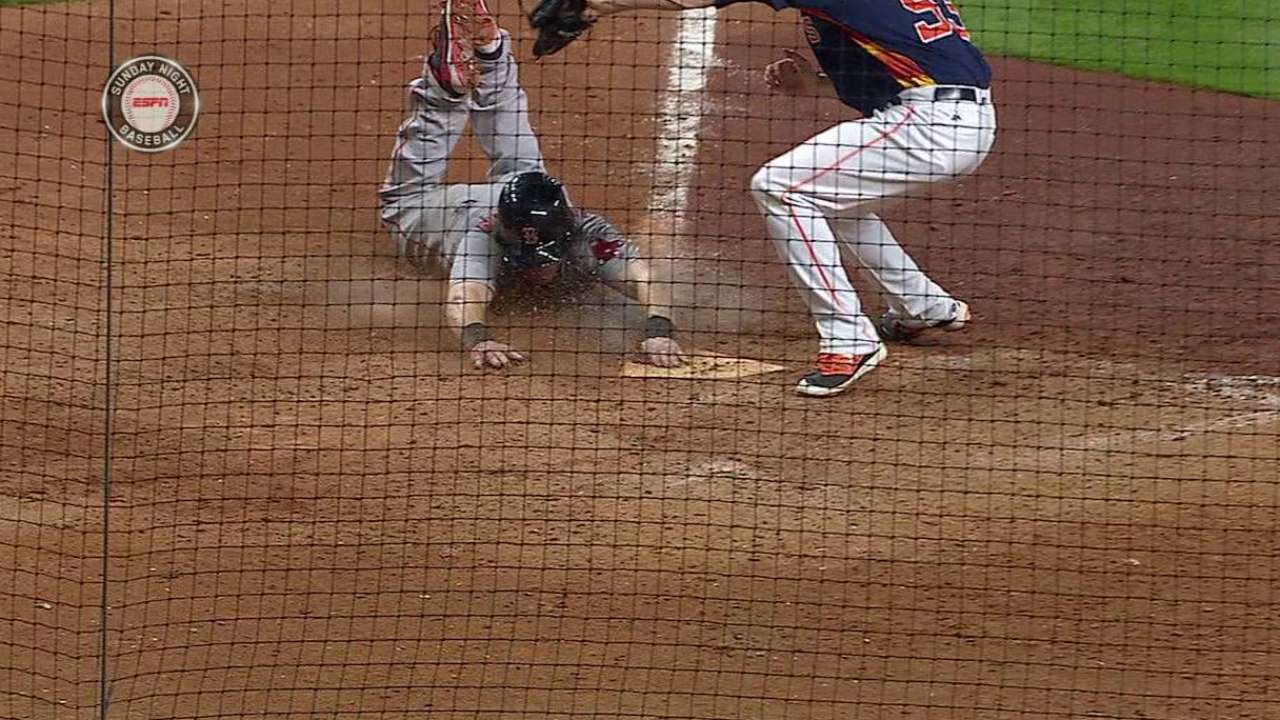 For good measure, Hanigan came home on a wild pitch three batters later, sliding headfirst into home for what could have been a crucial insurance run.
It showed an attitude typical of a catcher and one this Red Sox bunch is trying to rally around, and they believed it was on display after Colby Rasmus deflated things a bit with his game-tying homer in the ninth.
"He's showing up every night and playing this game hard," Farrell said of Hanigan. "We're not out of any ballgame. They're gonna hustle and give their all on every pitch, every at-bat.
"We continue to come back, and we've had so many good at-bats up over the last week, and it's been good to see up and down the lineup."
As for Hanigan, he'd prefer not to do that at-bat over again, especially 4 1/2 hours into his evening. For nearly 10 minutes, though, the focus in the batter's box trumped the exhaustion in his legs.
"A lot of times, it's pretty evident, and you feel it," Hanigan said of a catcher's fatigue in extra innings. "I had a lot of adrenaline. It was a big situation. I was locked in. I wasn't worried about how I felt. I had to get the job done."
Chris Abshire is a contributor for MLB.com based in Houston. This story was not subject to the approval of Major League Baseball or its clubs.