Pujols busts slump, ties Reggie with 563rd HR
Angels slugger ends 0-for-26 streak with 2-run blast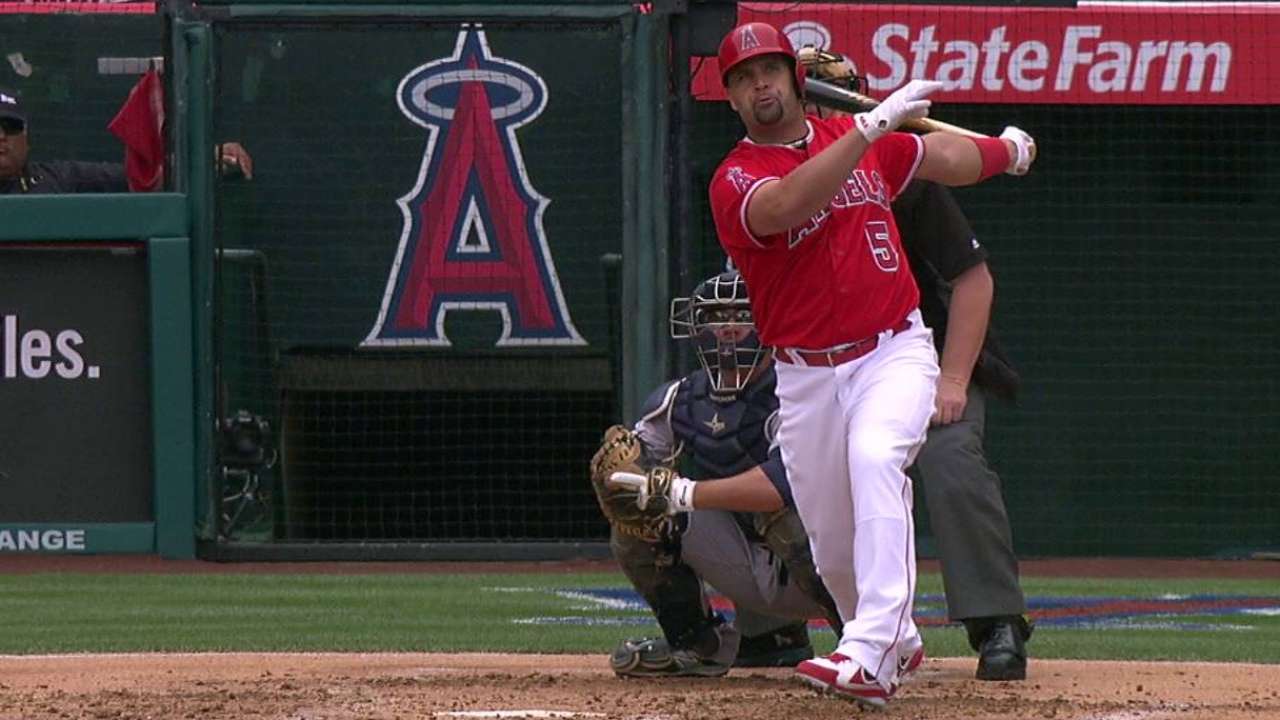 ANAHEIM -- Albert Pujols took the field on Sunday carrying the weight of his longest career slump. When the game was over -- and he had homered, singled, and made a couple of outs on blistering line drives -- the Angels' cleanup hitter was asked if he found himself pressing over these last few days.
"What's pressing?" Pujols asked. "What do you call pressing? I never press in this game. Look at my track record. I don't need to press. I think at the end of the day, things are going to be there."
Pujols' efforts weren't enough in a 9-4 loss to the division-rival Mariners, but they were nonetheless uplifting.
In the first, he snapped a career-long 26-at-bat hitless streak with a two-run shot to left-center field, giving him 563 home runs to tie Hall of Famer Reggie Jackson for 13th on the all-time list. In the third, he extended his hands to line a two-strike base hit to right. In the sixth and the ninth, he scorched two line drives up the middle, one into the glove of center fielder Leonys Martin and another directly at Robinson Cano, the Mariners second baseman who had shifted over.
It was only his third multi-hit game of the year, and the first time in 2016 that he had hit the ball so firmly in four plate appearances.
"Sometimes when they come, they come in bunches," Pujols said. "When you struggle, you just struggle. The main thing is to stay positive all the time. I've been in this situation before. I know how to get out of it -- don't force anything. Just go out there and do what I have to do."
Pujols' home run -- on a 1-2, 92 mph, down-the-middle fastball from Mariners starter Wade Miley -- left his bat at 110 mph and landed a projected distance of 448 feet away, according to Statcast™, the longest of his three this season. His out in the sixth carried an exit velocity of 104 mph; the one in the ninth traveled 106 mph.
"Four rockets," Angels manager Mike Scioscia said. "Great to see."
As the days went on and the struggles ensued, Scioscia faced questions about whether he would remove Pujols from the cleanup spot or bench him altogether.
His most recent home run was his first hit since another first-inning homer last Sunday. It was followed by an 0-for-26 stretch, which included six strikeouts and three walks. Pujols' slash line entering Sunday was .132/.213/.235. His line-drive percentage sat at a miniscule 7.1 percent, less than half his career rate (18.8 percent) and where he finished in '15 (15.9 percent).
Pujols scoffed at questions centered on whether frequent time at designated hitter was affecting his rhythm in the batter's box, and proclaimed that his surgically repaired right foot was just fine.
"Knock on wood, man," Pujols said. "It actually feels awesome."
Last year, Pujols finished the month of April batting .208. Then he posted a .979 OPS throughout May and June, propelling him back to the All-Star Game. The Angels, who haven't scored more than four runs in 16 of their first 19 games, hope for a similar surge.
"I know that I have the talent and the ability to play this game," said Pujols, his batting average up to .153. "The Lord has given me that. Just stay positive all the time, even through times like this."
Alden Gonzalez has covered the Angels for MLB.com since 2012. Follow him on Twitter @Alden_Gonzalez and Facebook , and listen to his podcast. This story was not subject to the approval of Major League Baseball or its clubs.