deGrom on the mark in return against Braves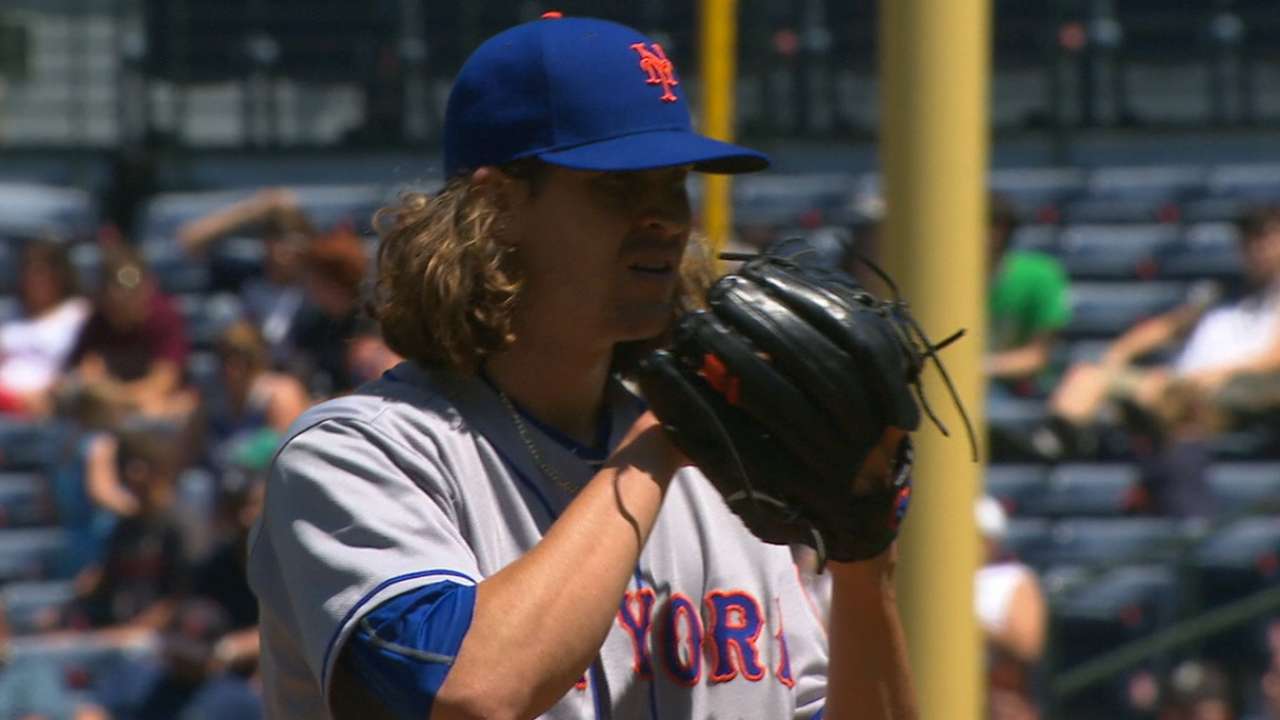 ATLANTA -- Mets right-hander Jacob deGrom threw the Braves a curve in Sunday's 3-2 win at Turner Field. In fact, he threw quite a few of them.
But in the end, it was the same result deGrom usually has against Atlanta and the same kind of result he usually has in the daytime.
"I kind of went to the curveball a little more than we usually do," said deGrom, who fired 5 2/3 innings of one-run, eight-hit ball to help the Mets complete a three-game series sweep. "I feel like that's my fourth-best pitch. I don't know why I went to it, but I'm pretty happy with the outcome."
Happy was an understatement for the Mets, who were happy with the sweep, an extension of the franchise record for consecutive wins at Turner Field with seven and tying the all-time record for wins in Atlanta. New York also was ecstatic about seeing deGrom doing his thing on the mound for the first time since April 8.
"I'm very, very pleased," said manager Terry Collins, whose team has won eight of 10. "He got after it, and came out and gave us a good game. Hopefully, we can move on."
deGrom feels he's ready to do so.
"Everything feels physically fine," he said. "It felt a little different out there today, but I was able to work through 5 2/3."
You wouldn't know it from the results.
deGrom lowered his career ERA against Atlanta to 1.89 (eight earned runs in 38 innings), his lowest total against any opponent, while raising his career record to 3-2. He did so by continuing to dominate the Braves' big bats. First baseman Freddie Freeman went 0-for-3, with two comebackers, and is now batting .154 against deGrom (2-for-13). He put a similar collar on A.J. Pierzynski, who went 0-for-3 and is now hitless in nine career at-bats vs. deGrom.
deGrom also improved to 12-2 all-time in day games, with a 1.31 ERA (19 earned runs in 103 1/3 innings), in 20 starts. It's the lowest ERA of qualified pitchers since 2014.
"I thought he came out sharp," batterymate Kevin Plawecki said. "That's really all you can ask of a guy who's going through the stuff that he's going through to just come back out and deal like he did today."
deGrom, who had missed time with a lat issue, put runners on in in every inning but the second. However, he made big pitches to keep the Braves at bay. deGrom got Pierzynski to pop out to end the first then induced a Freeman comebacker with two on to end the fifth. The Mets took the lead for good, as Michael Conforto's RBI double broke a 1-1 tie in the sixth.
deGrom threw 82 pitches, 59 for strikes. Collins admitted that was close enough to the goal of 85 that he and pitching coach Dan Warthen set before the game.
"He wanted that last guy, but after what he's gone through, he gave us plenty," Collins said.
deGrom looked cool and pitched as if everything was cool, but he admitted the butterflies were fluttering a little more than usual on Sunday.
"I get nervous before every start, but missing two turns through, just getting back out there, there were a little extra nerves," he said.
In addition to the nerves, deGrom's impeccable control was a sign he was back to normal. deGrom hasn't walked a batter this season, and hasn't issued a free pass in five of his last six starts dating to last season. He's walked only two in that span, covering 26 2/3 innings.
"That's a good sign," he said, with a smile. "That was one of my issues, hoping that I had the command that I did today. I'm happy that I didn't have any walks."
Something else that made him happy was knowing son, Jaxon Anthony and wife, Stacey, were watching the game.
"Stacey actually sent me a picture of him watching the game," he said. "So it meant a lot. The last week or so, there were some ups and downs, but it felt good to be back out there."
Jon Cooper is a contributor to MLB.com based in Atlanta. This story was not subject to the approval of Major League Baseball or its clubs.