Choi could see more chances to produce
Angels 1B notched first MLB hit Saturday vs. Mariners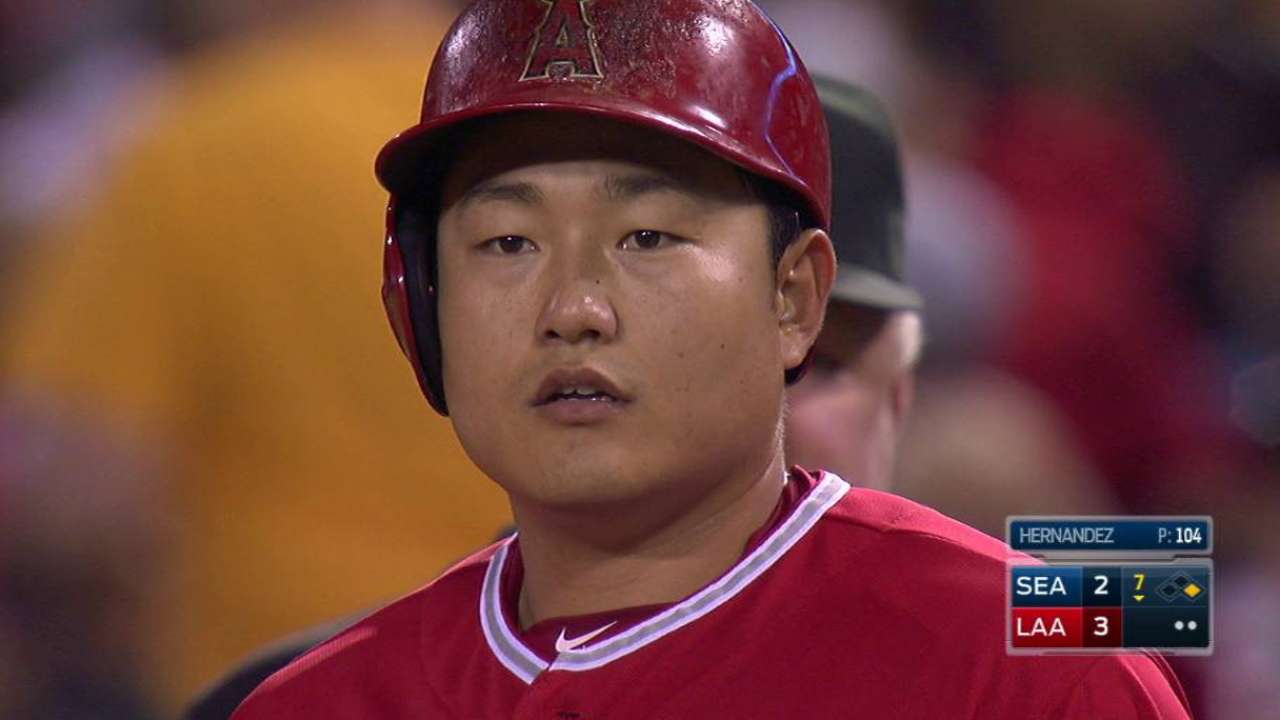 ANAHEIM -- Ji-Man Choi went 10 days without stepping into the batter's box in a Major League game, then was tasked with facing one of the game's premier starting pitchers, Felix Hernandez, on Saturday.
It went as well as the Angels could've hoped.
Choi, the left-handed-hitting first baseman who was selected in the Rule 5 Draft, hit a line drive to left field, worked a walk and came up with his first Major League hit, a clean single to center field just before getting picked off.
The Angels face three consecutive right-handers in an upcoming series against the Royals, who will start Ian Kennedy, Edinson Volquez and Chris Young. With Albert Pujols (riding an 0-for-26 slump entering Sunday) and C.J. Cron (batting .161 for the season) each struggling, Choi could see some additional playing time.
And if he does, he pretty much has to produce.
Daniel Nava (left knee tendinitis) should return from the disabled list within the next couple of weeks, and Choi must justify his place on the team. He can't be optioned to the Minor Leagues, which pretty much locks up the Angels' roster and makes it difficult for them to add an extra reliever after games when their bullpen gets taxed. And he isn't being used as a late-game defensive replacement.
When Nava returns, the Angels could simply keep left-handed-hitting outfielder Rafael Ortega on the roster, since he does have options, and offer Choi back to his former team, the Orioles.
But Choi could change that if he proves worthy of drawing starts against righties.
"Any time a young player gets an opportunity and plays well, there's always an opportunity for him to get more at-bats," Angels manager Mike Scioscia said. "We'll see where it leads."
Triple-A pitching shines: Several key pitchers are off to solid starts for the Angels' Triple-A affiliate, an encouraging sign for an organization that will inevitably need additional coverage as the season prolongs.
Nate Smith, a key starting-pitching prospect, has a 1.75 ERA in his first four starts in the Pacific Coast League, striking out 24 batters and walking just five. Aside from Tyler Skaggs, who continues to progress in his recovery from Tommy John surgery, the Angels also have Yunesky Maya (1.80 ERA in his first three starts) and Chris Jones (4.15 ERA in three starts).
Kyle Kendrick, signed to a Minor League contract towards the end of Spring Training, was scheduled to make his debut for the Salt Lake Bees on Sunday. The most encouraging signs have come from some well-known relievers, including Neal Cotts (1.42 ERA), Al Alburquerque (1.80), Cam Bedrosian (1.42), Javy Guerra (1.08) and Lucas Luetge (2.70).
Bullpen status: The Angels' bullpen accounted for six innings in Sunday's 9-4 loss, with Jose Alvarez pitching two innings and Cory Rasmus recording 3 2/3. Alvarez and Rasmus will be unavailable on Monday, but Scioscia said his bullpen should be fine without extra reinforcements for the coming week.
Alden Gonzalez has covered the Angels for MLB.com since 2012. Follow him on Twitter @Alden_Gonzalez and Facebook , and listen to his podcast. This story was not subject to the approval of Major League Baseball or its clubs.