Duffey exits game with right arm contusion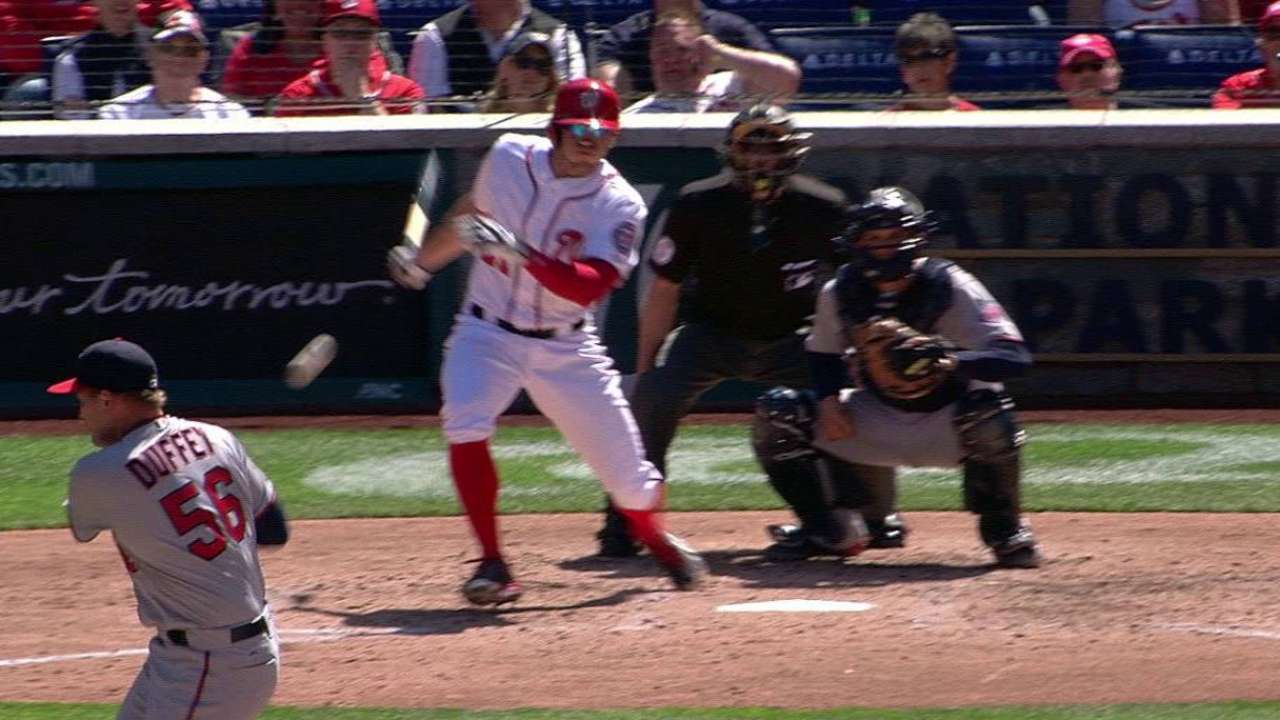 WASHINGTON -- Twins pitcher Tyler Duffey exited his season-debut start Sunday with a right arm contusion after being struck with a line drive in the fifth inning at Nationals Park. The Twins lost, 6-5, in 16 innings.
After the game, Duffey said the injury was not serious.
"It hit me square in the shoulder," he said. "I'll probably feel it tomorrow a bit."
Duffey, who was called up to pitch Sunday's game in place of the injured Ervin Santana, had allowed five hits and one run through four innings against the Nationals.
Duffey got off to a rough start, serving up a leadoff home run to Matt den Dekker, walking Michael Taylor and allowing a single to Daniel Murphy, all with no outs in the first inning, but he quickly settled down. He retired the next three batters to end the first, then cruised through the second, escaped a jam in the third and worked around a walk in the fourth.
den Dekker, the first batter of the fifth inning, lined a pitch off Duffey, drawing the Twins' trainers to the mound. After a brief conversation, Duffey was removed from the game and replaced by Casey Fien.
Duffey said he would have kept pitching if it were up to him but understood why manager Paul Molitor decided to remove him from the game.
"I asked if I could throw some, but it was probably in my best interest to not," Duffey said. "They're looking out for me. That's all I can ask for."
Alex Putterman is a reporter for MLB.com based in Washington. This story was not subject to the approval of Major League Baseball or its clubs.