Moustakas, Gordon on Royals' All-Star Ballot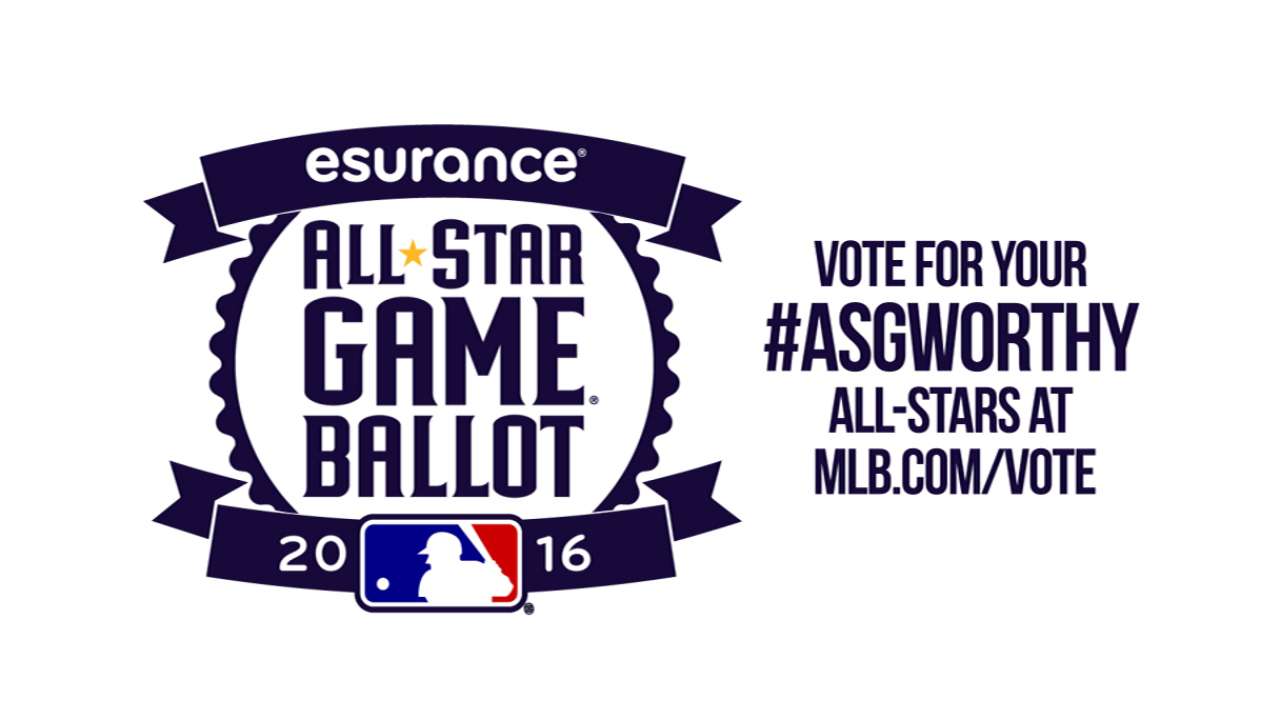 KANSAS CITY - Ready, set, go, Royals fans. The ballot is out for the 2016 All-Star Game presented by MasterCard in San Diego.
Last season, as everyone remembers, Royals fans went all out and at one point seemed poised to vote in seven starters.
The Royals wound up with five: shortstop Alcides Escobar, third baseman Mike Moustakas, center fielder Lorenzo Cain, left fielder Alex Gordon and catcher Salvador Perez. Pitchers Wade Davis and Kelvin Herrera were selected by Royals manager Ned Yost, who once again will manage the 2016 squad.
"It's a responsibility we take seriously," Yost said. "We want to win, not just for us, but for the American League."
Escobar, Moustakas, Cain, Gordon and Perez all are more than worthy candidates again this season, as is Gold Glove first baseman Eric Hosmer, who is off to decent start (.299).
On a side note, Paulo Orlando is listed among the three Royals outfielders on the ballot. That's because starter Jarrod Dyson was on the disabled list when the Royals turned in their list of ballot candidates to the league, and the Royals weren't positive Dyson would return before May.
Browsing the ballot
The other side: Over in the National League, the talented but enigmatic Dexter Fowler seems to have found a home with the Cubs and has hit his stride early in the season. He's third in the league in batting (.385) and leads the league in doubles (9) and runs scored (17).
Tip of the cap: Is this the year Astros outfielder Colby Rasmus puts it all together? Rasmus hit four homers in the postseason last year, three against the Royals in the American League Division Series. And already Rasmus is off to an impressive start: Tied for second in homers (6) and second in RBIs (16), and he has a 1.147 OPS.
A rising star: Three years ago, shortstop Jean Segura was an All-Star with the Brewers, then dropped off everyone's radar the past two seasons. Segura is back raising eyebrows with the Diamondbacks, hitting .346, good enough for seventh in the National League. Segura also is fifth in total bases with 43.
Fans can cast their votes for starters at MLB.com and all 30 club sites -- on their computers, tablets and smartphones -- exclusively online using the 2016 Esurance MLB All-Star Game Ballot until Thursday, June 30, at 11:59 p.m. ET. Vote up to five times in any 24-hour period for a maximum of 35 times.
Fans may also receive the ballot by texting VOTE to 89269 (USA) or 101010 (Canada). Or text VOTA for a ballot in Spanish. Message and data rates may apply. Up to five messages. No purchase required. Reply STOP to cancel. Reply HELP for info.
Following the announcement of the 2016 All-Stars, be sure to return to MLB.com and cast your 2016 Esurance MLB All-Star Game Final Vote for the final player on each league's All-Star roster. On Tuesday, July 12, watch the 2016 All-Star Game presented by MasterCard live on FOX, and during the game visit MLB.com to submit your choice for the Ted Williams Most Valuable Player Award presented by Chevrolet via the 2016 MLB All-Star Game MVP Vote.
The 87th All-Star Game will be televised nationally by FOX, in Canada by Rogers Sportsnet and RDS, and worldwide by partners in more than 160 countries via MLB International's independent feed. ESPN Radio and ESPN Radio Deportes will provide national radio coverage of the All-Star Game. MLB.com, MLB Network and SiriusXM will also provide comprehensive All-Star Week coverage. For more information, please visit allstargame.com.
Jeffrey Flanagan has covered the Royals since 1991, and for MLB.com since 2015. Follow him on Twitter @FlannyMLB. This story was not subject to the approval of Major League Baseball or its clubs.