Blister has Greene's status TBD going forward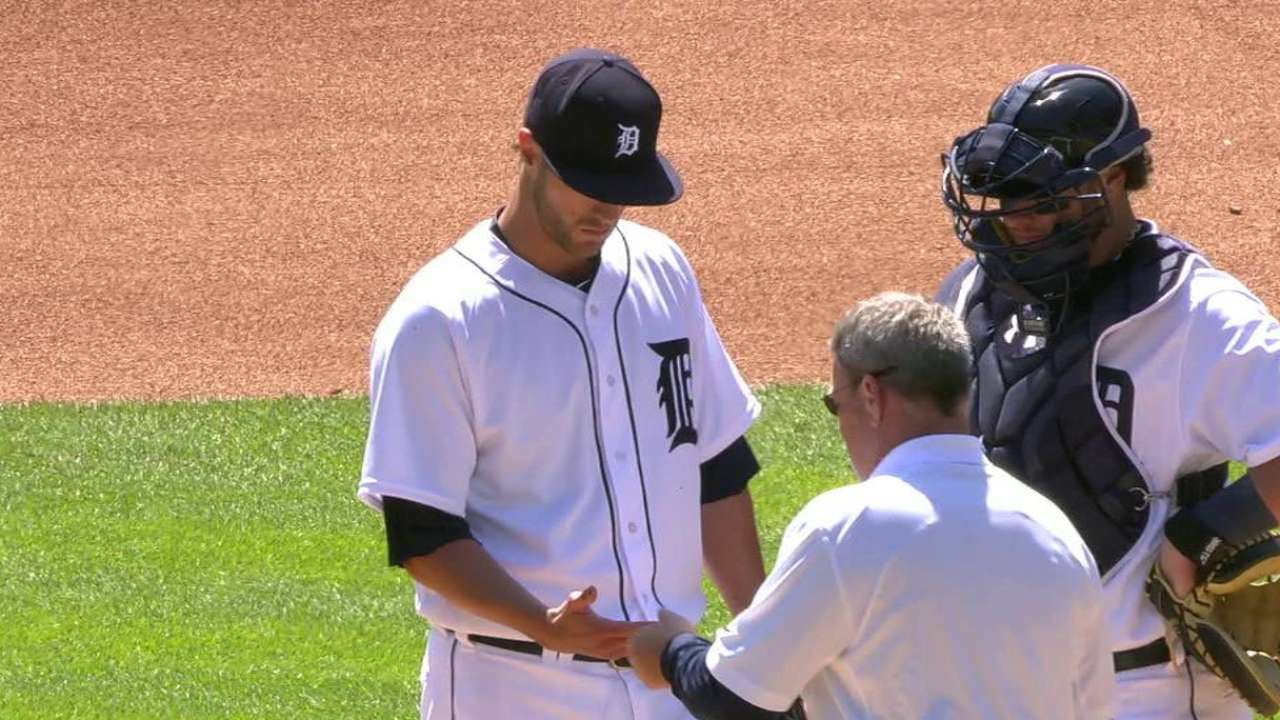 DETROIT -- The Tigers sent Shane Greene to the mound for his start Sunday against the Indians hoping he could cover some innings and spare a taxed bullpen. A few innings later, they had to send him back to the clubhouse with a blister that burst on his right middle finger.
Whether the Tigers will have to send their young right-hander to the disabled list will be a question for the coming week.
"It was bleeding pretty bad," manager Brad Ausmus said after the 6-3 loss. "We're not sure if it's a DL [situation] or not, but he's not going to be able to pick up a ball for a few days at least."
Greene, who dealt with numbness in his fingers last season, had been dealing with the blister for at least an inning or two. He thought it could break open in the early innings, and he went to the training staff to put an adhesive on it to keep the skin together.
"I could feel it coming," Greene said. "It's happened to me before, and I could tell that it might go, and it did."
A few pitches into the fourth, on his way to a five-pitch walk of leadoff batter Francisco Lindor, it went. Head athletic trainer Kevin Rand ran out to the mound and checked his fingers. Greene, his jersey bloodied, was lifted quickly, without much debate.
It brought back of memories of Anibal Sanchez's start a couple years ago in Minnesota, where a busted blister on the same finger led to a three-week stint on the DL with a right middle finger laceration.
"It was a comparable amount of blood," Ausmus said. "But it didn't look quite the same. Sanchie's looked really nasty compared to this, but there was a decent amount of blood."
Ironically, blood flow to the fingers was part of the problem for Greene last year, due to an aneurysm around his shoulder.
"This one was a little over the top," Greene said. "But the silver lining is, I got blood on my fingers again."
Greene's exit came minutes after Cleveland starter Carlos Carrasco left the game in the third inning with a left hamstring injury, turning Sunday's series finale into a battle of bullpens. With lefty Kyle Ryan unavailable following 3 2/3 innings Saturday in relief of Anibal Sanchez, Alex Wilson and Blaine Hardy throwing an inning-plus each, and closer Francisco Rodriguez on the family medical emergency list, the Tigers called up lefty Matt Boyd from Triple-A Toledo before Sunday's game to help fill innings.
With Greene out, Ausmus turned to right-hander Drew VerHagen, who retired four of the 12 batters he faced before giving way to Boyd. The longer warmup process Boyd had as a starter, Ausmus said, wasn't a factor.
"VerHagen's pitched in tight situations before," he said. "Felt like if VerHagen could get through a couple innings, if we could get a lead, we'd still have those guys at the back end that might have the ability to hold the lead. They got a couple hits off VerHagen, but who gets ground balls at a better rate than anyone else in our bullpen? Well, the guy standing on the mound, Drew VerHagen, which is kind of why I stuck with him."
Ausmus did not commit to Boyd starting if Greene goes on the DL.
Jason Beck has covered the Tigers for MLB.com since 2002. Read Beck's Blog, follow him on Twitter @beckjason and listen to his podcast. This story was not subject to the approval of Major League Baseball or its clubs.