Yanks hope to avoid placing Hicks on DL
Club wants to see how outfielder (shoulder) responds to rest, cortisone shot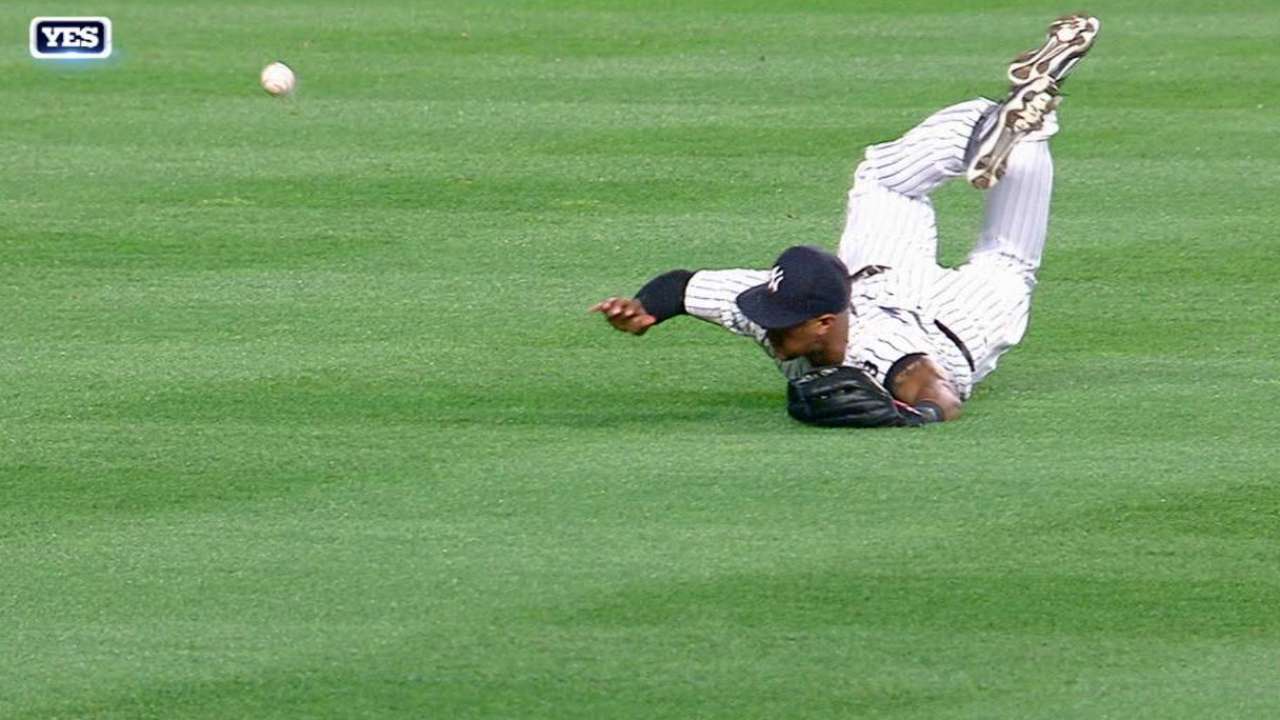 NEW YORK -- Yankees outfielder Aaron Hicks awoke on Sunday morning and didn't feel appreciably better than he did on Friday night after injuring his left shoulder attempting to make a diving catch.
"Today it kind of feels pretty much the way it did yesterday," Hicks said before Sunday's game against the Rays. "I just feel it in my shoulder still. I do feel like I have more movement and it's getting better. Now I'm about to go in [the training room] and do some treatment, do whatever they want me to do in there."
An MRI on Saturday revealed traumatic bursitis in the shoulder. Hicks received a cortisone shot and was told not to participate in baseball activities for four-to-five days.
The club has discussed placing him on the disabled list, but may hold off for a few more days, manager Joe Girardi said on Sunday. The Yanks embark on a nine-game road trip to Texas, Boston and Baltimore, opening a three-game series against the Rangers on Monday at 8:05 p.m. ET. They have an off-day on Thursday.
At any point within the next three days, if the Yanks decide to DL Hicks, he can be backdated to Saturday. In the meantime, Girardi seemed content to use Dustin Ackley as an emergency outfielder, although the left-handed hitter, who entered Sunday 0-for-7, has only played left field four times since he was acquired from the Mariners in July.
"We're going to go a couple of days to see where [Hicks] is at, see if the shot is helping, the rest is helping," Girardi said. "If it's going to be three or four days, with the off-day Thursday, we think we can manage and will be OK. You don't want to miss him for two weeks when you might only have to miss him for [five] games. We're going to see how he is tomorrow and try to make an evaluation."
The 26-year-old Hicks, obtained from the Twins this past offseason, has been scuffling at the plate, batting .091 (2-for-22) with two RBIs and no extra-base hits.
Girardi has been touting the switch-hitting Hicks' ability to hit left-handed pitching. He's a .259 hitter in his career against lefties and a .206 hitter against righties. This year, his two hits have been split evenly between lefties and righties.
"[Hicks] is going to hit left-handers, I really believe that," Girardi said. "Everything we've seen from him and everything in his DNA tells us that he's going to hit left-handers. And he's going to do damage. He's just gotten off to a slow start."
Meanwhile, Hicks has made a pair of impressive defensive plays during the Yankees' homestand, climbing the wall in foul territory to make a catch on Thursday and nailing a runner at the plate on Wednesday with a 105.5-mph throw, the fastest in Statcast? history.
The setback is not what he wanted.
"I mean, it's definitely frustrating," Hicks said. "Coming here, I want to be on the field and I want to help this team win."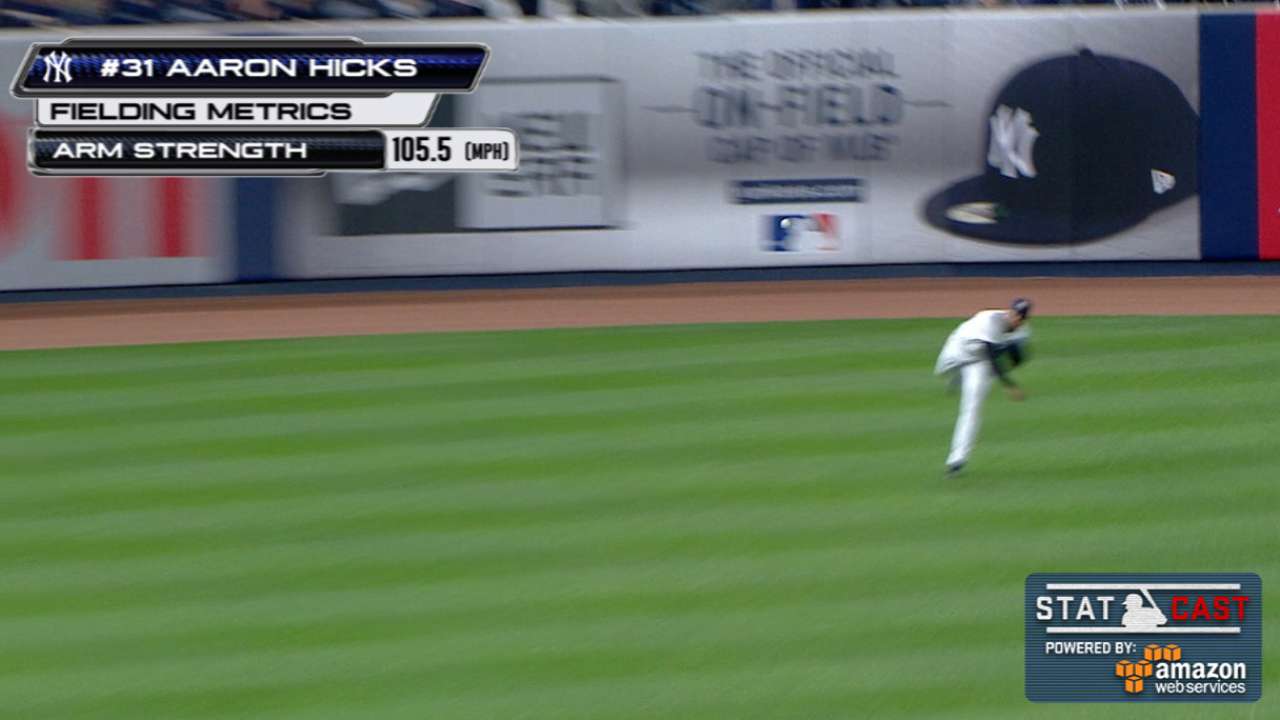 Barry M. Bloom is a national reporter for MLB.com based in New York and writes an MLBlog, Boomskie on Baseball. Follow @boomskie on Twitter. This story was not subject to the approval of Major League Baseball or its clubs.