Time of your life: Arrieta thanks Ross with watch
Ace also gifted Montero timepiece after '15 no-hitter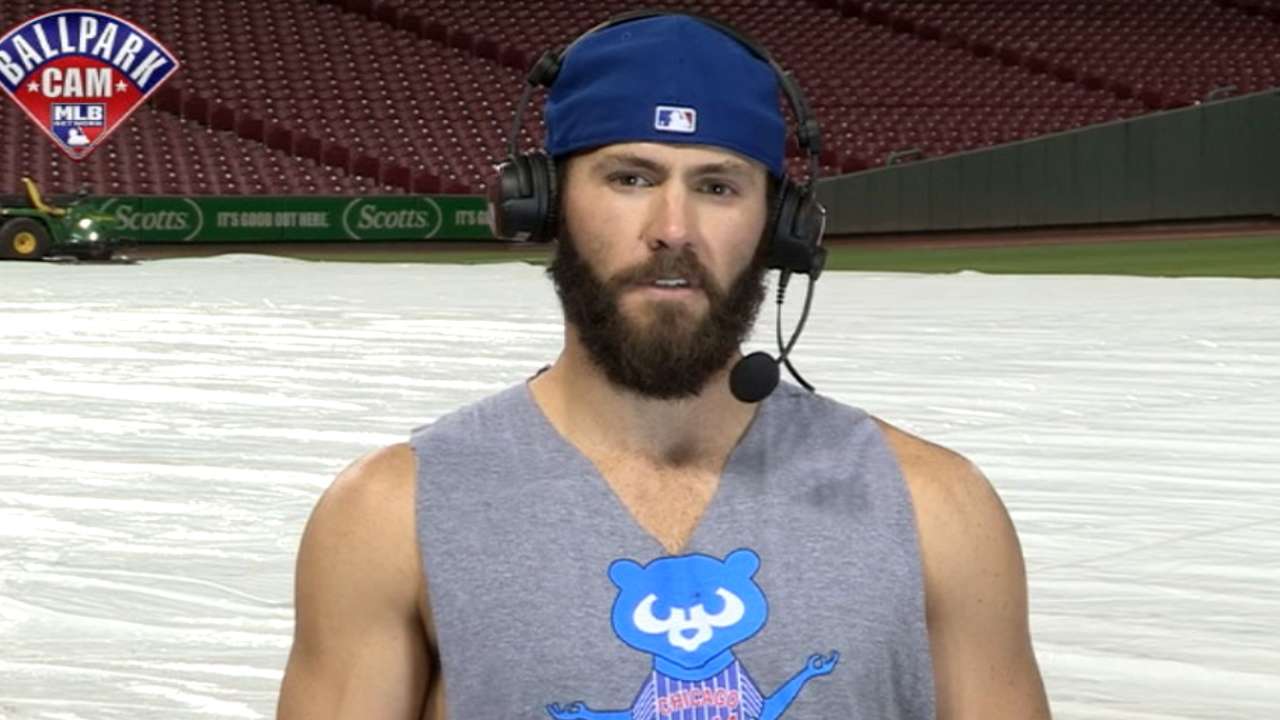 CINCINNATI -- NFL quarterbacks often present their offensive linemen with gifts at the end of a season for protecting them. Pitchers who throw no-hitters apparently give goodies, too.
Jake Arrieta planned on presenting David Ross a watch as a souvenir of last Thursday's no-hitter against the Reds, which was the right-hander's second and the catcher's first. Arrieta posted on Twitter: "These no-no's are getting expensive for me @D_Ross3" with a couple watch emojis.
Jake Arrieta's second no-hitter
•
Pair-rieta: Jake's 2nd no-no a drubbing
•
Did you know? Facts from Arrieta's 2nd no-no
•
There's no-no doubting Arrieta's greatness
•
Rogers: Arrieta simply the best
•
Ross 'on cloud nine' after Arrieta's no-hitter
•
Arrieta 3rd Cub with multiple no-nos
•
Help yourself: Arrieta tallies two hits in no-no
•
No no-no is complete without defensive gems
•
Reds get no-hit at home for 1st time since '71
•
All-time no-hitters by club
•
Full game coverage
•
Flashback: Arrieta no-hits LA in August 2015
Sights & sounds
Arrieta's second career no-no
All 27 outs
Arrieta finishes no-hitter
#THIS: Arrieta no-hits Reds
Must C: Arrieta's 2nd no-no
Arrieta discusses no-no
Maddon on Arrieta
Ross on catching Arrieta
Game gallery
Arrieta gave Miguel Montero a nice time piece after the no-hitter they combined on last Aug. 30 at Dodger Stadium as well.
"They're both big watch guys," Arrieta said of his catchers. "It's kind of a tradition to buy the catcher something nice. A nice time piece is something they'll have to remember it by. Hey, one day, Miggy can give it to Angel, his son, and David the same with Cole. I'll do the same with [my son] Cooper. It's a constant reminder of something special."
Arrieta said the gift is important because he wants his teammates, especially the catcher, to know how much he appreciates what they did.
"It's not an individual thing," Arrieta said of his accomplishment. "I get the notoriety because I was the pitcher, but without the other eight, nine, 10 guys who contributed throughout the game -- I'm just one aspect of it. It's a team thing."
Both of Arrieta's no-hitters have come on the road. He's aware of that.
"I'll throw one at home," Arrieta said. "We'll get it at some point. I'm not done throwing them. There will be another one in Chicago for sure."
These no-no's are getting expensive for me @D_Ross3 ⌚️⌚️

— Jake Arrieta (@JArrieta34) April 22, 2016
Carrie Muskat has covered the Cubs since 1987, and for MLB.com since 2001. She writes a blog, Muskat Ramblings. You can follow her on Twitter @CarrieMuskat and listen to her podcast. This story was not subject to the approval of Major League Baseball or its clubs.