Lindor has formidable fan in Vizquel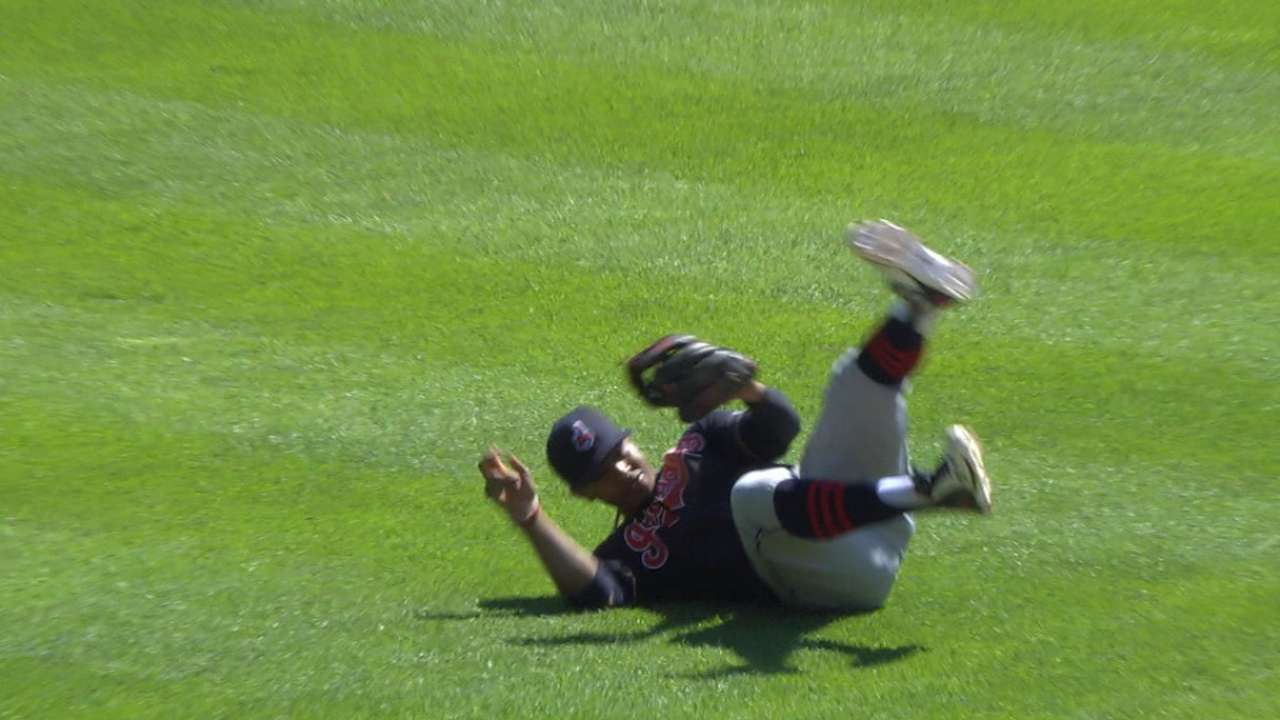 DETROIT -- Dazzling defensive plays up the middle are nothing new for Indians fans. Watching shortstop Francisco Lindor now elicits memories of Omar Vizquel playing the position for Cleveland with a blend of artistry and acrobatics.
Now the first-base coach for the Tigers, Vizquel had a great view from the field at Comerica Park on Saturday, when Lindor made a pair of jaw-dropping plays. On Sunday morning, the former Indians great smiled when asked about having the chance to see Lindor pulling off the kind of plays Vizquel made for so many years in a Cleveland uniform.
"He has some great abilities. No doubt," Vizquel said. "It's been fun to see all of the new guys coming and making all the great plays at shortstop. Lindor really sticks out from the group, because of the abilities he has with diving on both sides and trying to be creative out there with some of the balls that he gets."
Vizquel then referenced the highlight-reel play Lindor made in the seventh inning in Saturday's 10-1 win over Detroit. Slugger Miguel Cabrera ripped a pitch directly at the shortstop, who snagged the ball before nearly doing a backward somersault into the outfield grass. Lindor recovered in time to make a pinpoint throw to nab Cabrera by a step at first base.
"Those things make you open your eyes and say, 'Wow, this kid has some tremendous ability out there,'" said Vizquel, who won nine of his 11 Gold Gloves with the Indians. "He has been exciting to watch. Ever since last year when I first got the chance to see him. It's like, 'Wow. This kid has a lot going on.'"
Told of Vizquel's compliments, Lindor smiled.
"It means a lot," Lindor said. "He obviously played for a long time and a lot of people kind of try to be like him. They try to get a few things from him -- even me. I've tried to get a few things from him and make it my own. For a guy to talk like that, it's huge. It's an honor and I thank him."
Lindor was just 36 days old when Vizquel was traded by the Mariners to the Indians on Dec. 20, 1993, so the current Cleveland shortstop does not have many memories of watching the elder shortstop. What Lindor was able to do, however, was study Internet video clips of Vizquel. The Indians' young shortstop said he spent time as a Minor Leaguer watching footage of Vizquel.
"I watched a lot of videos on YouTube," Lindor said. "We watched videos on preparation and before a pitch and stuff like that. It was good."
Besides Lindor's creativity, Vizquel said he appreciates how much fun the shortstop has on the field.
That side of Lindor's personality was on display after the play he made against Cabrera on Saturday. After getting the out, and seeing smiles around the diamond from his teammates, Lindor broke out in laughter, covering his face with his glove at one point.
"I was one of those guys who liked to laugh around the field whenever I made a play," Vizquel said. "You see that on him, too. That means he's just enjoying the game."
Jordan Bastian has covered the Indians for MLB.com since 2011, and previously covered the Blue Jays from 2006-10. Read his blog, Major League Bastian, follow him on Twitter @MLBastian and listen to his podcast. This story was not subject to the approval of Major League Baseball or its clubs.