deGrom doesn't skip beat as Mets get sweep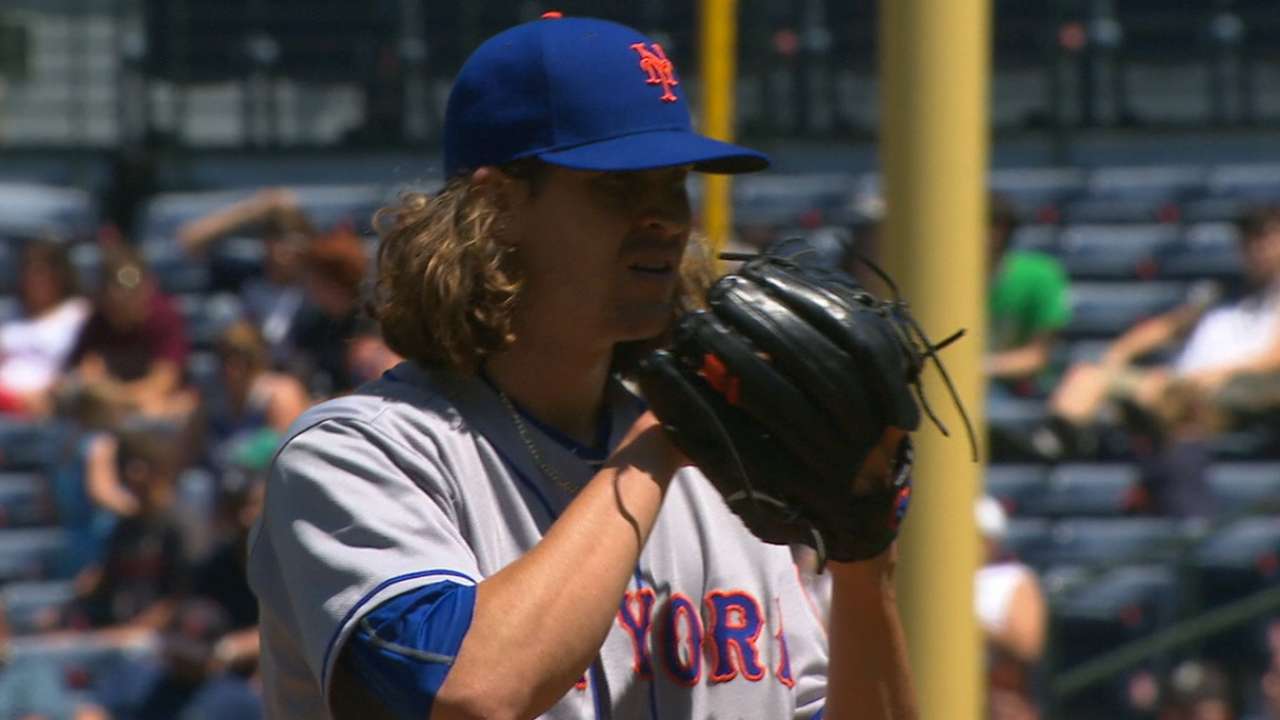 ATLANTA -- Jacob deGrom displayed no signs of rust and the Mets tarnished Aaron Blair's Major League debut with Sunday afternoon's 3-2 win over the Braves to complete a three-game series sweep at Turner Field.
deGrom gained a one-run lead before throwing his first pitch and then quickly settled in as he limited the Braves to one run and eight hits over 5 2/3 innings. This was just the second start of the season for the right-hander, who spent most of the past two weeks tending to a strained lat muscle and complications that followed his son's birth.
Blair settled down after surrendering a first-inning run, but he faded in the sixth before seeing his debut conclude with Michael Conforto's go-ahead double. The highly-regarded prospect surrendered three runs over 5 1/3 innings for the Braves, who have lost five straight since snapping their 0-9 start with a four-game win streak. The Mets have won eight of their past 10 games.
"Going out there and giving your team a chance to win is always the goal," Blair said. "But there are still some things I need to work on. Hopefully, the next outing will be a little better."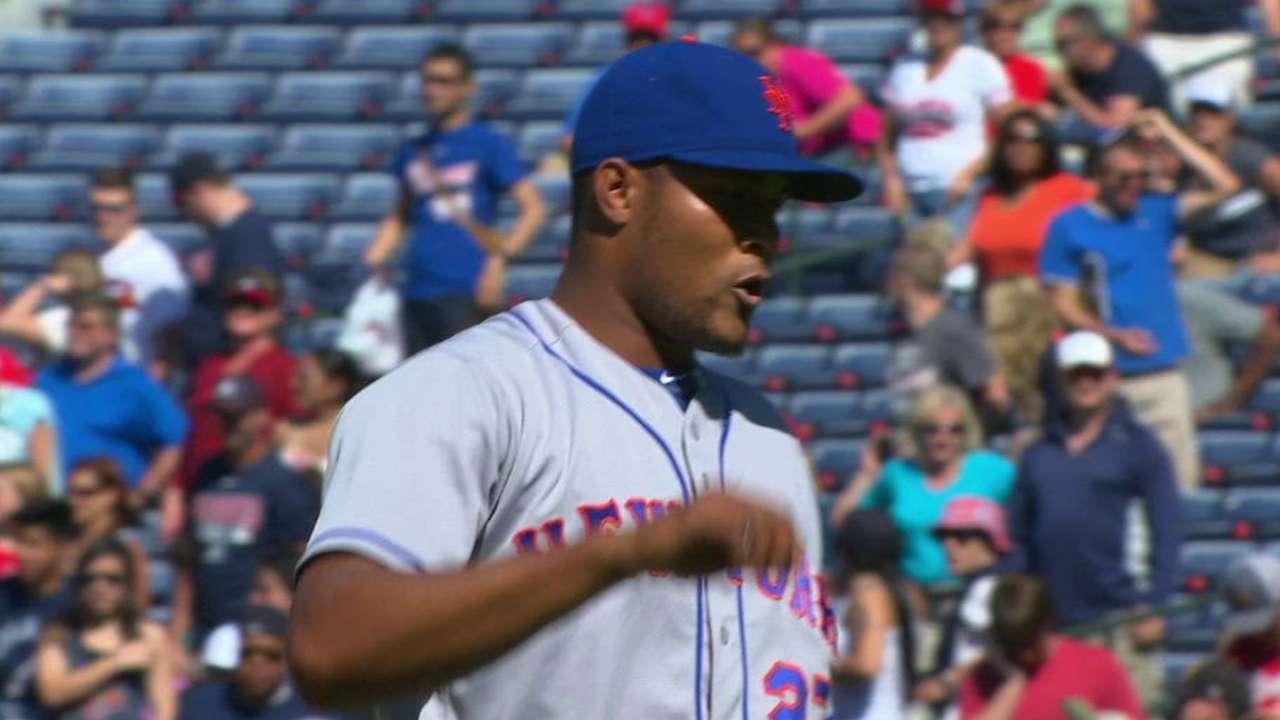 Jeff Francoeur's RBI single accounted for one of the three ninth-inning hits Jeurys Familia surrendered before notching his fifth save.
MOMENTS THAT MATTERED
No soup for you!: While deGrom allowed the Braves to set the table, he would not allow them to eat. Making his first start since April 8, deGrom frustrated Atlanta's No. 3 through 6 hitters. They went 3-for-12 (.250), with Freddie Freeman being retired on a pair of comebackers. Cleanup hitter Adonis Garcia had two singles, but never advanced past first, A.J. Pierzynski was 0-for-3 and grounded into a double play, while Kelly Johnson had one hit, an infield dribbler. More >
"He made pitches when he had to," Mets catcher Kevin Plawecki said. "That's how you have success and that's how you get out of innings, and that's what he did today."
Not Free at last: Freeman hoped Saturday night's two-hit game was a sign he was breaking out of his early-season funk. But the first baseman went hitless on Sunday and in the process did not take advantage of any of the three hits Daniel Castro notched in front of him. After Nick Markakis delivered a game-tying single and Castro followed with an infield single to put runners at the corners in the fifth inning, Freeman grounded back to the mound for the second time in a three-inning span.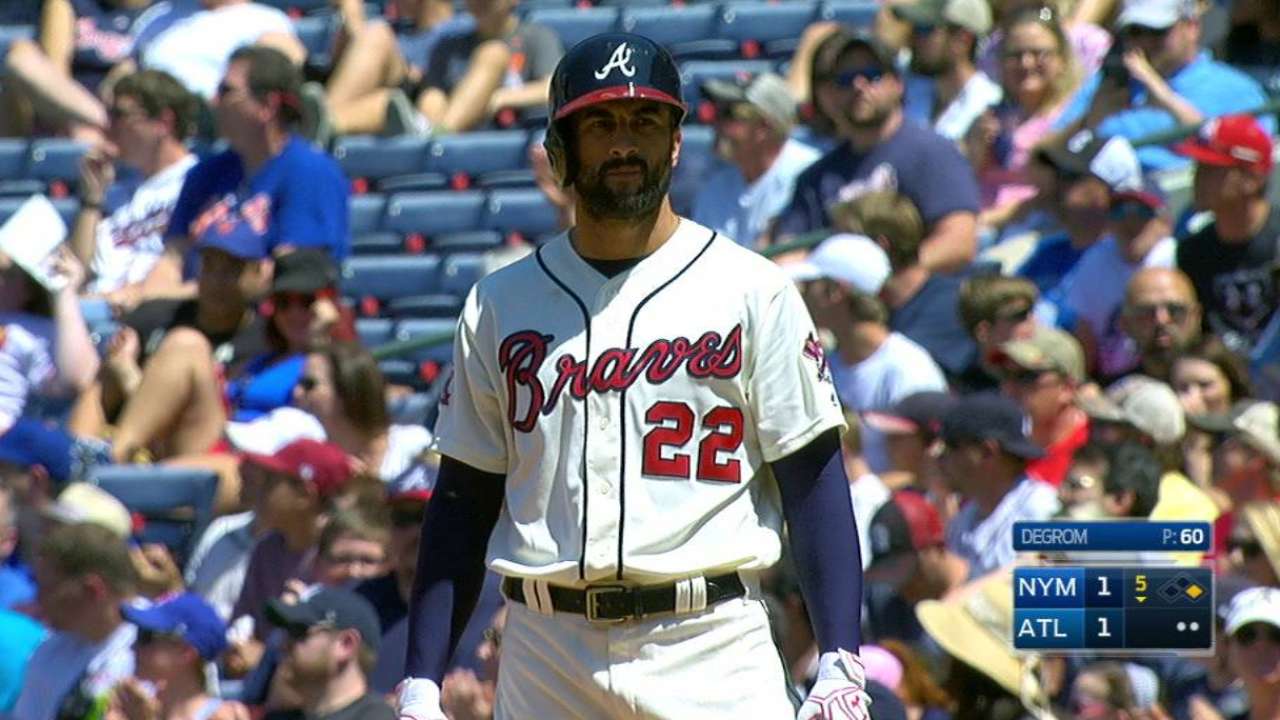 Home Is Where the Curt Is: Curtis Granderson scored a pair of runs in all three games of the series and made sure the Mets never trailed. On Friday night, he hit two home runs, including his sixth career grand slam and first with the Mets, and drove in five runs. On Saturday, he added two more hits and a walk, scoring as part of a two-run first inning. In Sunday's finale, he punched a first-inning single, then drew a sixth-inning walk, coming around to score both times. For the series, Granderson hit .462 (6-for-13), with a double and two homers, and had a .533 on-base percentage, with six runs scored and five more driven in.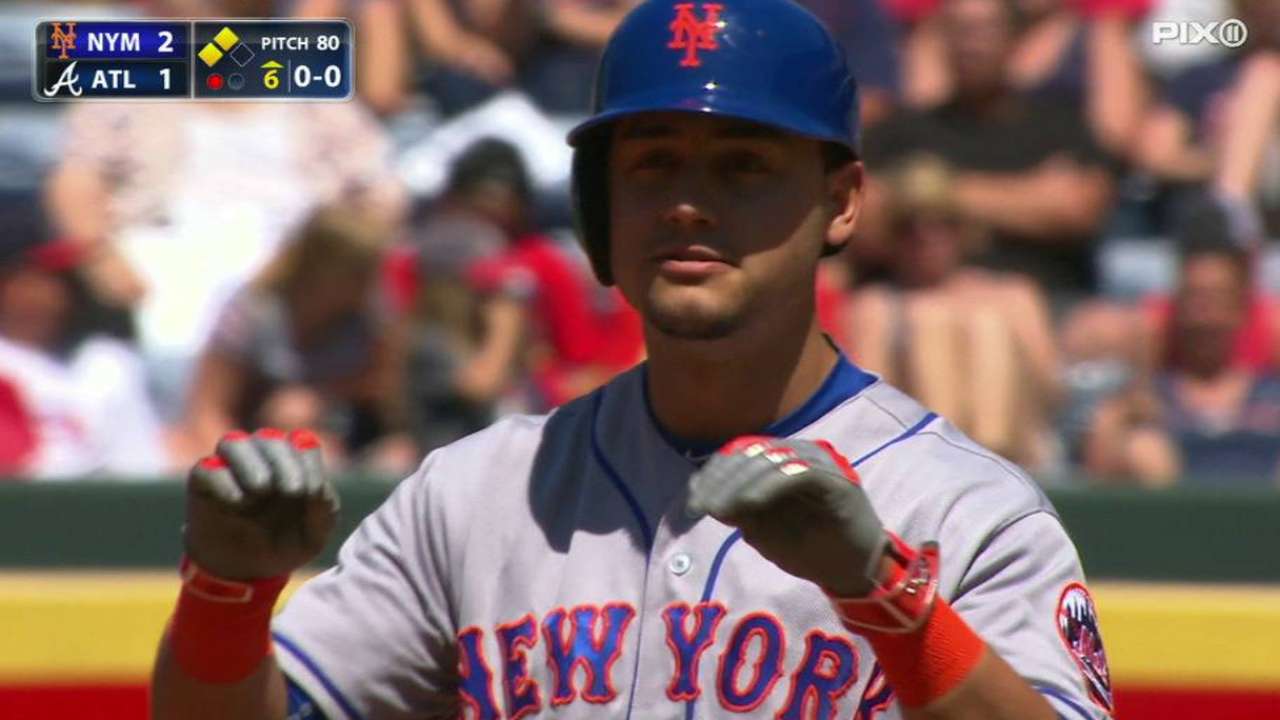 It was still memorable: Blair surrendered hits to three of the first five batters he faced, but with the assistance of two double play groundouts, he limited his damage through the first five innings to Conforto's first-inning sacrifice fly. The right-hander, who ranks as baseball's No. 54 overall prospect, according to MLBPipeline.com, concluded his outing by walking Granderson, surrendering an Asdrubal Cabrera single ahead of Conforto's decisive double. His fastball became more lively and he displayed an effective changeup during this 80-pitch debut. More >
"For his first Major League outing against a team that is swinging the bat pretty good and against a team that has professional hitters up and down the lineup, I thought he did great," Braves manager Fredi Gonzalez said. "He's one of those guys, where I can't wait to see him pitch four days from now."
SOUND SMART WITH YOUR FRIENDS
Though he surrendered just one earned run, deGrom's afternoon ERA actually increased by .001. deGrom has produced a sterling 1.31 ERA through 20 career afternoon starts.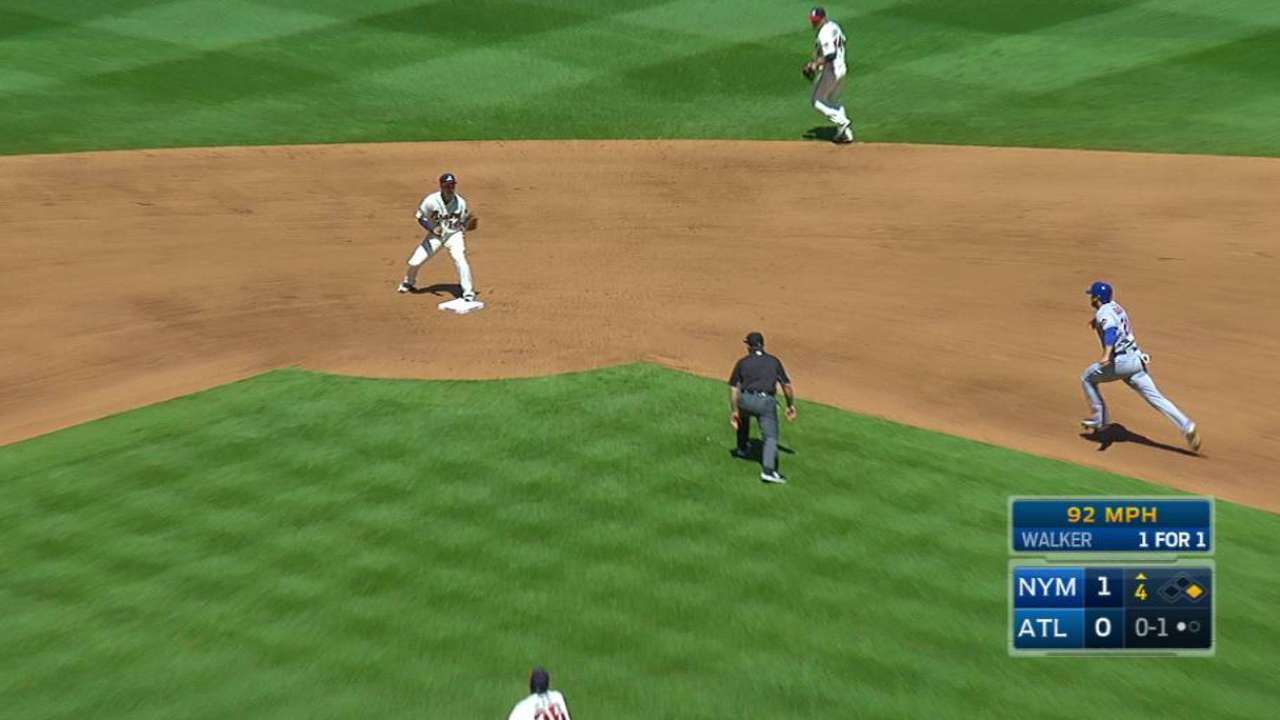 The Mets came into Sunday's finale having grounded into five double plays, the fewest in the Majors, and with only seven total, but they hit into three in the first four innings, including their first strike-'em-out, throw-'em-out of the season to end the first. Of the Mets' 10 twin-killings in 2016, five of them came this weekend, three GIDPs, a line-out double play and the K-2-6.
A lack of power has doomed the Braves, who have recorded 50 hits (44 singles and six doubles) while totaling just 11 runs during their five-game losing streak. Atlanta has recorded 523 consecutive plate appearances since hitting their last home run on April 10.
REPLAY REVIEW
The Braves seemed to not want to keep their one challenge in their pocket when they challenged the ruling that Wilmer Flores reached safely on an infield single in the eighth. After a 57-second review, the call was confirmed.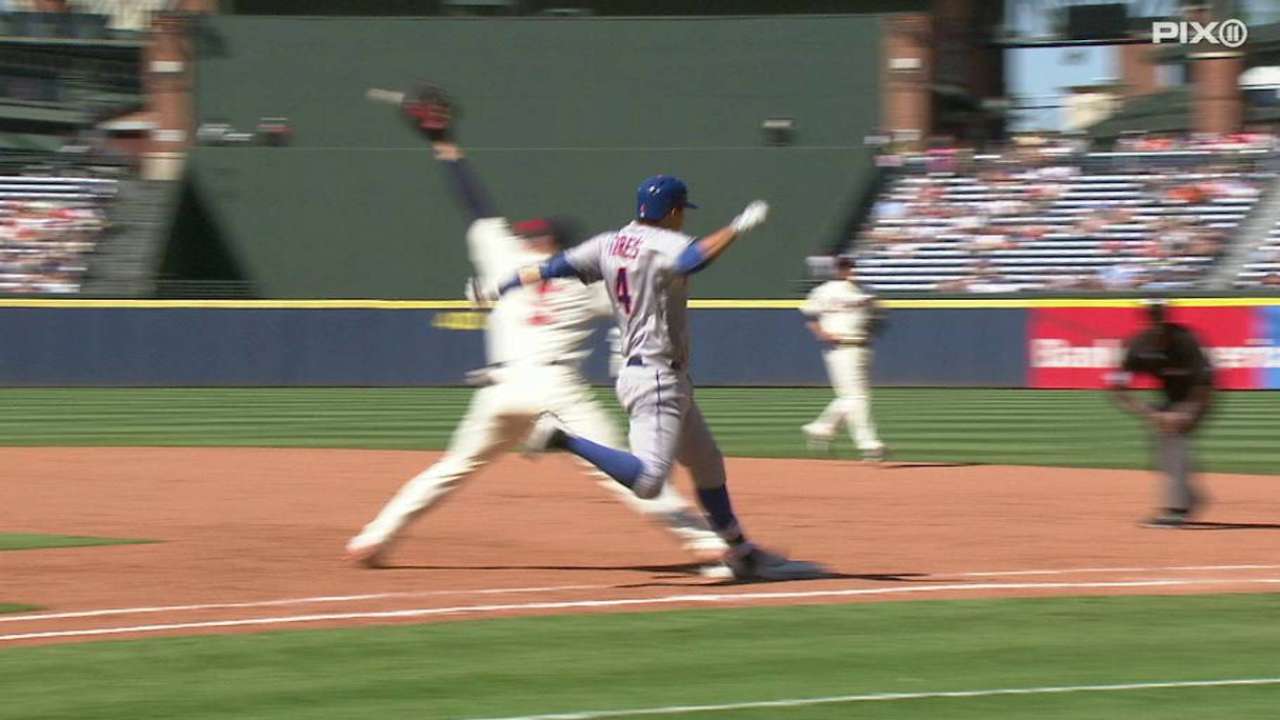 WHAT'S NEXT
Mets: Right-hander Noah Syndergaard (2-0, 0.90 ERA) will look to continue his dominance of the Reds on Monday when the Mets open a nine-game homestand at 7:10 p.m. ET. He's shut down Cincinnati in two career starts -- going 2-0 with a 1.72 ERA, including an eight-inning gem on June 26, 2015, at Citi Field. Syndergaard allowed one run and five hits, with five strikeouts, in outpitching Johnny Cueto to earn a 2-1 win.
Braves: Right-hander Julio Teheran (0-2, 5.64) will take the mound when the Braves open a two-game series against the Red Sox on Monday at 7:10 p.m. ET. Boston closer Craig Kimbrel notched a pair of saves when he made his initial return to Turner Field with the Padres last year.
Watch every out-of-market regular-season game live on MLB.TV.
Mark Bowman has covered the Braves for MLB.com since 2001.

Jon Cooper is a contributor to MLB.com and covered the Mets on Sunday. This story was not subject to the approval of Major League Baseball or its clubs.