Fernandez forced to work by pesky Giants
Marlins ace settles down to get through six innings but takes loss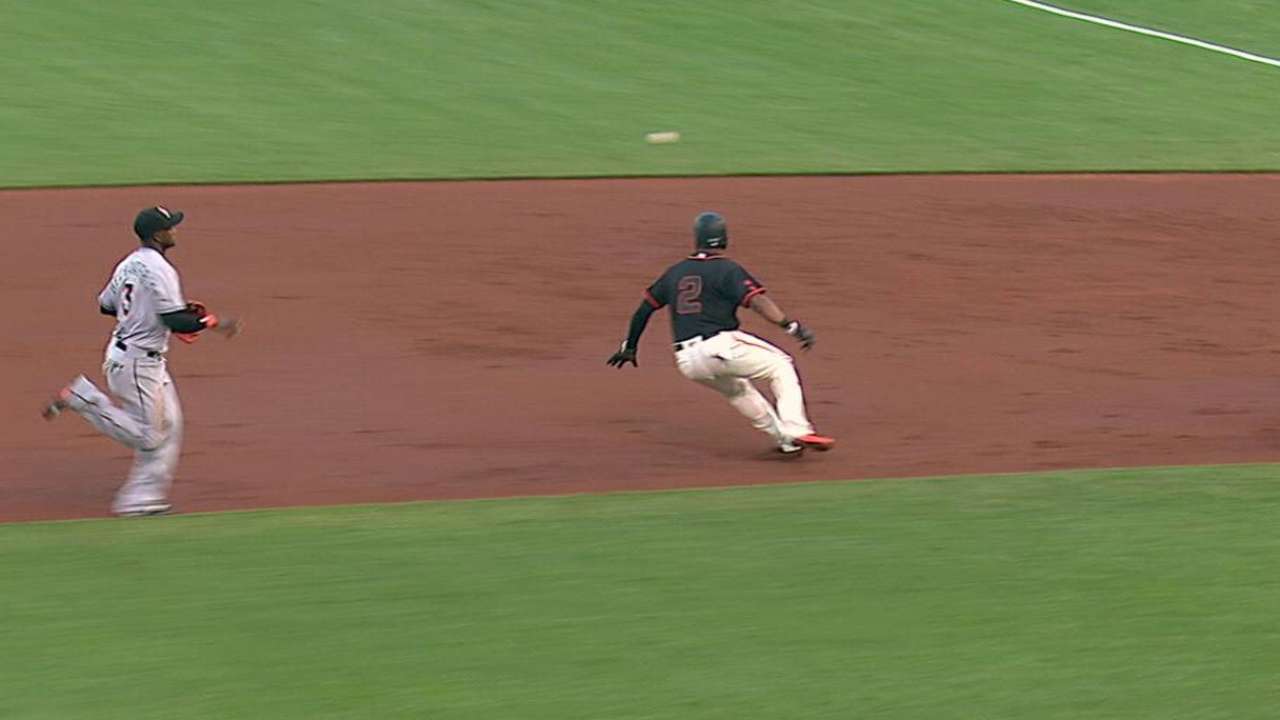 SAN FRANCISCO -- Marlins right-hander Jose Fernandez found out the hard way Saturday night why the Giants are the toughest team in the National League to strike out.
Fernandez kept pounding the zone with mid-90 mph fastballs and sharp breaking balls, but the Giants kept finding a way to put the ball in play or work deep counts. The peskiness paid off in San Francisco's 7-2 win at AT&T Park.
From the beginning, it was a struggle for Fernandez to record outs. He threw 32 pitches in the first inning while allowing two runs. The right-hander continued to press forward and managed to make it through six innings, giving up four runs with five strikeouts and three walks. His night ended at 104 pitches.
"I knew the pitch count was getting high," Fernandez said. "I was trying to limit the damage. I was trying to keep the guys in the ballgame. I knew what was going on."
Fernandez entered the night with 27 strikeouts in 16 2/3 innings, and his 14.58 strikeouts-per-nine-innings ratio was the highest in baseball.
But the Giants have struck out an NL-low 118 times, with just six Saturday.
"That's who they are," Marlins manager Don Mattingly said. "They're a team that puts the ball in play. They don't strike out much. That's pretty much who they are. They make everyone work, so you've got to battle to get your outs."
Fernandez, approaching two years removed from Tommy John surgery, is on an innings range of around 180. For the second straight start, he's reached six innings, his season high.
"Jose is tough. I love Jose," Mattingly said. "He's a competitor. He battles. As that game gets going, he gets better and better. He's still using some pitches early, but that's part of his process. But he's a kid that wants to go back out there. He wanted to go back out there again."
Early on, it appeared it could be a quick night because the Giants kept making him work. Buster Posey, for instance, had a nine-pitch at-bat that ended with an RBI single in the first inning.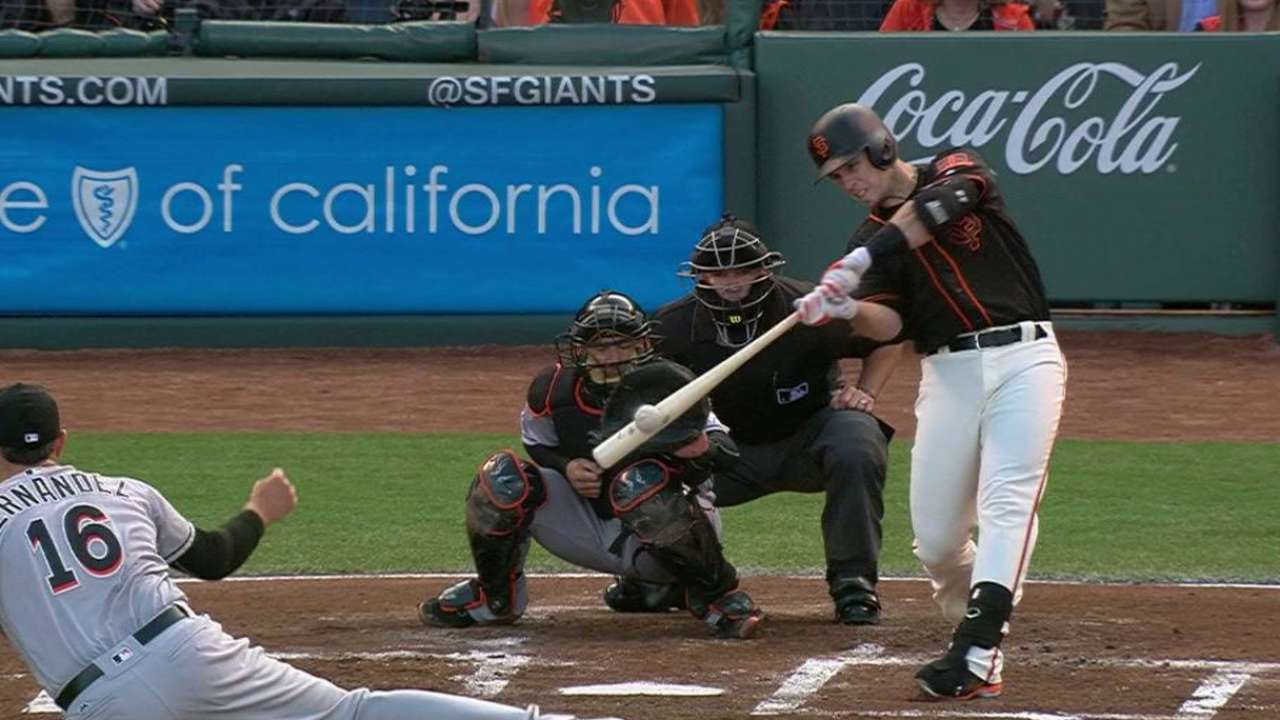 In the fourth inning, Giants starter Jake Peavy had the biggest hit of the night, a two-run single that opened a 4-1 lead.
"The way we won tonight -- grinding out at-bats," Peavy said.
But the pitch in the inning that bothered Fernandez most was a full-count curveball called ball four to Brandon Belt, leading off the inning, by home-plate umpire Mark Carlson.
After the inning ended, Fernandez spoke to Carlson about the borderline pitch.
"I was just asking about a pitch that I thought was a strike," the Miami ace said. "It's not important. It's just part of the game. They do the best job they can. It's tough."
Joe Frisaro has covered the Marlins for MLB.com since 2002. He writes a blog, called The Fish Pond. Follow him on Twitter @JoeFrisaro and listen to his podcast. This story was not subject to the approval of Major League Baseball or its clubs.