Simple approach pays off for Hazelbaker
Cardinals pinch-hitter back on track after three-run homer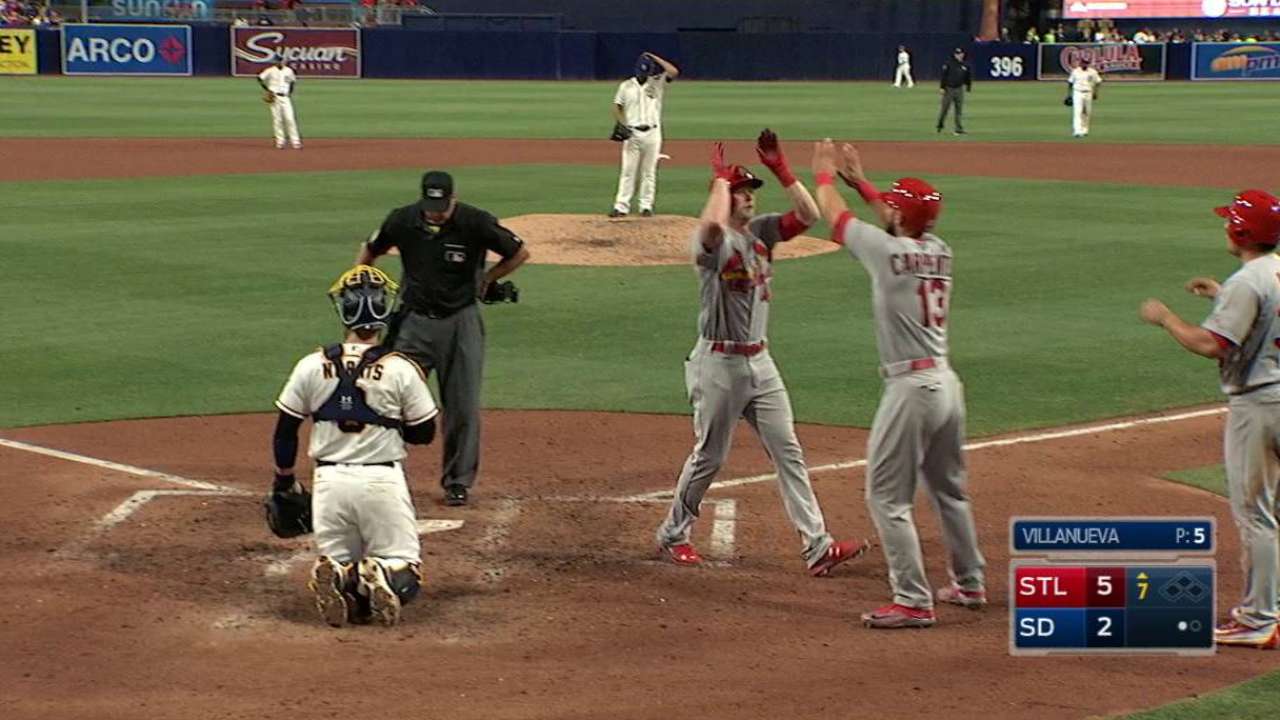 SAN DIEGO -- To go forward, Jeremy Hazelbaker had to retreat.
"I was kind of trying to make things happen instead of trying to make them happen on their own,'' he said.
Hazelbaker put the Cardinals ahead with a pinch-hit, three-run homer to lead St. Louis past the San Diego Padres, 11-2, on Saturday night.
"I was getting a little antsy, a little jumpy in there,'' said Hazelbaker, who snapped an 0-for-17 skid with his big blast. "So I had to take a step back and settle things down, which is a key for me. That's what I've been working on the last couple of days and it really paid off.''
Hazelbaker was money in the season's first two weeks, hitting .394 with three home runs and seven RBIs.
But the worm always turns in baseball and it did just that with Hazelbaker. The cat-and-mouse game of pitchers making adjustments with hot hitters took its toll on Hazelbaker.
"Each team we play, each pitcher is going to come at you with different things,'' said Hazelbaker, who made the Opening Day roster after spending seven years and 751 games in the Minors. "So it's knowing the pitcher and knowing what they have done to guys like you in the past. And having a plan when going up there.''
It was Hazelbaker's second pinch-hit homer on a team that already has seven.
"He's got the power, he has shown that, so that is not a surprise,'' manager Mike Matheny said. "Just watch how the ball carries for him in practices and in games, it's the same way.''
But Hazelbaker, who had four hits on Opening Day and now has four home runs, had gotten out of sorts. So he simplified how he attacked hurlers and hoped for the best.
"I'm just trying to put the bat on the ball,'' he said. "Not trying to do too much, just letting things happen. Still sticking with the same good approach and just trying to put some wood on it.''
He did that when breaking a 2-2 tie and notching a career-high three RBIs.
"It was a changeup, a little up,'' he said. "I felt something offspeed was coming so I just tried to see if I could elevate in the zone.''
Matheny said the homer came with a tip for the future.
"You could tell he wasn't trying to do anything too big,'' Matheny said. "I think that is a great lesson on how he should go about the majority of his at-bats.''
Jay Paris is a contributor for MLB.com based in San Diego. This story was not subject to the approval of Major League Baseball or its clubs.