Suarez's 'big blow' just what Reds needed
Go-ahead three-run shot sparks seven-run sixth in rout of Cubs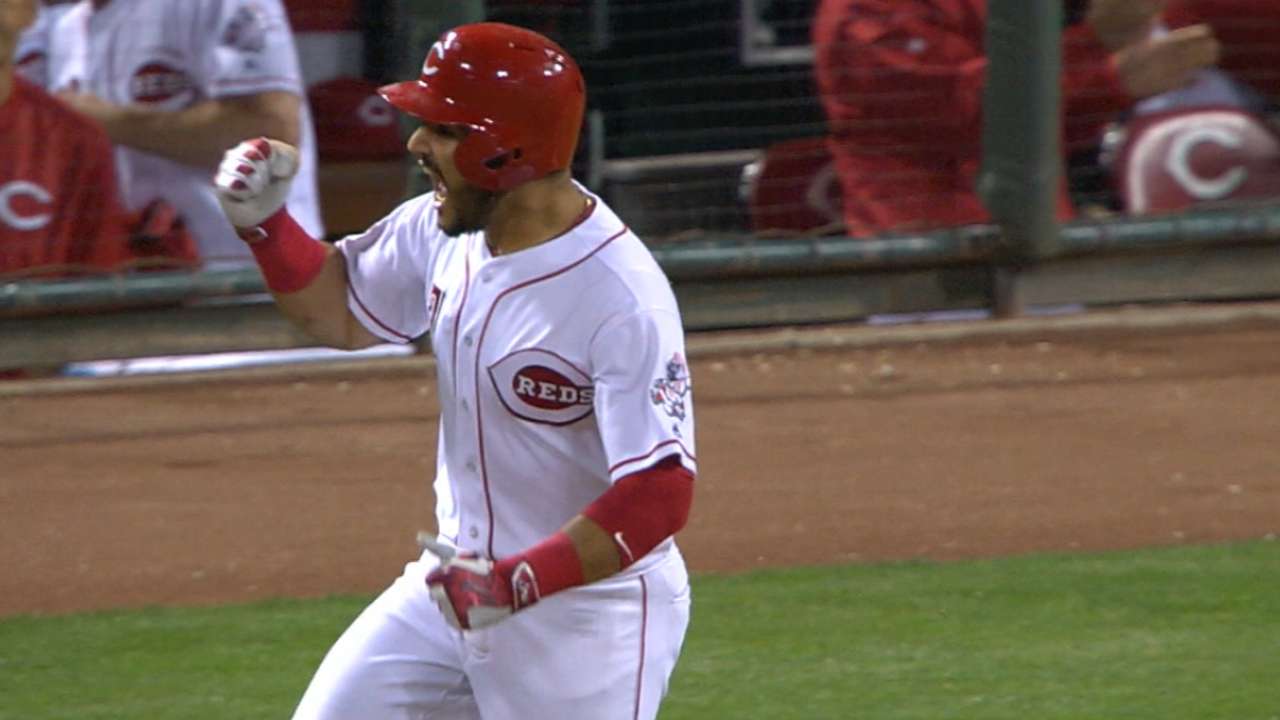 CINCINNATI -- Back on April 11 in the first game of the Reds-Cubs season series at Wrigley Field, Brandon Finnegan's bid for a no-hitter ended after 6 2/3 innings. After Cincinnati lost that night, none of its games vs. Chicago since were close. There were four more blowout losses and of course, a no-hitter thrown by Jake Arrieta on Thursday.
Following that stretch, the sixth inning of Saturday's 13-5 Reds victory over the Cubs felt thirst-quenching indeed. Trailing 3-2, Cincinnati scored seven runs with three home runs. It was Eugenio Suarez's three-run homer off of John Lackey that provided the big lift.
Keep in mind that after the Finnegan no-hitter was broken up in the seventh nearly two weeks ago, the Cubs had outscored the Reds by a 46-4 margin entering the night.
"Suarez hitting the three-run homer was such a big blow," Reds manager Bryan Price said. "It didn't just provide us with the three runs, the lead and all the good things that happened with it. It ignited the entire bench.
"Sometimes when you've been shut down a little bit, certainly with Arrieta followed by [Jon] Lester and kind of getting roughed up a couple of ballgames here, it can get you on your heels a little bit. Lackey was out there and he's throwing the ball very well. That home run reignited our club."
In a 1-for-24 funk, Joey Votto followed Suarez with a single, but was in a double play after a Brandon Phillips line drive was caught by Lackey. It could've been a rally killer, but Lackey walked Jay Bruce and was removed. Reliever Trevor Cahill gave up a hit, followed by back-to-back homers -- Adam Duvall's three-run homer to left field and Scott Schebler's shot to right field.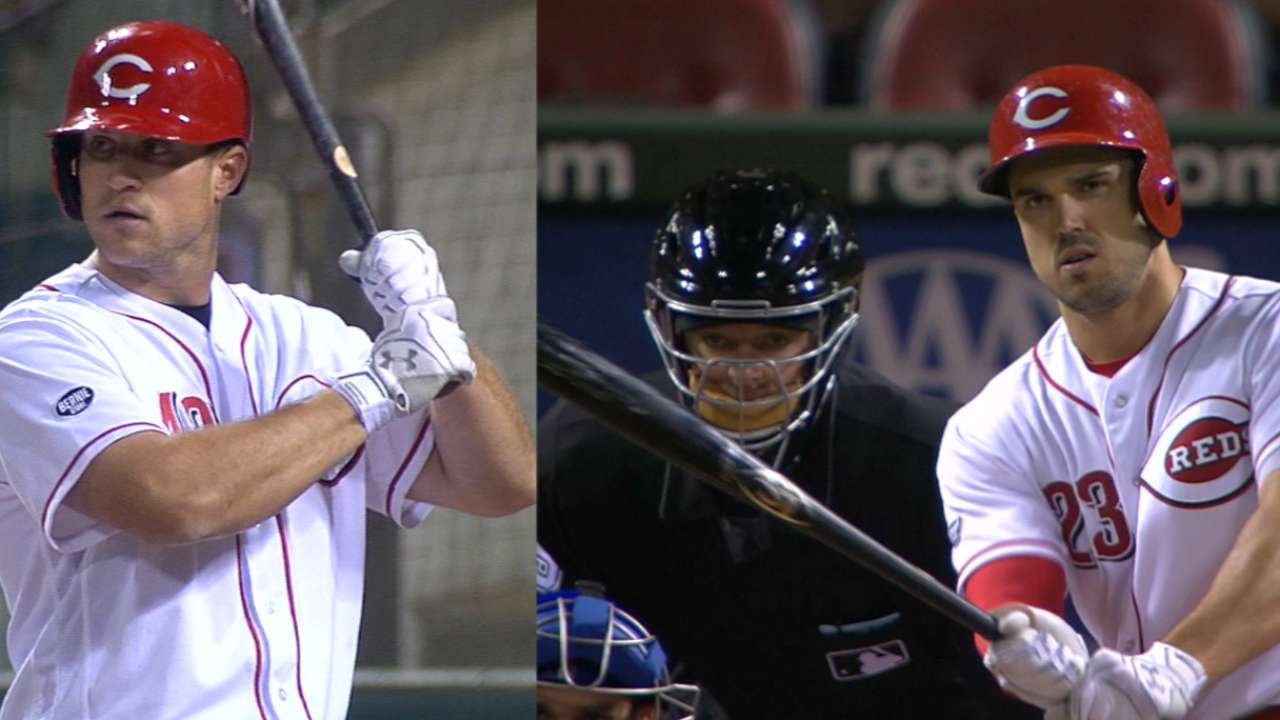 "It was good to get on the board early and get things going," Duvall said. "Throughout the game, we swung the bat well. It's a little bit relieving there. You try not to put too much pressure on yourself to score runs. You kind of just let it happen. It was good for us."
Chicago came in 12-0 when scoring at least four runs, and its high-octane offense responded with two runs in the seventh, but the Reds added two more in the eighth. Their 15 hits tied a season high.
"It really doesn't matter who you're playing," Price said. "When you can take a four-run lead to six or a three-run to four or five, it really makes a difference."
In another nice sign for the lineup, Votto hit a two-run homer to right field in the seventh -- his second of the season and first since April 15. It was his third multi-hit game of the season, but first since that fateful April 11 night at Wrigley.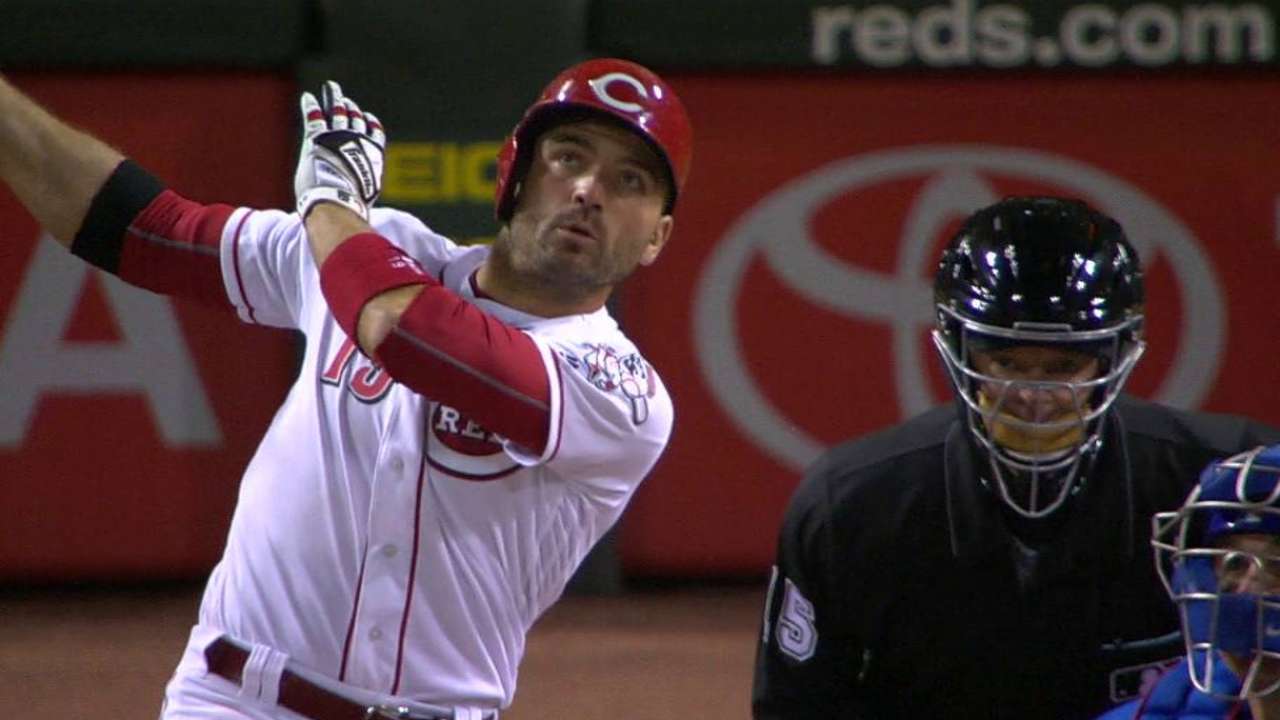 Votto, who compared his swing the other day to a Ferrari that can't be rushed to perfection, felt like there was still progress left to be made.
"Man, I have to keep working," he said. "I always have high expectations for myself. I just have to keep working every day. I'm not quite there yet. I've got a little ways to go yet. I'd probably say that if I was in the middle of doing well also though."
Mark Sheldon has covered the Reds for MLB.com since 2006, and previously covered the Twins from 2001-05. Read his blog, Mark My Word, follow him on Twitter @m_sheldon and Facebook and listen to his podcast. This story was not subject to the approval of Major League Baseball or its clubs.