Dynamic duo keeping it light on diamond
Franco, Herrera continue to lead young Phillies ballclub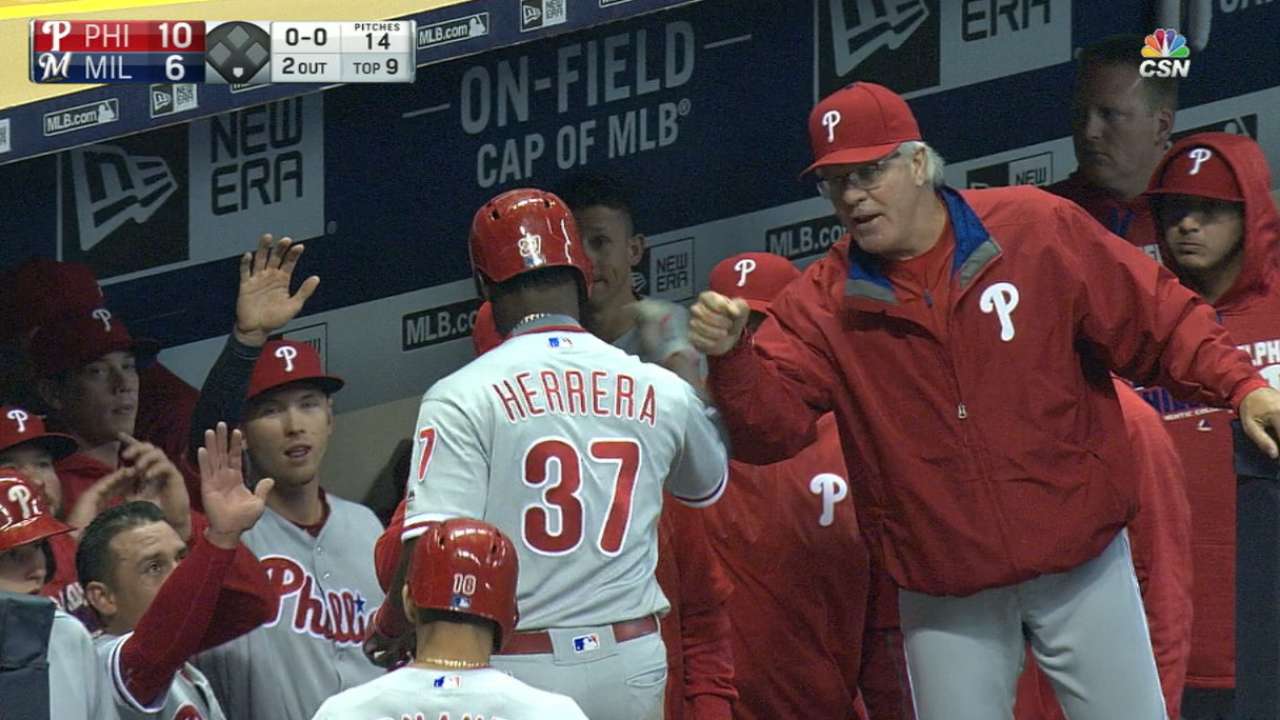 MILWAUKEE -- Maikel Franco and Odubel Herrera can make things fun again.
Phillies manager Pete Mackanin has been hoping his two best hitters would start hitting together, and both had huge games Saturday night in a 10-6 victory over the Brewers at Miller Park.
Franco hit a three-run homer to left field in the fourth inning and threw out Ryan Braun from his rump in the fifth. Meanwhile, Herrera went 3-for-4 with one home run, two RBIs, four runs scored and two walks. He is the first Phillies batter since at least 1900 with four runs, one homer and two stolen bases in a game.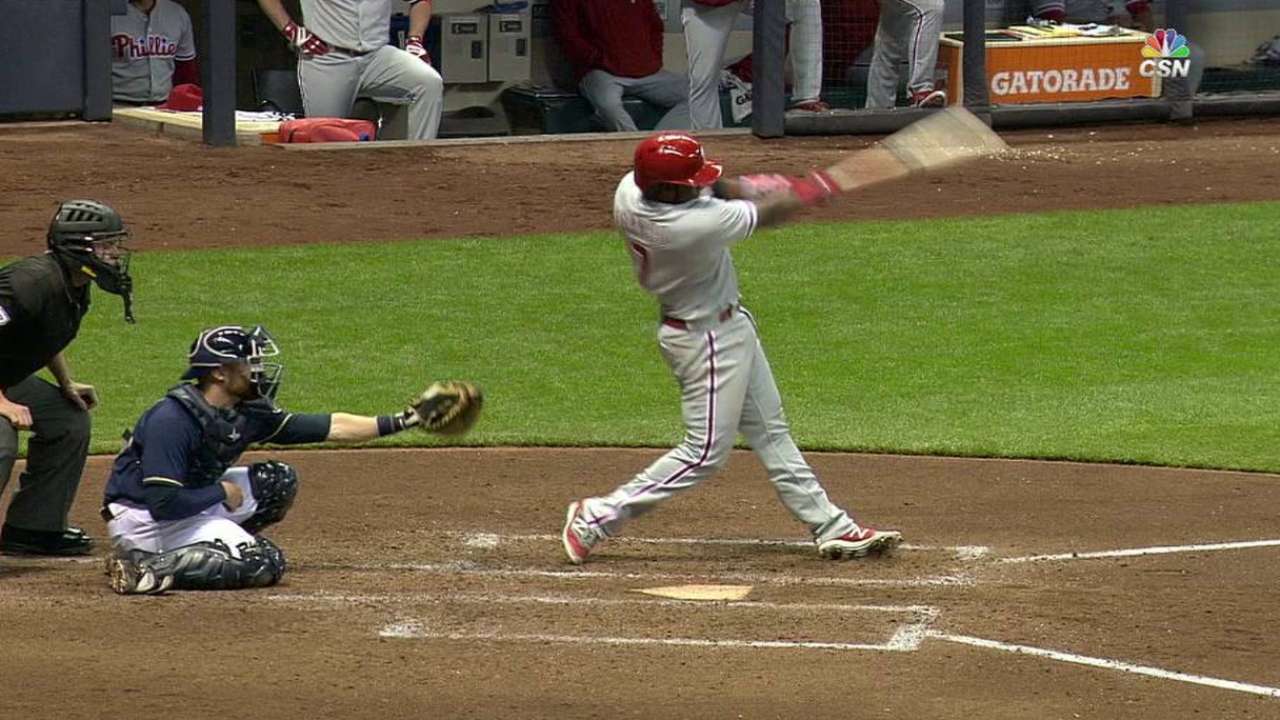 "It means a lot when those guys get going and they look like they're lighting up a little bit," Mackanin said.
It also means the Phillies scored 10 runs in a game for the first time since Sept. 27, 2015, when they put 12 up against the Nationals. The Phillies are 9-9, the latest they have been .500 in a season since they were 15-15 on May 15, 2014.
Franco knocked a pair of homers in Friday's 5-2 victory to give him three in two games. He is batting .299 with five home runs, 12 RBIs and an .890 OPS, which ranks fourth among National League third basemen and 18th overall among NL players. Herrera is hitting .283 with two homers, eight RBIs and an .875 OPS, which is ninth among NL outfielders and 20th overall. Herrera leads the big leagues with 17 walks.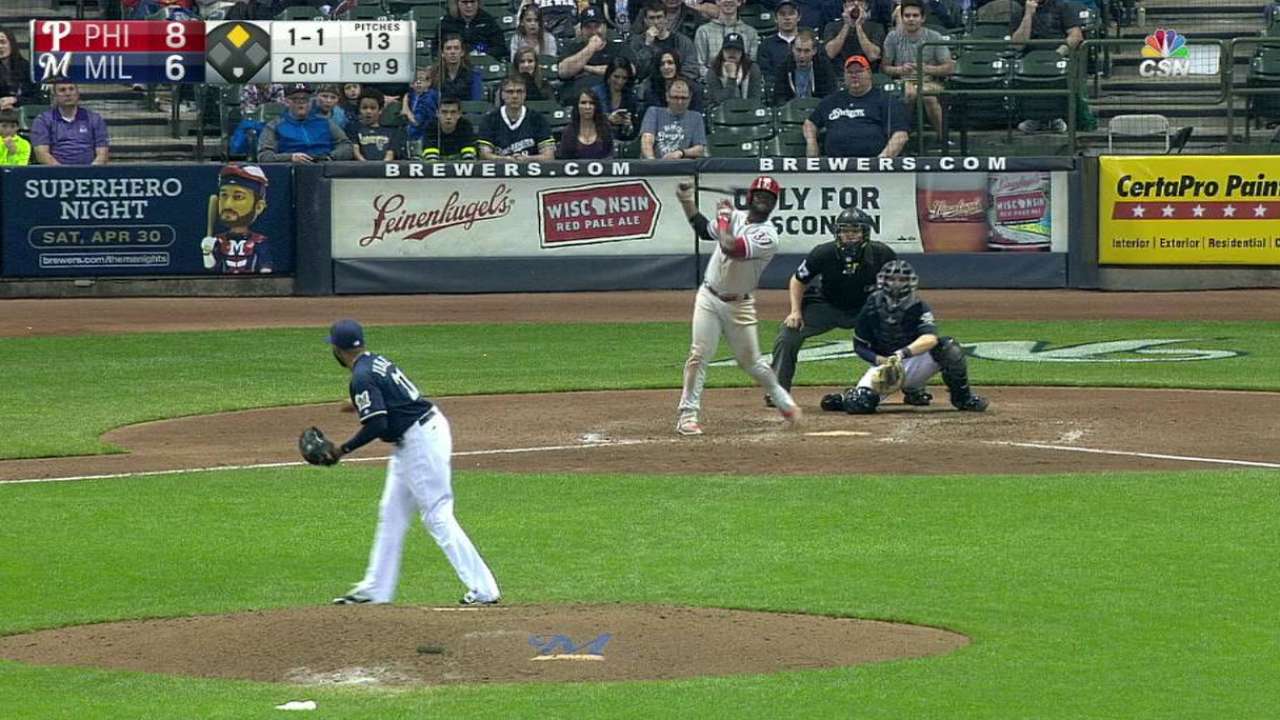 "I feel great," Herrera said through the Phillies' interpreter. "I'm seeing a lot of pitches. That's what I want to do. The more pitches that I see, the more pitches my teammates see. It's a collective effort. I feel very comfortable right now."
Franco turned heads with an incredible defensive play in the fifth, when Braun smashed a ground ball to his left. Franco fielded the ball and spun as he hit the dirt. Sitting on the ground with his legs stretched in front of him, the third baseman fired a rocket to Ryan Howard at first for the out.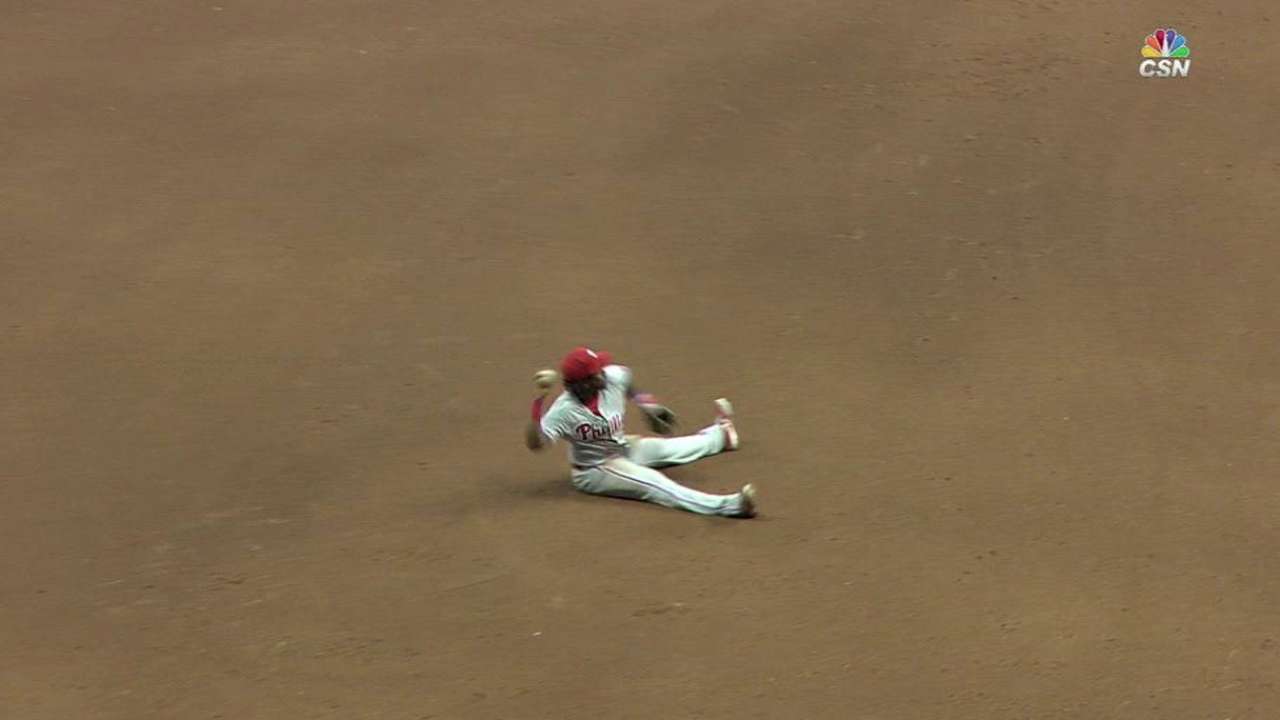 "That was the first time I did that play," Franco said.
Everybody was impressed. Well, not everybody.
"I didn't see it," Phillies shortstop Freddy Galvis joked.
Of course, Galvis did. In fact, he had Franco laughing hard immediately after the play.
"He told me you throw better like that," Franco said. "That's what you look for when you go out there. Try to have fun and enjoy the game and win the game. The last two games, we've played good. That's what we're looking for every single day."
Todd Zolecki has covered the Phillies since 2003, and for MLB.com since 2009. Read his Phillies blog The Zo Zone, follow him on Twitter and listen to his podcast. This story was not subject to the approval of Major League Baseball or its clubs.