Rookie Estevez shines in debut for Rox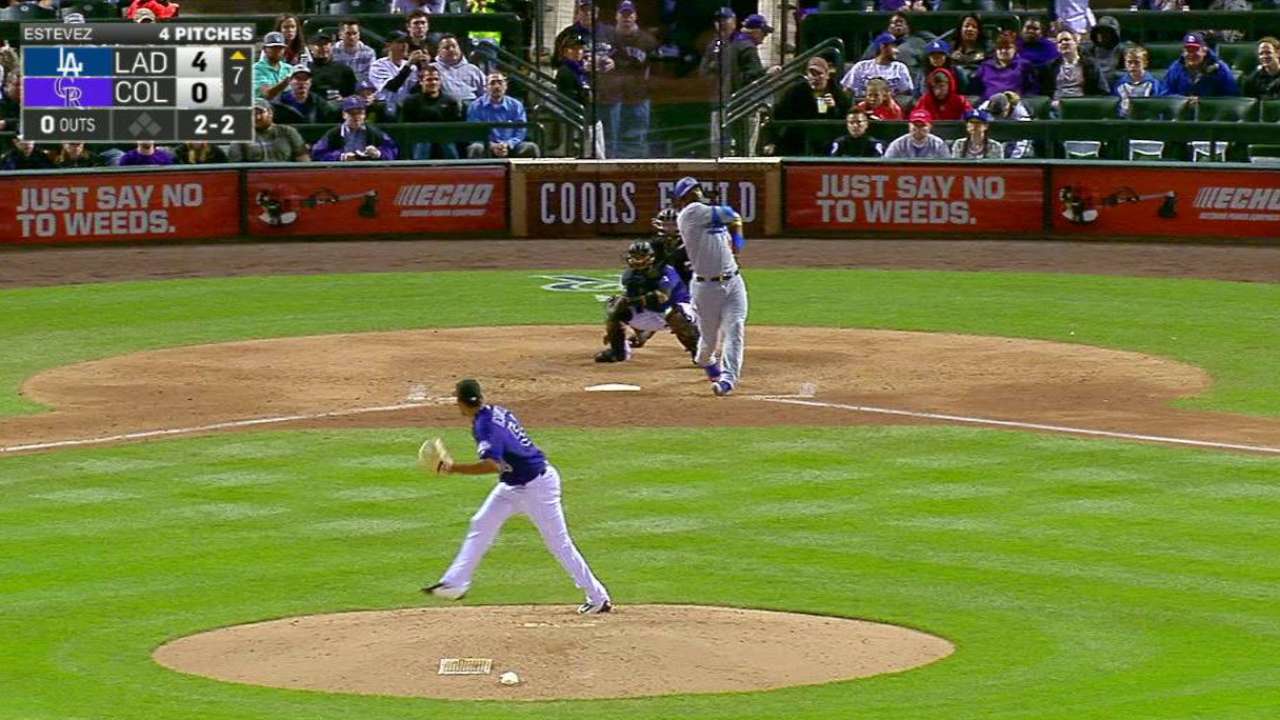 DENVER -- On an historic night marked by near-perfect pitching from rookie right-hander Kenta Maeda, Rockies rookie Carlos Estevez made his big league debut with his own "no-no" performance.
The 23-year-old right-hander came on in the seventh inning with the Rockies trailing in what became a 4-1 loss. He faced the middle of the Dodgers order and dealt them their first hitless inning of the night.
"I don't think it was pressure -- I knew that I had to keep the game right there, because we needed to come back," Estevez said. "I got the butterflies at the beginning. After the first pitch, I said, 'Okay, lights are on, let's go, let's do my job. Let's get outs.'"
The first pitch was to Yasiel Puig. Estevez backed him off with a purpose pitch on the inside of the plate, then sent him back to the bench after missing strike three.
"You make it sound really big," Estevez joked.
He coaxed a pop fly to left out of Adrian Gonzalez, and induced a groundout to short from Howie Kendrick, all the while establishing his ownership of the inside part of the plate.
"That works," Estevez said of his habit of backing batters off. "I just have to keep doing it. Sometimes it's not on purpose, but I make it look like it is."
Estevez made it two hitless and scoreless innings when he pitched the eighth, starting the inning with another leadoff strikeout, courtesy of his 95 mile per hour fastball. He walked Joe Pederson for his only blemish, then got a lazy fly to right out of A.J. Ellis and a grounder to second from pinch hitter Yasmani Grandal.
"It's power stuff, and there's some deception there," manager Walt Weiss said of the rookie. "He showed a good breaking ball, an explosive fastball, and a lot of composure for the first time out against a very good club. We were still within striking distance, so it's not like it was a lopsided game when he came in. We were hoping he could keep us right there, and that's what he did."
Estevez was signed in 2011 as an 18-year-old non-drafted international free agent out of the Dominican Republic. He's made a meteoric rise, with stops in Tri-City, Grand Junction, Ashville, Modesto, and New Britain over the last three years. His Grand Junction host family was at the game Friday to cheer him on, and the ball he struck out Puig with is headed home to his family in Santo Domingo.
Estevez split the 2015 season in Class-A Advanced Modesto and Double-A New Britain. He was a 5-3 with a 3.40 ERA, recording 18 saves in 23 chances, striking out 68 in 55 2/3 innings and walking only 14.
"In Double-A, you can see hitters are smarter," Estevez said. "I kind of struggled a little in Double-A, but it's just a learning process. Then in Triple-A, they're even better."
Estevez was 1-0 with a 3.18 ERA in five appearances spanning 5 2/3 innings for Triple-A Albuquerque before he was recalled Friday.
"This is exciting, because now I'm where all the guys are good players," Estevez said. "We have the best up here."
Owen Perkins is a contributor for MLB.com based in Denver. This story was not subject to the approval of Major League Baseball or its clubs.