Part-timer Blanco works hard to stay ready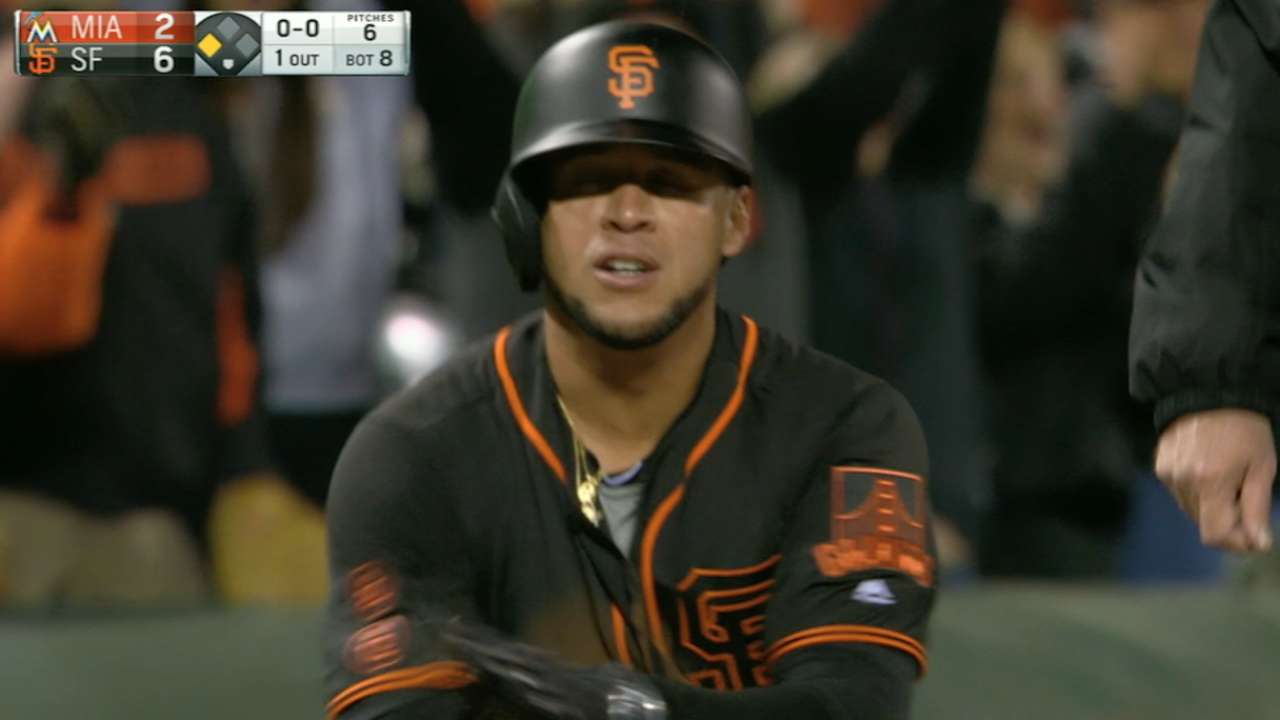 SAN FRANCISCO -- Playing less means working harder. That's the mantra of backup position players such as Giants outfielder Gregor Blanco, who said his daily regimen includes more extra work than ever since he's on pace to receive his least activity in five years as a Giant.
Blanco started his fourth game of the season Saturday, pitting him against Miami right-hander Jose Fernandez. Blanco went 0-for-1 with an intentional walk against Fernandez in the Giants' 7-2 victory, but then hit two triples off Marlins relievers, becoming the third Giants player to hit a pair of three-baggers in a game at AT&T Park. He joined Omar Vizquel (July 31, 2006, against Washington) and Brandon Belt (June 25, 2015, against San Diego).
Blanco's hits helped the Giants widen a 4-2 lead. He led off the seventh inning against Craig Breslow by finding the right-center-field gap with his first hit, then scored on Kelby Tomlinson's pinch-hit single. Blanco added his second triple off Cody Ege with one out in the eighth before coming home on Angel Pagan's sacrifice fly.
By coincidence, it was Blanco's third start against an ace pitcher. Los Angeles' Clayton Kershaw and Arizona's Zack Greinke were the first two. Blanco, who gave left fielder Pagan a rest, won't cite his part-time status as a reason for subpar performance. He puts himself through conditioning drills and other additional tasks, such as voluntary sprints and unscheduled rounds of batting practice, for a reason.
"I do extra work by myself to try to stay on the same level as [the regulars] are," Blanco said. "I have to keep myself ready to go."
Blanco remains diligent despite being on pace to appear in 102 of San Francisco's games. By comparison, he played in 141 during each of his first two years as a Giant and reached his high of 146 in 2014 before injuries limited him to 115 games last season. His daily goal is to leave the ballpark feeling as if he played nine innings.
"It doesn't mean because I'm not playing, I'm not going to do anything," he said.
Chris Haft has covered the Giants since 2005, and for MLB.com since 2007. Follow him on Twitter at @sfgiantsbeat and listen to his podcast. This story was not subject to the approval of Major League Baseball or its clubs.