King of the K: Felix rules Seattle in strikeouts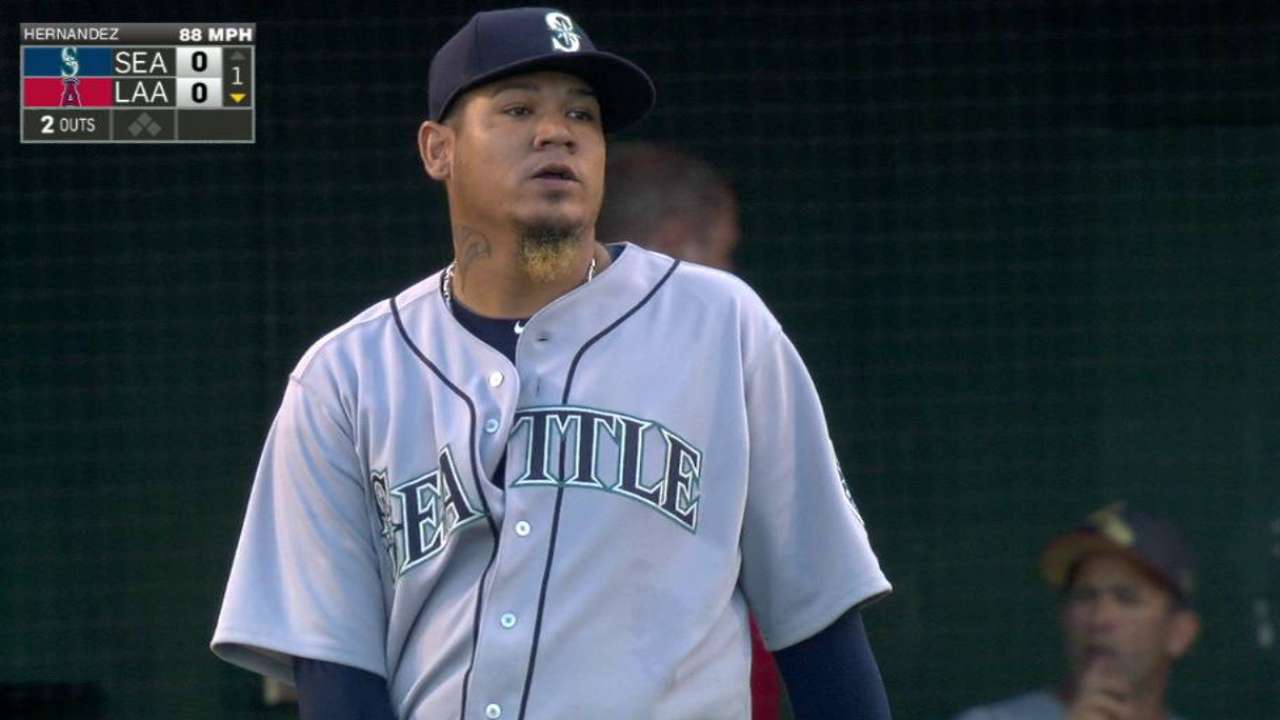 ANAHEIM -- Felix Hernandez passed Hall of Famer Randy Johnson for the Mariners' all-time career strikeout record on Saturday, but he couldn't stop near-certain future Hall of Famer Mike Trout as the Angels snapped Seattle's three-game win streak with a 4-2 loss.
Trout's powerful two-run homer in the sixth took the luster off Hernandez's historic day as the Mariners ace saw his record dip to 1-2 despite a 1.80 ERA in four starts.
Hernandez came into the game tied with Johnson for the Mariners' all-time strikeout mark at 2,162 and he passed that on the second batter he faced, getting Rafael Ortega on a foul tip of a 2-2 changeup that catcher Chris Iannetta gloved.
"It's an honor to be up there. but we lost the game," Hernandez said. "I don't care about the record. We lost the game."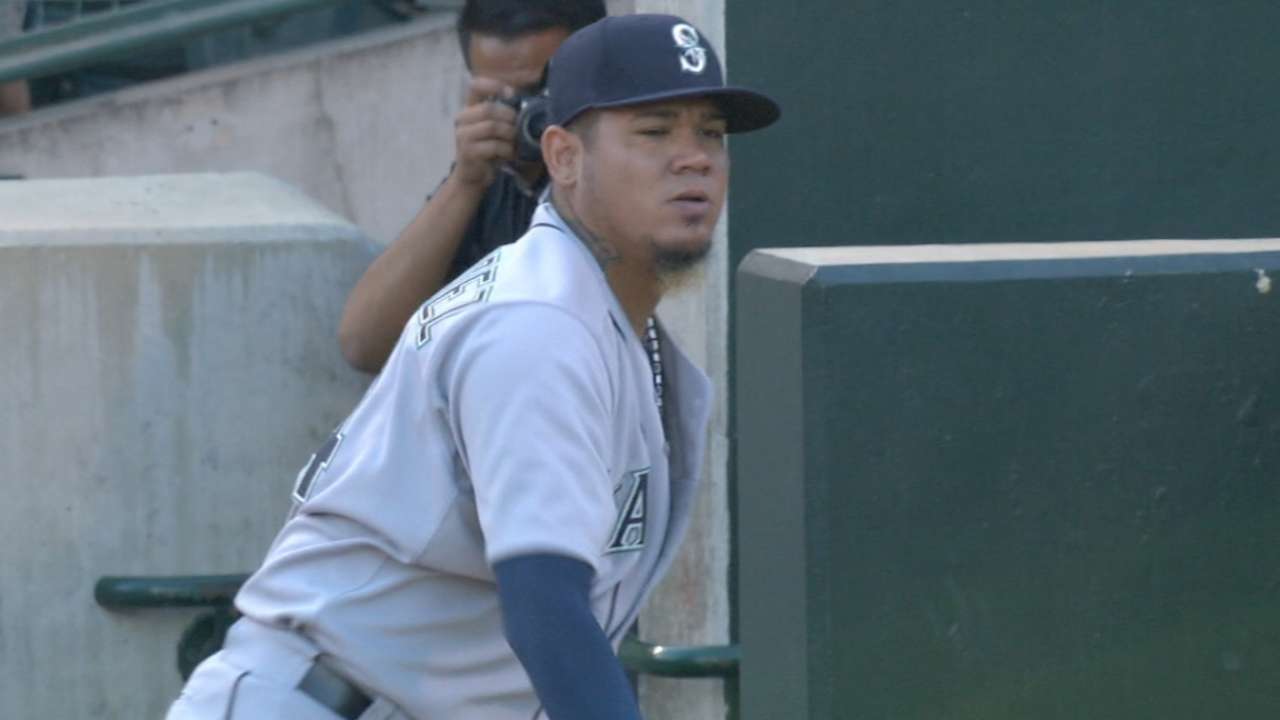 The six-time American League All-Star pitched Saturday after missing his scheduled start Friday due to the flu, but said he felt fine physically.
"I think we kind of know what to expect from Felix, even coming back from being sick yesterday," manager Scott Servais said. "He looked good. You could tell when he walked in today he was ready to go, ready to compete. He was going to give us a great effort, which he did."
"I didn't feel any different. I felt fine," Hernandez said. "I had good command, that's the important thing. I was more calm and I pounding the strike zone with my fastball. I used a lot of fastballs today and it was down in the strike zone, which was good."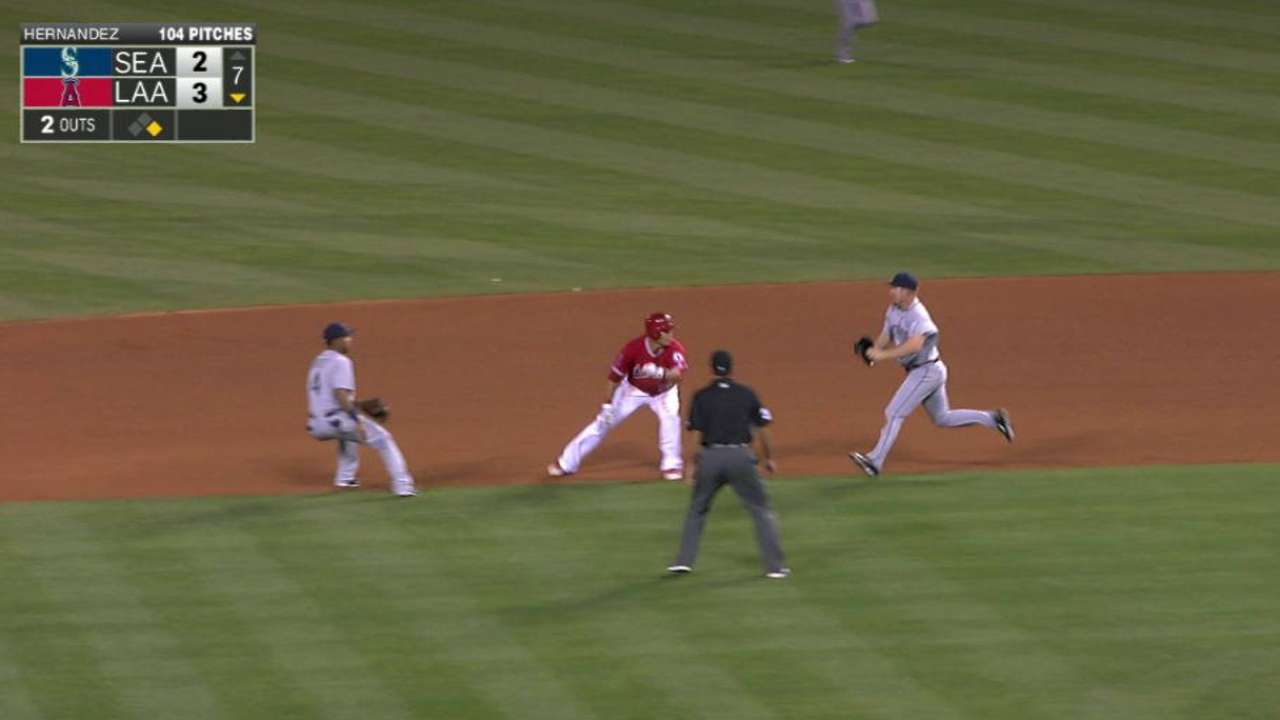 After tying his career high with six walks in his last start -- a five-inning win at Yankee Stadium -- Hernandez issued just two free passes in this one. But he's still allowed more walks (15) than hits (14) in his 25 innings this year after giving up just five hits in Saturday's loss.
The big hit, of course, was Trout's blast over the trees in center field at Angel Stadium, a mighty bolt off a 1-0 sinker that Statcast™ projected at 435 feet away from home. That shot gave the Angels a 3-2 lead and left Hernandez on the short end against a team he's now gone 7-3 with a 1.55 ERA against in his past 15 starts.
Trout has hit .368 with five homers off Hernandez in 68 career at-bats.
"It's a battle each and every time," Trout said. "He's obviously one of the best pitchers in the league for the past couple of years. He's really dominant. When he has his stuff working, he's tough to hit. I'm just trying to get a pitch I can hit. Looking fastball, obviously, and I got it."
Hernandez doesn't ever give in to Trout. He challenges the youngster and he's struck Trout out 21 times among those 68 at-bats.
"I always do a lot of things to pitch to him differently," Hernandez said. "I try to go fastballs, try to go breaking balls. He's a good hitter and has a good approach against me. That's why he's got those numbers."
Hernandez has some pretty good numbers of his own, including more strikeouts than the Big Unit in Seattle. Johnson notched 2,162 strikeouts in 1,838 1/3 innings over 274 games during 10 seasons with the Mariners from 1989-98. He finished his 22-year career ranked No. 2 on MLB's all-time strikeout list with 4,875, trailing only the 5,714 of Nolan Ryan.
No #Mariners pitcher has ever struck out more. Congrats again to the King.https://t.co/cEVsQhxDAX

— Seattle Mariners (@Mariners) April 24, 2016
Hernandez is in his 12th season with Seattle, and with four strikeouts on Saturday now sits at 2,166 in 2,287 1/3 innings over 338 starts. He's 59th on the career MLB strikeout list.
He's now racked up 305 strikeouts against the Angels, the most of any opponent. Second on that list is the Rangers with 279.
Hernandez remains one win shy of tying Jamie Moyer for the Mariners franchise record for wins at 145. He'll make his next start Friday night at Safeco Field against the defending World series champion Royals.
Greg Johns has covered the Mariners since 1997, and for MLB.com since 2011. Follow him on Twitter @GregJohnsMLB and listen to his podcast. This story was not subject to the approval of Major League Baseball or its clubs.