Rosenthal hopes next trip to Petco is as All-Star
Cardinals closer longing for second experience in Midsummer Classic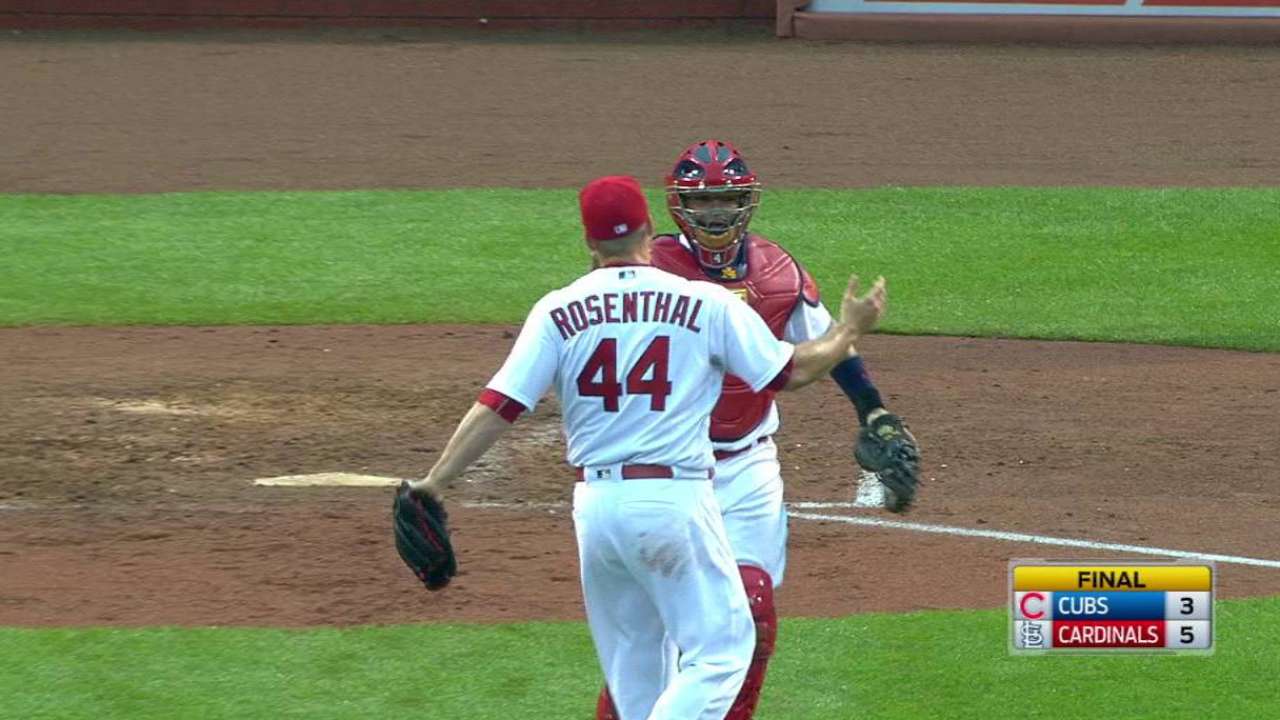 SAN DIEGO -- Trevor Rosenthal looks comfortable in the Petco Park visitors' clubhouse.
But on his next San Diego trip, he would love to switch sides.
Is Rosenthal aching to become a Padre?
Not exactly.
He's longing to be an All-Star again.
"It would be fun to come out here and enjoy that,'' Rosenthal said, when reminded that the 2016 All-Star Game presented by MasterCard is at Petco. "That would be awesome.''
Rosenthal's 2015 season was right along those lines. He saved a franchise-record 48 games and became the first Cardinal to notch at least 45 saves in consecutive seasons.
At midseason, Rosenthal was a first-time All-Star, toeing the line and tipping his hat during the pregame ceremonies in Cincinnati.
He doesn't still have the pinch marks from that dream day, but the memories linger.
"It's unique to be in that locker room and see the best players in the game, and it's hard to grasp that you're part of that,'' Rosenthal said.
"Just to see everybody and the different personalities. How guys interact with each other you realize that we are all kind of the same: We all love to play the game, work hard and play hard. To see how they go about their business is neat.''
Rosenthal, who had four saves going into Saturday's game, reached a nifty milestone Wednesday by recording his 100th career save. It's something only four other Cardinals have accomplished. And Rosenthal, at 25, is the youngest Redbird to reach that standard.
"I didn't think it was that big of a deal and I wasn't thinking about it too much,'' he said. "Then when I came into the clubhouse, my teammates congratulated me and showered me with water. That was the coolest thing for me.''
Of course, in San Diego when the words "Trevor" and "saves" share a sentence, many think of Padres great Trevor Hoffman. That includes Rosenthal, when putting his 100th save into perspective to Hoffman's 601.
"I can't imagine reaching that, because 100 seemed like a lot,'' Rosenthal said. "To do it 601 times and like Mariano Rivera did it 652. That is really unreal.
"Just to think about playing that long and to stay in that role is not easy to do. It's probably tougher on the mental side.''
Rosenthal was a big dog during the offseason, no matter the side of the street. He was the Beggin' Pet Parade grand marshal in Soulard, Mo., where his lethal right arm was reduced to the customary wave of a beauty queen.
"That was pretty awkward,'' Rosenthal said with a laugh.
Not so much when manager Mike Matheny signals for Rosenthal in seeking those crucial final three outs.
"He's proven that he is an elite closer,'' Matheny said. "We're real excited to have that at the back end of our 'pen.''
Rosenthal would be equally thrilled to be back in San Diego come July.
Jay Paris is a contributor for MLB.com based in San Diego. This story was not subject to the approval of Major League Baseball or its clubs.