Erasmo laments doing only 'part of' his job
Rays righty allows walk-off HR in relief of game he was originally scheduled to start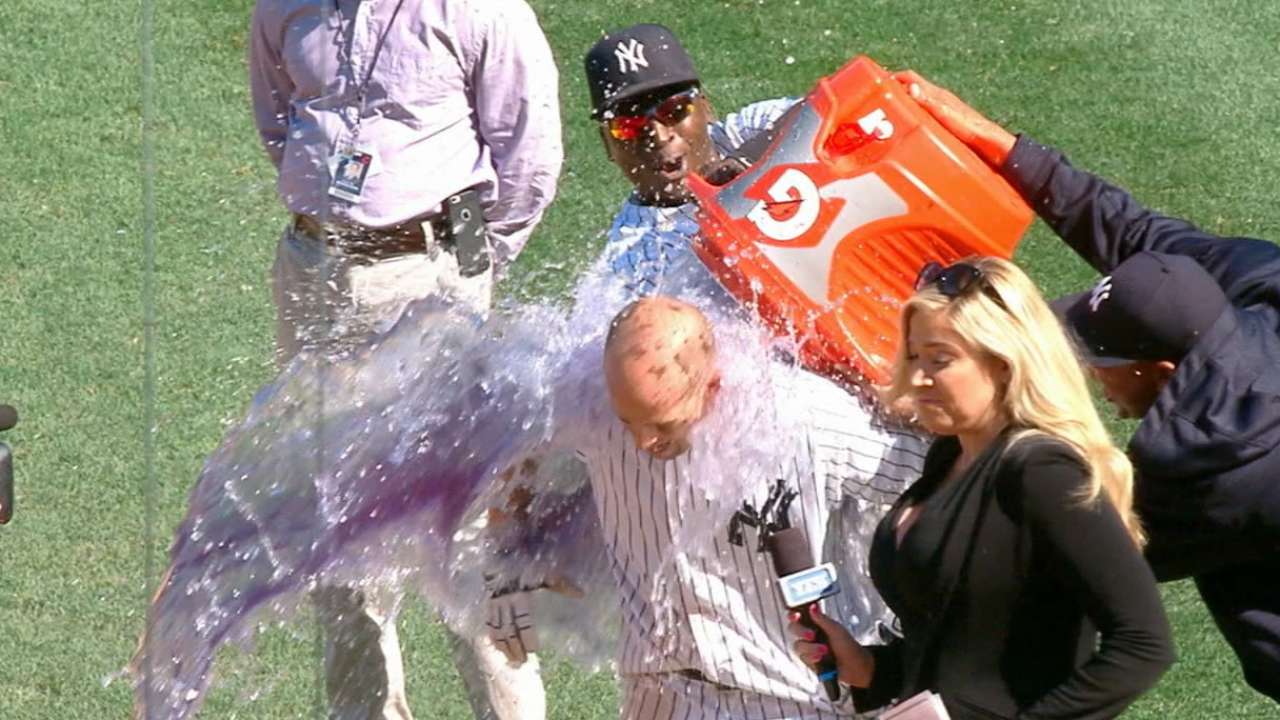 NEW YORK -- Erasmo Ramirez was supposed to start Saturday.
Instead, the start went to top prospect Blake Snell after Ramirez pitched 1 1/3 innings of relief to pick up the win in the series finale against the Red Sox on Thursday. So Ramirez had to wait. When the seventh inning came around, Ramirez's wait was over. But when the ninth inning came to a close, the wait didn't end up being worth it.
Ramirez took the loss as the Rays fell, 3-2, to the Yankees on Saturday after he allowed a walk-off home run to Brett Gardner just one out shy of extra innings. The solo shot erased a solid day of work for Ramirez, who turned in two innings, striking out one and allowing one run while also working out of a bases-loaded jam he inherited in the seventh. The Yanks tied the game at 2 the at-bat before Ramirez entered.
To Rays manager Kevin Cash, the home run doesn't tarnish either Ramirez's day or his season as a whole.
"We've got so much confidence in Erasmo," Cash said. "He fell behind to Gardner, a very good hitter that didn't miss a pitch. But I love the way Erasmo goes about his business attacking hitters. You're going to give up some home runs in this ballpark."
For Ramirez, however, there wasn't much of a bright side.
"I did part of my job," he said. "But with two outs I just have to execute better. When you get two outs you have to hold your bases and just work."
He said his intent on the pitch to Gardner was to force him to swing inside out. If Ramirez was going to let Gardner beat him, he wanted it to be to the opposite field, which is a little more spacious and harder to hit home runs to at Yankee Stadium. But Ramirez missed with his location, leaving the ball in Gardner's wheelhouse and allowing the outfielder to slam a ball into the second deck.
As for the fact that things could've been different if Ramirez had started the game rather than ended it? He understands the decision to work him out of the 'pen and just wishes he could've done more to put a happy ending on Snell's storybook big league debut, with the 23-year-old working five innings of one-run ball.
"I was supposed to start, but I pitched a lot in Boston," he said. "So I was supposed to go and back him up. That was the idea today, to try to get as deep as I can and do my best for the team. But it was one mistake. One mistake to a good hitter."
Nick Suss is a reporter for MLB.com based in New York. This story was not subject to the approval of Major League Baseball or its clubs.