Tanaka getting ball to dominant bullpen duo
Yankees righty goes seven innings for second straight start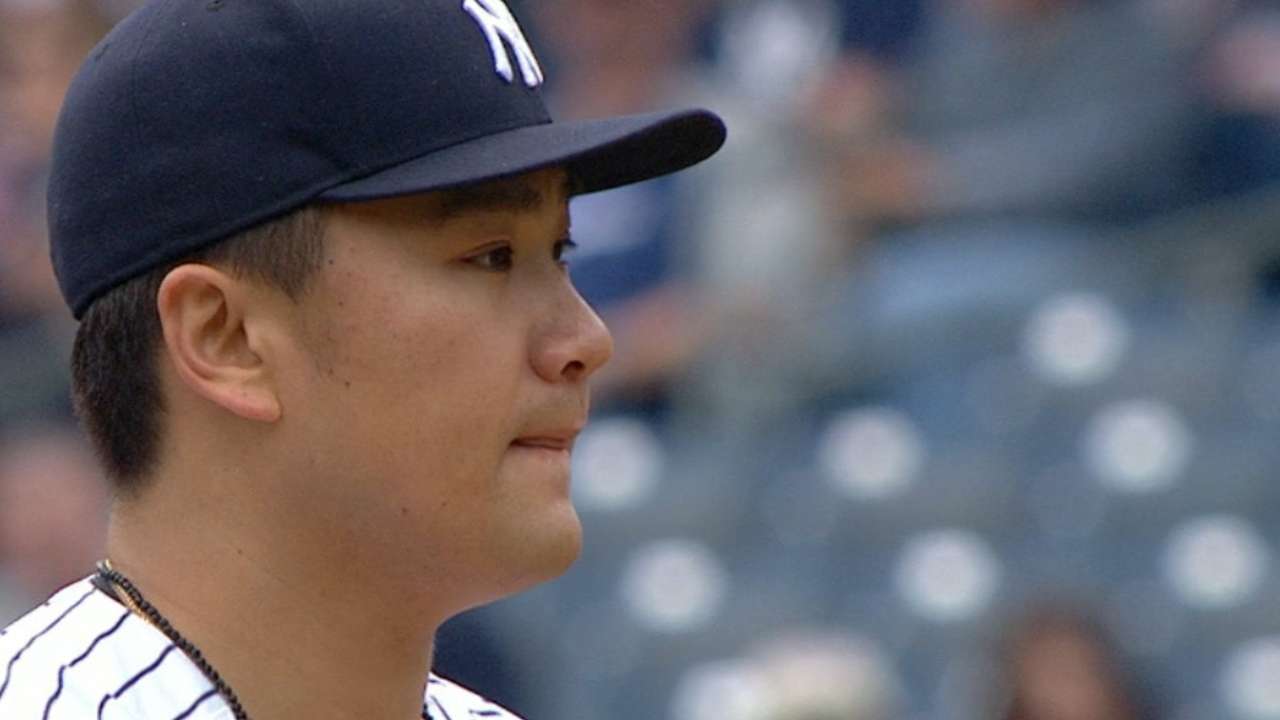 NEW YORK -- For a second straight start, Masahiro Tanaka gave his team exactly the outing it needed. The right-hander might not be at his absolute sharpest, his stuff not as electric as it was when he broke into the Majors two seasons ago, but he was effective again in the Yankees' 3-2, walk-off win over the Rays at Yankee Stadium on Saturday.
"It was good enough," Tanaka said through an interpreter.
After all, a starter going deep into a game and handing the ball straight to Dellin Betances and Andrew Miller? The Yankees will take that every time.
Tanaka went seven innings for a second straight outing, and for a second straight outing he limited the opposition to two earned runs, lowering his ERA to 2.92. He struck out seven and walked only one. Manager Joe Girardi was ready to let Tanaka pitch the eighth inning, too, if the Yankees hadn't come back to tie the game at 2 in the bottom of the seventh, allowing them to go straight to Betances instead.
"He was going back out," Girardi said. "I thought he did a really good job today, and that's what we needed."
Tanaka is still the only Yankees starter to pitch seven innings in a game this season, making the bridge to the back end of a bullpen still without Aroldis Chapman that much shorter. With Betances and Miller racking up scoreless frames on strikeout after strikeout, Tanaka giving the Yankees deep outings is all the more valuable, because he's cutting out the middlemen.
"They're very reliable, and I have all my trust in them," Tanaka said of Betances and Miller.
For the last two turns in the rotation, though, his reliability in getting the game to them has meant just as much.
Tanaka gave up a home run on Saturday, a hooking shot by the Rays' Kevin Kiermaier that pinged high up off the right-field foul pole. He got into some trouble in the fourth, when he gave up an RBI double to Corey Dickerson off the base of the left-field wall and then had to navigate a two-on, two-out jam.
But Tanaka got out of that jam by whiffing Brad Miller on a splitter. In another stadium with a deeper right field, Kiermaier's long ball might have had time to hook foul. And Brett Gardner almost had a play on Dickerson's double, which was just a little too far over his head.
"I thought [Tanaka] was great," said Gardner, who ended up hitting the walk-off home run in the bottom of the ninth. "I wish we would've given him some more runs."
David Adler is a reporter for MLB.com based in New York. Follow him on Twitter at @_dadler. This story was not subject to the approval of Major League Baseball or its clubs.