Wilson makes case to remain in O's rotation
Right-hander fires five-plus efficient innings in spot start against Royals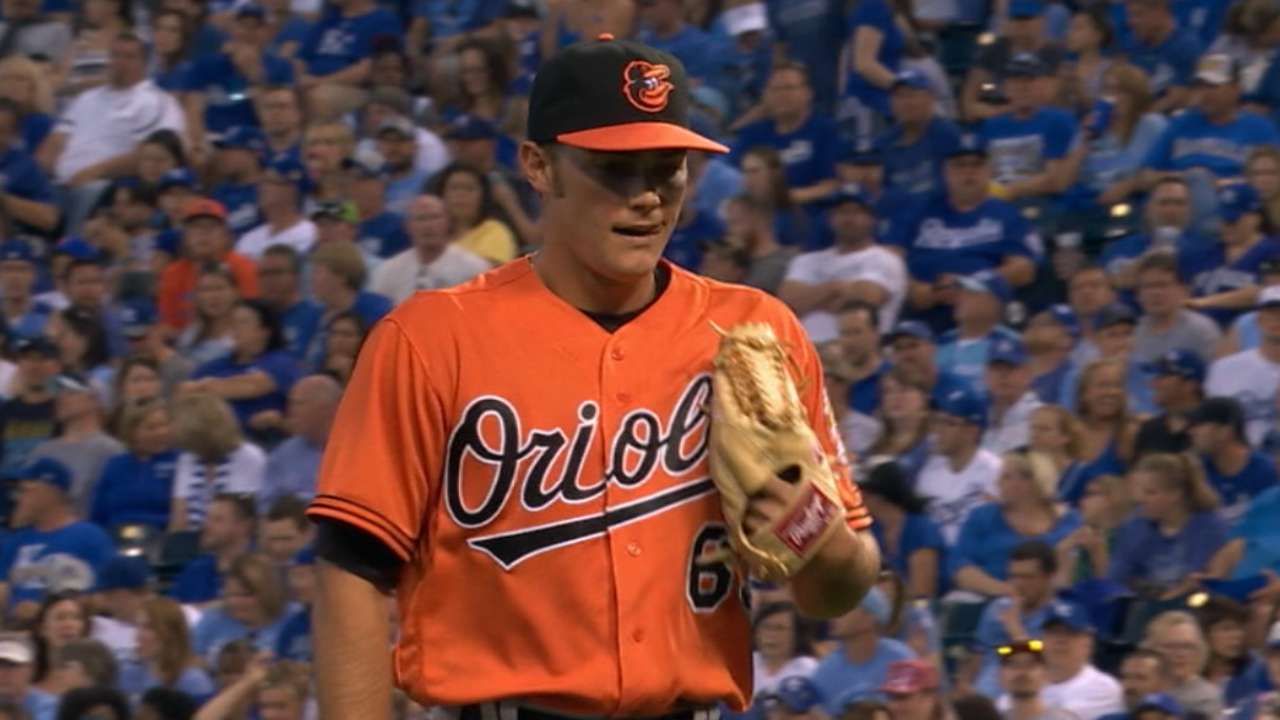 KANSAS CITY -- While the first few weeks of the season for the Orioles' rotation has left much to be desired, right-hander Tyler Wilson stated his case with Saturday's spot start.
"It was awesome. Super gusty," Mark Trumbo, who drove in four runs in an 8-3 win over the Royals, said of Wilson. "He does that every time, though. You know he is not going to walk guys and is going to go right at them. His mentality is everything you would want in any type of pitcher, but especially tonight going out there and being a bulldog and eating some innings."
Wilson, limited to 70 pitches because he's been in the bullpen, went five-plus innings and held Kansas City to three runs en route to his third career Major League win. His outing was efficient -- Wilson needed just 35 pitches for the first three innings -- and primarily well-executed as two of the three runs came on Salvador Perez's homer.
But will Wilson get to do it again? Manager Buck Showalter indicated yes.
"As opposed to who? I was thinking about that," Showalter said of rotation plans without Yovani Gallardo, who went on the DL prior to the game. "We're down to eight in the bullpen so somebody's got to go on Monday [for Kevin Gausman], right? ... He's been pitching pretty well. I've been wanting to give him a start all along."
Wilson, who smiled when he heard Showalter's plan to keep him in the starting five, still didn't want to get his hopes up and said he'll be ready whenever he's called upon regardless of the opportunity. Part of the Opening Day bullpen, Wilson allowed one run over eighth innings in three relief outings before being tabbed for Saturday's start.
"I don't know what my next outing will look like. I don't know what my role will be," he said. "I'll just be ready for when that opportunity does come. I'm sure we will have that conversation at a later date. You hate to see a guy go down like that, especially a guy like Yo who is a very important guy for us, and we're going to need him down the stretch. Hopefully this is just a minor thing and he'll be ready to go quickly."
Wilson went 2-2 with a 3.50 ERA in nine games, five starts, in his first season in the Majors last year.
On Saturday, after Perez's homer, Wilson continued to attack the zone and allowed one more run in the fifth before exiting on Chris Davis' leadoff error in the sixth inning.
"That's been Tyler. Here's my bullets and I'm gonna let it rip and see what happens," Showalter said. "That's what you like about him. That's why winning has followed him around. He likes to compete.
"We were going to take him to around 70ish [pitches]. ... But he allowed us to do it. A big double-play ball [in the fifth]. Very typical of him. He made a real good pitch on a tough hitter. I'm happy for him. There seem to be good defensive plays made behind guys like him. Things don't seem to bother him mentally. He's very mentally strong and that bodes well up here."
Brittany Ghiroli has covered the Orioles for MLB.com since 2010. Read her blog, Britt's Bird Watch, follow her on Facebook and Twitter @britt_ghiroli, and listen to her podcast. This story was not subject to the approval of Major League Baseball or its clubs.