Feel-good ending much needed for Yankees
Walk-off homer by Gardner gives New York second straight win following sweep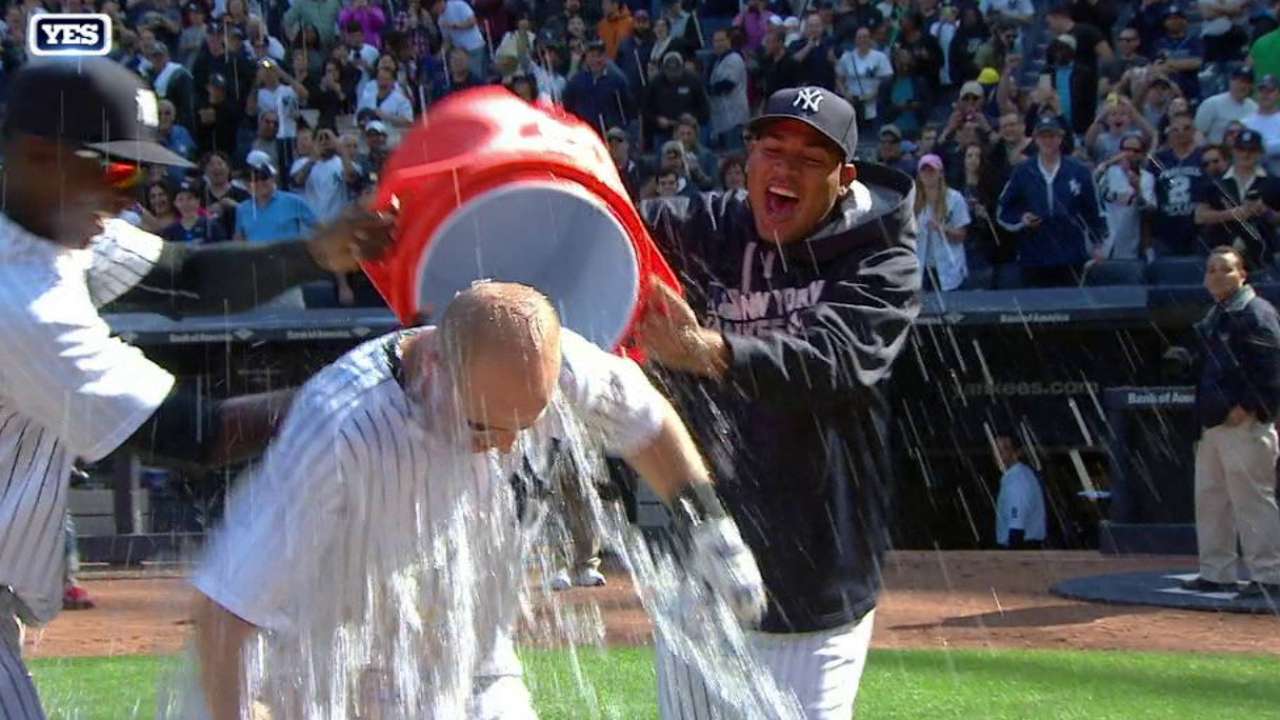 NEW YORK -- The sneak attack worked perfectly, as Didi Gregorius and Ivan Nova hoisted a large orange bucket high above Brett Gardner's head and rewarded the walk-off hero with an icy bath. This was exactly the celebration the Yankees needed in what's been a very long week.
Gardner's ninth-inning home run off Erasmo Ramirez lifted the Yankees to a 3-2 victory on Saturday in the Bronx, two innings after he tied the game with an infield single. It was the Yanks' first walk-off party of the year, though Gardner said that he entered the batter's box considering if he should drop a bunt to get Carlos Beltran to the plate instead.
"Early in the at-bat I was thinking of trying to lay a bunt down, trying to steal second, give Carlos a shot at it," Gardner said. "I felt like I could get a fastball to hit, it was just a matter of where. With Carlos hitting behind you, with the way he's been swinging the bat, the last thing he wants to do is walk me. So I got a pitch to hit."
With Masahiro Tanaka providing seven innings before handing things off to the dominant duo of Dellin Betances and Andrew Miller, the Yankees are beginning to feel right again. Gardner's homer helped them peel away from a stretch that saw them lose seven of eight games -- including a sweep at the hands of the Athletics in their own building.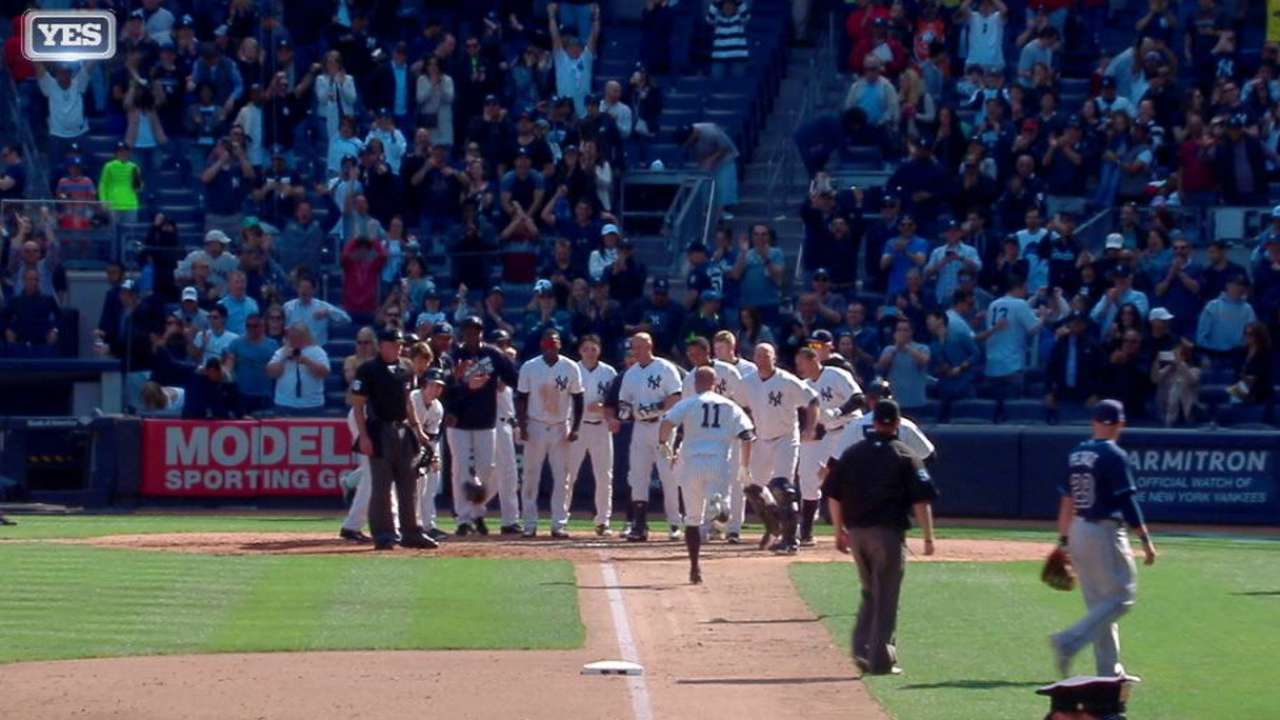 "He's got pop. I mean, he's got pop," catcher Brian McCann said. "I thought the 2-1 pitch was that whole at-bat, when he took that. With Carlos on deck, everyone knows a fastball is coming. He put his A swing on it and hit it a long way."
Gardner knocked the game-tying blow in the seventh inning, capping a rally that saw the Yankees load the bases on two walks and a catcher's interference call with Jacoby Ellsbury at the plate -- the third for him already in this young season. Gardner lined a ball up the middle that struck pitcher Xavier Cedeno and rolled long enough for McCann to head home with the tying run.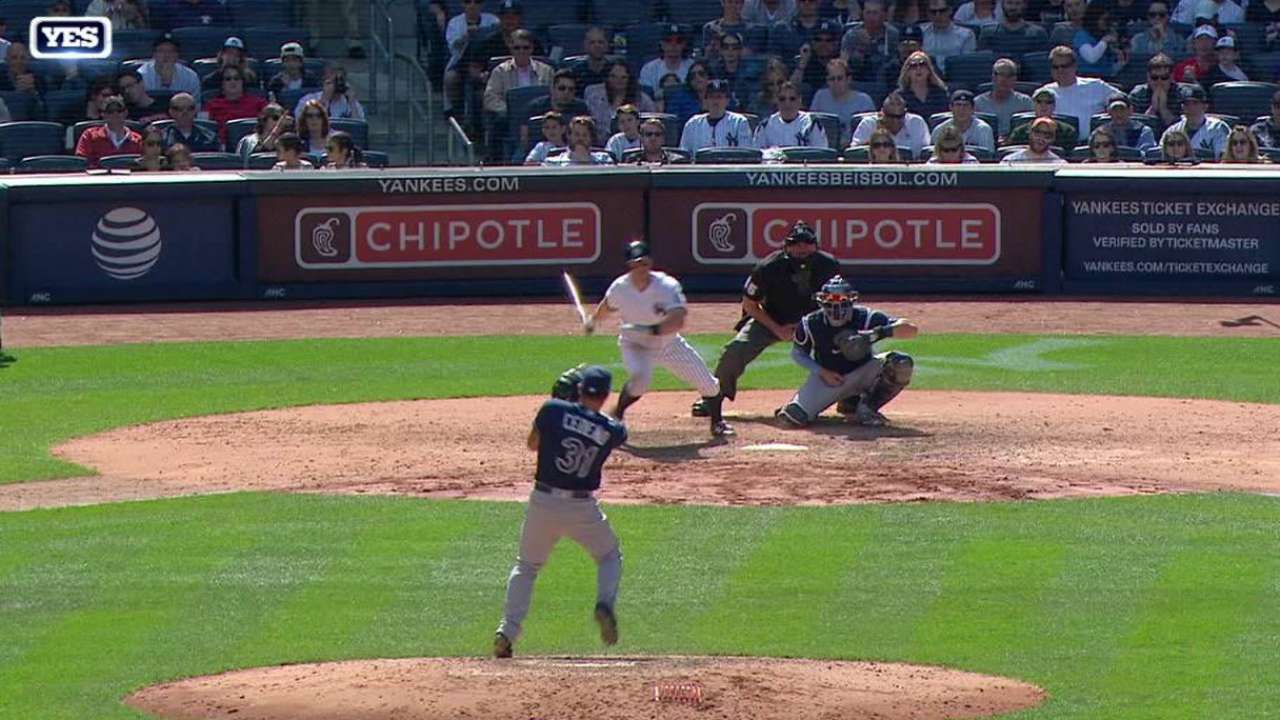 "Obviously, I didn't hit it that hard," Gardner said. "It was off the end of the bat, so I don't know if it was going to be up the middle or not. I just was happy when I saw it deflected off him."
It counted as a hit with runners in scoring position, though the Yankees aren't out of the woods in repairing those ugly numbers just yet. New York was 1-for-8 with RISP on Saturday, bringing its drought tally to 10-for-84 (.119) over the club's last 10 games.
"I do see guys putting together better at-bats against lefties, which leads me to believe we'll start scoring more runs," Yankees manager Joe Girardi said.
This, as Gardner said, still may not exactly be how the Yankees would have drawn it up. But after the week they've had, two wins and an icy bath had every right to feel good.
"At this point, we'll take it any way we can get it," Gardner said.
Bryan Hoch has covered the Yankees for MLB.com since 2007. This story was not subject to the approval of Major League Baseball or its clubs.