Royals' defense mixes good with bad vs. O's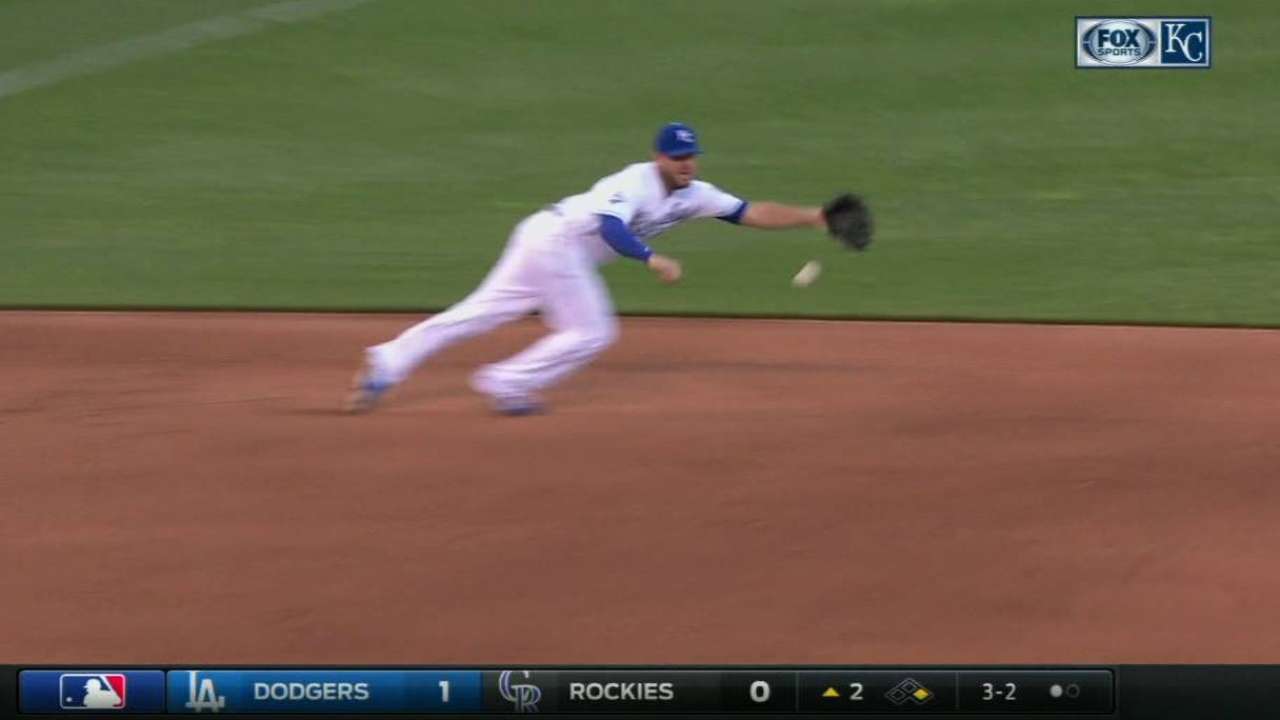 KANSAS CITY -- The Royals, one of the best defensive teams in baseball, certainly had a mixed bag of glove work in Saturday's 8-3 loss to the Orioles.
Good, bad and ugly.
The good?
How about the first inning when first baseman Eric Hosmer made a fabulous sweeping pick of a one-hop throw from shortstop Alcides Escobar to get leadoff hitter Joey Rickard.
#Scoop pic.twitter.com/pT8a1U7lkn

— Kansas City Royals (@Royals) April 23, 2016
Then with two out and Manny Machado on second base, catcher Salvador Perez fired a bullet from his knees as Machado tried to steal third. Third baseman Mike Moustakas made a brilliant pick of a one-hop throw and applied the tag for the out.
Moustakas also robbed J.J. Hardy of a hit later in the game with a diving stop and throw to first.
"It seemed everyone had a good game but me," Royals starter Kris Medlen said.
There also were some not-so-great moments on defense.
Center fielder Lorenzo Cain didn't seem to aggressively charge a popup by Machado in the sixth that fell between second baseman Omar Infante and Cain. Fortunately, Cain alertly grabbed the ball and got a forceout at second of Pickard, who had been on first.
The big play came in the fourth when the Royals had a chance to get out of the inning with no damage. Pickard, with one out and a runner on first, hit a hard chopper to shortstop Escobar, who flipped to Infante for a force, but the throw to first was late to get Pickard.
The Orioles then poured on four runs to turn the game around.
Escobar thought it was a sure double play when the ball was hit.
"I threw it right away," Escobar said. "Omar threw it right away. He can run."
Added Royals manager Ned Yost, "We could have turned it. But we still have to find ways to cover it. But it blew up into four runs.
"That kid can really fly."
Perhaps the ugliest defensive play came later in the fourth when Chris Davis singled in a run as Adam Jones raced to third. Davis tried to advance to second for a double, but he got caught in a rundown. Escobar ran Davis back to first, keeping a watchful eye on Jones at third.
But then Escobar threw the ball a bit too quickly to first, where Hosmer caught it. Davis then headed back to second base, which was vacant. Infante was in the outfield chasing Davis' bloop hit. Both runners were safe, and they eventually scored.
Jeffrey Flanagan has covered the Royals since 1991, and for MLB.com since 2015. Follow him on Twitter @FlannyMLB. This story was not subject to the approval of Major League Baseball or its clubs.