Hurdle: Bucs need more length from starters
PHOENIX -- Given their inability to hit D-backs right-hander Rubby De La Rosa, the Pirates' one-run deficit may have felt like much more after seven innings Saturday night. But they were still close enough to come back until they unraveled in the eighth inning of a 7-1 loss at Chase Field.
Starter Juan Nicasio was solid, albeit not efficient, as he held Arizona to two runs in five innings. Arquimedes Caminero worked a scoreless sixth, and A.J. Schugel breezed through a perfect seventh.
Schugel, one of the Bucs' eight relievers, returned to the mound to begin the eighth. D-backs slugger Paul Goldschmidt rolled a single into center field, past a diving Josh Harrison. Yasmany Tomas hit a one-out single to left, and Nick Ahmed lined an RBI single to center.
Still, the Pirates had a chance to limit the damage, to head into the ninth with a two-run deficit and the middle of their lineup due up. Chris Owings chopped a ball at third baseman David Freese, seemingly set up to make an inning-ending play. Instead, the ball bounced right past Freese to load the bases.
"That's baseball," Schugel said. "You've got to find a way to get out of it better."
The next batter, light-hitting backup catcher Chris Herrmann, launched a three-run homer to right field -- his first homer this season. Just like that, it was 7-1, and the Pirates' slim hopes had evaporated.
"There's just a fine line for error up here," manager Clint Hurdle said. "You get three men on and then you do elevate a pitch, they scored [three] runs."
Schugel, making his fifth appearance of the year, had only given up one hit in 10 at-bats against left-handed hitters before Herrmann -- batting .050 -- came to the plate. Schugel was ahead in the count, 1-2, but couldn't put away Herrmann.
"I left a changeup up, and that's what happens," Schugel said.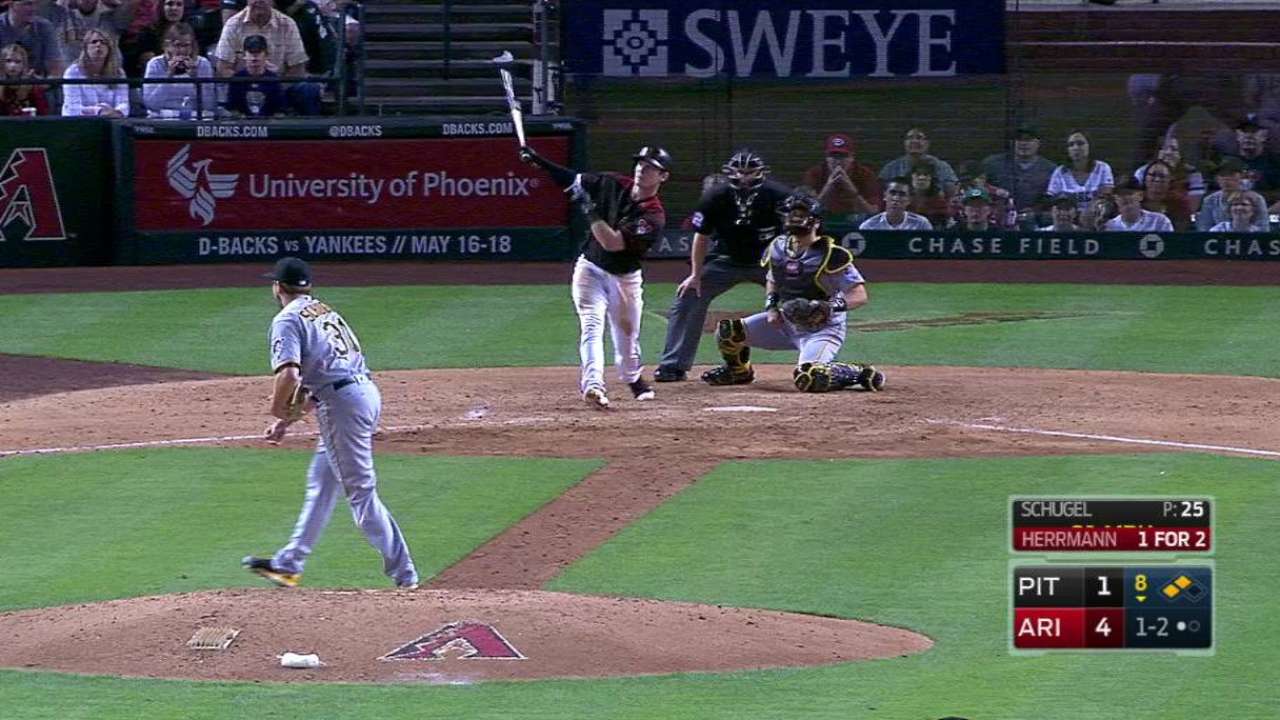 It's also what happens, indirectly, when the Pirates' starters continue to struggle or bow out before the sixth inning. Pittsburgh's bullpen has been put to work early and often, throwing the fourth-most innings in the Majors.
In 18 games, the Pirates have made only eight starts of at least six innings. Gerrit Cole has done so twice in three outings, and Jonathon Niese and Nicasio have each made two. Only Niese has made a full seven-inning start.
"The sooner, the better. They're all aware," Hurdle said. "Nobody sits up in our clubhouse and says, 'Let me go out there and give 'em five.'"
Indeed, Nicasio said he was "trying to go in heavy and hard for six innings" on Saturday, like he did in his debut. Instead, he ran up a high pitch count, 101 through five innings, and left the game with a one-run deficit that felt like -- and eventually turned into -- more.
"All in all, he did give us a chance to win a ballgame," Hurdle said. "Kept us in striking distance."
Adam Berry has covered the Pirates for MLB.com since 2015. Follow him on Twitter at @adamdberry. This story was not subject to the approval of Major League Baseball or its clubs.