Goldschmidt: Results at plate will get better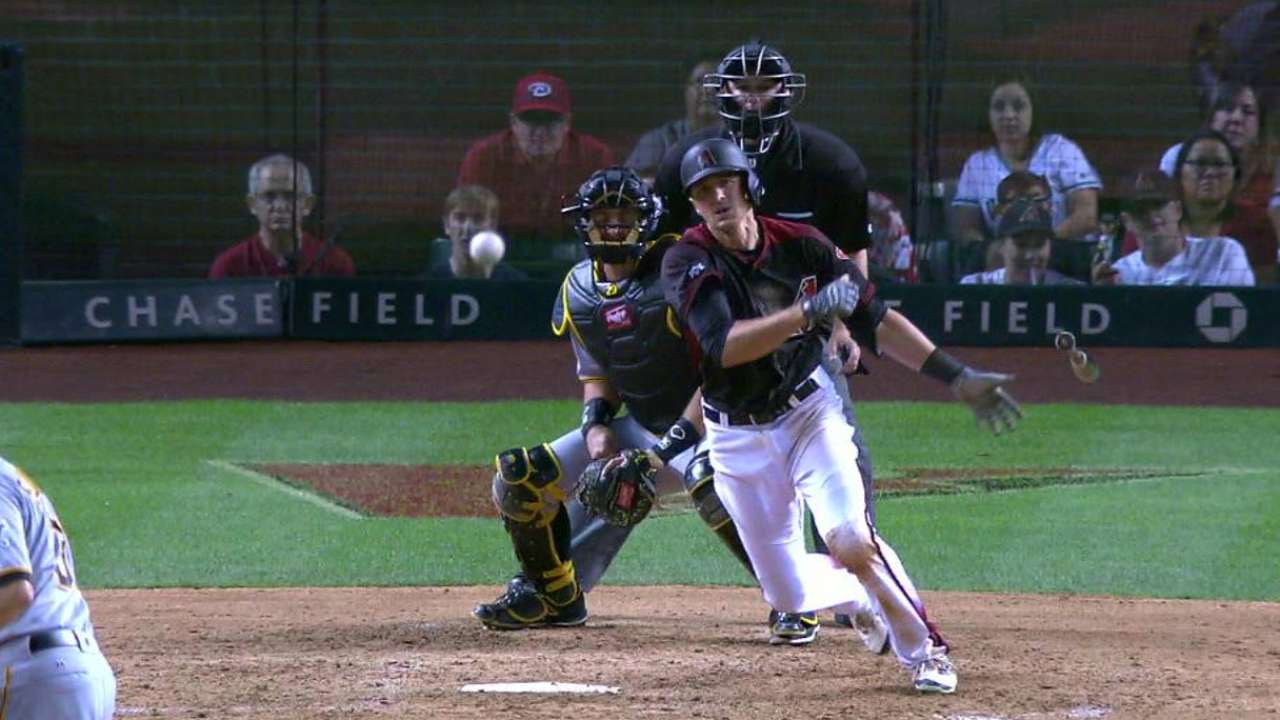 PHOENIX -- You won't catch D-backs first baseman Paul Goldschmidt staring at the video board above center field at Chase Field during games.
He doesn't know what his batting average is. On-base-percentage? No way. He's not sure how many strikeouts he has this season, although it's been a topic of conversation lately.
"I don't look at the board or at my stats, good or bad," Goldschmidt said. "You kind of have a feeling how it's going. We are not dumb, as far what the numbers are, but even when you are going good, that's in the past, so I just look at each at-bat as a new at-bat."
Here's what we do know: Goldschmidt is hitting .320 with nine walks in his last seven games. For the season, he's hitting .246 with three home runs and 12 RBIs. He has 19 strikeouts in 18 games.
He went 1-for-2 with two walks in the 7-1 victory against the Pirates on Saturday, scoring an important run in the five-run eighth inning that helped put the game away.
Is Goldschmidt off to a slow start overall? Perhaps, especially when you consider that last April, he hit .338 with five home runs and 20 RBIs during 21 games. He hit .309 with four home runs and 18 RBIs in 28 games in April 2014.
"[Goldschmidt] has not felt comfortable [at the plate], and he knows it," D-backs manager Chip Hale said. "But he still does productive things for us. He beats out the ball [Friday] night. Makes a great play on defense. It doesn't matter if he's on top of his offensive game, he just helps us win games and helps us compete."
Goldschmidt walked in his first at-bat in the first inning Saturday and struck out looking in his second at-bat in the third. He walked again in the fifth inning, and singled to lead off the eighth. He later scored from second on a single by shortstop Nick Ahmed to push the D-backs ahead, 3-1.
For his part, Goldschmidt says he feels fine. He says he's been participating in his normal pregame work with D-backs hitting coach Dave Magadan and it's just a matter of time before he gets the results he is seeking. He's focused on contributing in other ways, and it was evident Saturday.
The D-backs still have seven games left this month.
"I'm just missing a few pitches and chasing a few out of the zone. That's just part of it," Goldschmidt said. "Some balls I've hit hard [that] they have caught. That's kind of how the game goes. But all in all, I feel good, and I'll try to keep having good at-bats and the results will start getting a little bit better."
Jesse Sanchez is a national reporter for MLB.com based in Phoenix. Follow him on Twitter @JesseSanchezMLB and Facebook. This story was not subject to the approval of Major League Baseball or its clubs.