Cozart's approach leading to lots of contact
Shortstop opened season with 10-game hitting streak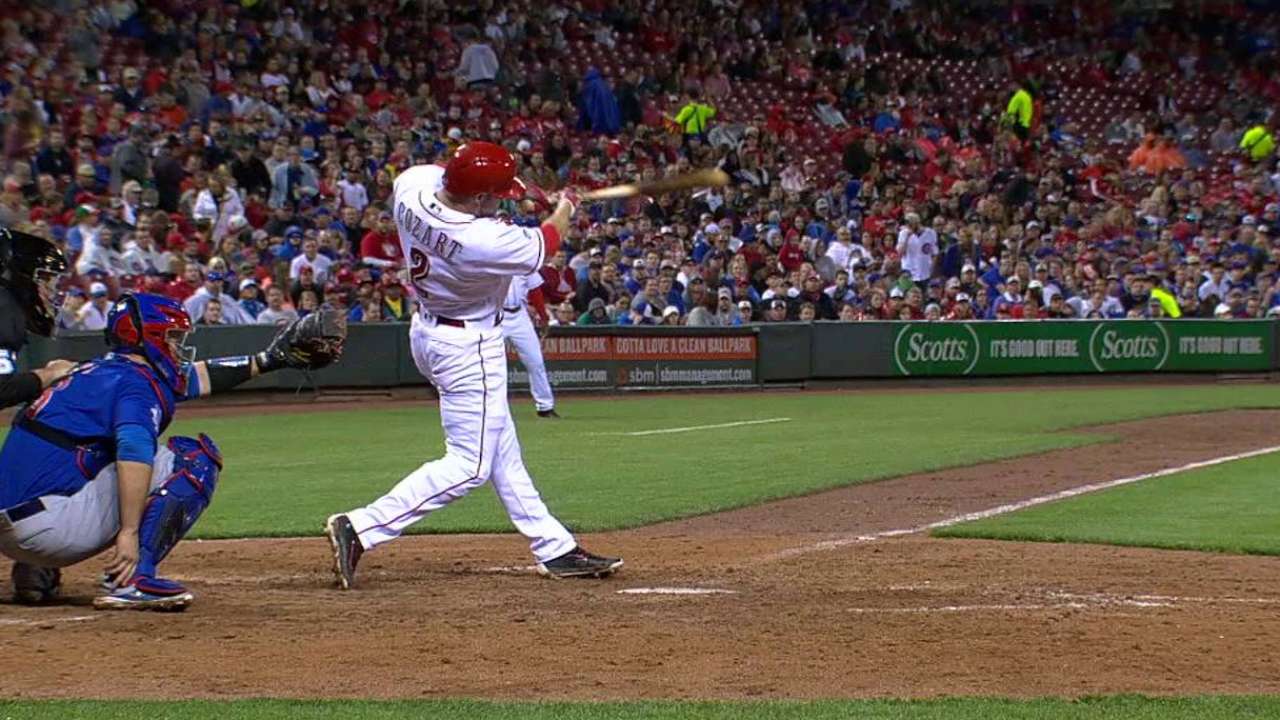 CINCINNATI -- The Reds were hoping that shortstop Zack Cozart would have a smooth and productive return from the reconstructive right knee surgery that derailed his 2015 season. But Cozart has done much more than that thus far in 2016.
Cozart opened the season with a 10-game hitting streak and has hits in 12 of his 13 games while batting .400/.396/.580. He slugged his first homer of the year against Jon Lester on Friday , then went 3-for-5 in Saturday's 13-5 win over the Cubs.
"In general, my approach has stayed the same," Cozart said. "I'm trying not to do too much. I'm going up there not trying to yank anything. I feel like I've been hitting the ball the other way a lot this year. I'm not trying to hit home runs or anything. Last night, the home run just came. I know if I stay to the middle of the field, a lot of good stuff can happen."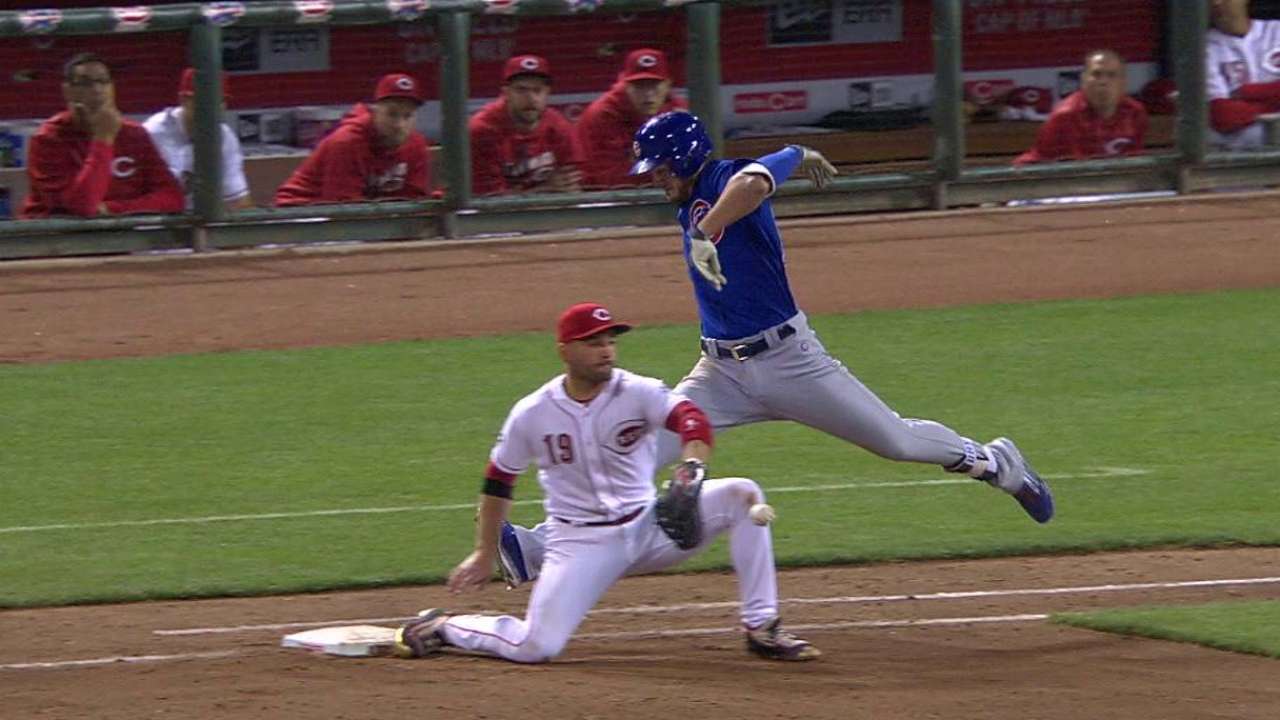 Cozart isn't missing pitches when he swings. Among hitters with at least 40 plate appearances, his 92.6 percent contact rate is tied for seventh best in the Majors, according to Fangraphs.com, up from 85.8 percent last season and 86.7 percent in 2014. He opened this season with a 44-swing streak before his first miss.
There has also been discipline to not chase bad pitches as he swings out of the strike zone 25.4 percent, compared to 30.4 percent in 2015.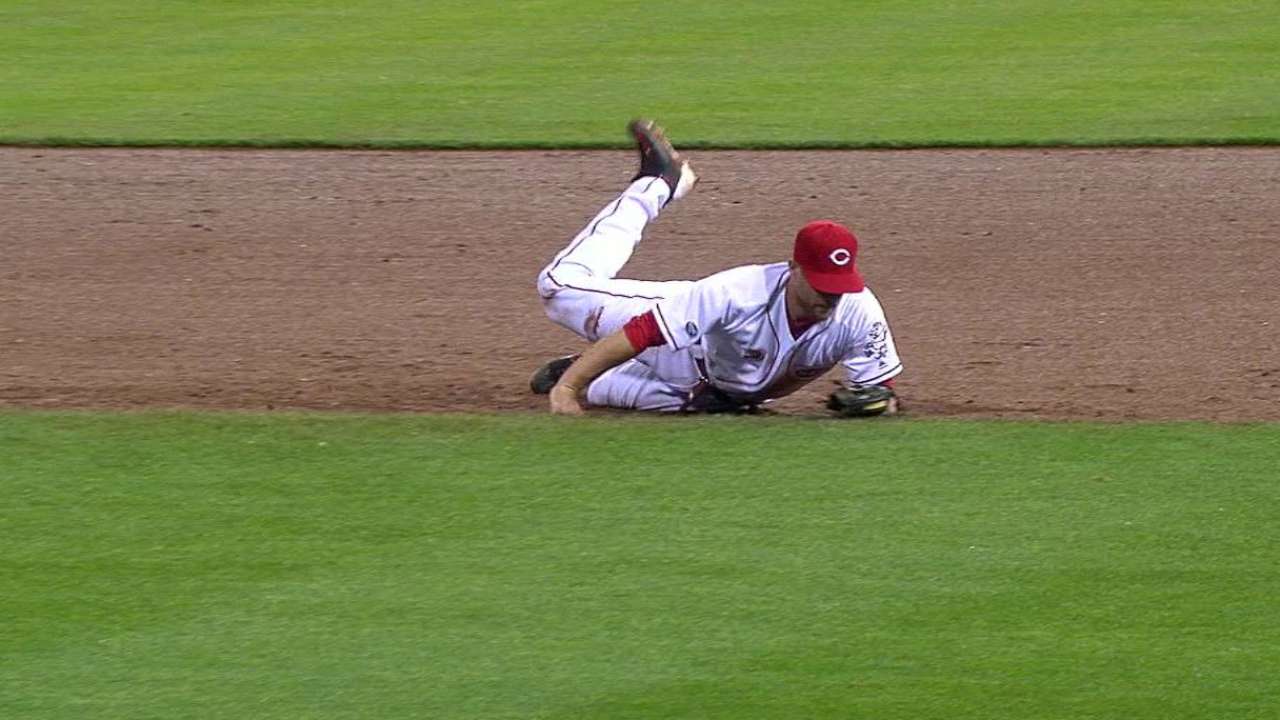 Cozart is also more dangerous this year with two strikes, batting .429 in 21 at-bats. In 84 at-bats with two strikes last season, he batted .202.
"With two strikes, obviously I calm everything down a little more," Cozart said. "I don't have my leg kick that I usually do, as big. It just shortens everything and gets your timing -- you're done quicker so you can see the ball better. I've never really been a strikeout guy in general anyway, but this year it has to do with experience. A lot of the guys I'm facing, I've faced a lot. I have an idea how they're going to pitch me, even with two strikes. Experience helps."
Cozart, 30, was off to a good start last season before tearing two ligaments in his right knee while slipping on first base June 10. This season, manager Bryan Price installed him into the leadoff spot regularly, but it has not changed Cozart's hitting philosophy. Taking a cue from hitting coach Don Long, he stays aggressive knowing that first pitch could be the best one he sees.
"I'm not the prototypical leadoff guy. I'm not supposed to be a leadoff hitter," he said. "Dexter Fowler walks a lot and is a great leadoff hitter. For me, I find if I'm up there automatically taking, then I'm behind 0-1 and 0-2. Those are the pitches I can hit and then all of a sudden I have to battle rather than go at it from jump street and try to put a good swing on a pitch over the plate. I try not to think about it too much."
Mark Sheldon has covered the Reds for MLB.com since 2006, and previously covered the Twins from 2001-05. Read his blog, Mark My Word, follow him on Twitter @m_sheldon and Facebook and listen to his podcast. This story was not subject to the approval of Major League Baseball or its clubs.