Phillies vow improvement on basepaths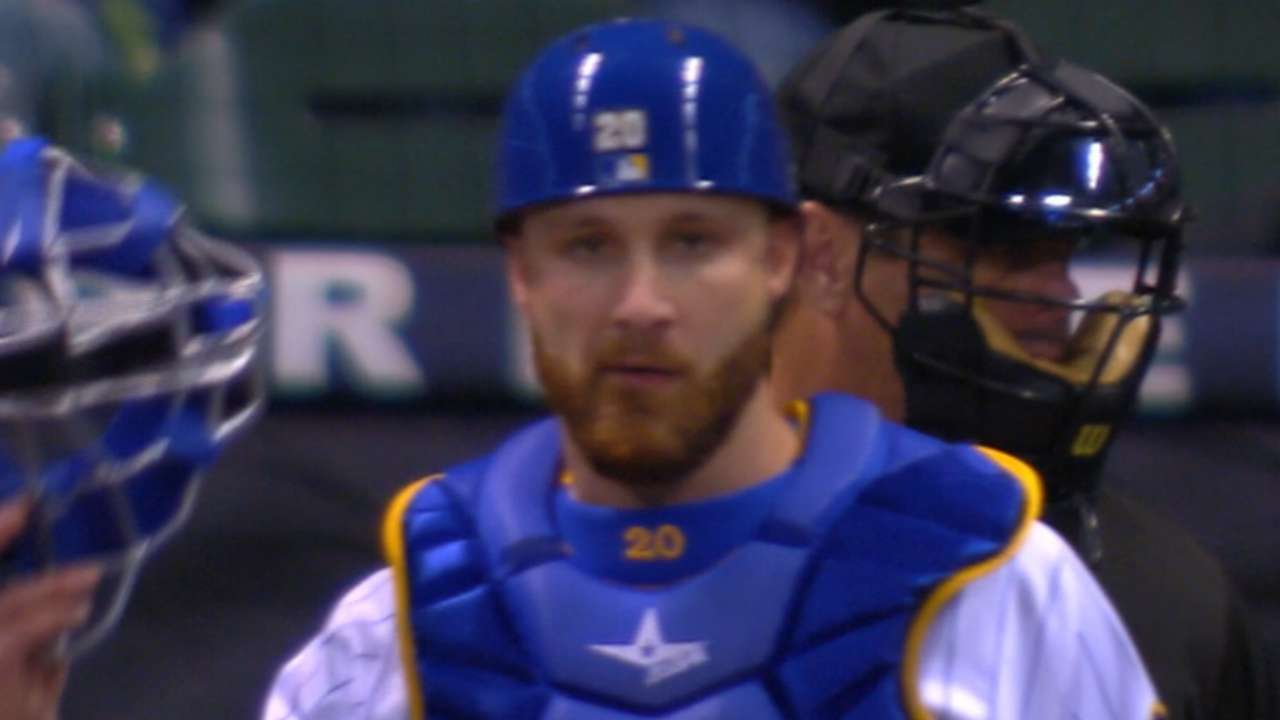 MILWAUKEE -- Phillies manager Pete Mackanin stressed the importance of baserunning in Spring Training because he knew an extra base here and there could mean everything to a team expected to work for its runs.
Perhaps they took a step forward in Saturday's 10-6 victory over the Brewers at Miller Park. Odubel Herrera stole a pair of bases and took a couple extra bases that led to two runs.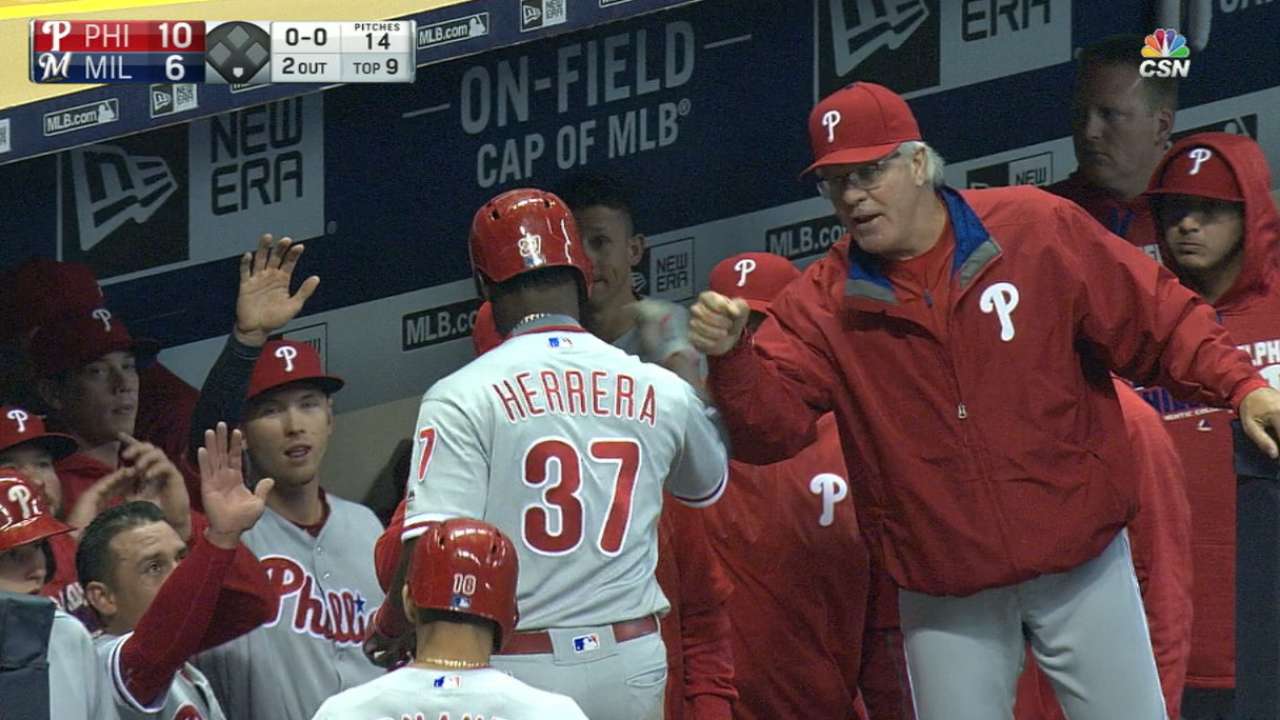 The Phillies entered Saturday night's game against the Brewers at Miller Park having stolen just seven bases in 14 attempts. Their stolen base percentage (50 percent) tied four other teams for the lowest mark in the Majors. The Phillies have made six more outs on the bases, which includes failing to advance on a fly ball, failing to take an extra base on a hit, being doubled up on a line drive or failing to advance on a wild pitch or passed ball.
The Phillies' combined 13 outs on the bases are behind only the Rangers (17), Pirates (17) and Rockies (14).
"With the type of offense we have, I'm taking more chances than I normally would," Mackanin said. "We have to try to ignite the offense somehow and get things going."
But it has not all been bad. The Phillies had been tied for seventh in the big leagues in extra bases taken percentage (45 percent), according to Baseball Reference. The statistic measures the percentage of times a runner advances more than one base on a single or more than two bases on a double, when possible.
"A couple mistakes are outweighing some of the good we're doing," first-base coach Mickey Morandini said. "We've made a few mistakes, but I think we're coming out of the box good. I think we're hustling. We did have a couple of guys get to second base on dropped popups, which I liked. We're making plays close at first on some ground balls. We've gone first to third pretty good. Just a couple of those mistakes are outweighing some of the good we're doing."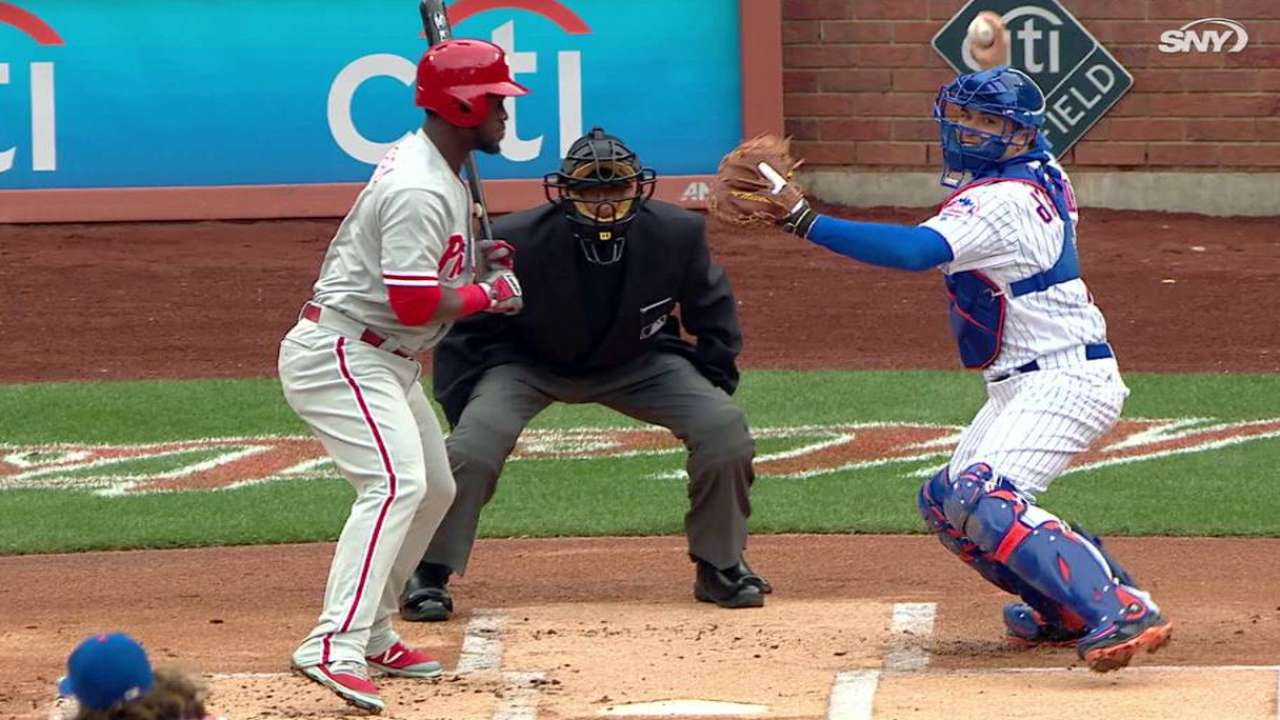 Morandini handles the team's baserunning. He is not happy with the team's basestealing. For example, Cesar Hernandez is just 1-for-5 in stolen base attempts.
"There's no way Cesar should be 1-for-5 with his speed," Morandini said.
Morandini and Mackanin believe the Phillies are running on the right pitchers. Specifically, they are running on pitchers with slower times to the plate. But they think their base stealers have been getting poor jumps.
Hernandez got thrown out Friday because he started his move toward second base only when the ball nearly was out of the pitcher's hand.
"That's just way too late," Morandini said. "It's a confidence thing. If you're going to be a base stealer, you've got to have the confidence to go and not care. You've got to have that attitude that he's not going to throw me out. Cesar, especially, he's sometimes afraid to make mistakes. We'll keep working on it. We'll get better at it."
Todd Zolecki has covered the Phillies since 2003, and for MLB.com since 2009. Read his Phillies blog The Zo Zone, follow him on Twitter and listen to his podcast. This story was not subject to the approval of Major League Baseball or its clubs.